8 Reasons Why You Shouldn't Be Embarrassed of Your Pinoy English Accent
Oct 24, 2021 &nbsp • &nbsp Tim Henares
We've heard the Pinoy English accent being made fun of countless times. Sometimes, we laugh along, like when Rex Navarrete and Jo Koy did it. Other times, we raised an eyebrow, such as when Mikey Bustos just kept going back to the same old well a few hundred times.
It's easy to understand why some of us are embarrassed about it. We've been poked fun at so many times, we can't help but be conscious when we sound like Lyn of Las Vegas Models or VJ Greg or whoever else we're pointing and laughing at because how dare they not sound eloquent while speaking in English?
Make no mistake, though: there is nothing to be embarrassed about! Here now are just 8 reasons why:
8. It's most likely not your first language.
Chances are, you probably speak Filipino, English, and if you're not from Manila, a third language like Capampangan or Hiligaynon. That's three languages! Are you kidding me right now?
Not to disparage (much), but how many Americans do you know who can barely speak English, and that's the only one they actually know. Meanwhile, we Filipinos generally know 2 or more, and the primary language was most likely not English.
7. It's not a measure of intelligence.
Some of the smartest people in the world don't know a word of English.
Let me repeat: some of the smartest people in the world don't know a word of English.
We've associated intelligence with fluency in English, but that is decidedly not the truth. These things are often mutually exclusive.
6. People generally still understand you.
Sure, your diction might be off, but don't let it get in the way of communicating with other people. 9 times out of 10, people can understand even some of the thickest Pinoy English accents – just ask Manny Pacquiao, who always insists on giving out interviews without resorting to a translator.
It should be clear why – no matter how you might make fun of how he sounds, it's very clear what he's trying to say and as long as he gets his point across, where's the harm in sounding remarkably different from the average American?
5. Some American dialects sound suspiciously like ours.
Remember Nelly's "Hot in herre?" It's not just pronounced "here." There's a kind of stress on the latter part of the word that actually sounds like how the Pinoys say "right thurr." What we think is so corny and cringeworthy, other people think is cool and hip. Who knew?
4. It's now part of our international identity – to play with.
Is it a poor stereotype? Of course! But poor stereotypes are perfect material for more thoughtful comedy and ideas about what it means to be a Filipino. Just look at the new breed of Indian comics who sound incredibly Americanized, and get to be the only group of people to make fun of the stereotype Indian accent without raising an eyebrow.
We can do that, too!
3. There's a certain kind of happiness in the way our accent sounds.
Can you imagine a Filipino smiling as they speak in that typical accent? I can't un-imagine it. It just seems like there's always a hint of innocent glee whenever that accent comes on that even if you don't know who's talking, there's a 99.99% chance that the person is smiling while speaking. It's infectious, it's fun, and it's absolutely nothing to be ashamed of.
2. That accent continues to evolve.
And as it continues to evolve as we become more and more connected with the rest of the world, we learn to identify what exactly it means to be a Filipino in far more nuanced terms. After all, we're no longer just a bunch of stereotypes at present – it's just a matter of time!
1. The accent is sexy – period.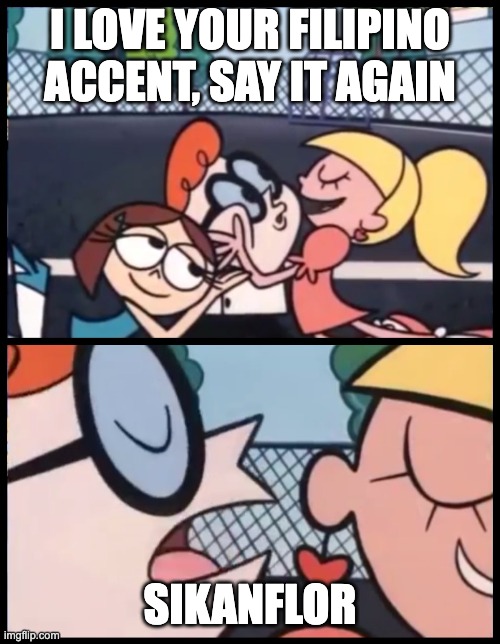 Let's face it – there's no way that Cafe Havana wouldn't be legendary if the Pinoy English accent didn't appeal to certain people. Long live Cafe Havana!
What are your thoughts on the Filipino English accent?