Technology has drastically changed the way we communicate and express ourselves. Gone are the days when we only had one or two options to meet new people online. Social media apps are everywhere now, offering a unique take on virtual interactions. We've got some apps you might want to add to your phone. Take a look!
BeReal

With thousands of reviews and downloads, BeReal is gaining lots of support for its unique take on capturing real-time, unfiltered moments. Users are notified every day at a different time to share photos within two minutes. And yes, BeReal highlights when you post late! The French social media app doesn't show the number of likes and follower count because it wants to put more emphasis on authenticity rather than numbers, which is something we can totally get behind.
Available on Google Play and the App Store.
Poparazzi

Poparazzi is about being in the moment and releasing the pressure to be perfect. In contrast to other photo-sharing apps where you upload your own photos, your Poparazzi profile will be entirely populated by photos taken by your friends. But don't worry, because whoever's in the photo is always in control, so you can remove pictures that are too embarrassing for the internet. 
Download it via the App Store.
VSCO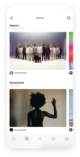 Released in 2011, VSCO is an oldie but a goodie. If you've never used it, where have you been? it's a photo and video editing app where creatives can share their works with the world. It also lets them connect and collaborate with other creators. VSCO is packed with tools and modern image filters that'll give your creations a more refined touch. 
Get VCSO on Google Play and the App Store.
Lapse

Lapse is an invite-only app where you can bring in up to 5 friends in a group chat. Everyone's given a "roll" of 36 shots they can use to snap spontaneous adventures. But there's a twist! You can't see what the pictures look like until 24 hours after the first shot. Lapse envisions itself as a space where you can share your rawest experiences amongst close friends. 
Get Lapse on the App Store here.
Wanna Create Digital Art? Here Are 8 Free Apps to Get You Started
Wanna Create Digital Art? Here Are 8 Free Apps to Get You Started
Edgardo Toledo | Jul 21, 2022
Locket

What started as a gift for a loved one became an app that's now on most of Gen Z's home screens today. Locket is a widget app that gives you a peak at your loved ones' life via photos. It's like having them wherever you go! You can also react through emojis and add short messages to your pictures. 
Get Locket via Google Play and the App Store.
Chill Pill

Social media can be overwhelming. Chill Pill is an app that centers on your mental well-being through making connections. There are five levels on the app: Chill Caterpillar, Chill Flower, Chill Butterfly, Chill Besties, and Chill Leader. These levels ensure everyone participates, filtering out online trolls. Chill Pill also lets users host their own support groups once they reach a certain level. The app only reveals your avatar and username to keep your identity private.
Available on the App Store.
Geneva
Thanks to technology, talking to your loved ones is only a tap away. Geneva is a messaging app that lets you stay connected with your favorite people. Users can set up chat rooms for non-stop chit-chats or audio rooms for those who want to talk rather than type. 
Bloom is available on Google Play and the App Store.
Whisper

Wanna discover secrets or confessions? Whisper is the best place for that! With over 10 million downloads, users can anonymously share anything they want on the app, with large text on a picture. Users are assigned random nicknames, and there are no followers, friends, or profiles. They also can't use the search feature to look for other users. 
Download Whisper via Google Play and the App Store.
Check us out on Facebook, Instagram, Twitter, TikTok, and YouTube, to be the first to know about the latest news and coolest trends!