Millennials just can't catch a break, eh? For years, we've had boomers calling us oversensitive snowflakes raised on participation trophies and/or entitled brats who can't afford real estate because we keep blowing our paychecks on avocado toast. Now that the youngest of us are in our mid-20s and our oldest are pushing 40, we thought that maybe we'd finally hear the end of the abuse.
But no.
While we were minding our businesses scrolling through Instagram, Zoomers have been busy destroying us on TikTok. #Top10AnimeBetrayals
Brace yourselves, because they did not hold back.
Some gems: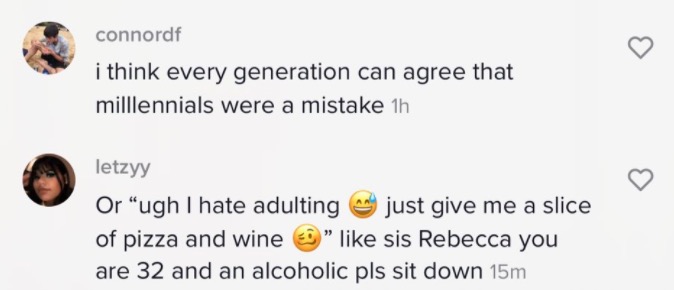 As someone who had a friendship literally implode after an argument about Hogwarts houses (I wish I was making this up), I felt personally attacked, which only goes to show how accurate the millennial snowflake stereotype is. Fellow millennials, we had a good run, but it looks like we're too old to be cool now.
TL;DR:

Though most of this discourse (if you can call it that) is on TikTok, the anti-millennial sentiments have also found their way to Twitter. If you're feeling extra masochistic, keep reading.
Maybe it's time we stop saying "adulting"
Millennials will have a 480 credit score and a degree in communications and be like "I can't adult today 😩" girl when could you?

— I'm a riot! (@glamdemon2004) June 14, 2020
We might've gotten away with it in our very early 20s, but now that we're in our 30s, it's time to stop. Just stop, Jhemerlyn.
And also "I did a thing", apparently
millennials always say i did a thing why do they always say that

— pooldad acab (@pooldad) June 20, 2020
NGL, as a millennial who pats herself on the back just for mustering up the energy to drag her anxiety-ridden ass out of bed in the morning, saying goodbye to "I did a thing" is gonna be a difficult journey.
Newsflash: Not having a TikTok isn't a personality
Why do millennials think that not downloading TikTok makes them an adult. Like grow up smh

— Stefan Feher (@StefanFeher4) June 17, 2020
(Also, neither is having a TikTok. So…)
But who knew nostalgia was a crime?
why do millennials care so much ab the fact that theyre 90s kids??? sis WE KNOW. THATS WHEN YOU GREW UP. 😭😭💀

— mckenna • she/her (@ceooftrenchcoat) June 14, 2020
You'll grow old too, Gen Z. It's only a matter of time before your younger siblings start rolling their eyes at your "Only 2010s Kids Can Relate To This" listicles.
We made this bed, time to sleep in it
maybe millennials shouldn't have invented cyber bullying if they didn't want gen z to perfect it
— Anya Volz (@AnyaVolz) June 14, 2020
We played ourselves.
Note to millennials: Don't fight back, you can't win
Don't fight with Gen Z you can't win. Once when I was teaching an SAT prep class, I told everyone to "quiet down" and one girl just said "hahah ok sweater!" (because I was wearing a sweater.) Every single one laughed at me….

— Paul McCallion (@OrangePaulp) June 14, 2020

It was easy to defend ourselves from boomers because they were so out of touch. But these young folks know how we tick and they're going right for the jugular. In short, teenagers are scary.
But also, Zoomers: Don't come for our GIFs
Why do millennials still thinkd gifs are funny it's not 2015 😹😁❤️

— jenna 🦖 (@coolgirlswaggy) June 15, 2020
Sorry Gen Z, but this is where we'll draw the line. Our GIFs are staying.
To end, generational wars are dumb, pero ang pikon talo
remember our true, shared enemy: almost everyone over the age of 50

— Shaun (@shaun_vids) June 20, 2020
It's the circle of life. The younger generation will always call out the older for being lame, and it looks like it's our turn. For now, all we can say is: ok, zoomer.
What do you think of the latest plot twist in the generational wars? Sound off in the comments.