Millennials just can't catch a break, eh? For years, we've had boomers calling us oversensitive snowflakes raised on participation trophies and/or entitled brats who can't afford real estate because we keep blowing our paychecks on avocado toast. Now that the youngest of us are in our mid-20s and our oldest are pushing 40, we thought that maybe we'd finally hear the end of the abuse.
But no.
While we were minding our businesses scrolling through Instagram, Zoomers have been busy destroying us on TikTok. #Top10AnimeBetrayals
Brace yourselves, because they did not hold back.
Some gems: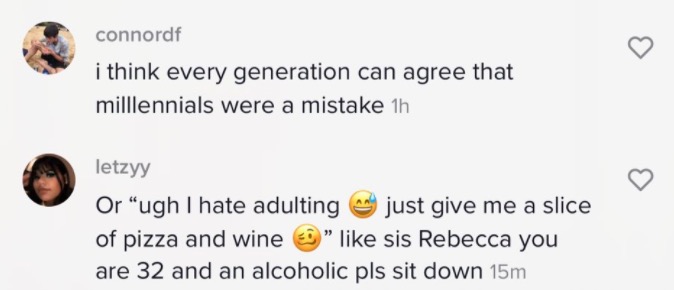 As someone who had a friendship literally implode after an argument about Hogwarts houses (I wish I was making this up), I felt personally attacked, which only goes to show how accurate the millennial snowflake stereotype is. Fellow millennials, we had a good run, but it looks like we're too old to be cool now.
TL;DR:

Though most of this discourse (if you can call it that) is on TikTok, the anti-millennial sentiments have also found their way to Twitter. If you're feeling extra masochistic, keep reading.