Our city sure knows how to keep things lively and fun, what with all the gigs and concerts happening every month. This month might not be littered with as many international artists,  but it is filled with gigs that you're sure to catch your favorite act somewhere.  Check out these events happening this month!
1. Mayonnaise x Kjwan x Autotelic x Loop
Mayonnaise x Kjwan x Autotelic x Loop
May 10, Thursday
12 Monkeys Music Hall & Pub, El Pueblo Ortigas
Four great bands are set to perform featuring Earl Generao at 12 Monkeys in Ortigas. The door charge will be P250 per person. On a Thursday night, this might just be the thing you need to prep you for the last day of the week.
2. Common Ground Summer Fest
Common Ground Summer Fest
May 12, Saturday
Frank & Dean, Burgos Circle, Forbes Town Center, BGC Taguig
The line-up for this one is yet to be announced but we're already excited because it's an event hosted by Red Ninja Production and we all know that they always bring the best line-ups! All we know as of now is that there will be three stages: the rock stage, the singer-songwriter stage, and the hip-hop stage.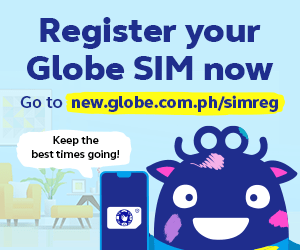 3. Paramore Night 32
Paramore Night 32
May 12, Saturday
Route 196, Katipunan Avenue, Quezon City
To prepare your heart for Paramore live in Manila on August, why not join this gig at Route 196 where the night will be dedicated to all things Paramore? The lists of performers are yet to be announced so make sure to follow Yellow Room Music Philippines on Facebook for updates.
4. Gabi Na Naman Prod Anniversary III
Gabi Na Naman Prod Anniversary III
May 11, Friday
Route 196, Katipunan Avenue, Quezon City
Gabi Na Naman Productions is turning three this year and they're celebrating with a birthday bash graced by some of Filipinos' favorite acts: Ang Bandang Shirley, Autotelic, Johnoy Danao, Shirebound and Busking, Munimuni, Coeli, Niki Colet and Nights of Rizal. Early bird tickets are at Php 250 with beer!
5. Dauntless Manila: I
Dauntless Manila: I
May 17, Thursday
B-Side Malugay Street, Makati
Celebrate with Dauntless Manila as they have their first-anniversary show featuring these acts: Sponge Cola, December Avenue, Autotelic, Keiko Necesario, Leanne and Naara, Quest, and more! Ticket pre-selling is at P350 while door charge is at P450.
6. Unplugged Sessions feat. Reese Lansangan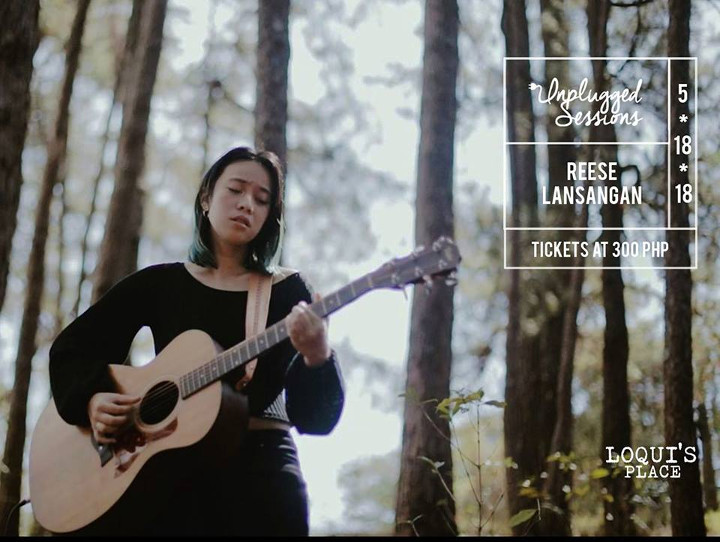 Unplugged Sessions feat. Reese Lansangan
May 18, Friday
Loqui's Place, 83 Zabarte Drive, Quezon City
Can't have enough of Reese Lansangan? Catch her on May 18 at Loqui's Place in Quezon City for an intimate unplugged session. Tickets are priced at P300 per person.
7. Tagaytay Art Beat 3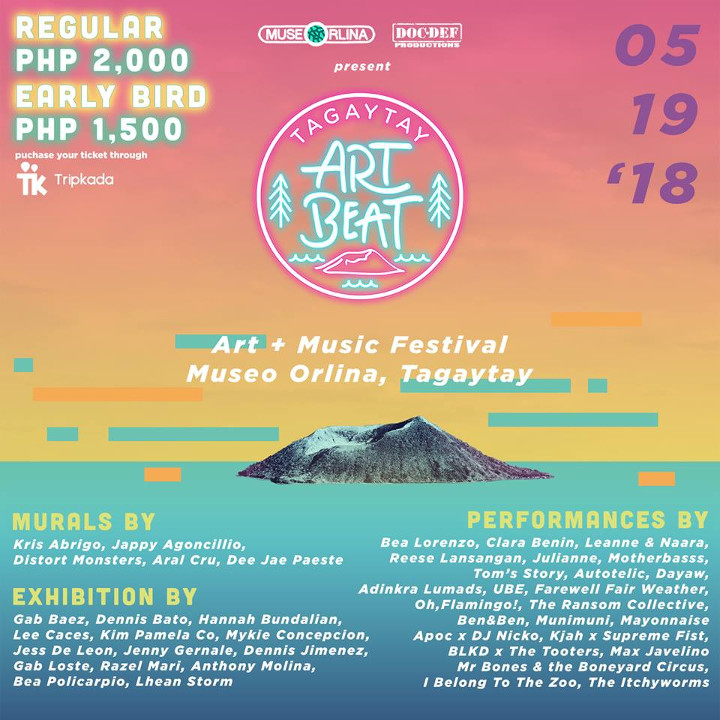 Tagaytay Art Beat 3
May 19, Saturday
Museo Orlina, Tagaytay
Following the success of Tagaytay Art Beat 2 in early 2017, Tagaytay Art Beat 3 is here to give us another good time celebrating up and coming artists. The event is an art and music exhibition where a line-up of artists and performers await guests. Regular ticket prices are at Php 2000 per person.
8. International acts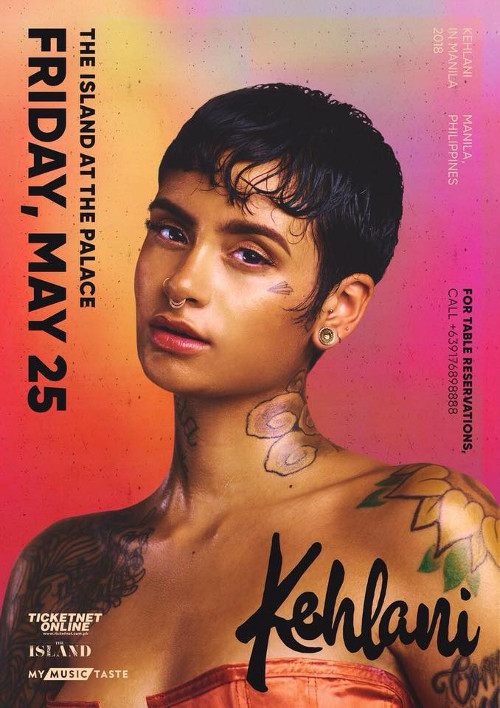 Harry Styles graced the country with his presence last May 1 and Bruno Mars for a two-night concert on May 3 and 4 but they're not the only international acts for this month.
Favorite DJ and Grammy Award-winning producer Diplo will perform on May 11, Friday, at the Cove Manila in Okada Paranaque. Visit covemanila.com for tickets and table reservations or contact 555-5757.
American singer/songwriter/dancer Kehlani will be live on May 25, Friday, at the Valkyrie Nightclub in Taguig. For inquiries and reservations, you may contact 0905 445 5844.
If that genre of music isn't your thing, perhaps you'd be delighted to know that the Embassy of France to the Philippines is once again treating us to something spectacular – A French hip-hop show at the SM Aura Premier on May 12, Saturday. The first show is at 6PM and the repeat performance at 7:30PM. No worries because entrance is absolutely free!
Got anything else to add? Share it with us in the comments below!