How I Got Healthier Curls with the Curly Girl Method
Mar 3, 2020 &nbsp • &nbsp Ina Louise Manto
Basta kulot, salot! You've probably heard of this remark at least a hundred times if you have curly hair. Being a Filipina with curly hair is a feat for you're surrounded with beauty standards that make something natural look unpleasant. If you've seen Princess Diaries, Mia transformed from having big curls to having straight and polished hair — because that's what they think is beautiful.
From remarks about straightening your hair to brushing it more, society makes it difficult for Filipinas with curly hair to feel good about what they were born with.  That's why many opt for straightening their hair every day or even permanently with rebonding. Seriously, salons must've been earning millions from hair straightening services alone just because we're wired to think that only straight hair is beautiful. Moreover, most products you can find in the market are catered for straight hair. How about us, ma'am?
I felt so much relief when I found that there is a community for Filipinas who accept and flaunt their natural waves and curls. And we all follow one routine that does not only help us feel good about our curls but also them healthier: the Curly Girl Method.
Why I tried the Curly Girl Method

Before: December 2018 and January 2019.
I was born with straight AF hair but when I reached the end of elementary, my hair started getting wavy and very buhaghag. I didn't feel confident with my hair at all — I was constantly told to brush or find ways to make it look presentable. That's why I resorted to rebonding my hair from sixth grade up to my third year in high school. Tiis ganda talaga to try to fit in and avoid the remarks.
I only decided to love my curls when I was in college and cut a huge chunk of my rebonded hair. My curls were set free and I loved it! But since then, trying to make my hair tame was still difficult as textured hair gets dry and frizzy easily. I never really paid attention to the products I used; I only cared about how I would style it. I gave the Curly Girl Method a try to see if my hair can still do more and to my surprise, it did.
What is the Curly Girl Method?
The Curly Girl Method (CGM) is based on the 2010 book by Lorraine Massey, "Curly Girl: The Handbook". It is a natural hair care approach catered for wavy, curly, and kinky hair. The goal of the method is to have healthier hair and having defined and frizz-free curls are one of its best results. Of course, you wouldn't get the best results overnight; it's a lifestyle change that requires a lot of trial-and-error.
Textured hair has different needs compared to straight hair mainly because it is more prone to dryness. You'll be surprised once you learn that textured hair actually requires more care! With the Curly Girl Method, you will learn routines and ingredients that are best to improve curl health.
Products and routines you should avoid
Many popular hair care products in the Philippines include ingredients that are harmful to curly hair. These products are also mostly catered for straight hair, and it's sad! If you wish to get started with CGM, these are the routines and products you should avoid:
Brushing
Frequent shampooing
Using heat
Sulfates
Silicones
Drying alcohols
Water-insoluble ingredients
Know your hair's properties
Now that you know the basic ingredients and routines to avoid, it's now time to identify the properties of your hair. It is important for one's routine may not work for the other. When you know what your hair needs, it's easier to stick to a routine that works for you.
Porosity determines how your hair absorbs moisture; you may have open, slightly open, or close hair cuticles. There are three kinds: high, medium, and low porosity. Low means your hair retains moisture for a long time, medium porosity is the easiest to manage, and high means you need highly moisturizing products since water leaves the hair easily. Identify your hair porosity with these tests.
Curl pattern identifies how your hair curves, kinks or twists. There are three main types: wavy, curly, and kinky. Wavy is more on the "S" pattern. Curly can range from springy corkscrews to loose spirals and gets frizzy the easiest. Lastly, the kinky pattern has the tightest coils.
Which hair type do you have?
Must-haves before following the routine
Before following the routine, get rid of your hair straightener, brush, non-Curly Girl products, and terry-cloth towel. You'll also need these basics: a cleanser or shampoo, conditioner, deep conditioner, and a gel or a mousse. Lastly, you'll need a microfiber towel or old cotton shirt, and a dishwashing liquid or sulfate shampoo for the final wash.
Final Wash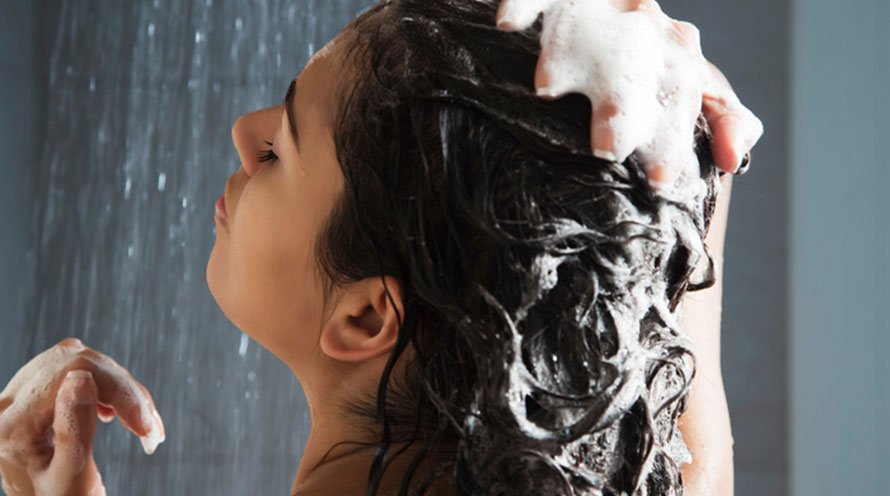 Before you start CGM, it is recommended to do the final wash or else the method might not be effective. It is done to remove the remaining silicones and old products on your hair as it can prevent proper hydration. Do this using dishwashing soap. That might sound scary, but trust me, it works! If you're not comfortable with it, you may use a sulfate shampoo like Johnson's Baby Shampoo. Then, hydrate your hair with a CG-friendly conditioner.
Curl, You Cray! 8 Very Real Struggles Girls With Curly Hair Have to Live With
Curl, You Cray! 8 Very Real Struggles Girls With Curly Hair Have to Live With
Abu Poblete | Jun 05, 2017
The Routine
There are four basic steps to the Curly Girl Method: cleanse, condition, style, and dry. No, cleansing doesn't mean you'll use shampoo. You have to use a conditioner, and it's called "co-washing". In fact, shampooing should only be done once or twice a week, with CG-friendly products or natural ones like brown sugar and apple cider vinegar. Be sure to rinse out all of the products to avoid build-up!
Conditioning is the key part of this routine for you'll have to squish, squish, and squish. It is called the Squish to Condish Method or S2C. Do this method by pressing and scrunching your hair from the bottom up to your scalp while doing pulsing motions. Make sure to hear a squishy sound with each pulsation; if you can't then it's time to add a little water. This is also the time to detangle your hair but with your hands or a wide-toothed comb.
Leave 50% of your conditioner. It may feel uncomfortable at first but your hair will love it! Then you may proceed with styling using a gel or a mousse while your hair is soaking wet. There are different ways to apply stylers; the most popular one being the Praying Hands method which evenly coats your hair with the product. Once done, grab your microfiber towel or old cotton t-shirt to squish the remaining water off your hair. However, squish sparingly to avoid getting frizz.
Drying your hair can be done with a diffuser (but with cold air) if you have extra time. But I just let mine air dry because it's easier that way!
Silk, silk, and lots of silk!
Once you start CGM, silk will be your best friend. You might want to start investing in silk scarves and they don't have to be the expensive ones. Silk does not damage your hair, unlike the usual cloth used in bedsheets. I now sleep with silk scarves wrapped around my pillows, or just wrap my hair with it. Silk helps preserve curls, especially at days where you'll skip washing. Also, you can use it to wrap your hair when commuting. You don't want to ruin your precious curls from riding a jeepney, right? The same goes for when you want to tie your hair. Use a silk scrunchie or a coil hair tie. You may find it weird at first but styling your hair with silk scarves are actually cute!
The results
I have been following the method for 9 months now and have garnered amazing results. My hair used to be very dry and frizzy. Now, it is more hydrated but with a bit of frizz still, and my curls are more clumped! Whenever people ask me if I had my hair permed, I just tell them I don't comb my hair and use a lot of gel. True story.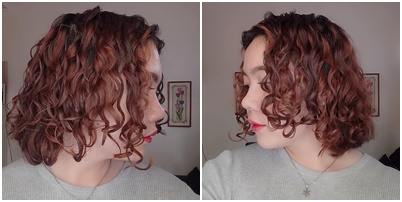 After: January 2020 (7 months into CGM)
All thanks to CGM, I have learned to love my curls. Remember, just keep squishing!
If you plan on following the Curly Girl Method, join Curly Girls Philippines. It's a community for kulot Filipinas where you can find detailed tabs about the method and find discussions about different products and routines. We have started a revolution and we'd love to have you there!
Have you tried the Curly Girl Method? Tell us all about it below!