After more than a year of lockdown, we're no strangers to wishing for a change of view and having a breath of fresh air. If you've been dreaming of going on a nature adventure but don't want to sacrifice comfort, glamping may be an experience you'd want to try. From taking in beach views to waking up to the mountains, here are some of the best glamping sites near Manila for your next well-deserved nature getaway:
The Cocoons
Locations: Laiya and Calatagan, Batangas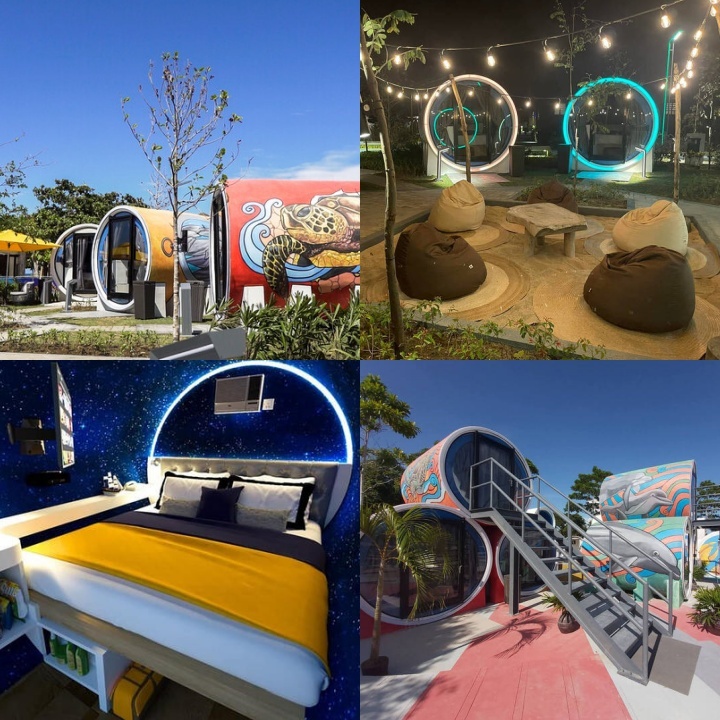 Found in two of Batangas' most popular shores, The Cocoons offers a unique accommodation experience for a beach getaway. You'll get to stay in cylindrical cocoons painted with vibrant murals featuring various underwater animals and glass doors to let you appreciate the garden, swimming pool, or beachside view. Each air-conditioned cocoon is ideal for two, equipped with a television, safe, and a fridge.
You can find The Cocoons at Club Laiya and Calatagan South Beach. Rates start at P3,200 for an overnight stay. Find more information here.
Juan's Place
Location: Boundary of Sta. Maria, Laguna and Infanta, Quezon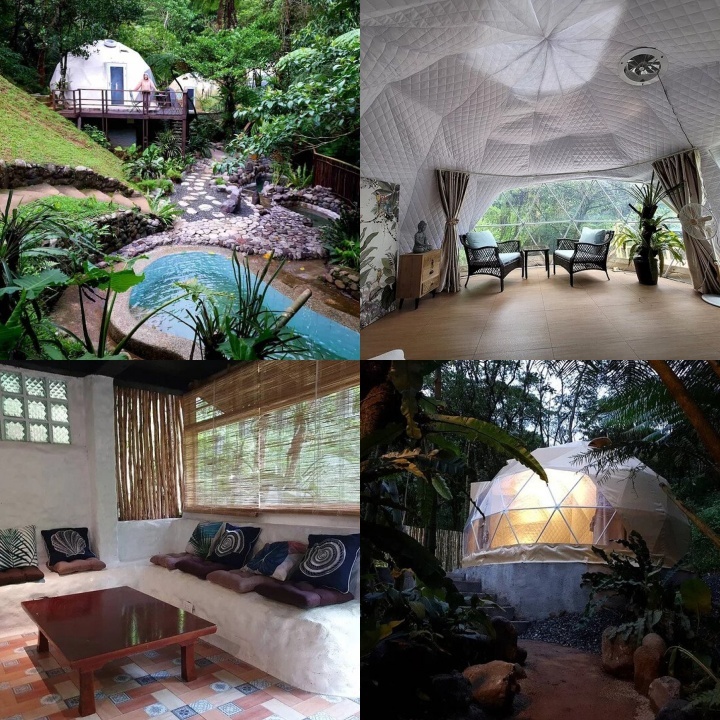 If you're looking for an off-grid glamping location, go for Juan's Place and feel like you just entered a Studio Ghibli film. Experience waking up to foggy mornings and appreciate the luxurious Japanese wabi-sabi concept and aesthetic at the stylish geodesic domes. You may choose to rent one of their three domes or rent the place entirely for P30,000 a night.
Rates start at P6,000 for the Komorebi Dome. Find more details here.
Puerto Silanguin Beach Camping Resort
Location: San Antonio, Zambales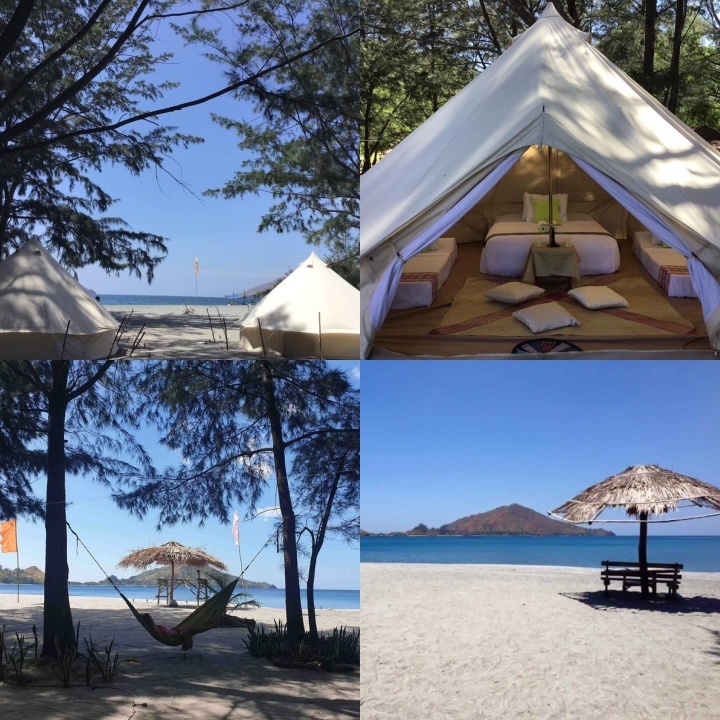 Whether you're a couple looking for a romantic getaway or a huge family planning a short beach getaway, Puerto Silanguin Beach Camping Resort has ten luxurious tents that will remind you of a hotel-like stay. Each tent is air-conditioned and complete with bed arrangements, nightstands, and lamps. Other than a comfortable camping experience, you'll have a five-hectare cove to yourself: a white sand beach, crystal clear waters, and spaces for wellness activities.
Rates start at P8,500 per night. Find more details here.
Domescape
Location: Nasugbu, Batangas
Visiting Tagaytay for the next weekend? If you don't want to stay in the city, you can go for an extra 20-minute drive and head to Nasugbu to experience Domescape. The first of its kind in the Philippines, these geodesic domes are more than just a tent. Each is detailed with stylish decor, giving the same feeling of being in a luxurious hotel. You'll be completely immersed in nature too, with the surrounding plants and a private natural swimming pool.
Rates start at P7,000 per night. Find more information here.
The Ponce Farm
Location: Sariaya, Quezon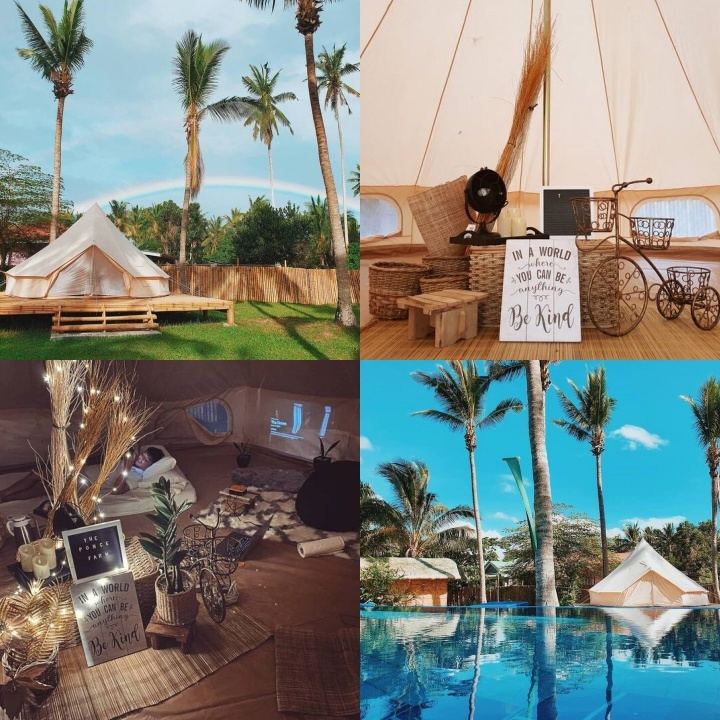 Find yourself in a little oasis in this idyllic farm stay in Sariaya, Quezon. Glamping at The Ponce Farm will let you experience spending a night at a stylish bell tent with bohemian decor, enough space for up to 10 guests, and a projector for binge-watching shows at night. The tent is also perched on a wooden platform for more comfort and leaves space for a little veranda for some stargazing at night. There's a private pool too!
Rates start at P10,771 per night. Find more information here.
Noni's Resort
Location: Alitagtag, Batangas
Nestled 1,000 meters above sea level, the Talisay Cabin at Noni's Resort will probably be one of the most scenic and luxurious glamping locations you'll experience. The two-level wooden cabin offers the Taal Lake and Mt. Maculot as your front yard – who wouldn't love to wake up to that? It's also fully airconditioned, has a patio and firepit, private pool, and floor-to-ceiling glass windows to let you appreciate the panoramic view.
Rates at the Talisay Cabin start at P10,400 per night. Find more details here.
The BLOC Camp Site
Location: Cavinti, Laguna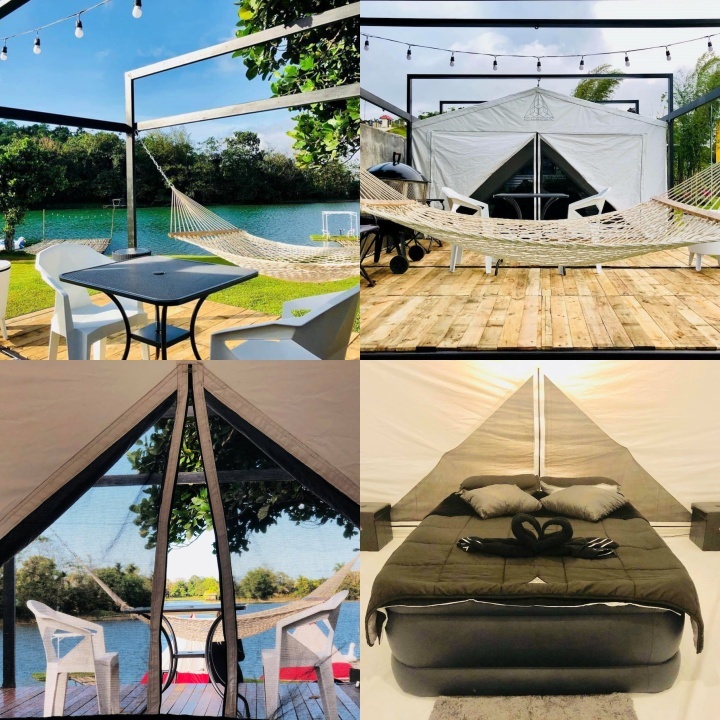 At the BLOC Camp Site, you'll get to wake up to a view of the manmade Lumot Lake from the comforts of your stylish glamping tent. The team behind BLOC is one of the pioneers of glamping in the country and the camping site is where art and architecture meet the beauty of nature. The luxurious tent can fit a group of family and barkadas, and it has a cozy veranda lined with fairy lights and a hammock. Combine these with good company and you're in for a memorable lakeside stay.
Rates start at P3,142 per night. Find more information here.
Mudita Glamping Resort
Location: San Jose, Tarlac
Ever wondered what it's like to go glamping in the middle of the rice field? Mudita Glamping Resort offers a unique glamping experience – instead of tents, they feature classic bahay kubos on stilts, which give major Bali feels. The sheer white curtains make the glamping kubos look even more stylish!
Rates start at P3,500 for two. Find more details here.
8 Best Glamping Sites Near Metro Manila for Your Next Getaway in Nature
8 Best Glamping Sites Near Metro Manila for Your Next Getaway in Nature
Ina Louise Manto | Oct 28, 2021
Don't forget to follow the social media pages of these locations to be updated on changing travel restrictions and requirements. Travel safely and responsibly!
This article was republished with permission from WindowSeat.ph. Edits have been made for 8List.ph.