When you're stressed AF and too busy to eat three times a day at the right time, the urge to order from one of the many fast food chains gets almost irresistible. You know #RAGRET will follow after, though—if not immediately, then several pounds after. So why keep doing it?
We've all heard the excuses lack of time, money and better choices. But, earth to you, honey—the metro's dining scene has evolved with plenty of room for healthy fast food joints. Yes, you can now enjoy wholesome, nutritious meals without the absurd bill and waiting time. In fact, here are 8!
Moxy
GF Alphaland Makati Place, Ayala Avenue Extension cor Malugay St., Bel-Air, Makati
0945 154 8144 | Facebook | Website
Open daily from 10am to 9pm
Budget for two – P500
Moxy is inspired by travels in Spain, London, and LA—particularly, these places' wealthy supply of convenient, wholesome eats. The founders merged those worldly flavors with local, organic ingredients, and the results are utterly delicious. Try their tasty hot boxes, salads and pita pockets!
SaladStop!
Locate the branch nearest you here | Facebook | Website
Budget for two – P850
There are over 35 ingredients and 18 dressings you can get creative with at SaladStop! And as if that's not shaking things up enough, they even feature a new creation every month. For those who don't have the time to concoct the salad/wrap of their dreams, there's also a fantastic selection of signature dishes like the Oh Crab Lah, Big Bird, and Hail Caesar.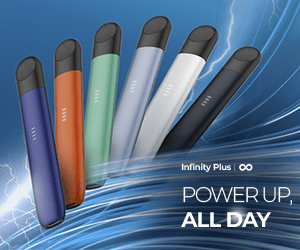 Faburrito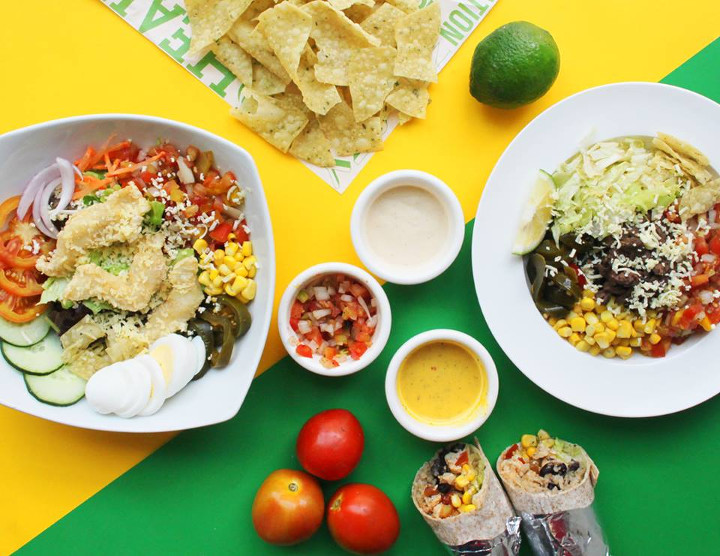 Locate the branch nearest you here | Facebook | Website
Budget for two – P600
Faburrito lets you enjoy Mexican comfort food without the guilt. They've removed the junk and kept all the satisfying flavor in Mexican staples like burritos, tacos, quesadillas and more. Brown rice takes the place of white rice, for example, and the salad greens are more abundant. For their mains, choose from six kinds of meat and three kinds of forms.
Berde Bowls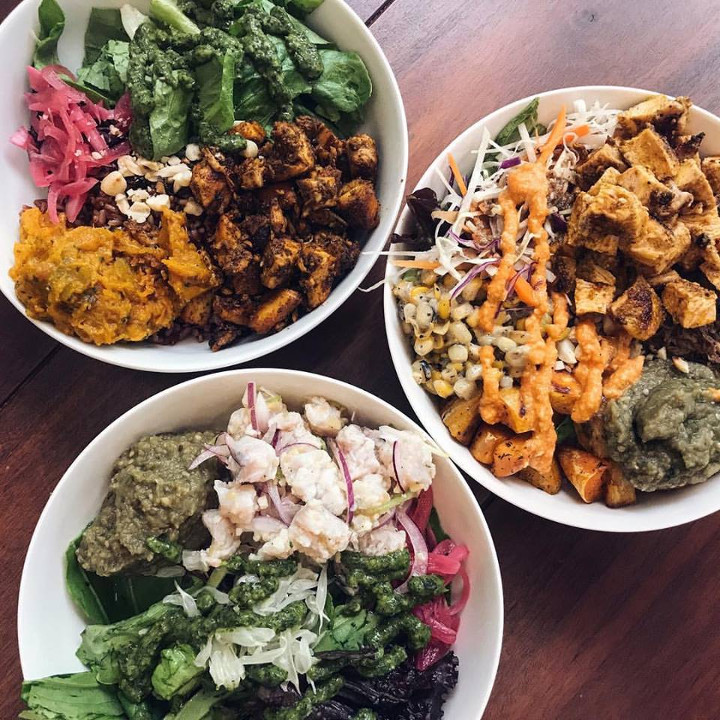 Ayala Triangle Gardens, Paseo de Roxas Street, Salcedo Village, Makati
(02) 728 5046 | Facebook
Open daily from 11am to 10pm
Budget for two – P700
Ever seen those beautiful bowls of perfectly balanced greens, grains, protein and sauce on Instagram? You no longer have to stop at virtual tapping. Head to Berde Bowls for those healthy and filling bowls, featuring Pinoy dishes like mushroom monggo, gising-gising, tuna kinilaw and more.
They have five signature bowls for when you don't have time to pick ingredients, but you should definitely try creating your own. Choose from four bases, five proteins, six vegetables and 12 toppings.
Go! Salads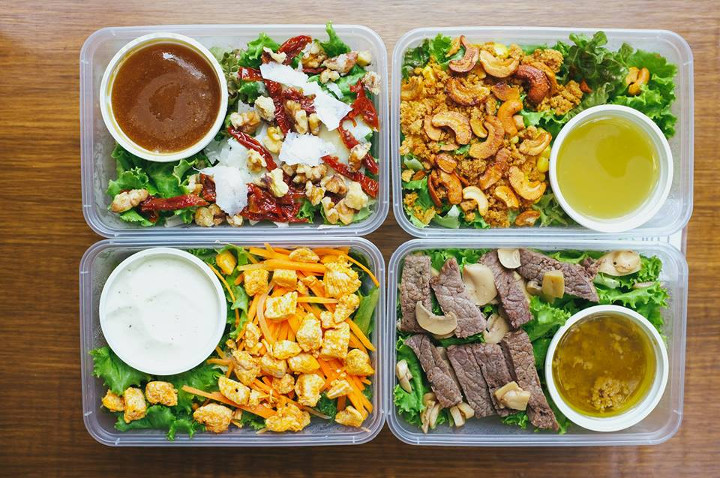 Locate the branch nearest you here | (02) 878 787 Facebook
Budget for two – P300
Healthy-eating need not be expensive, boring, nor time-consuming. Go! Salads gives nutritious food a good name with their wide selection of affordable and delicious eats. Enjoy exciting salads, paninis, and soups for your wholesome meals. They also offer green smoothies and gourmet snacks to make your healthy-eating complete!
Craft Salad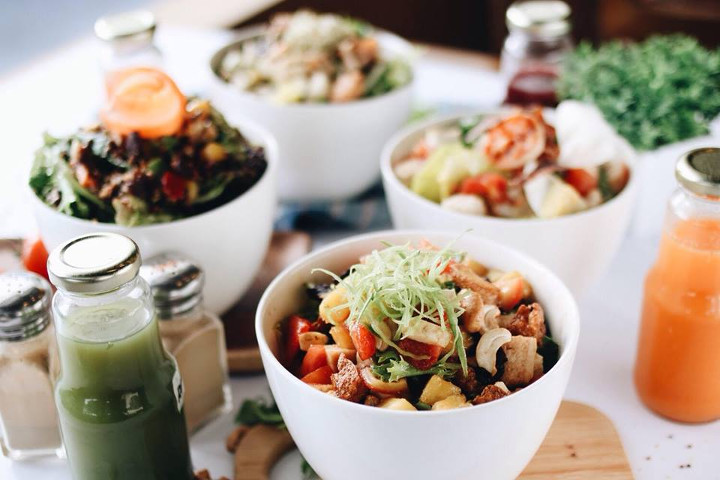 Locate the branch nearest you here | Facebook
Budget for two – P500
Look forward to unique and delicious salad variants like Greek Fire, Tok-Yoooo and Vitamin Boost at Craft Salad. There are also other wholesome, equally tasty options like pasta, grains, sandwiches, and soups. If you're looking for a big, hearty meal without the guilt, try their awesome combo of soup, salad, and sandwich.
Juju Eats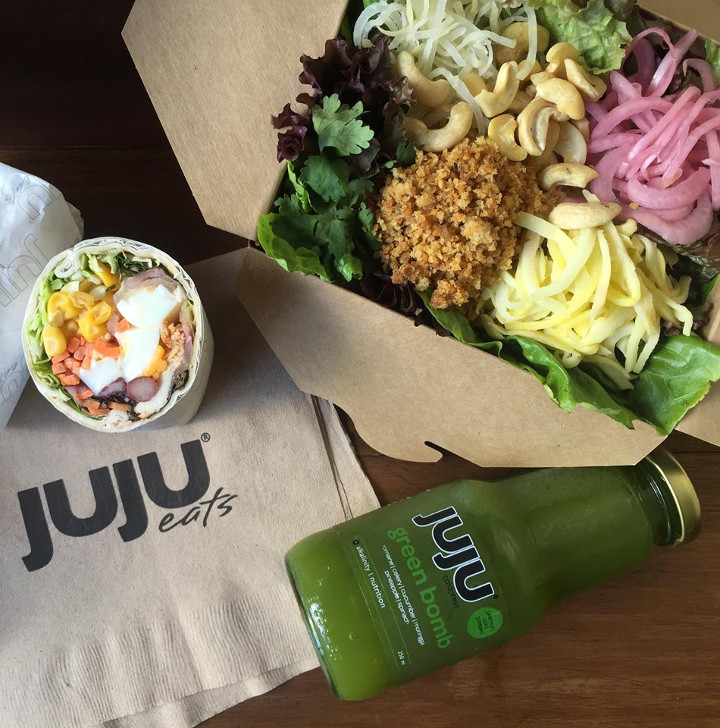 Locate the branch nearest you here | Facebook | Website
Budget for two – P650
Whether you're craving for a rice bowl, salad or wrap—Juju Eats will definitely satisfy. There's no room for dull, tasteless version of healthy food here, just wholesome eats with lots of flavor. Just some must-tries are the Red Rice Bibimbap Bowl and the Crispy Catfish Salad/Wrap.
Juju Eats also offers smoothies, slushies, cold brew coffee and cashew milk. And if you're looking to end your meal on a sweet note, go for their healthy desserts Chocolate Chia Pudding, Carrot-Granola Cookies, Better Brownie and more.
Ono Poké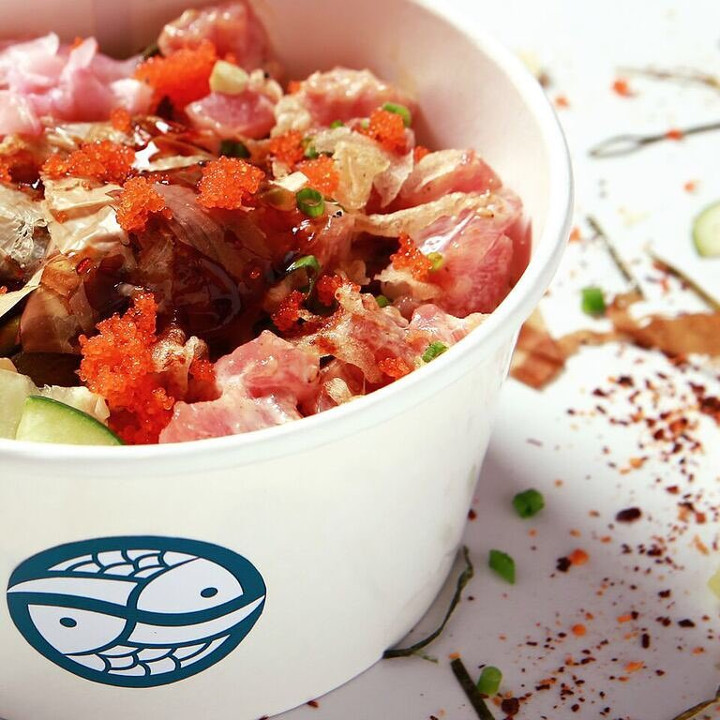 The Pantree, JCSO Building I, 119 Dela Rosa cor Castro, Legaspi Village, Makati
0956 771 1717 | Facebook
Open Monday to Friday from 11am to 8pm
Budget for two – P500
Poké is all the rage these days and rightfully so. The combo of marinated sashimi, vegetables, sauce and your choice of base is well-balanced in terms of flavor, texture and nutritional content. Ono Poké is one of the greatest purveyors of that, adding efficiency to its scrumptious feats.
Housed in The Pantree—Legaspi village dwellers are indeed lucky they can have their poké bowl fix almost anytime and fast at that. And at Ono Poké, you can choose brown rice or cabbage as your healthy base.
Any other healthy fast food joints we've gotta try? Sound off below!