Saying that it's been a rough three months for PUV drivers is an understatement. Due to the lockdown, public mass transportation was suspended and thousands of jeepney drivers found themselves without incomes and with families to provide for. Left to fend for themselves without a livelihood, our manongs have had to beg passing cars for food.
Jeepney drivers in UP Diliman ask for alms from passing motorists as modern jeepneys and UV express have started operations on June 22, 2020 as authorities ease restrictions leaving traditional jeepney drivers behind.
📷STAR/Michael Varcas pic.twitter.com/E0NbwB5kNq

— Philstar.com (@PhilstarNews) June 22, 2020

The good news is that these jeepney drivers will be able to return to work next week, as per LTFRB's new directive. But they'll still need help to get back on their feet. This is where we can come in. Here are some of the donation drives organized by various individuals and organizations. Any amount would greatly help our fellow Filipinos in need.
This post from Quarantine Tribute Tips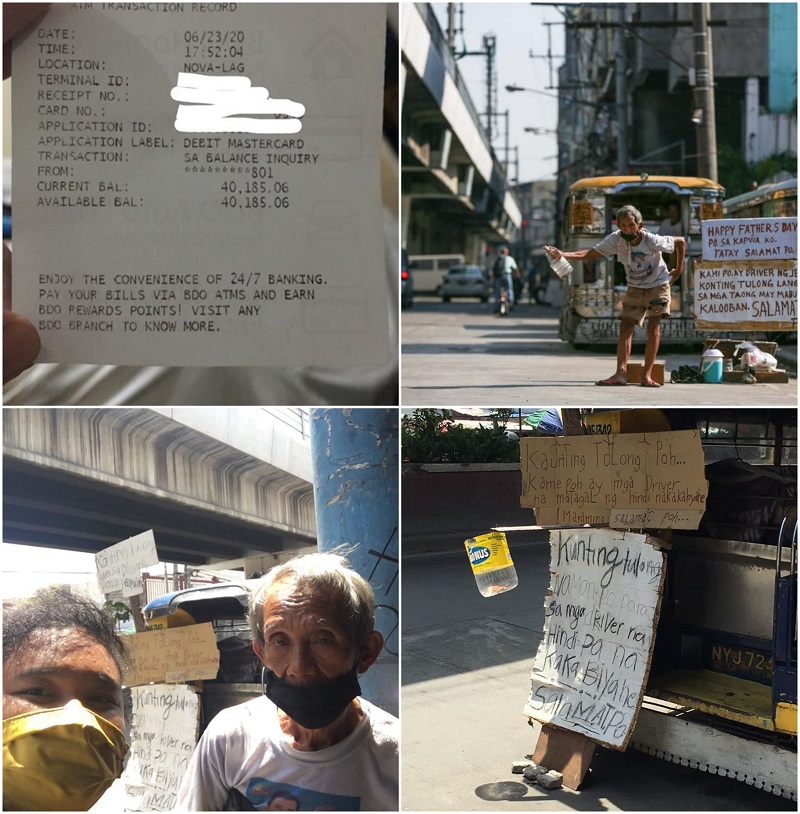 On June 23, Facebook user Ayla Conda posted on the Facebook group Quarantine Tribute Tips about locating jeepney drivers who are in need of assistance. One of them is elderly Tatay Alberto who, like thousands of other drivers, needed essentials to feed his family. Conda wasted no time and sought the help of other Quarantine Tributes. In his recent post, he has already raised P40k from donations. The money will be used to buy food and necessities.
To send your help in cash, you can send it through the BDO account number 0044 5066 4801 under the account name Jotham Russel C Campo. You can also send via GCash to Roseil Campo at 0999 336 1563. For in-kind donations, send Conda a message on Facebook.
PISTON Donation Drive
Transport group PISTON has organized various donation drives since the start of the lockdown and they continue to take donations in cash or in kind. For in-kind, items such as face masks, alcohol, soap, vitamins, and food are welcome. You can contact
Nedy Gonzaga at 0920 858 0754
before you drop them off at
Balai Obrero Foundation
. For cash donations, you can send them at the
BPI Bank Account 3323 2909 53
under the account name
Piston LandTransport Coalition
.
Bagong Alyansang Makabayan
This June 27, Bagong Alyansang Makabayan will launch their relief effort program "Araw ng Pakikiisa sa mga Jeepney Drivers." The event calls on the public to donate relief goods, and other essential items and bring them to specific areas yet to be announced. For donations in cash, you can send them to their
PayMaya and GCash accounts via 0998 869 7306.
The Mitochondria Project
It's amazing to note that The Mitochondria Project is an initiative started by students of the University of Santo Tomas Faculty of Medicine and Surgery. They aim to provide basic needs for marginalized families in Metro Manila. Their initial goal is to raise P50,000 for 100 families but the donations have exceeded their goal which now allows them to extend their help to more people in need. The beneficiaries of their project are PUV drivers, the homeless, senior citizens, and farmers.
You can send your cash donations via BDO account number 0062 4003 9909, BPI account number 3069 0673 35, PayMaya number 0905 508 2847, GCash number 0915 207 1198 under the name Paula Santos, or PayPal by clicking on this link.
Arangkada, UP!: Isang Bayanihan para sa Ating mga Jeepney Driver
The League of Filipino Students UP Diliman chapter started their own donation drive on June 22 and the following day have already raised P32, 154.02. Their initiative will help drivers from six different jeepney lines: UP Diliman Philcoa Drivers and Operators Association, UP Pantranco Driver's Association, UP Katipunan Kmart Jeepney Operator Drivers Association, University of the Philippines Toki drivers and Operators Association, UP Ikot Drivers and Operators Association, and UP SM NORTH Association.
You can donate through their PayPal account by clicking this link. You can also opt for sending cash via PayMaya and GCash at 0917 8692 603 under the account name Christian Sarabia.
Tulong Kabataan
Tulong Kabataan was formed by Kabataan Partylist as a relief and rehabilitation network to help Filipino victims of calamities and crises. Their most recent effort, "Walang Ayuda, Walang Pasada" aims to provide aid and relief to the many jeepney drivers scattered across the metro. Apart from a call for donations, they are also encouraging other Filipino youth to speak out about #NoToJeepneyPhaseOut by recording a video and answering the question "Why are Jeepneys important to you?"
You can donate via BPI Savings account number 008339 4735 53, BDO Savings account number 012220 0134 36, and GCash number 0916 913 1297. The three accounts are under Thalia R. Villela.
Bangon Bayan
On May 18, Bangon Bayan was able to raise a total of P602,449.95 which allowed them to purchase 520 sacks of rice and 475 packs of relief goods for PUV drivers. They have already assisted 6,859 families but the need is ever-growing. Bangon Bayan's COVID-19 relief operations are still on-going.
For cash donations, you can send your money through BPI account number 3219 1207 36 under account name Neil Vincent Monsalud, BDO account number 00249 0554 804 under account name Alyssa Isabelle Manalo, GCash number 0917 532 0334, and via PayPal through this link. For in-kind donations, you may message Bangon Bayan's Facebook page for information.
Barya Lang Po Sa Umaga: A Donation Drive
Barya Sa Umaga was launched just this month for the sole purpose of helping jeepney drivers and their families. Their beneficiaries are the thousands of drivers under PISTON transport group. As a policy, the group is transparent with the money being donated; you can find their donated
money breakdowns
on their Facebook page. Barya Sa Umaga has just finished their first wave of donations,
follow them on Facebook
for more updates on the second wave.
Do you know other donation drives to help jeepney drivers? Link them in the comments section below!