Food Delivery Gone Wrong: This Hostile Rider's Case Is Dividing the Internet
Nov 18, 2022 &nbsp • &nbsp Kyzia Maramara
A post about a hostile delivery rider cursing and threatening a customer is currently doing rounds online. Naturally, with every viral post, the Internet was there to pitch their tents and take sides. But who is wrong here? Is it the foodpanda rider with a short fuse who was forced to wait for a long time? Or is it the customer who was subjected to a "traumatic" experience? Here's what happened.
The viral tweet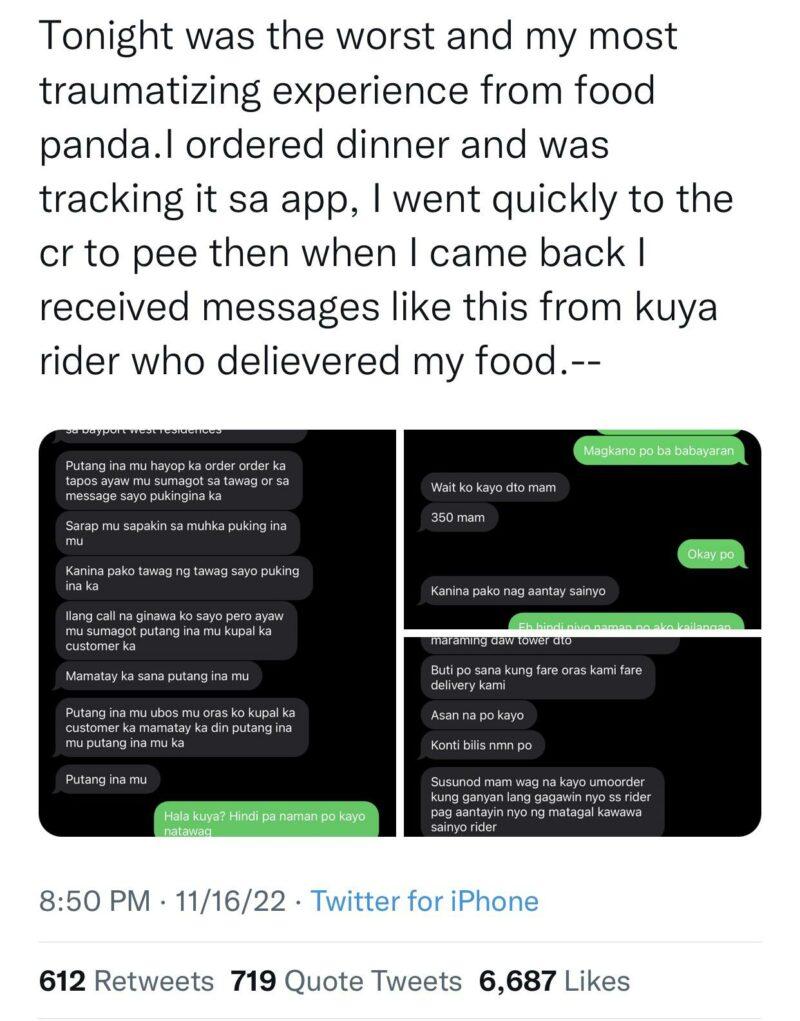 Last Nov 16, a Twitter user posted what she called her "worst and most traumatizing experience" from a food delivery service. Her account has been set to private since the post went viral.
"I ordered dinner and was tracking it sa app, I went quickly to the CR to pee then when I came back I received messages like this from kuya rider who delivered my food," she tweeted.
She attached screenshots of her horrifying conversation with the foodpanda rider who seemed like he needed to attend an anger management seminar ASAP. In the texts, the rider initially informed her that he had arrived. But then, the messages became increasingly hostile. He started cursing the customer and threatening her through a barrage of texts.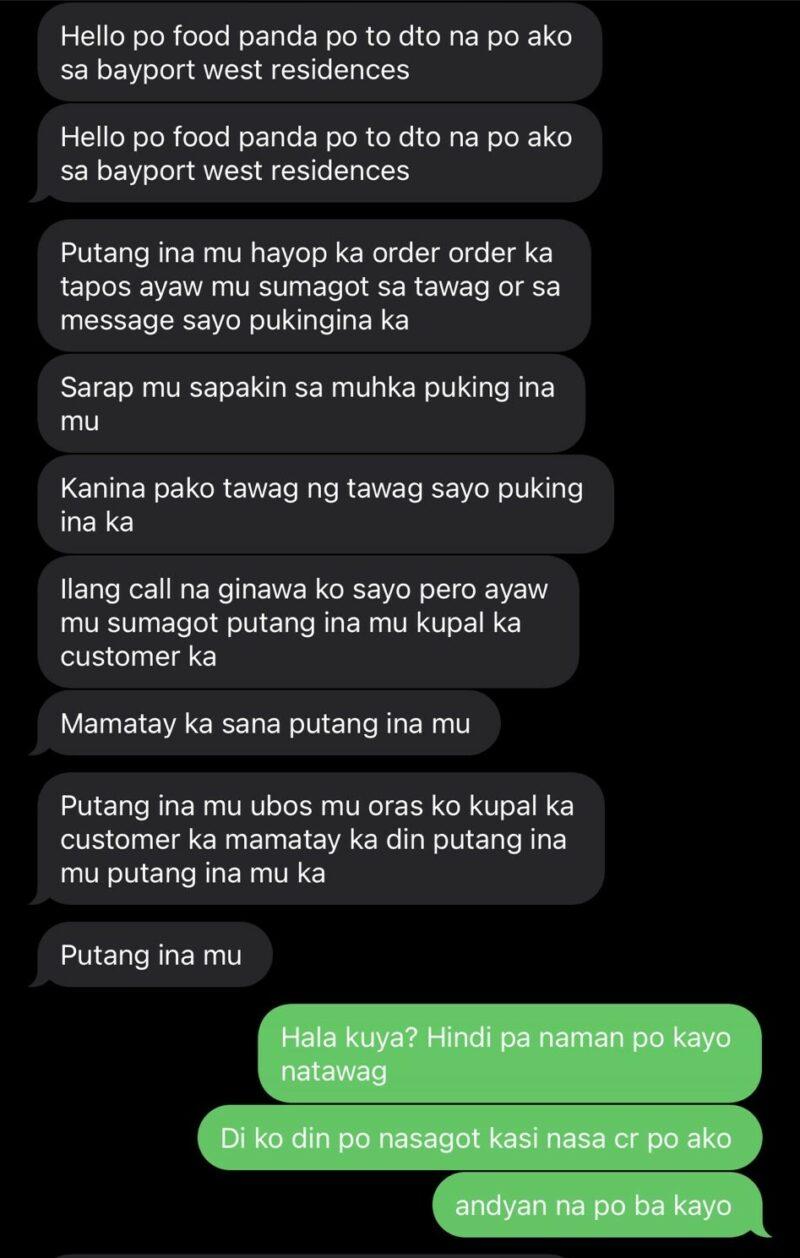 "P******** mo. Hayop ka. Order order ka tapos ayaw mo sumagot sa tawag or sa message sayo," texted the driver. "Sarap mo sapakin sa mukha."
After a series of texts with the same curses and threats, the customer responded that she never got a call from him. She even explained that she only took a quick CR break and that the app indicated there were 2 minutes before her order was supposed to arrive.
"Kanina [pa ako] tawag [nang] tawag [sa inyo] mukha [na akong] tanga [dito] sa labas ng gate," the driver continued. "Tama ba yan [ginagawa niyo] samin mga rider?"
"Alam mo naman po umorder kayo tapos nag-CR kayo. Pano naman po kaming mga rider naghahanap buhay ng parehas?" added the driver.
The customer even said that the driver's threats scared her so much she had to ask her building's security guard to pick up the food for her.
Two sides to the story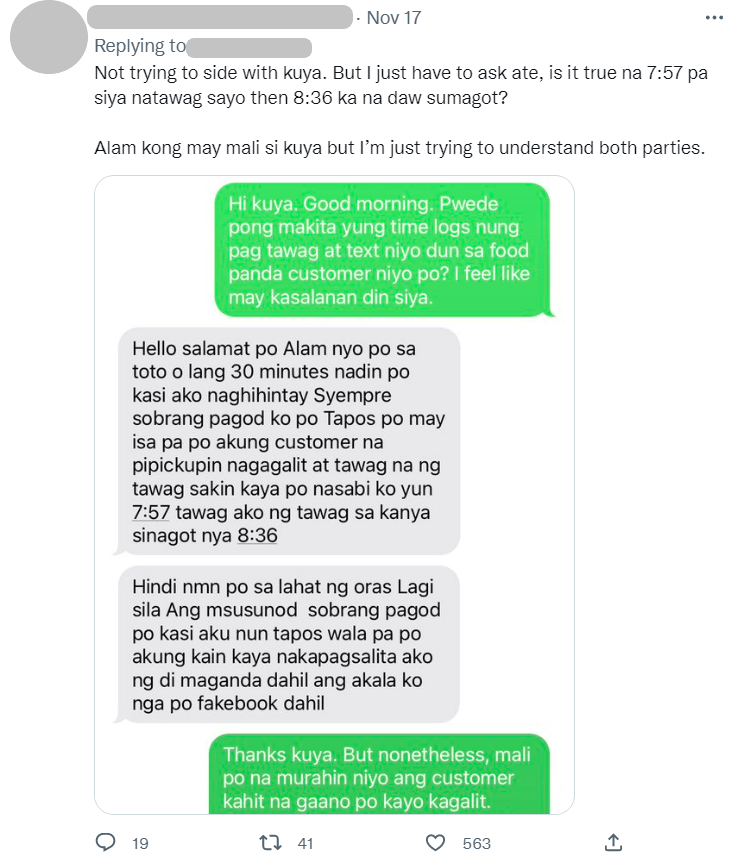 The post quickly became viral, earning mixed reactions from the Internet. Online sleuths who wanted to get to the bottom of the whole thing demanded for the text time stamps which the customer provided. It turned out the driver texted the customer at 8:16 and she only sent her reply at 8:37. That meant he had to wait at the gate for 21 minutes, something that did not add up if the customer said she only took a "quick" pee break.
Another netizen tried to text the rider's number to get his side of the story. The driver said that he actually had to wait over 30 minutes, longer than the standard protocol. Thinking the order was a scam (something that happens all the time these days), he started cursing the customer.
"Sobrang pagod po ako nun tapos wala pa po akong kain kaya nakapagsalita ako ng hindi maganda dahil ang akala ko nga po fake book," explained the rider.
Nevertheless, threats were made and that's unjustifiable
The Internet's verdict? Both parties are at fault here. The customer should have been alert since she was expecting an order to arrive. Meanwhile, the driver should not have reacted that way. Cursing a customer and threatening their safety is unjustifiable behavior. The situation could've been handled in a number of ways that won't resort to verbal and attempted physical assault.
"I don't understand why people are siding with the riders," said one tweet. "While I agree that making them wait is not right, cursing and threatening someone is unjustifiable. Please do not defend the rider and he must be penalized by foodpanda."
foodpanda's response
Hi @qwertyksh, sorry for making you feel uncomfortable. Please send us a message so we can look into this immediately.

— foodpanda PH (@foodpandaPH) November 16, 2022
Many also called for the delivery service company to look into the incident and sanction the rider. The foodpanda official Twitter page replied to the original post asking the customer to send them more details so they can look into it. As of writing, there has been no news about the investigation.
Ordering etiquette

But in the same way the driver was at fault, the internet argues that the customer is too. In this day and age where we rely on delivery riders more than ever, we have to practice proper ordering etiquette. That includes being alert when you know your parcel or food is at least 10 minutes away. Be extra attentive to calls and texts.
"As a responsible customer gawin mo din sana yung part mo na di makaabala sa oras ng tao. Sana ibinilin niya na lang sa guard at iniwan ang bayad," said one tweet.
Learn to think of your delivery driver's welfare — these guys have been working hard, battling the warm weather and pollution. It can get exhausting. The least we could do is show them some consideration and appreciation.
Be kind to everyone
Ultimately this teaches everyone a lesson of respect and valuing each other's time. We know "Filipino time" is a thing but it doesn't have to be. But if you come across people who will test your patience and anger management, choose to be kind rather than waste energy on strong emotions.
What do you think about this foodpanda rider incident? Share your thoughts with us in the comments!
Check us out on Facebook, Instagram, Twitter, TikTok, and YouTube, to be the first to know about the latest news and coolest trends!