How Boracay Has Transformed During the COVID-19 Pandemic
Jan 25, 2021 &nbsp • &nbsp Meryl Medel
One of the industries that was hit hard due to the pandemic and subsequent lockdown is tourism. For several months, people stayed inside their houses, businesses saw a steep revenue decline, and the world seemed to have stopped spinning. Boracay is no different.
The island paradise reopened on June 16, 2020 to tourists from nearby provinces and on October 1, 2020 to tourists from all over the country. Early this year, the 8List.ph team was able to travel to the island with the help of Cebu Pacific to see just how much the island has changed due to the COVID-19 pandemic. Here's what we learned.
Stricter travel requirements

Then: You could book an available flight to Boracay and fly just a few hours later. You could just even book a hotel when you arrive. You could stay overnight or a weekend and not worry about anything else.
Now: Yes, you can still book a flight anytime, but now, you won't be able to come and go as freely as before since there are much stricter travel requirements. While Cebu Pacific flights are already operating at full capacity, flying is a completely different experience from how it was before the pandemic. Now, you'd need proof of a booked flight, booked accommodations, a swab test result within 72 hours confirming that you tested negative for the coronavirus, and accomplished health declaration forms. You have to submit all of these to the Tourist Boracay email address before the date of your flight. Once they accept your requirements, you will receive a Tourist QR Code that you will need throughout your whole journey on the island. Of course, all these requirements must be presented to flight personnel for you to be able to board your flight.
With Cebu Pacific, you'd be able to easily follow these strict travel requirements, since the airline is implementing their strict contactless guidelines and sanitation protocols. This includes but is not limited to pre-flight rapid antibody tests for all crew members, mandatory use of personal protective equipment, and regular and extensive disinfection. Cebu Pacific has also partnered with Philippine Airport Diagnostic Laboratory (PADL) for its Test Before Boarding (TBB) process, an effort to offer all their passengers antigen tests onsite at an affordable price.
Planning to travel to Boracay soon? Read up more on the requirements here.
No more crowds

Then: The island would be packed throughout the year, but especially so during the summer. During the day, the heat could be unbearable not only because of the sun, but also due to the amount of people around. At night, tents and tables stretched from the bars and restaurants all the way to the edge of the water.
In 2019, just before the pandemic began, Boracay drew over 2 million tourists, which was twice the number from the previous year. There were more foreign visitors than local ones, with Chinese and Korean the top two foreign nationals who visited in 2019.
Now: According to locals, the current number of visitors is only at 10% to 15% of pre-pandemic statistics. When Boracay opened to tourists from all over the country in October 2020, the first 25 days only saw 1,944 visitors, a big dip from October 2019's 67,493 tourists. There has been an increase in the next couple of months, with the first half of December 2020 seeing 4,358 tourists, but understandably, it's far from the pre-pandemic crowds.
With no crowds, you can now actually see the wide stretch of white-sand beaches when you take a walk around the island. There are no tents, tables, or people obscuring your sight and you can simply enjoy the view.
A calmer island vibe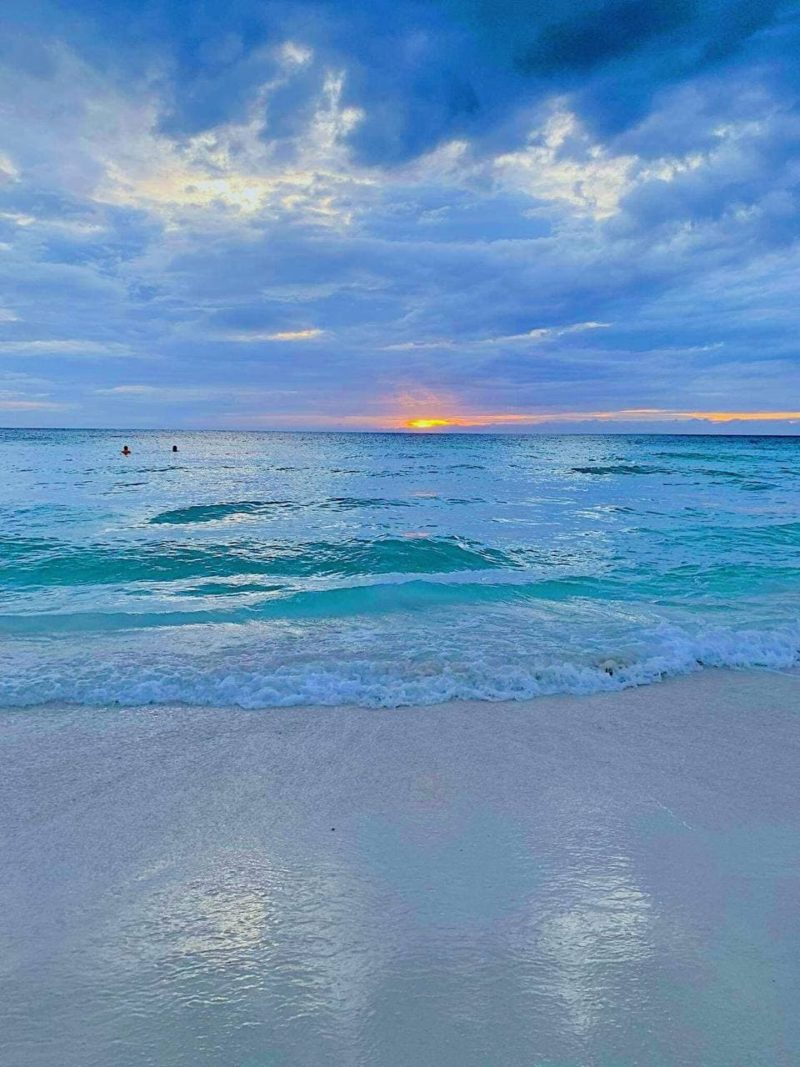 Then: Boracay used to be a party hub. People went there to party all night by the beach, get drunk with their friends, and listen to loud music day and night. The nightlife was booming, literally and figuratively.
Now: You can actually hear yourself think. Kidding aside, locals observed a decline in the volume of noise. Officials have actually prohibited loud music on the island. "Many of the bars have offered alternatives like acoustic sessions or reggae bands, so mas feel na chill and kitang kita yung island vibe," 8List.ph video producer Alain Fusana says. He particularly enjoyed his experience at The Tides Hotel, which offered acoustic sessions at its roofdeck bar.
There's a curfew now
Then: Guests could dance all day, all night long. Bars would open at 10 AM and operated until the unholy hours of 3 to 4 AM. Happy hours stretched on for entire evenings, and a wide range of drinks and spirits were always available. Some establishments were even open all day, so you could really just party all day long.
Now: On top of stricter health protocols imposed on all visitors, locals, and establishments, the local government imposed a strict curfew starting 11 PM until 4 AM as part of the island's COVID-19 protocols. The local government still prohibited partying, and they required establishments to close before the start of the curfew.
Gone are some old favorites

Then: From bars and restaurants to souvenir shops, the establishments in Boracay were all thriving with the 100% increase of tourists within a year. New businesses continue to pop up. And some of the oldest stores and restaurants celebrate another anniversary since they were established.
Now: Both old and new businesses closed their doors in Boracay. 20-year-old Nautilus Boracay, a resort lifestyle clothing store, has ceased operations. Store owner and international designer PJ Arañador moving his business back to his hometown Iloilo.
Meanwhile, Truefood Indian Cuisine, which was established in 1990, also closed down. This is partly due to the pandemic and partly because of the expiration of their lease. While there is hope that the restaurant will resume operations, plans to relocate are still up in the air for the restaurant.
Water sports now take the spotlight

Then: Before the pandemic, tourists came to Boracay primarily for its extremely active nightlife. Guests enjoyed the beach during the day, but in the evening, it really was the beachside nightlife that people came for.
Now: Since the local government has prohibited parties and nightlife, locals had to turn to other activities to promote to the arriving tourists. Small businesses like tours and water sports found themselves in the spotlight of the island's tourism.
Dubbed as one of the Best Kite Surfers in Asia by Kiteboard Tour Asia, Kalibo-born Ken Nocor makes his livelihood teaching tourists to kitesurf or kiteboard. This is an extreme sport in which one rides a modified surfboard while holding onto a specially designed kite, harnessing the wind to move around. He told 8List.ph how the pandemic brought more Filipino tourists to his doorstep. "After nitong nangyari sa pandemic, mas marami nang Pilipino ang nag-try ng extreme sports like kitesurfing. Which is good kasi sa kitesurfing karamihan ng guests namin ay European. Now marami na ang Pinoy, . . . and malaki talaga ang potential ng Pinoy [sa kitesurfing]."
Similarly, Bing Larocque, the first Filipina free diving instructor and a Boracay local, saw an increase in interest in water sports from their current tourists. But she also shared her worries about the uncertainties that still plague the present and the future.
"We've gone through the lockdown before [in 2018], which was really hard for us, but to go through it a second time, when people haven't even recovered from the lockdown, that was pretty painful," Larocque said. "And now you don't have any customers and there's the worry of what's happening. What is COVID? What's the future going to be like? Is my profession even viable in the future? Will there be tourists? Because travel is so uncertain at these times. There is a big, big change. It's a big uncertainty, and we can only hope that it will get better."
Environmental impact

Then: Tourists know Boracay for its pristine white sand and clear sea waters. But after years of booming tourism, the beaches of the island suffered from visitors' endless supply of littered trash. There has been a lot of effort to rehabilitate the island, but with the nonstop arrival of tourists, it was only until the six-month rehabilitation in 2018 that things got a little better.
Now: With the decline of tourist density on the island, it was easier for the locals to maintain the improved environmental situation in Boracay. Officials regularly inspect the environmental and tourism compliance of establishments. They also closely monitor beaches, including water sports activities, to avoid overcrowding.
Local-centric

Then: Since Boracay was the place to be, prices all over the island were pretty steep. Most establishments sourced their supplies off the island. This added to the overall costs of items sold on the island, whether they be food, clothing, services, or whatnot. You needed to make sure you've got enough money to shell out for your whole stay there.
Now: With much less tourists, the remaining establishments have coped by catering to local tourists from Western Visayas. Guests are offered a lot of promos and discounts, and prices have more affordable than ever. Instead of high-end bars and restaurants, locals are offering activities like tours and water sports lessons. "There are businesses that shifted their strategy from catering tourists to becoming more local-centric," Fusana shared. "Para kahit daw mag lockdown ulit, they are able to survive."
As a tourist, Fusana says that he would love to go back to the island again soon. "Feel ko babalikan ko yung mga water sports. I'll try yung kitesurfing and parasailing, and go scuba diving again. And of course, yung Boracay now, sobrang chill ng vibe. Wala gaanong tao. Maraming areas na pwede mong puntahan if gusto mo lang ng tahimik na lugar and mag chill by the shore habang nakatingin sa sunset. Kaya for sure babalikan ko yun."
Want to see what Boracay is like now for yourself? Book a flight with Cebu Pacific! For tours and transfers, contact Southwest Tours.