Today's Internet Debate: How Should You Address a Person with a PhD?
Feb 22, 2023 &nbsp • &nbsp Kyzia Maramara
"People with doctorate degrees, is it okay for you not to be addressed as a doctor even if you are one?" asked a Reddit user. This was after a woman went viral on Twitter for saying she finds it weird how her La Salle students call her "Miss" instead of "Dr." According to the woman, she made it clear through her email signature that she has a PhD. However, she can't help but feel upset about not being addressed properly.
"..I promised myself I would NEVER be that person who insists on being called 'Dr.' when I got my PhD.," she tweeted. "But then again the PhD I did was so f**** difficult, I feel like I DESERVE to be called Dr. all the time."
"Also, I had to FIGHT with my life to cross rank to Full Professor in the UP System, soooo… Guys, it HURTS to be called 'Miss,'" she added.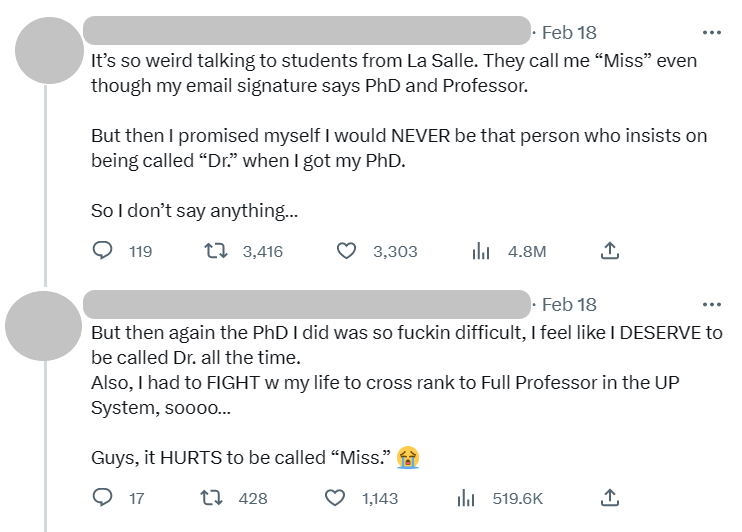 Her tweet earned mixed reactions from the Internet. Folks assured her that her "feelings are valid and totally understandable." Some even lament how men usually don't face that kind of dilemma. La Salle students also chimed in, saying calling her 'Miss' was simply out of habit and wasn't meant to be disrespectful.
However, the majority of the Internet had a negative reaction to her statement. A Reddit user tried to get everyone's opinion on the viral tweet and here are the two cents of the anonymous strangers of the Internet:
If it's that important, let people know from Day 1
Call me Master
Or if you aren't comfortable with that…
Humility is the biggest flex
Some folks prefer being called by their names because…
Knowing who you are is enough
The Filipino urge to flex
Others are content about how people address them
Don't make your title your personality
What are your two cents on this issue? How do you address a person with a PhD? Share it with us in the comments!
Check us out on Facebook, Instagram, Twitter, TikTok, and YouTube, to be the first to know about the latest news and coolest trends!