It's been over a year since IKEA opened its first-ever store in the Philippines (which also happens to be the world's largest). But aside from high-quality items, crave-worthy dishes, and great year-end deals, the Scandinavian furniture brand is marking the holidays with its Paskong Pinoy series. The first video which showed another facet of what Christmas is all about. 
"Hapag"
The ad opens up with a guy named Luis who's struggling to tell his dad about his sexuality. 
"May ipapakilala po sana ako sa'yo," he finally says — unaware that his dad had already seen him embracing his boyfriend one time. 
"Dalhin mo sa Noche Buena," his dad answers. "Ako din, may ipapakilala sa'yo."
Luis introduces his boyfriend to his father on the night of Noche Buena, but his dad just gives them a vague acknowledgment before rushing upstairs. A few moments later, stunning drag queens emerge from the room, including his dad wearing a sparkly red gown.
"Luis, standing before you, is Ramona," he says.
Now in tears, Luis rushes to his father's embrace. The touching commercial ends with everyone celebrating Christmas with smiles on their faces. 
Why ads like this are important
Other brands like Close-Up, Lazada, and Uber have also done advertisements that tell heartwarming stories of the LGBTQ+ community. But why does this matter, you might ask?
Marginalized groups like the LGBTQ+ community have always been sidelined and continue to be for decades. Seeing queer commercials like "Hapag" is a sign of positive on-screen representation, and we need more of them. Media is a powerful medium, and bringing LGBTQ+ stories to the forefront can help break the queer stigma and prejudice.
Piso Meatballs and More: The Best Deals to Catch at IKEA's 1st Birthday Blowout Sale
Piso Meatballs and More: The Best Deals to Catch at IKEA's 1st Birthday Blowout Sale
Meryl Medel | Nov 25, 2022
"For those still in the closet, we will wait for you!"
The commercial and IKEA Philippines were showered with praise from netizens. Many were touched by the ad's brave yet heartwarming storytelling of coming out, especially in a society like the Philippines, where LGBTQ+ individuals are often discriminated against. 
One netizen shared a story about their grandfather, who has a partner but still opts to hide the relationship under the shadows.
"She is now in her 60s, and I can't fathom what trauma and ridicule she experienced when she was still a young gay person who dreamt of being just – accepted. That is why giving a chance to be educated about each one's SOGIE should not be put in a box," they said.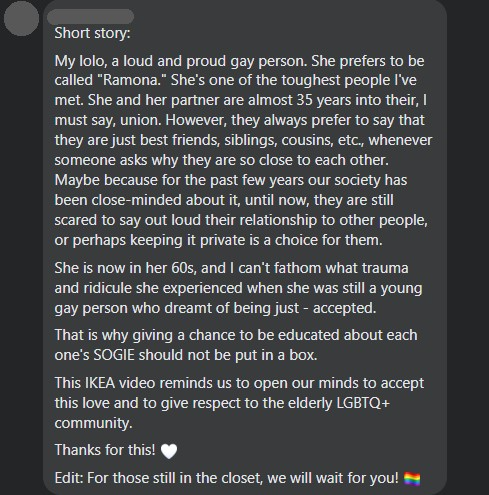 Others honored the older generations of LGBTQ+ folks who ceaselessly fought for equality and freedom of self-expression.

And then there are some who can't help but poke fun at the featured dining table in the ad.

But IKEA Philippines' message was clear; we should all learn to respect each other's individuality, regardless of one's gender identity, sexual preference, or gender expression. Everyone deserves to love and the freedom to be whoever they want to be.

What are your thoughts on IKEA Philippines' holiday advertisement?
Check us out on Facebook, Instagram, Twitter, TikTok, and YouTube, to be the first to know about the latest news and coolest trends!