Those tucking away their nest egg with ING Philippines will have to say goodbye to major features in their accounts before 2022 ends. The Dutch multinational bank announced last June 24 that they will be exiting retail banking in the country due to "uncertainties in the global economy." This means removing a lot of features you're enjoying now. What should you know?
ING will discontinue bank products and services starting September 1, 2022
Mark your calendars. On September 1, ING will halt its products and services as well as decommission the ING mobile banking app.
"It will, however, continue to invest in its Wholesale Banking business and global shared services operations in the Philippines," said the advisory. This isn't the first time this happened. Last December 2021, ING also left the retail banking market in France.
Here's a quick list of ING Philippines banking services that will no longer be available starting September:
Inward fund transfers (InstaPay and PESONet) including QR services
Fund transfers between ING accounts
Bill payments
Debit card services including online, in-store, and ATM transactions plus card issuance
Mobile check deposit
Bank certificate requests
For a full list of ING services and their availability after August 31, 2022, check out their website.
What happens to your money after September 1, 2022?
If you forgot to transfer out your money or close your ING account, don't panic. You still have access to it even after September 1, 2022. ING will still let you transfer out your money via the app through InstaPay or PesoNet without any transaction fees. Only the inward transfers will be discontinued.
Still worried? ING is supervised by Bangko Sentral ng Pilipinas (BSP) and is a member of the Philippine Deposit Insurance Corporation (PDIC). Your money is insured by PDIC for up to P500,000 guaranteeing your deposit's safety.
How to close your account with ING Philippines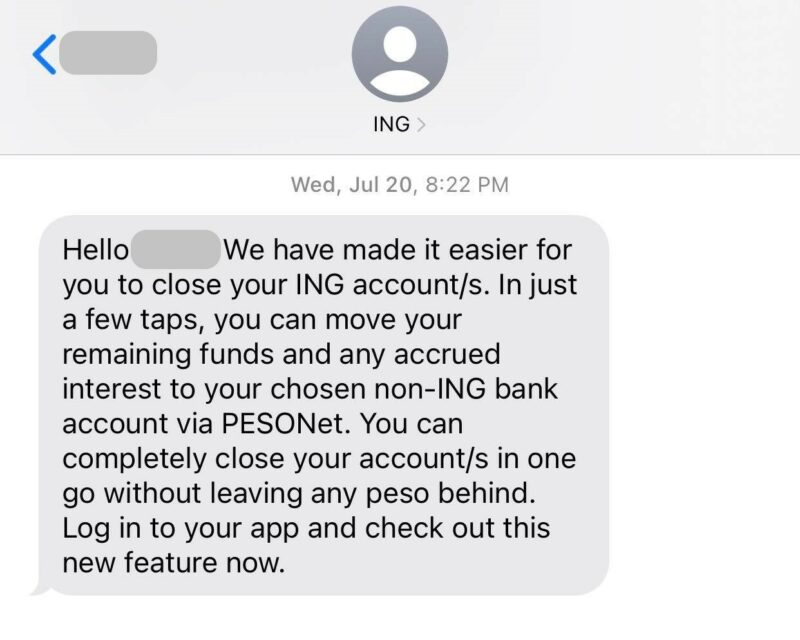 ING has made it easier for you to migrate your deposits out of the app. They have launched a new app feature to make fund transfers seamless. Here's what it will look like on the app: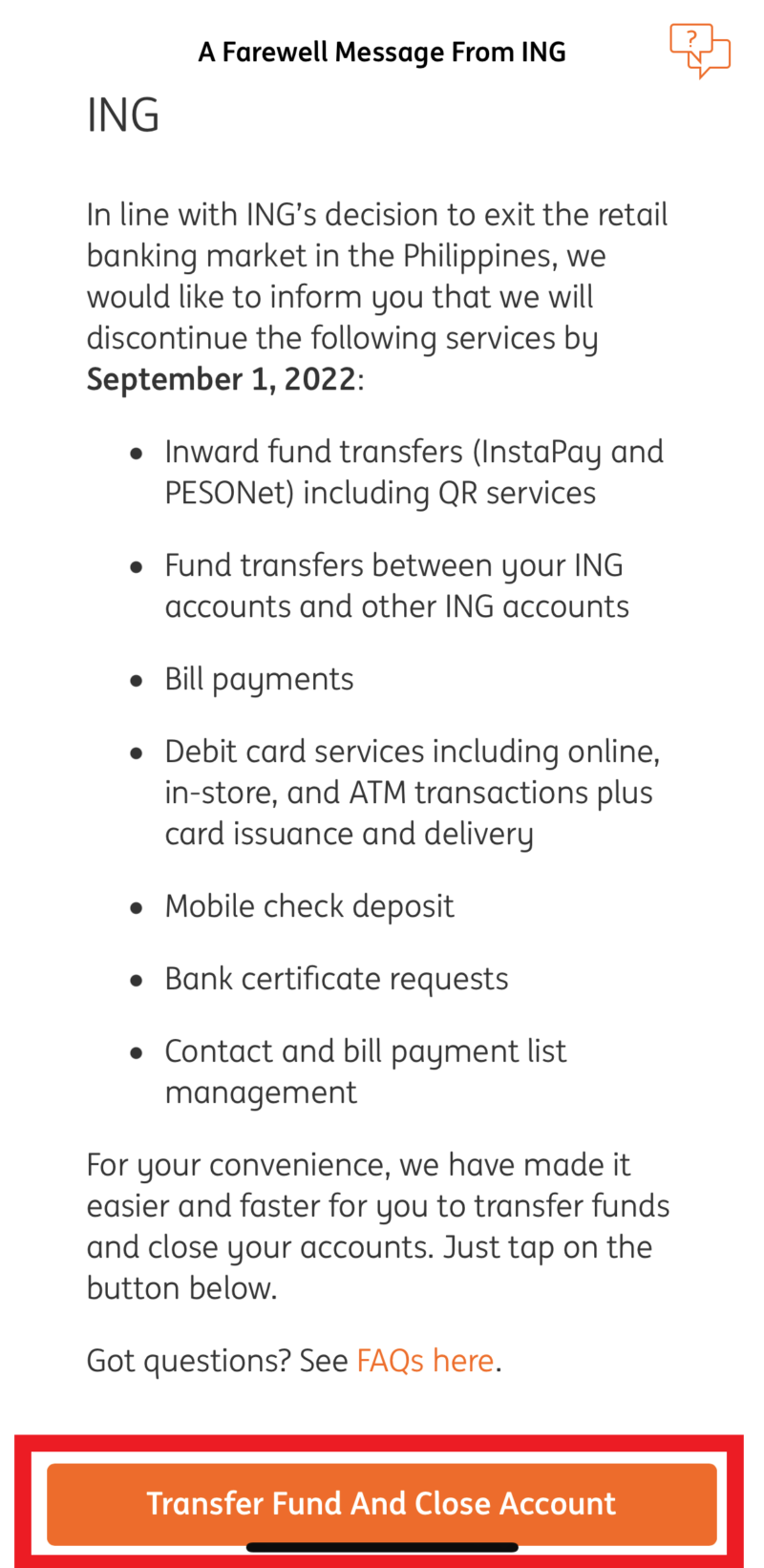 ING says the feature "will be available to customers in batches." Those who have it can go ahead and follow the instructions. Otherwise, you can update your app or wait for the feature to be made available to you.
Those loyal to ING express sadness over the news
ING has been one of the best digital banks in the Philippines. Filipinos looking for a great savings account use ING's high interest rates to further grow their money. Now that ING is exiting retail banking in the Philippines, its patrons need to find a new home for their money.

Looking for a new digital bank to keep your savings? Check out this list of digital banks with high interest rates.

Visit ING's official website and Facebook page for updates.

What do you think about ING exiting the retail banking market in the Philippines?

Check us out on Facebook, Instagram, Twitter, TikTok, and YouTube, to be the first to know about the latest news and coolest trends!