It began with the usual frustrating rant about Metro Manila's poor road infrastructure. Inka Magnaye, voice-over artist and content creator, left a comment on Facebook about how she's annoyed at "bike lanes." But as with anything on the Internet, statements taken out of context by people who don't comprehend it enough get blown into epic proportions. And now Inka has people bashing her for her allegedly poor opinion. What on earth is going on?
Someone's pissed about Inka Magnaye's opinion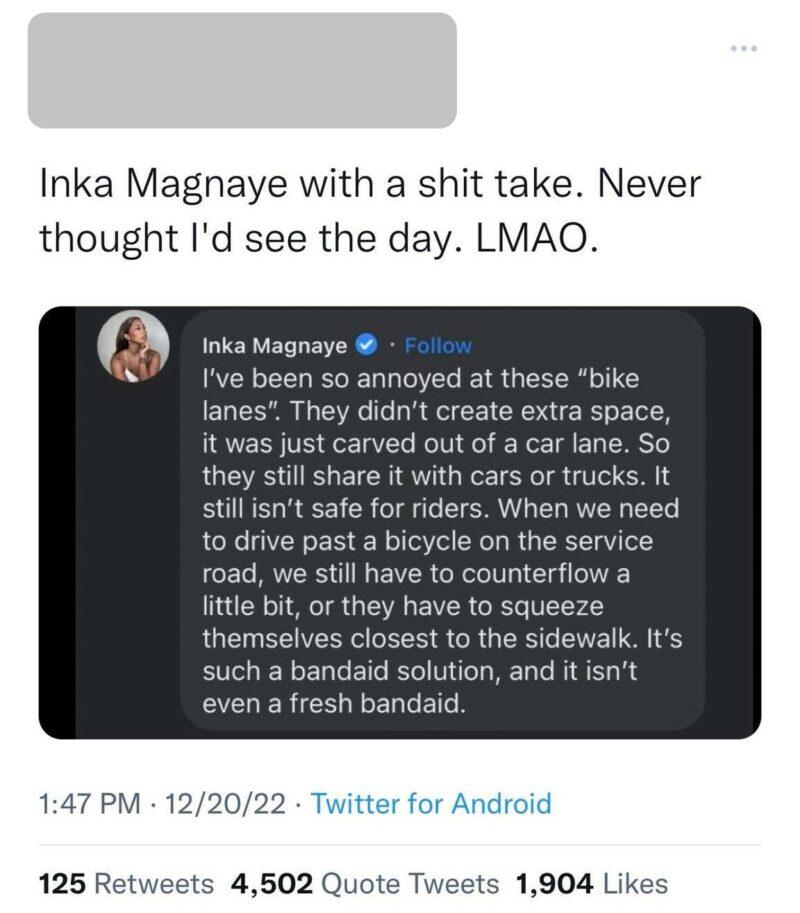 "I've been so annoyed at these 'bike lanes,' Inka's comment begins. "They didn't create extra space, it was just carved out of a car lane. So they still share it with cars or trucks. It still isn't safe for riders."
She was talking about an observation she had while in a car going down a service road.
"When we need to drive past a bicycle on the service road, we still have to counterflow a little bit, or they have to squeeze themselves closest to the sidewalk. It's such a bandaid solution, and it isn't even a fresh bandaid," she added.
What seems like an innocent comment from someone concerned about bicycle riders' safety on the road ended up offending a netizen. Said netizen took to Twitter and proceeded to roast Inka.
"Inka Magnaye with a sh*t take. Never thought I'd see the day. LMAO," he captioned his tweet with an attached screenshot of Inka's comment.
He also followed it up with another screenshot (another netizen's reply to Inka's Facebook comment) that seemed to word his feelings better.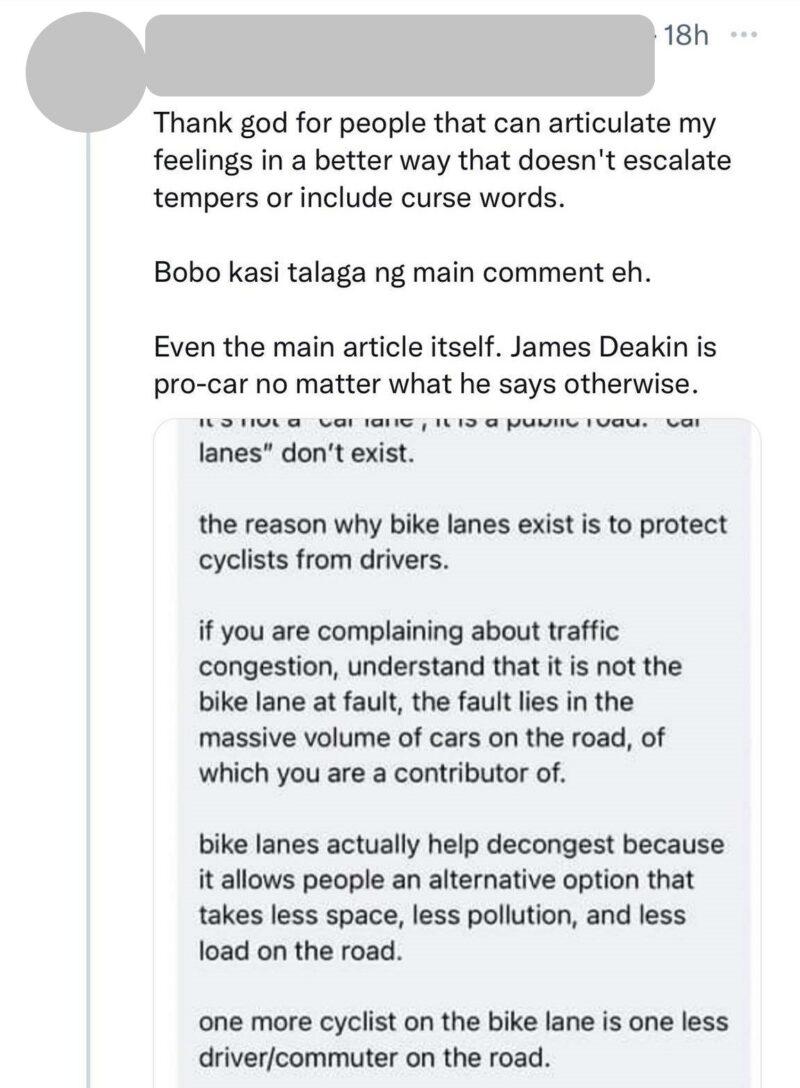 The comment from the second screenshot reads:
"Inka Magnaye, you are assuming roads are exclusively made for cars. They're not. Everyone pays taxes for those roads, car owners or not. It's not a 'car lane,' it is a public road. 'Car lanes' don't exist. The reason why bike lanes exist is to protect cyclists from drivers."
Both netizens thought that Inka disapproved of bike lanes and thought roads would be better without them. But did she?
Inka Magnaye Shuts Down Netizen Berating Her for Allegedly 'Inappropriate' Content
Inka Magnaye Shuts Down Netizen Berating Her for Allegedly 'Inappropriate' Content
Kyzia Maramara | Jul 13, 2022
Inka Magnaye clarifies her statement

In a now-deleted Facebook post (that the netizen caught in yet another screenshot), Inka attempted to expound on what she said.
"In case it wasn't understood: I want better bike lanes," she said. "Being against bike lanes is ridiculous and I'm sorry if I wasn't clear with that."
She also added that her family uses two-wheeled vehicles as well and would love it if bike lanes in the metro were safer for riders.
"I'm annoyed because the bike lanes we have now AREN'T done RIGHT so they aren't safe. That's why I said it was just a bandaid solution. It doesn't make sense to be annoyed at bike lanes in general," she added.
Inka even posted on her Instagram stories, as seen above, to drive her point home this time.
The Internet ratios

Before he made his Twitter private, the netizen's tweet criticizing Inka garnered 2.6k likes and 5.8k quote tweets. In modern slang, that's what the kids call "ratioed" which means a post has more comments or retweets than likes. The imbalance in tweet reactions also shows how Pinoys disagree with how the netizen interpreted Inka's statement.
"I don't want to dogpile here, but to offer my 2 cents," said another netizen. "As someone who bikes and is a big proponent of better bike infrastructure, I don't find anything wrong with her take here. Bike lanes should be separate from cars at the least and what the PH did was just a bandaid solution."

Another netizen attempted to spell out what Inka wanted to say: "Inka was actually against the creation of bike lanes that are 'carved out of a car line,' because it does not solve any issue and still exposes both drivers and bikers to potential harm. She's for well-planned roads w/ integrated bike and pedestrian infrastructure. Please delete."
Yet another netizen asked the original poster to practice a bit of reading comprehension.

"This is Miss Inka's point kung hindi bandaid solution and bike lanes," said the netizen, attaching photos of Iloilo's admirable bike lanes. "Magiging ganito tulad nang sa Iloilo City."

Pinoys come back with memes
And as with everything on the Internet, memes abound.

Inka with a shitake. Admit it, that made you chuckle. 

Bike twitter is confuzed.

Be extra careful on Twitter!
In conclusion, folks, read statements on the Internet thoroughly before reacting.
Check us out on Facebook, Instagram, Twitter, TikTok, and YouTube, to be the first to know about the latest news and coolest trends!