Internationally known as Typhoon Noru, Pinoys braced for Super Typhoon Karding on September 25. Karding is the strongest typhoon worldwide this year, bringing strong winds and rain across various areas of Luzon. As the nation braced for the devastating impacts of the storm, some public officials couldn't seem to read the room, drawing flak from concerned netizens:
Of reading the room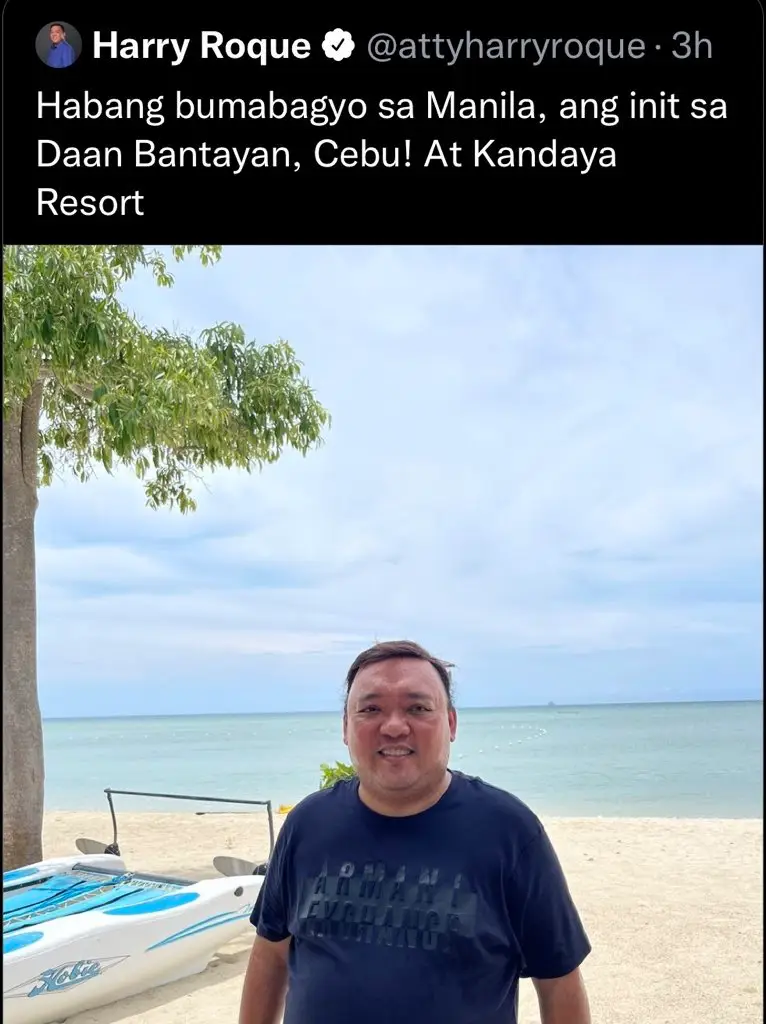 In a now-deleted post, Harry Roque shares a photo of him on sunny Daanbantayan, Cebu, where he seems to be enjoying a vacation. There are individuals on the thread saying Harry Roque was just showing the contrast between the weather in Luzon and Visayas, but a former official posing for a vacation photo isn't what you would want to see when thousands of people worry for their safety.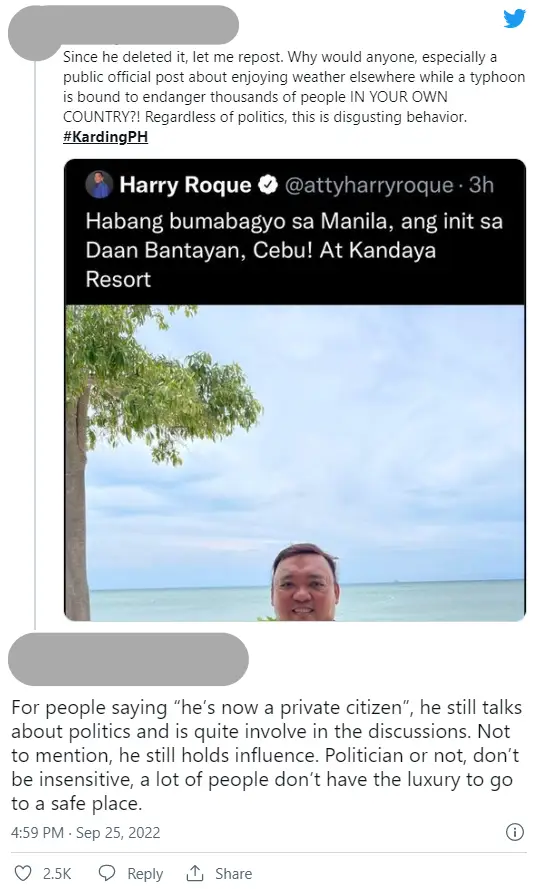 LOOK: Public Figures Draw Flak from Insensitive Posts During #KardingPH
LOOK: Public Figures Draw Flak from Insensitive Posts During #KardingPH
Ina Louise Manto | Sep 26, 2022
Craving a bowl of ramen?
It wasn't just Harry Roque who received flak for failing to read the room when posting online.

*There is a time when hugot like this works, but this ain't just it, Senator.*
This isn't ramen weather
While Harry Roque gets his tan and Sen. Gatchalian gets his hot bowl of ramen, here's the reality for many Filipinos: they have to brace for the typhoon, which will not only affect their families' safety but also their livelihood.
As explained by former senator Kiko Pangilinan, the months of October to December produce the bulk of the country's annual rice harvest. And it's just too heartbreaking to see a farmer accept the future of his months of hard work.
More get criticized over social media posts
Even the President got called out during a destructive calamity. Instead of giving the nation updates and showing up to boost the morale of citizens, we got an update on his trip to the U.S. for the United Nations General Assembly instead.
BBM Vlog 226: New York, New York

Matagumpay ang ating biyahe sa New York!

Mula sa pagdalo sa UN General Assembly, mga business roundtable meetings at ang pakikipagkita sa Filipino community dito, ako ay nagpapasalamat sa mainit na pagtanggap sa ating delegasyon.

— Bongbong Marcos (@bongbongmarcos) September 25, 2022
Here's what some netizens had to say:
— Linya-Linya (@linyalinya) September 25, 2022

Let's give praise to the people on the ground
"I've said this over and over again — you prefer vloggers and influencers now for your so-called unbiased content, but on our worst days as a nation, it's the journalists who will show up. Remember that."

– Lian Buan #KardingPH pic.twitter.com/MnmuxcO6tb

— Francis ◡̈ (@pilosopongkiko) September 25, 2022
Whether it be the brave journalists who put their lives at stake or the public workers who ensure our safety – at the end of the day, it matters who shows up and they deserve the highest praise.
We hope you and your family are safe from the typhoon!
Follow us on Facebook, Twitter, Instagram, Tiktok, and Youtube for the l8est entertaining, useful, and informative lists!