Seloso Ka Ba? The Internet's Jak Roberto University Now Offers Anti-Silos Classes
Aug 8, 2023 &nbsp • &nbsp Kyzia Maramara
Actor Jak Roberto has had it rough the past few months no thanks to the Internet's incessant teasing. Who wouldn't when your girlfriend of six years (Barbie Forteza) is being shipped with her on-screen partner and your good friend (David Licauco)? Worse yet, they have a ship name (BarDa) and they constantly make headlines too. But because you're "God's strongest soldier," as the Internet put it, you put on a stoic front, proving to everyone that you're not jealous. And that's how, Jak earned the Internet's "respect" enough for them to name a fictional class after him: Jak Roberto's Anti-Silos (Selos) Class. If you've got time and would like to learn the art of not getting jealous too, let's take a deep dive into this newest meme.
Enroll in the Jak Roberto University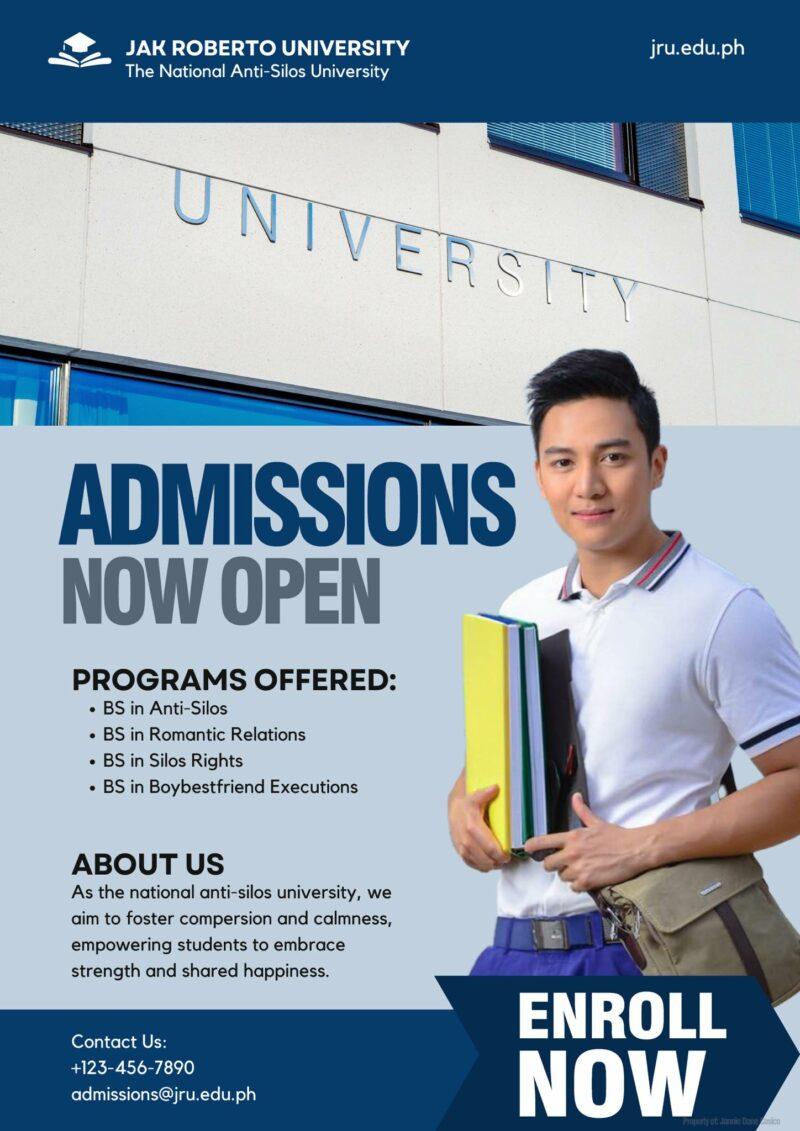 In honor of him being such a great example of a green flag boyfriend, the Internet erected a fictional school in his name — Jak Roberto University or JRU. It, of course, teaches his most popular class, the Anti-Silos Class where God's strongest soldier himself shares to the rest of the population the secrets to his enviable strength.
Facebook user Jannie Dane Cosico even made an "official" JRU poster with a list of other classes available: Romantic Relations, Silos Rights, and Boy Bestfriend Executions. There's even a sign-up form for those who want to enroll in the class.
So if you know someone who easily gets jealous, you might want to point them to the right direction and get Jak's guidance.
What does an Anti-Selos Class look like?
Folks on Tiktok took it a step further: Suppose you're in the famous Anti-Selos Class? Lessons to learn include how to react when someone walks your girlfriend home ("Hinatid lang, okay?"), kisses them on the cheek for good measure ("Friendly kiss!"), and sends them messages ("Friendly lang!").
Anti-Selos in action
Hilarious videos of "students" learning from Jak's supposed Anti-Silos lessons filled TikTok feeds. In peak Gen Z humor, the videos mostly start with a jealousy-inducing scenario concluding with one of Jak's questionable dance moves.
Applying the lessons to real life.
Keeping it professional.
The students are learning.
But sometimes, he just can't contain it. Man needs a break too, okay?
This guy graduated. Good for him.
Other universities and classes
Jak isn't the only one with a fictional university named after him. There's also the David Licauco State University (DLSU) where courses offered include BS in Boy Best Friendship, Platonic Relations, Non-Silos Rights, and Boyfriend Elimination.
But just in case you think David is trying to split the lovely couple apart, he isn't. It's all part of the job. In a previous interview, David called for fans to respect their private lives. He confirmed that Barbie and Jak are in a healthy relationship and said that "we have to respect that."
The Internet didn't stop with Jak and David universities, Barbie also wasn't spared. The Barbie Forteza State University has a degree in BS in Lowkey Major in Friends Lang Kami. Joshua Garcia even has his own — the Joshua Garcia University (JAG) — where courses available include BS in Mysterious Person Major in Friendliness and Mixed Signals. Once witty Pinoys are on a roll, nothing can stop them.
Is Jak Roberto aware of his anti-selos classes?
Yes, he is. And he's having fun with it too. Yasmien Kurdi recently shared a photo of her and Jak where she's kneeling in front of him and he seems to be giving her a blessing. "Scholar sa JRU (Jak Roberto University) BS in Anti-Silos," captioned Yasmien.
Jak definitely is taking all of it in stride because, at the end of the day, he knows his and Barbie's relationship is stronger than BarDa shippers. (Plus, he at least got a fictional school named after him).
Do you think you have what it takes to graduate from the Jak Roberto Anti-Selos Class?
Check us out on Facebook, Instagram, Twitter, TikTok, and YouTube, to be the first to know about the latest news and coolest trends!