In today's odd news on the internet, two showbiz personalities have gotten into a public spat. Over a meme. Social media personality Rhemuel Lunio, more commonly known as DJ Loonyo, called out singer Janine Berdin for using his name and face in a meme that she shared on her public Facebook page. Here's what went down between them.
the beef between dj loonyo and janine berdin is the LAST thing i'd expect in philippine showbiz

— 。・:*:・゚☆ (@SAINTDIEG0) July 13, 2022
A petition to change NAIA's name


A petition on change.org goes viral, proposing to change the name of the Ninoy Aquino International Airport (NAIA) to "DJ Loonyo International Airport." According to the website, the petition was organized by "DJ Loonyo Fans CALABARZON", but an earlier screenshot shows a user named "Boom Panis" as the organizer.
For those who missed the news, a bill seeking to rename NAIA to "Ferdinand E. Marcos International Airport" was filed last June 30.
Here's What the Internet Thinks About the Proposal to Rename NAIA After Marcos
Here's What the Internet Thinks About the Proposal to Rename NAIA After Marcos
Kyzia Maramara | Jul 06, 2022
Janine Berdin gives it a boost


On Tuesday, singer Janine Berdin took a screenshot of the petition and set it as the cover photo on her Facebook page. As of writing, her cover photo post has garnered 90,000 reactions, 15,400 shares, and 3,100 comments.
Confrontation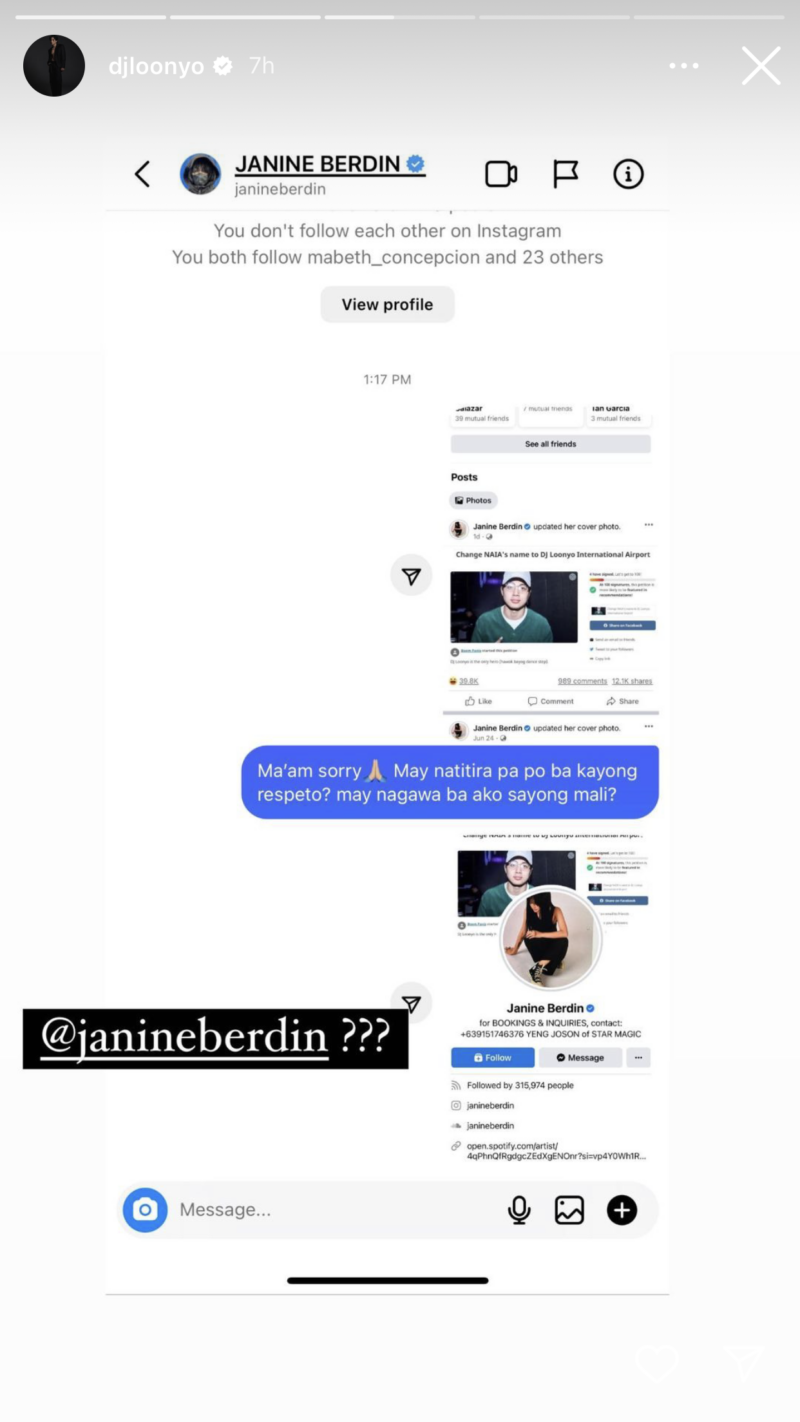 After seeing the post go viral, DJ Loonyo reached out to Janine Berdin on Instagram, asking why she used the petition as her cover photo. "Ma'am sorry. May naititra pa po ba kayong respeto? May nagawa ba ako sayong mali?" he asked, attaching screenshots of her post.
Responding to his message, the singer explained that she just found the meme online and thought it was "super funny" but "didn't really mean any harm." She added: "I don't think people found it degrading to you as well po! But if you want I could always take it down Kuya!"
To the court of public opinion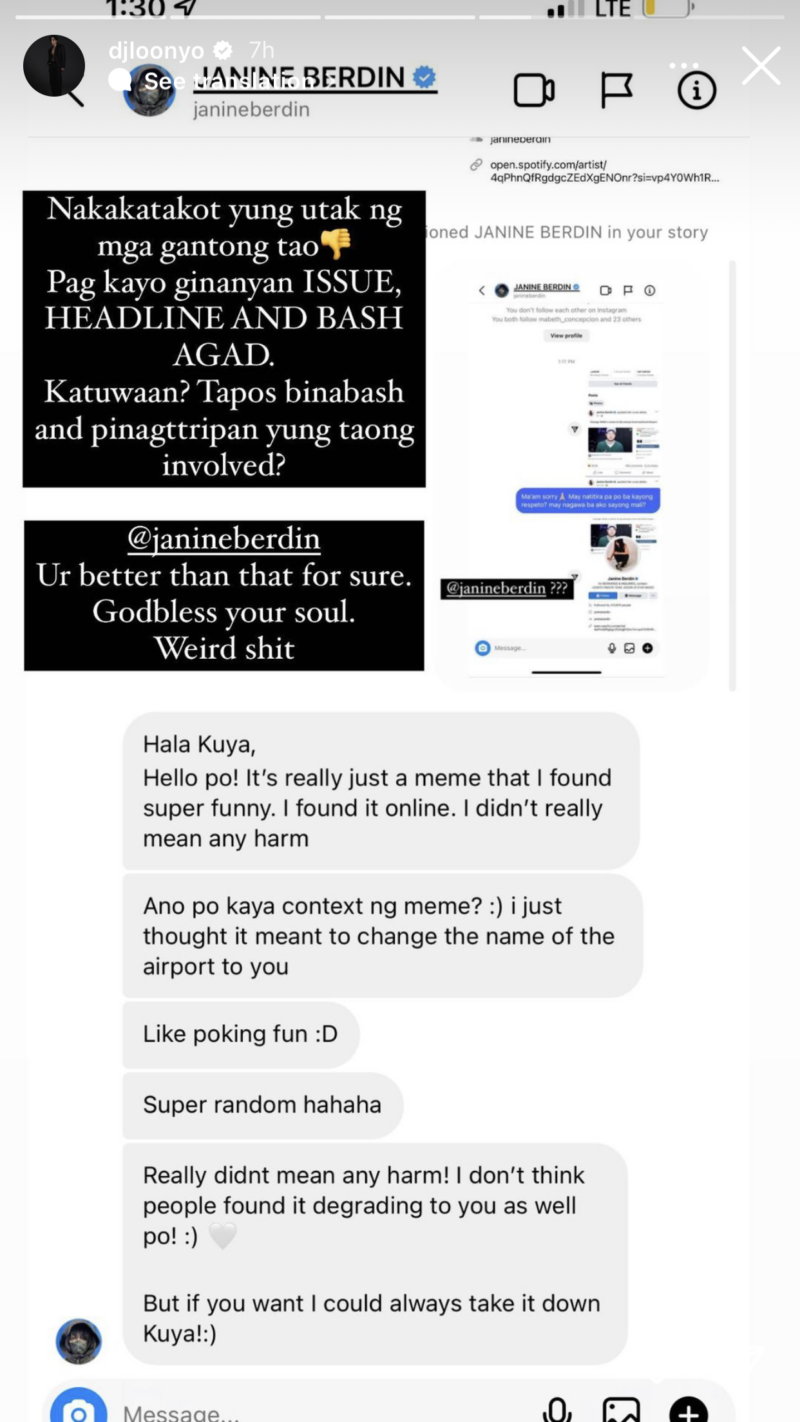 Unfortunately, DJ Loonyo shared screenshots of their exchange on his Instagram stories, taking their confrontation to the public. "Nakakatakot yung utak ng mga gantong tao," he said in reference to Janine Berdin. "Pag kayo ginanyan issue, headline and bash agad. Katuwaan? Tapos binabash and pinagttripan yung taong involved?"
Speaking directly to the singer, he added: "Ur better than that for sure. God bless your soul. Weird shit."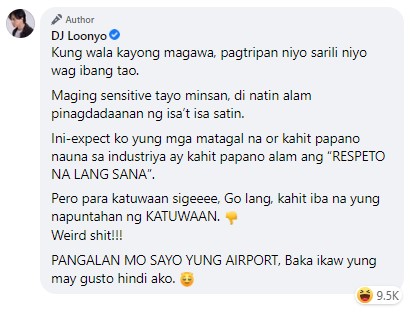 He also shared the stories on his Facebook page, where he suggested that Janine should name the airport after herself instead. "Kung wala kayong magawa, pagtripan niyo sarili niyo wag ibang tao."
An explanation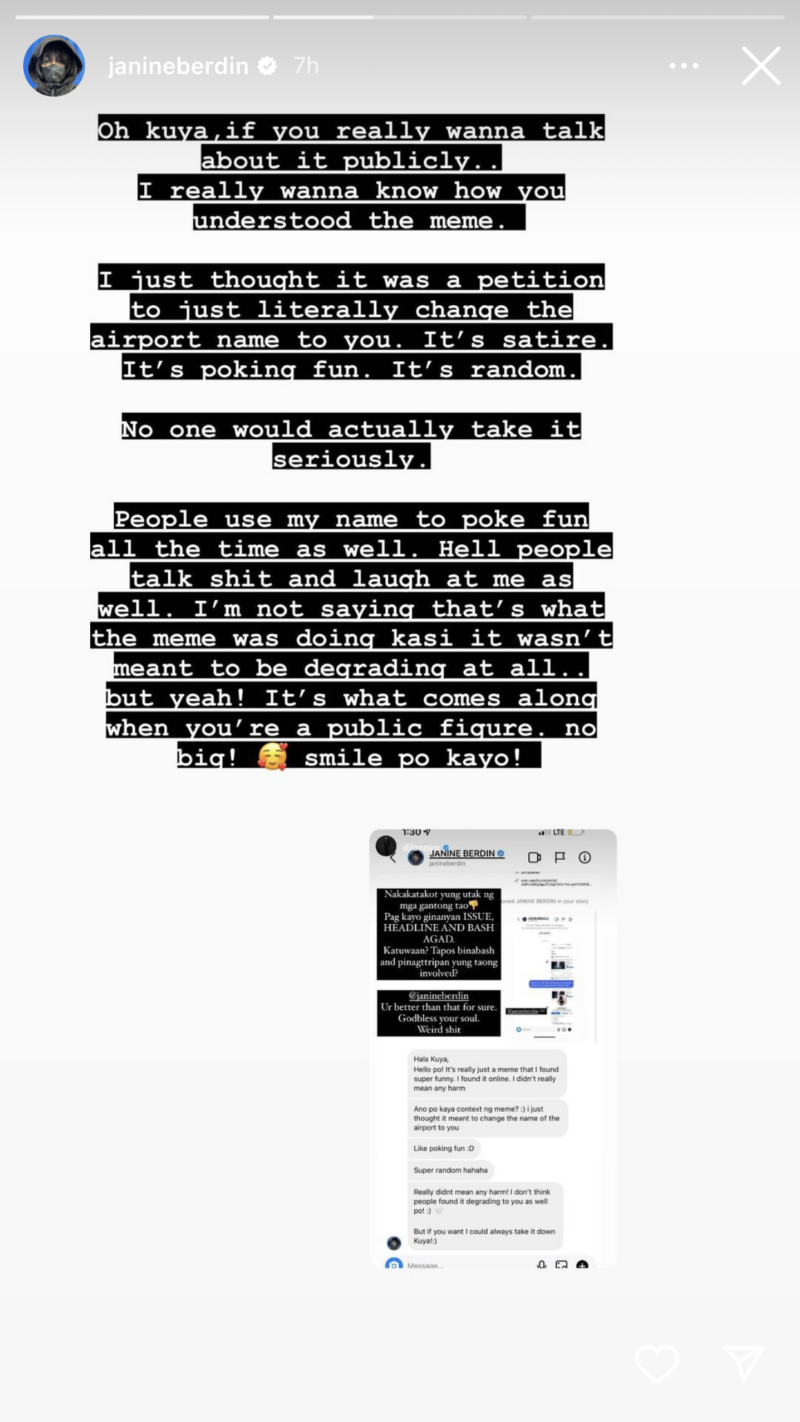 Since he responded publicly, Janine Berdin also took to her Instagram stories to explain herself. "It's satire. It's poking fun. It's random. No one would actually take it seriously," she wrote, adding that other people also use her name to "poke fun" and even "talk shit."
"It's what comes along when you're a public figure. No big! Smile po kayo!" she ended.
Janine Berdin memes herself
Oh no Janine Berdin just… pic.twitter.com/17fZ4OTmid

— (@defendthechamp) July 13, 2022

The singer also followed his suggestion, making an edit of a photo of NAIA to read as "Janine Berdin International Airport." She posted the photo on her Facebook page and set it as her cover photo on Twitter.
So who was in the wrong? Netizens are split
Janine Berdin & DJ Loonyo's bardagulan is the most unexpected yet funniest thing I've seen today

— Kitkat (@khateman_) July 13, 2022

Initially, most netizens found the beef "unexpected yet funny." One netizen even likened it to the recent incident between rapper Doja Cat and Stranger Things actor Noah Schnapp. Another pointed out that this isn't the first time someone shared a meme with other people.
Some sided with Janine Berdin and claimed that DJ Loonyo overreacted over a "harmless" meme.
I'm not saying Janine Berdin is right. But the way DJ Loonyo approaches the situation, and backed himself by posting an ig story, calling Janine a "weird shit" is not appropriate at all. DJ is alot older, and he could've "directly" asked Janine to take down the post +

— No one (@___PRNCTN) July 13, 2022

But other netizens pointed out that what she did could be considered cyberbullying, and even if she thought it was harmless, it doesn't mean that people should ignore DJ Loonyo's feelings about being mocked.
Not a fan of any of them but Janine Berdin is at fault. Ginagamit ng karamihan ang satire as an excuse for bullying. It may seem nothing but a harmless joke to some but it's actually already a form of bullying. Ang dami nang gantong cases akong nakita, and dj loonyo has spoken.

— Dyanel (@ganatapan) July 13, 2022
So maybe they're both wrong…?
No matter which side of the argument you're on (or none at all), it's best to recognize that both personalities had faults in this issue. Janine Berdin could've taken it down immediately after she got a message from DJ Loonyo. Meanwhile, DJ Loonyo could've kept their conversation private and resolved the issue out of the public eye, as Janine did offer to take it down. He also shouldn't have used "weird shit" to insult her back.
Moral of the story? Just stay out of social media, kids. And you know, keep private conversations private.
What's your take on this showbiz bardagulan?