Every new year is a chance for you to transform into the best version of yourself. And while that doesn't necessarily mean becoming better-looking, it doesn't hurt to be pretty. This January, put your best face forward with these amazing beauty products you can order from the comfort of home via Shopee.
Veet Hair Removal Cream for Sensitive Skin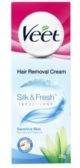 If you don't like how prickly your skin feels just a day after shaving but don't want to go the waxing salon just yet, give hair removal cream a go. Veet's hair removal cream works close to the root so that you get smoothness for up to twice as long as shaving. Their sensitive skin formula has Silk & Fresh technology has aloe vera and Vitamin E and is extra gentle on your skin.
Try it out for P125 here.
Simple Hydrating Light Moisturizer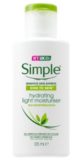 Infused with glycerin and borage seed oil, Simple Hydrating Light Moisturizer doubles your skin's hydration, keeping it moisturized for 12 hours. It doesn't have any artificial perfumes or colors, and no harsh chemicals — just the good stuff, so it's great even for sensitive skin.
Get it for P399 here.
Love Beauty and Planet Coconut Water and Mimosa Flower Body Lotion

Love Beauty and Planet is known for being an earth-friendly brand. Their packaging is made from 100% recycled materials and their products are vegan and cruelty-free, plus they don't use silicones, parabens, and dyes. So if you're a beauty fiend who also wants to shrink your carbon footprint, check out their stuff. Their Coconut Water & Mimosa Flower Body Lotion will give your skin a fresh boost with plant-based moisturizers that'll leave your skin with a delicate scent.
Get it for ₱390 here.
Vaseline Lip Mask

Why spend thousands on a lip mask when you can get something that works just as well (sometimes, even better) for a fraction of the price tag? Vaseline Lip Mask is a basic jelly formula that works. After patting your lips dry, just apply a thin layer of a non-comedogenic moisturizer. Then, apply the lip mask at bedtime to wake up with soft, supple lips.
Get it for ₱214 here.
St. Ives Face Mist — Relaxing Lavender

Stress can really do a number on you — not just on your appearance, but your overall health. If you need extra help relaxing, try the St. Ives Face Mist in Relaxing Lavender. Just a few spritzes is all it takes for a instant relaxation, thanks to notes of calming lavender.
Get it for ₱225 here.
Suave Shampoo and Conditioner
Got dry hair? The rich formula in Suave Professionals Almond + Shea Butter Shampoo and Conditioner replenishes as it cleanses, leaving dry or damaged hair feeling nourished and smelling amazing.
Get this bundle for ₱348 here.
Dove Body Polish
Remove dull, dry skin from the surface and leave your skin feeling silky and smooth with Dove Exfoliating Body Polish with Crushed Macadamia & Rice Milk. It's formulated with 1/4 moisturizing cream so it nourishes your body as it exfloiates.
Get it for ₱374 here.
Pond's Age Miracle
You don't have to wait until you're in your 30s before you start adding anti-aging ingredients into your regimen. After all, prevention is key (it's a lot easier to prevent the signs of aging than address them when they're already there). Pond's Age Miracle Moisturizing Night Cream is enriched with retinol, which has been proven to reduce the appearance of fine lines, as well as Vitamin B3 to brighten and even out your skin tone. It also has hyaluronic acid for intense hydration and nourishment. Best of all? It won't break the bank.
Get it for ₱109 here.
Act quick! The first 30 new users who use the code JAN8LIST on Shopee will get ₱100 off (at ₱400 minimum spend). This code can only be used on mobile apps from January 1 to 31, 2021 and is applicable on orders to be delivered via Shopee's Integrated Couriers.