JBL has recently launched its latest true wireless (TWS) earbuds that are the perfect fit for every lifestyle – whether you're a homebody, an urban explorer, or an international jetsetter. They also come in a variety of styles. Aside from amazing TWS earphones, JBL has also released an addition to their award-winning gaming product portfolio and a powerful, compact speaker that's sure to be the life of the party. Check them out below!
JBL Tune 230NC

Never be disconnected from your music again thanks to the new JBL Tune 230NC. It comes with upgrades and whole new features from its predecessor, the JBL Tune 225 TWS.
The Tune 230NC packs the JBL pure bass sound with a great active noise-canceling function. It's also got a 5.8mm driver which delivers impressive sound through a seamless, wireless experience. You get 40 hours of playtime and a speed charge feature so you'll never go without music. For those who make lots of calls or are often in virtual meetings, JBL Tune 230NC's four microphones give you a crisp, clear voice for a better virtual meeting experience.

The JBL Tune 230NC is perfect for life on the go. Pop it in your ears on your morning commute, when you're making lunch at home, or even just watching a few episodes of your favorite series before going to bed.
The JBL Tune 230NC is available in JBL concept stores, official dealers, and online stores (Shopee, Lazada) nationwide for P5,999. It's available in Black, Blue, White, and Sand colorways.
JBL Tune 130NC
Folks who prefer wireless earphones without stems, the JBL Tune 130NC is the perfect fit. It's the earbuds counterpart of the Tune 230NC complete with all its best features — active noise cancellation, pure bass, four microphones, and 40 hours of combined playtime. Whether you're traveling, attending a virtual meeting, or just vibing to music any time, the JBL Tune 130NC has got you covered.

The JBL Tune 130NC is available in JBL concept stores, official dealers, and online stores (Shopee, Lazada) nationwide for P5,999. It's available in Black, Blue, White, and Sand colorways.
JBL Endurance RACE

For all the thrill-seeker folks out there, the JBL Endurance RACE is your perfect partner. RACE is the latest addition to the Endurance series. It boasts the same durability and comfort as the JBL Endurance RUN, SPRINT, JUMP, DIVE, and PEAK headphones. Bring music anywhere as you bike, jog, hike, go to the gym or do anything active.

RACE is equipped with JBL's Pure Bass Performance audio and Ambient Aware technology so you can stay alert without taking off your headphones. The case provides 20 hours of backup power in addition to 10 hours of continuous playback time. Charge it for 10 minutes and the Speed Charge feature gives you an hour of play. RACE is also IP67 waterproof so it can hold its own during tough weather conditions and sweaty workouts.
JBL Endurance Race is available in JBL concept stores, official dealers, and online stores (Shopee, Lazada) nationwide for P4,999. You can get it in Black, Coral, Blue, and White colorways.
JBL Quantum Stream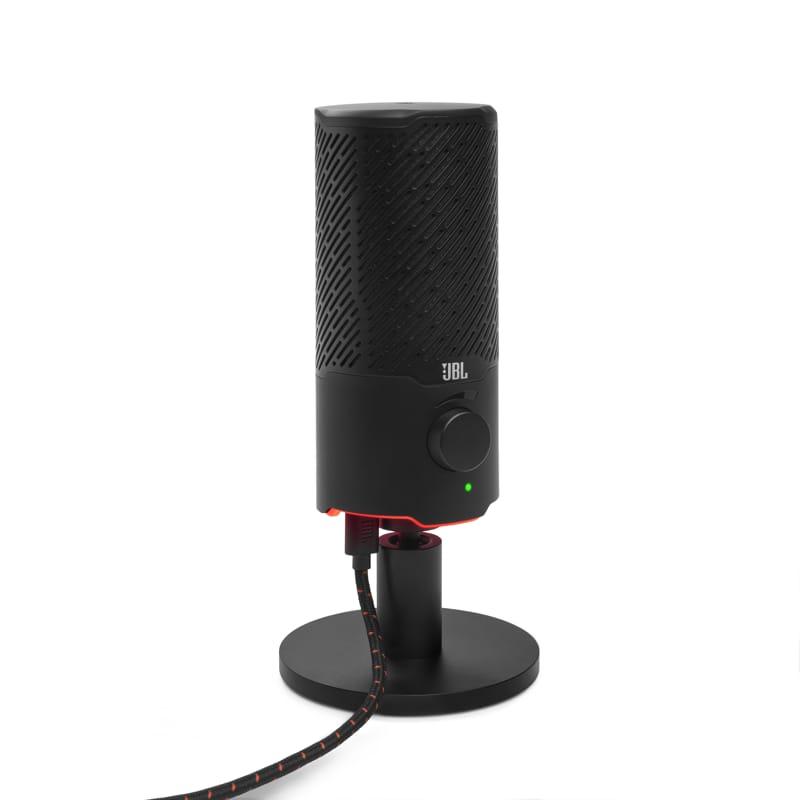 Gamers, streamers, and podcasters alike will fall in love at first sight with JBL's first USB microphone, the JBL Quantum Stream. Even if you're not one of those three — just an average person who has to attend a gazillion online meetings in a week — this new microphone can more than do the job.
The JBL Quantum Stream is part of the brand's expansion of its award-winning gaming product portfolio. (If you haven't copped a JBL Quantum gaming headset, what are you doing?). It's a dual-condenser microphone with two selectable voice pickup patterns. One focuses solely on your voice while the other captures all the voices surrounding it, perfect for either recording a podcast or on group calls.

If you keep forgetting to mute yourself on call, you can tap the top of the microphone to mute and it activates an RGB indicator ring light to remind you you're on mute. Need to adjust your volume? You can do that directly from the microphone thanks to a handy knob.
The JBL Quantum Stream also has a reversible aluminum stand that provides 360-degree movement allowing you to angle it however you want to. It even has a universal mounting solution for a variety of mounting options to fit your gaming setup or work-from-home space.
JBL Quantum Stream will be available starting early June at JBL's official website and at select retailers for P5,499.
JBL PartyBox Encore Essential

Turn up the party with JBL's most compact, powerful portable addition to its PartyBox Series. The mighty JBL PartyBox Encore Essential can turn any space from boring to vibing. It's packed with everything the PartyBox Series is loved for including the signature JBL PartyBox light show that syncs to music. You can easily adjust this using the JBL PartyBox app.

Transport the party wherever you go thanks to the JBL PartyBox Encore Essential's small and portable design. It features an ultra-portable handle and boasts up to 6 hours of battery life and an IPX4 splashproof design. Poolside splashes, light rain, or beach ocean sprays have nothing on this powerful device!
JBL Partybox Encore Essential will be available online and in stores on June 30, 2022 for P15,999.
To know more about JBL's latest releases, check out JBL Philippines' official Facebook and Instagram pages. You can also visit their website for more information.
Check us out on Facebook, Instagram, Twitter, TikTok and YouTube, to be the first to know about the latest news and coolest trends!