Yesterday, a commissioner of the Presidential Anti-Corruption Commission (PACC) called for the National Bureau of Investigation (NBI) to investigate Vice President Leni Robredo for allegedly 'compet[ing] with' or 'calculat[ing] to undermine' the government's efforts during this pandemic. This, amid the bigger, more important health crisis we are facing right now — the increasingly alarming coronavirus disease (COVID-19) outbreak in the country.
A few hours later, PACC commissioner Greco Belgica went live to explain that no, the PACC as an institution is, in fact, not calling for a probe. "It was a personal opinion and request made by one of the Commissioners of PACC that does not reflect the sentiments of the Commission," Belgica said in a statement.
From #ProtectVico to #ProtectLeni, the public outcry is loud, even if it's mostly made online (social distancing is still important!). Especially since we can actually see the efforts of the Office of the Vice President (OVP) to help Filipinos, especially our frontliners, during this enhanced community quarantine (ECQ).
Fundraising for our frontliners' immediate needs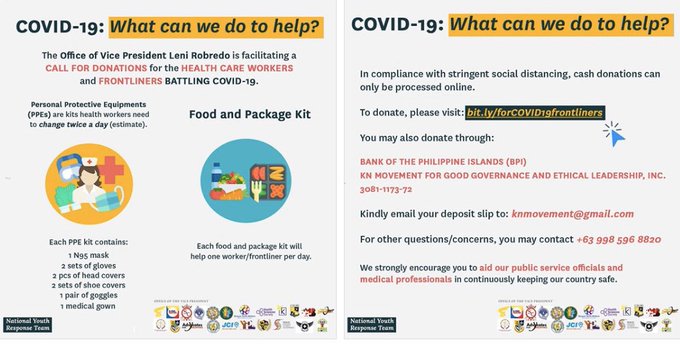 Along with the Kaya Natin! Movement, the OVP started a fundraising campaign for the daily personal protective equipment (PPE) and food packs of our health workers fighting in the front lines against COVID-19. A PPE set contains one N95 mask, one gown, two sets of gloves, two pieces of head covers, two sets of shoe covers, and one pair of goggles, all amounting to PHP 378.37. Meanwhile, each food pack will sustain one health worker per day and costs PHP 500. The fundraiser remains open and you can donate anytime.
As of March 31, 6 PM, the Kaya Natin! Movement and the OVP have raised PHP 40.3 million through this fundraiser. This amount of money can produce 90,753 PPE sets, as well as provide assistance for 6,050 frontliners good for 15 days.
Collaboration with Filipino designers for a locally produced protective suit
Amid these difficult times, we find light in the true spirit of bayanihan. Today's silver lining is c/o our talented homegrown fashion designers. Borrowing a term from my young staff—

TL;DR: Our prototype for a protective suit for medical frontliners has been approved!!!🥳 1/ pic.twitter.com/krIVcW0e27

— Leni Robredo (@lenirobredo) March 29, 2020
Due to the severe lack of PPEs in our hospitals as well as the difficulty of finding sources that can produce PPEs, the OVP thought, why can't we make our own? So the VP and her team called on homegrown designers and doctors to help them create a locally produced protective suit. With the help of designer Mich Dulce and her fellow fashion designers, Medical City South Luzon's Dr. Cesar Espiritu, and infectious disease expert Dr. Jesus Julio Ancheta, the OVP has gotten approval for their prototype for a protective suit. On top of mass-producing the suit, the OVP has also released the pattern as open source so that local government units and communities can produce their own as soon as possible.
First batch of locally-produced PPEs for our CamSur frontliners.

Thank you to Naga-based local designer, Ariel Alvarez, and Camarines Sur Medical Society for this initiative.

♥️♥️♥️ pic.twitter.com/40x5tspWQ4

— Leni Robredo (@lenirobredo) April 2, 2020
Distribution of protective equipment for frontliners across the country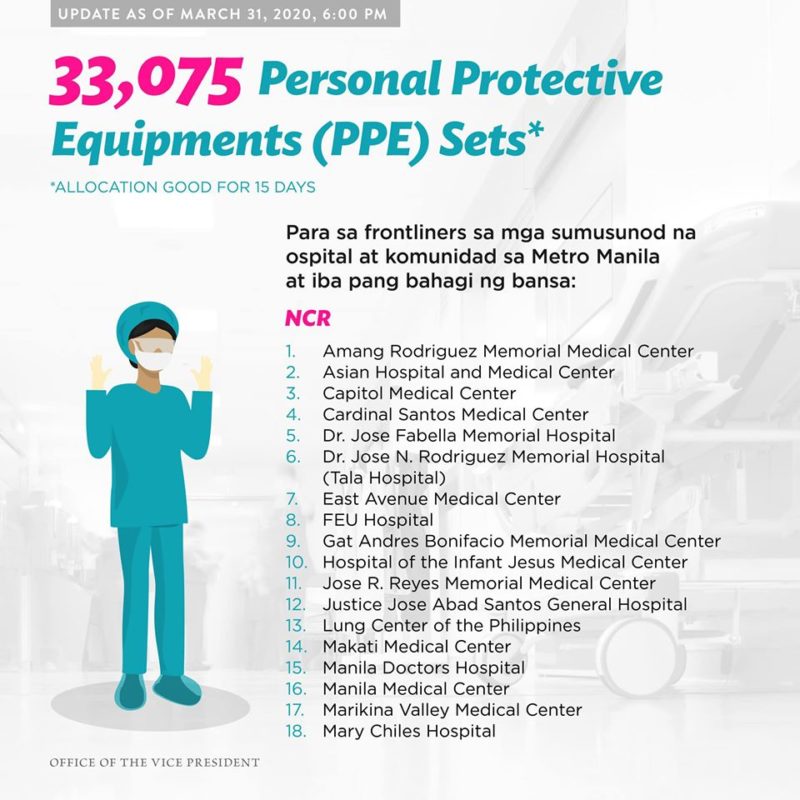 Of course, just because the new protective suit design is being produced, it doesn't mean the OVP will just be sitting around waiting for it. With the minimal resources they have, along with donations from the private sector, the OVP has distributed 33,075 PPE sets to over a hundred hospitals and organizations as of March 31, 6 PM.
The OVP, with the help of members of the private sector, has also distributed aerosol boxes to 8 hospitals around Metro Manila. These aerosol boxes can serve as additional protection for the frontliners as they treat those affected by COVID-19.
Free shuttle service for health workers
After the shutdown of the mass public transportation due to the ECQ, health workers struggled to get to their workplace in time for their shift and go home after the long, tiring hours tending to patients. Some had to walk for hours on end, while others were blocked at checkpoints when they were just trying to get home and rest.
To add to the vehicles the Department of Transportation (DOTr) has deployed, the OVP has also organized a free shuttle service that can ferry health workers back and forth through eight routes across the metro. Daily updates are posted in Robredo's social media pages, such as minor changes to routes and departure and arrival times at the start and end points.
Dorm for health workers
To minimize the need to travel back and forth over long distances, health workers need a place to stay nearer the hospitals and communities. This would also let them get more much needed rest. With the help of partner institutions, the OVP opened at least four dorms so far for our frontliners. The first two dorms are located in Quezon City, while the two that were just opened are located in Manila.
Distribution of food packs
Doctors, nurses, health workers, maintenance staff, police, soldiers, and all frontliners have been provided with food pacs. Dozens of hospitals, communities, and units have received supplies with the help of different private institutions.
New extraction kits for the RITM
During the first few days of the ECQ, the OVP has prepared more than PHP 5 million to acquire extraction kits for the fight against COVID-19. More than 12,000 extraction kits were provided to the Research Institute for Tropical Medicine (RITM), the primary testing center of COVID-19 in the country, in addition to new PPE sets for the RITM's frontliners.
Last night, our team delivered to the RITM the extraction kits that we procured to aid in the conduct of testing for COVID-19. Our office allotted P5.3M for these kits, which we hope will help RITM and designated subnational laboratories in this important task. pic.twitter.com/OZDyub3Siu

— Leni Robredo (@lenirobredo) March 20, 2020
Transparency
Since VP Robredo is not holding a cabinet seat, her office does not have an area or department in particular to focus on, although her projects have mainly revolved around anti-poverty efforts.
Along with the help of several private institutions, the OVP has been able to sustain the projects they're organizing for the fight against the COVID-19. And they didn't fail to report where the money and supplies the OVP has purchased with their budget and the donations from the private sector are going. There's a regular report on the amount of money that has been raised, the hospitals, communities, and frontliners that have been given aid, the progress on the locally produced PPEs, the donations the OVP has accepted, and more. 
As of 6PM today, we've reached the P40M mark!!! This was made possible by your continued generosity. Maraming, maraming salamat po❤️

We've sent PPE sets to Samar Island, and more will make their way to some parts of Visayas and Mindanao starting tomorrow🇵🇭 pic.twitter.com/xfOw9W1ap9

— Leni Robredo (@lenirobredo) March 31, 2020
This kind of transparency is exactly what the Filipino people need to be reassured that something is being done. As she first reported in a short ten-minute video on the first day of the ECQ, VP Leni Robredo promised the support of her office, and she and her team are delivering. 
What do you think of the OVP's projects?