I can say that I have always been ahead of my time, literally and figuratively. I was always one of (if not the) oldest in a group, whether at work or with friends. Born in the last quarter of 1979, I'm an almost-millennial and young Gen-Xer, or a xennial. I have lived forty years, through seven Philippine presidents and two recognized revolutions which were both for worthy causes. In other words, yes, madami akong alam guys!
I suppose you can say I have seen enough, and so now I write this for those who I was once was, a struggling teen dealing with peer pressure or a high-spirited fresh-from-college dude looking forward to starting a new life in the workforce or just simply someone looking for some answers. I hope you can find them here.
Take those piano lessons seriously (or learn to play a musical instrument)
One of the many, many things that I'm thankful to my parents for are the summer and year-round lessons they enrolled me in when I was young. They made me try out different extracurricular activities since grade school, such as swimming, basketball, and tennis camps. Then, there was my all-time least favorite activity: piano lessons at the Yamaha School of Music, which I had once a week for several years until it kind of gave up on me more than I gave up on it.
Now, when I see people playing the piano effortlessly, I can't help but close my eyes and scold my 10-year-old self for not knowing any better. So if you're reading this and are thinking twice about going to that piano class after school later, move that lazy butt so you can take this off your biggest frustrations list when you're older.
Eat your shyness
It's hard for shy people to get ahead in life unless they're very, very smart. So test your IQ and if you fall anywhere below genius, then I suggest you limber up those social muscles and get yourself out there!
Keep in mind that, ironically, people who are overly careful to not look silly in public end up looking more awkward. So the next time someone pulls you from the crowd at a children's party to dance or sing… sing AND dance! People will remember for you what you did and not what you didn't do. Be memorable!
Choose your college course wisely
It's true what they say: choose a job you like and you'll never work a day in your life. One of the things I would have done differently is choosing a different major. Knowing what I know about myself now, instead of taking up Engineering, I would have surely gone for Advertising, Journalism or Communication Arts.
I was so concerned about pleasing my parents and consumed with the idea of earning money soon after college that I forgot that success and money follow if you do what you really enjoy doing because you're sure to perform well when you're in your element. So take your time, know yourself well, and choose wisely. Trust me, your mother will still love you the same if you choose to follow your heart.
Friends are the family you choose
This is self-explanatory. If they don't spark joy, kick them out of your life.
Just kidding! Well, I'm half-kidding. Choose your friends wisely and keep those who are like family. Those who ask how your mother is doing from time to time are gems. A life surrounded by true friends is a happy one.
Conform, but be unique
This may sound like an oxymoron, but you really can be a conformist and remain unique. Taking this into its most mundane form, I used to wear colorful socks in high school until Mr. Salalima, my homeroom adviser caught me red-handed, or should I say, gray-footed. And then when I was working as a banker just because I wanted still be different in a uniform even while I made sure to always be a law-abiding citizen.
Don't compare yourself to others
It's nice to have someone you can pattern your life after, but benchmarking and comparing yourself to someone are two very different things. Idolize but never compete with anyone.
Remember that we all have our own timelines and that there is no right time for buying your first car, your first condo, getting promoted and certainly no right time for getting married and having kids. What works for others doesn't necessarily work for you too, and vice versa. So to all you titas who keep bugging your single nephews and nieces about getting married, mind your own timelines, po!
Pursue happiness, not money
As much as you can help it, don't make money a factor in the equation in your pursuit for happiness or success. Instead, measure success in the number of people whose lives you have improved in living your own. Living in the service of others really is one of the keys to happiness, I have learned.
Take care of yourself
via GIPHY
Consider yourself lucky if you can find someone other than your mother to put you ahead of their needs when it comes down to it, yes, even if you grow a pig's tail or bunny ears. Even Basha left Popoy at his best, remember? So, take very good care of yourself.
Treat yourself to delicious food once in a while, watch a good movie often, enjoy a massage when you can, practice yoga regularly and travel the world as long as you can walk! Delight your senses! In the end, you can count on you, and only you. Insure yourself while you're young and the premium's low. So the next time your friend asks if you're open-minded and are free for coffee, go, do it and do it now, my friend and thank me after.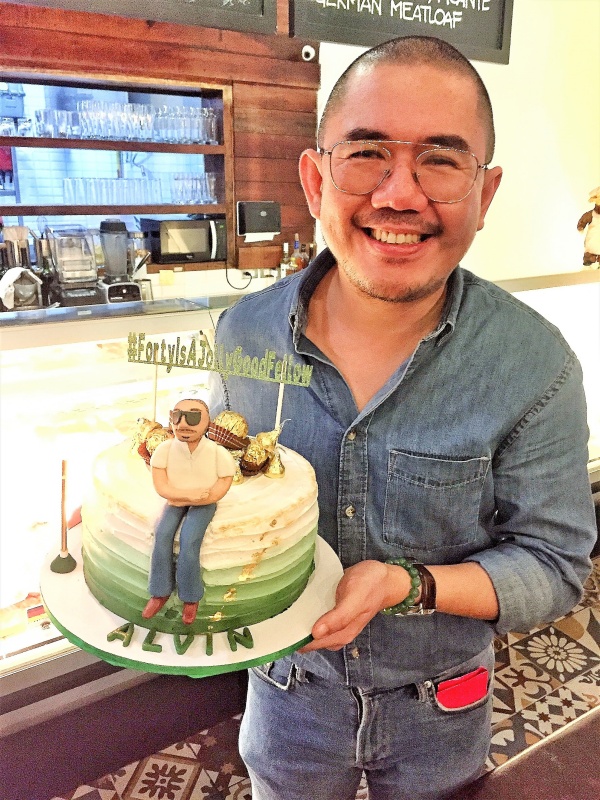 It's never too late to level up. What changes will you be making in your life?