What is your definition of femininity and woman empowerment? Is there even a one-size-fits-all answer? During Love, Bonito's Feminine and Proud forum in time for International Women's month, women thought-leaders shared their two cents about what it means to be feminine and empowered. Hosted by Love, Bonito co-founder Rachel Lim herself, the Singapore fashion brand put a spotlight on inspiring Asian women from various industries.
What does woman empowerment mean?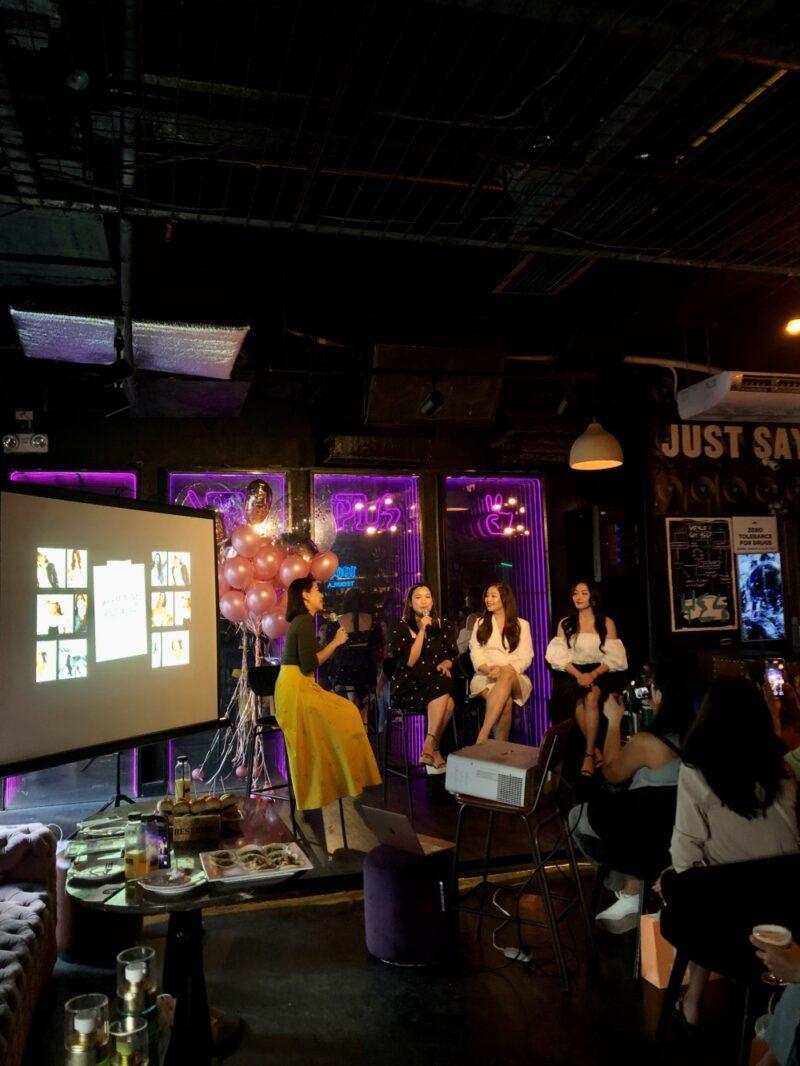 Empowerment looks different for women across many sectors. Jessica de Mesa, Founder and CEO of Kindred, healthcare for women, shared that she feels empowered when taking control of her finances. This includes questioning the gender pay gap — why do men get paid more for the same amount of work women do? — and bravely asking for the compensation she deserves.
She also shared that she faced difficulties in fundraising for her startup business, Kindred. But as challenging as that was, de Mesa didn't let it discourage her from diving into entrepreneurship as a woman.
"Be straightforward and ask what you want. Because sometimes you can't wait for it to be given to you," said de Mesa.
As a sportswriter, Ceej Tantengco likewise faced many challenges in the male-dominated field. But even though her editor gave her the option to leave, she chose to stay with the conviction that she could inspire a change that would lead to gender equality in the industry.
"When you feel that you're being disempowered, one way to take back control and feel empowered is to actively participate in doing something to change it no matter how small. Take that first step and keep rolling along," said Tantengco during the Love, Bonito forum.
Gretchen Ho and Inna Palacios Tell Us Why Filipino Women in Sports Deserve a Brighter Spotlight
Gretchen Ho and Inna Palacios Tell Us Why Filipino Women in Sports Deserve a Brighter Spotlight
Kyzia Maramara | Mar 21, 2023
What does it mean to be feminine and proud?
View this post on Instagram
For Antonette Aquino, multi-awarded financial planner and founder of Money Health Check, being feminine goes beyond the surface. It's not all about the stereotypical "dalagang Pilipina" — wearing pink, acting shy, or being demure.
"Femininity is mastering the art of self-exploration and self-love," said Aquino, citing Maya Angelou's "Phenomenal Woman" poem as her inspiration. "It doesn't have anything to do with physical appearance — it's an energy you have to nourish and protect."
Aquino also added that the best part about being feminine is the vulnerability which leads to authenticity. According to her, being vulnerable as a woman means being comfortable and brave enough to be open to anything.
View this post on Instagram
Meanwhile, being feminine and proud for Tantengco means the freedom to express oneself in a way that makes you feel confident and empowered no matter the boxes they put you in.
"[Freedom and confidence] will look different for every woman but I think celebrating femininity is making room for all these without saying one is correct," said Tantengco.
As for de Mesa, femininity as a female entrepreneur in a male-dominated tech and healthcare industry meant being nurturing. But at the end of the day, she stresses that defining femininity is ultimately up to each person.
Make It Stop! 8 Things Women Are Tired of Hearing
Make It Stop! 8 Things Women Are Tired of Hearing
Edgardo Toledo | Mar 08, 2023
What helps these women grow in confidence?
View this post on Instagram
Tantengco, de Mesa, and Aquino ended the insightful and inspiring discussion with helpful tips for women to help grow their self-confidence.
de Mesa shared that having a strong support system helps her continuously move forward no matter the challenges she needs to hurdle. She also said that women should never underestimate the power of self-care to empower and build self-confidence.
Self-care is essential to overcome stress and fatigue but Tantengco adds that positive self-talk also helped her regain self-confidence. Positive self-talk has the power to change perspectives and overcome negative thinking which, let's be honest, we're all prone to. Tantengco also highlighted the important role endurance played in growing her confidence.
"You knock me down, I get back up. We're not here to sprint but to run a marathon. Endurance is having that goal in your mind but accepting the challenges and keep running towards your dream anyway," she said.
Airbnb Says Women Hosts in the Philippines Earned P2.5 Billion in 2022
Airbnb Says Women Hosts in the Philippines Earned P2.5 Billion in 2022
Kyzia Maramara | Mar 02, 2023
A limited-edition Love, Bonito IWD cap

As a proud advocate of uplifting women through varying seasons of life, Love, Bonito's campaign this year aims to inspire women to embrace femininity on their own terms and redefine societal expectations of traditionally more female-centric roles.
Customers can also look forward to the brand's limited-edition International Women's Day caps that aim to physically represent the many hats a woman wears. The collection features five detachable patches with tongue-in-cheek phrases: 'On a Mission', ' Going Places', 'No Cap', 'Thinking Cap', and 'it's my era.' Each seeks to inspire the wearer to take the 'wearing many hats' expression to the next literal level.
For new users, sign up to be a member at Love, Bonito's website to receive newsletters and enjoy US$15 off with min. spend US$70 on your first order.
Check us out on Facebook, Instagram, Twitter, TikTok, and YouTube, to be the first to know about the latest news and coolest trends!