Maggie Wilson Is Single-Handedly Exposing a Network of Online Trolls
Sep 28, 2023 &nbsp • &nbsp Kyzia Maramara
If you didn't believe in online trolls before, what's currently happening to former beauty queen Maggie Wilson will change your mind. The 34-year-old model and businesswoman is single-handedly exposing content creators who were allegedly paid to join an online smear campaign against her and her lifestyle company, Acasa Manila. Wilson posted a slew of Instagram stories proving how a group of "influencers" were hired to create negative videos about her.
Maggie Wilson is a victim of online trolling
There was something fishy about how several content creators on TikTok started talking about Wilson while reciting a similar opening line: "Habang nag-scroll ako sa Instagram nakita ko ang story ni Maggie Wilson." Their videos discuss hearing about Acasa Manila customers allegedly scammed by Wilson and her partner, Thai-British businessman Tim Connor.
Wilson has had enough of the lies. On her Instagram stories exposé, she shared screenshots of a group chat where the same script was handed out to these so-called "content creators." Each of them was allegedly paid a fee of P8,000 to post videos against her.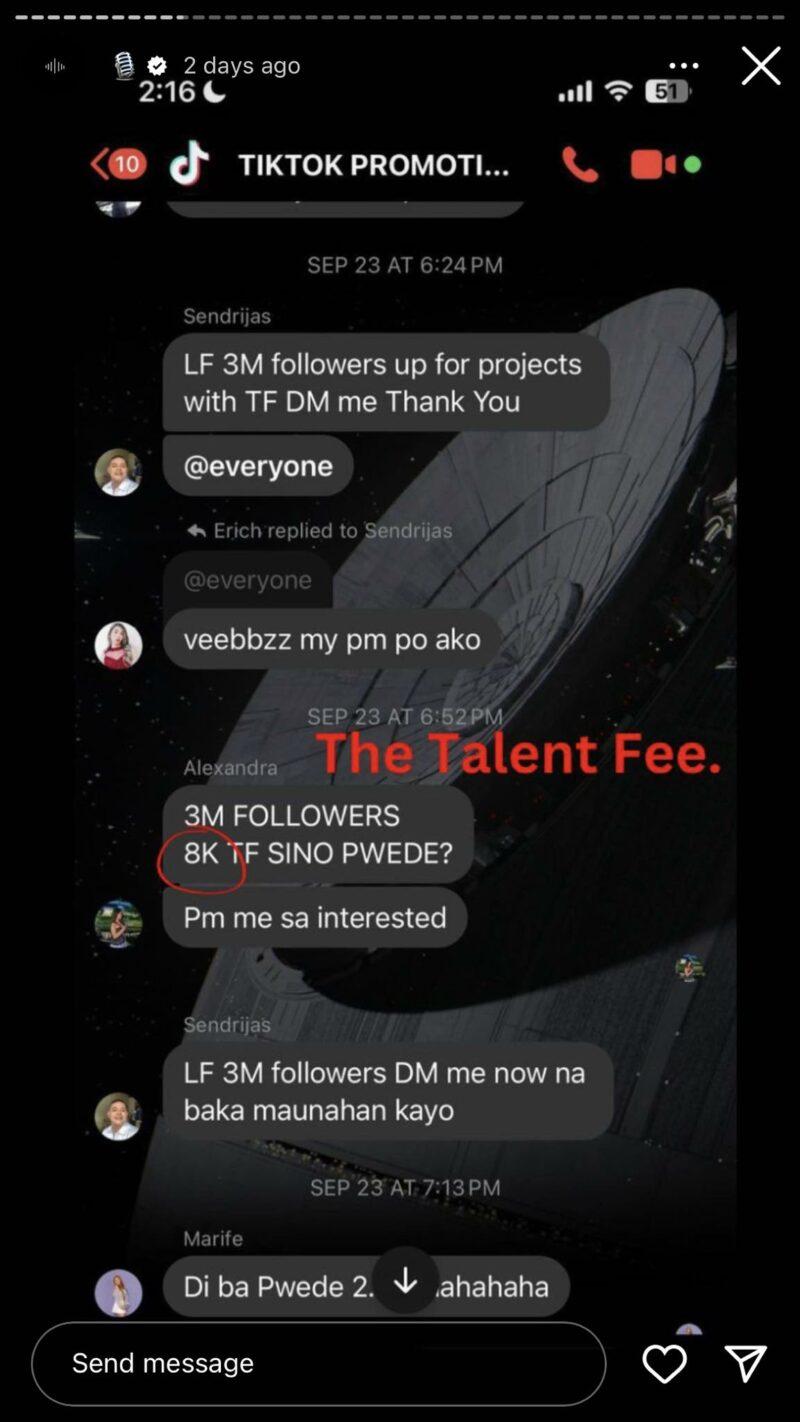 The plot against Maggie Wilson
From Wilson's posted screenshots, it seems like a certain Benedict Paredes allegedly hired the content creators and fed them the script. Paredes' messages even included tips on how to create a variety of reactions so the videos wouldn't look scripted.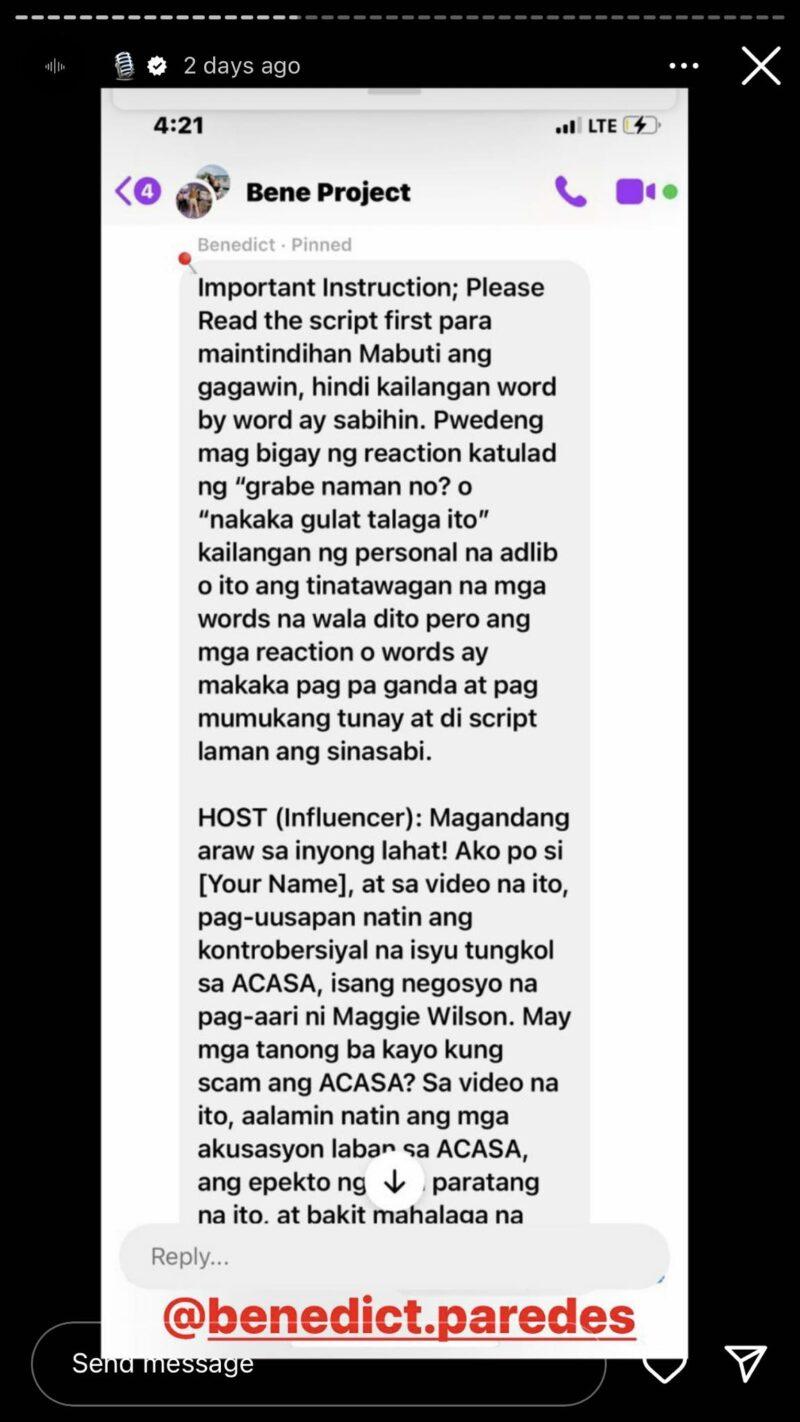 "This is the script, please lagyan niyo ng sari-sarili niyong atake. Mag-adlib kayo, yung ibang sentence pwede niyo palitan ng other version as long as na andon yung thoughts," read Paredes' message via screenshot.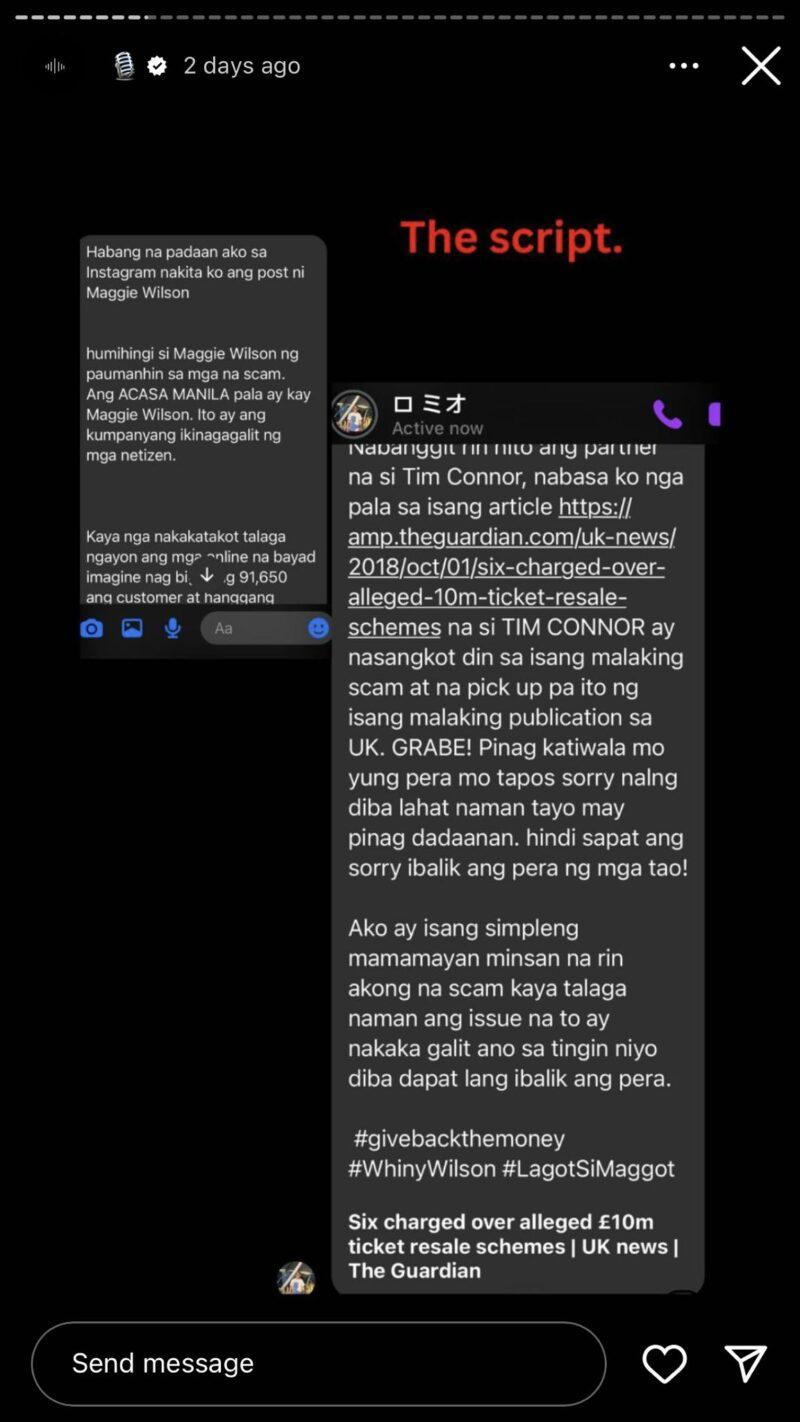 After these content creators sent their video drafts, Paredes greenlit the videos before they were uploaded on TikTok with the hashtags #LaggotSiMaggot and #StopTheDramaMaggie.
Maggie Wilson asks content creators to come forward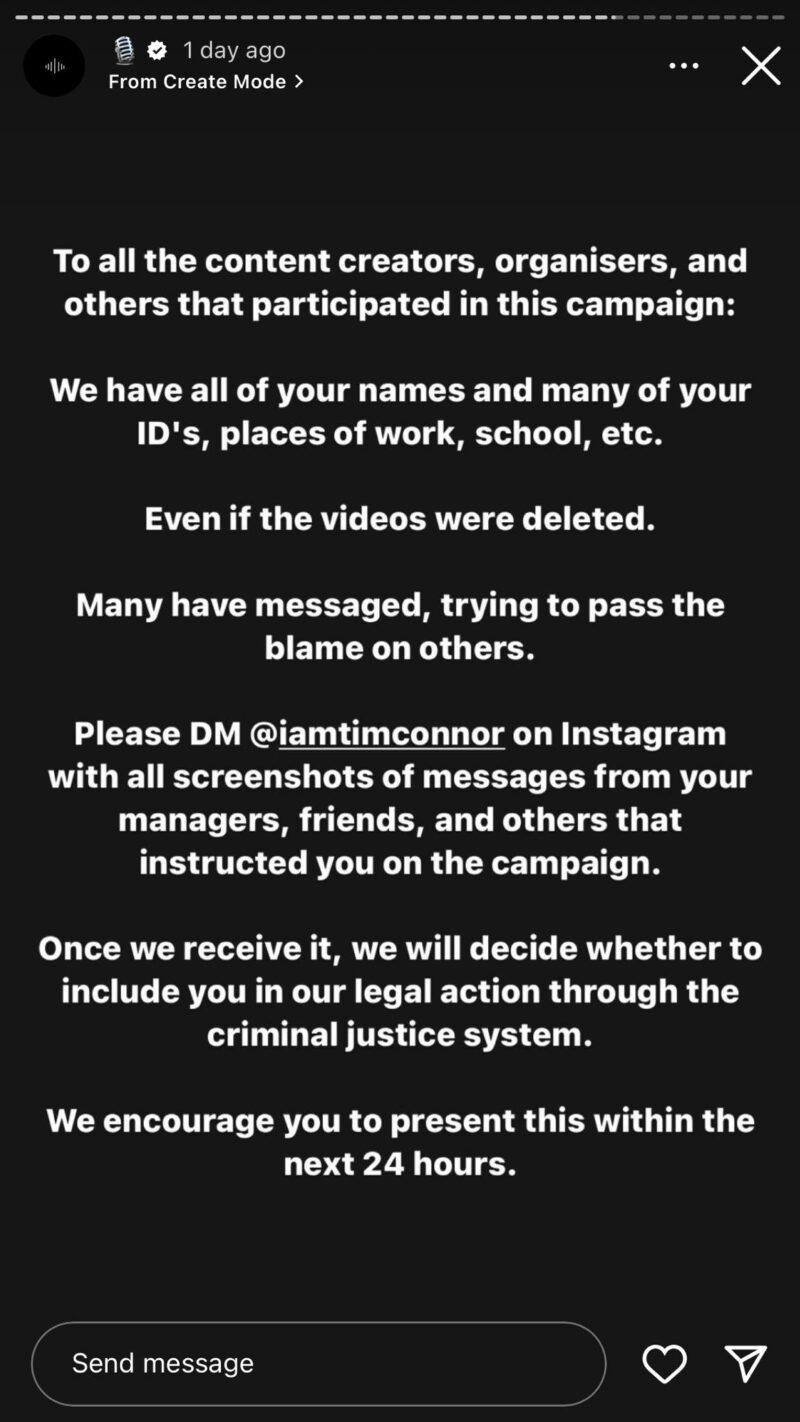 In an attempt to get to the bottom of it, Wilson urged all the content creators who were hired or somehow involved in the smear campaign to contact her to avoid potential legal action.
"We have all of your names and many of your IDs, places of work, school, etc. Even if the videos were deleted," wrote Wilson on Instagram.
"Please DM [Tim Connor] on Instagram with all screenshots of messages from your managers, friends, and others that instructed you on the campaign. Once we receive it, we will decide whether to include you in our legal action through the criminal justice system," added Wilson, giving those involved 24 hours to do so.
Alleged online trolls post apology videos
Shortly after Wilson called out the campaign against her, a handful of TikTok content creators started posting apology videos. One of them even blatantly admitted that all the videos about Wilson were scripted. 
Was Rolyn paid for his efforts? The TikToker confirmed that he received P7,000 to post the video against Wilson while the person who hired him got a P1,000 cut. 
"Kung napanood niyo po yung mga videos na inupload ng mga content creators tungkol kay Maggie Wilson, yes po, scripted po talaga siya," said Rolyn Jay, one of the content creators involved in the campaign against Wilson. "And meron po kaming iisang script and isa ako sa mga nag-upload non. Di ko agad narealize na mali talaga siya and honestly, wala talaga akong alam sa issue na 'yan."
Rolyn posted a screenshot of Wilson graciously accepting his apology.
Jeff Sendrijas, another TikToker, came forward and apologized. "About pala sa pinost ko kanina about sa Acasa Manila, yes po, scripted po 'yon. May isa pong tao na nagbigay samin ng script na 'yon para 'yun 'yung sabihin namin."
"I sincerely apologize to Ma'am Maggie Wilson at sangkot lang po kami dito," added Sendrijas.
Maggie Wilson alludes to the other woman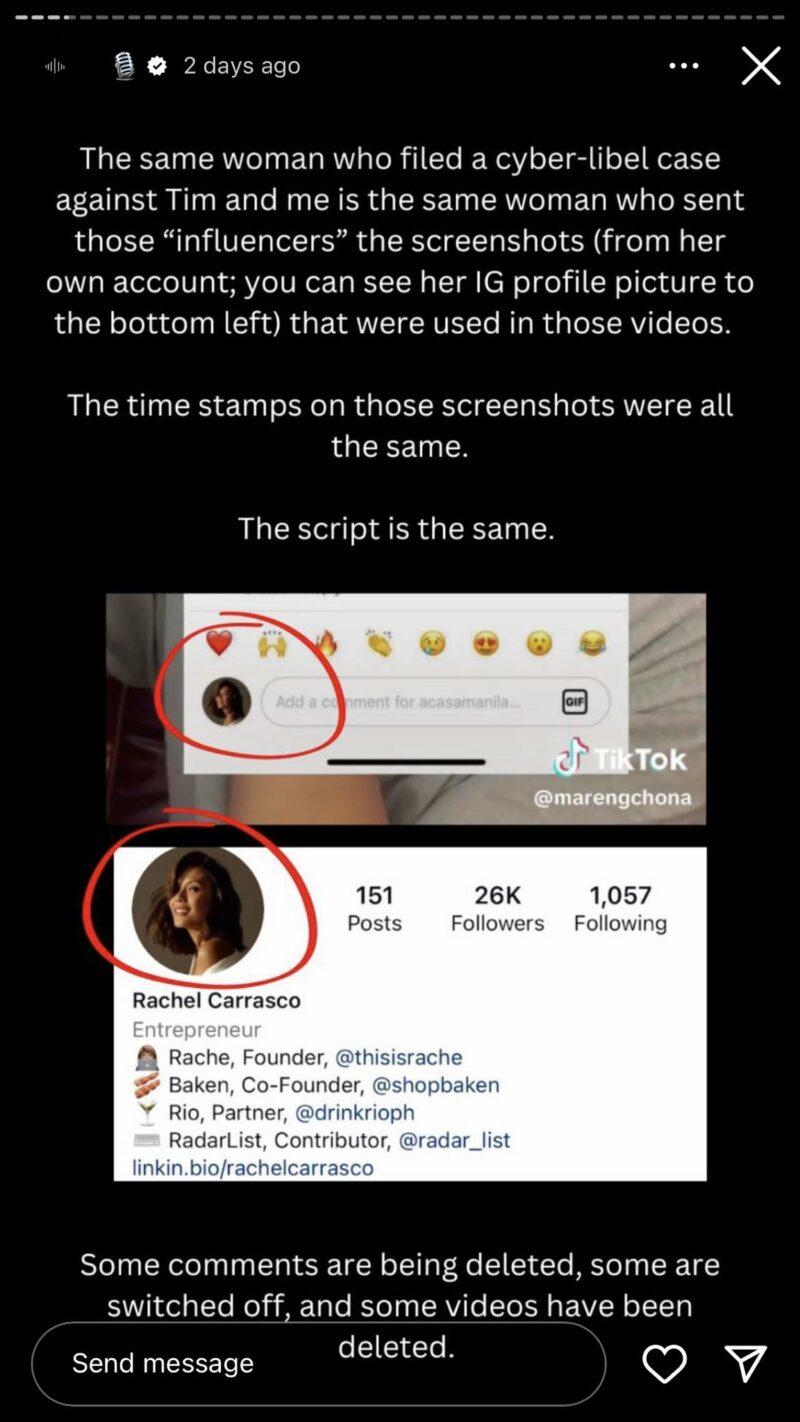 While no one knows who hired Paredes and these content creators and paid them P8,000 to smear Wilson's name, Wilson and Connor have a hunch about who's involved.
These content creators have been basing their gossip on a single screenshot of comments where an alleged Acasa Manila customer is complaining about being scammed. On the lower left of the screenshot, where we normally see the profile photo of the person viewing the comments, sits Rachel Carrasco's current Instagram profile picture.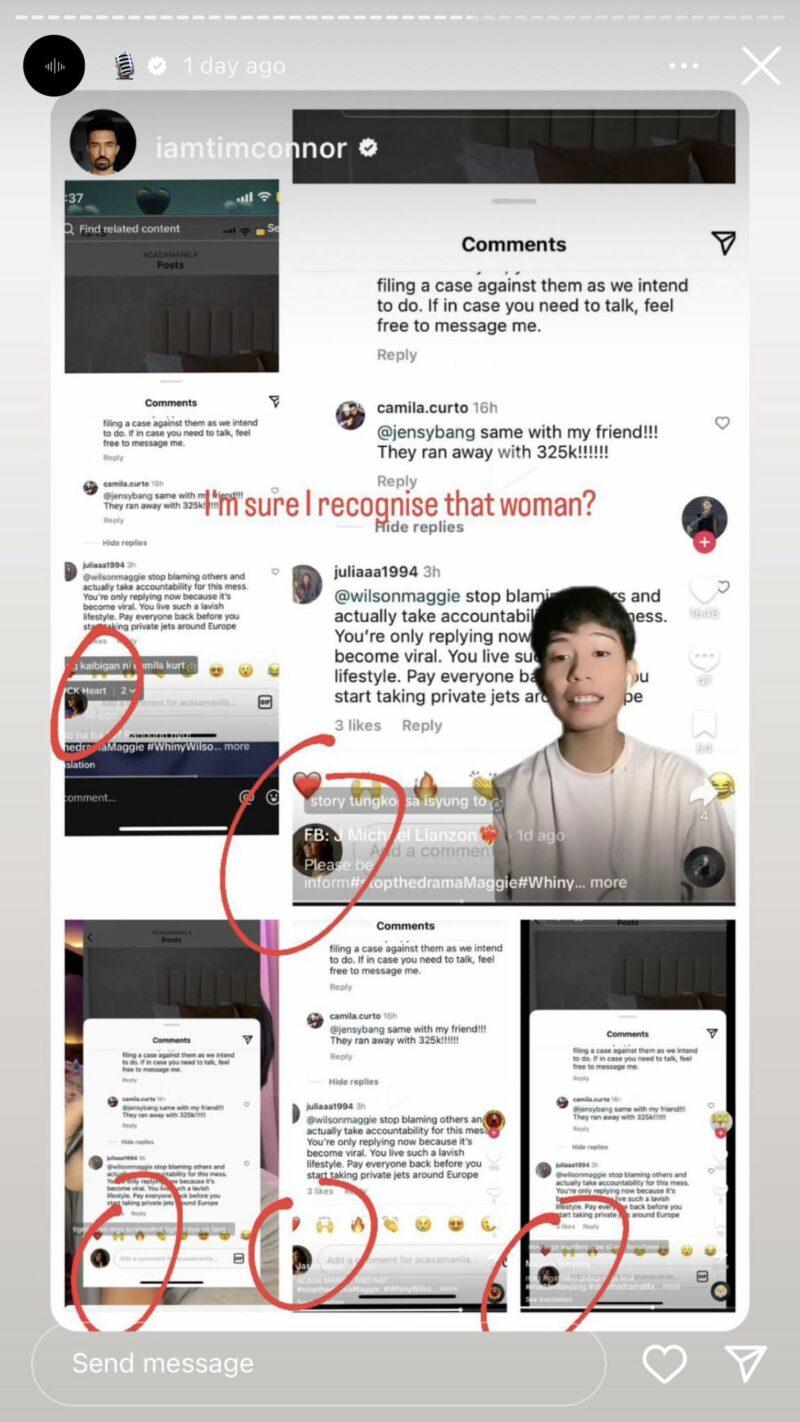 Carrasco is the current partner of Wilson's estranged husband, businessman Victor Consunji, with whom Wilson shares an 11-year-old son with. ICYDK, Wilson and Consunji announced their split in September 2021, nearly 11 years after they got married. But despite previously saying they've "remained really good friends and continue to do so," the past two years have proven that wrong.
View this post on Instagram
Consunji has accused Wilson of adultery and cyber libel. Meanwhile, last February 2023, he welcomed a child with Carrasco. When Wilson reacted to the news, she revealed a number of things: "Still not annulled, still no communication, still have an adultery charge, still getting demands every day, still blocked from seeing my son."
Maggie Wilson's exposé sparks conversations on the role of these online campaigns in the last presidential election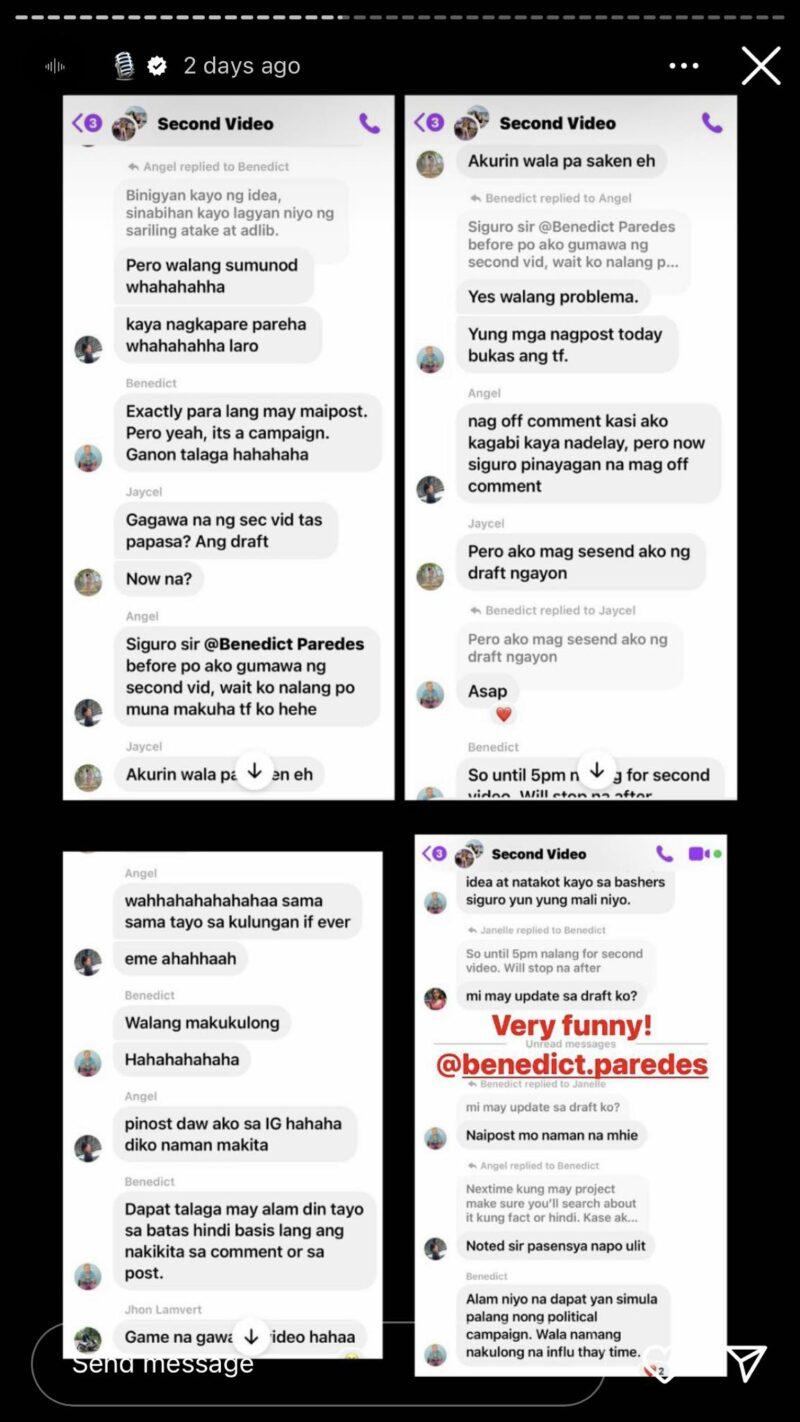 The online smear campaign against Wilson shocked netizens. Her case might just be scratching the surface of a network of disinformation involving content creators who are not afraid of the law. In Wilson's screenshots, Benedict Paredes, who allegedly hired the content creators, encouraged his small army to not be afraid of getting arrested.
"Alam niyo na dapat 'yan simula pa lang nong political campaign. Wala namang nakulong na [influencer] that time," he wrote in the group chat.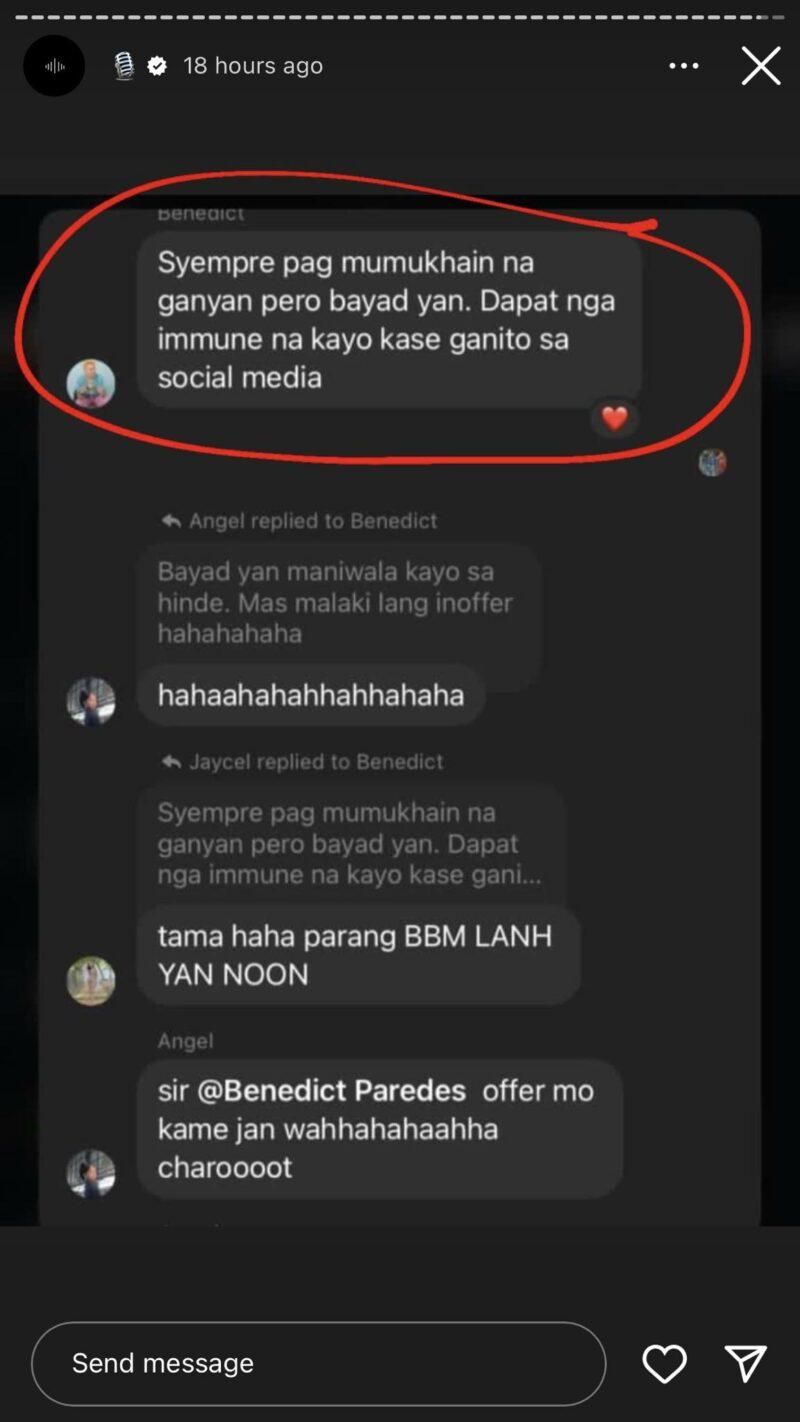 "Syempre pagmumukhain na [walang bayad] pero bayad yan. Dapat nga immune na kayo kase ganito sa social media," wrote Paredes.
Another person replied: "Tama. Parang BBM lang yan noon."
In a separate screenshot, it seems Paredes was made aware that there's a whistle-blower in the group chat who was sending Wilson their conversations. Paredes also insinuated that Wilson must have paid the whistle-blower, but Wilson said that she hasn't spent a single centavo to convince people to come clean.
It's a mess
Maggie Wilson has done what us journalists covering disinformation have been trying to do for the past 7 years: bring an entire coordinated network to its knees https://t.co/t7ROitZRLR

— Krixia Subingsubing (@krixiasINQ) September 27, 2023
"Maggie Wilson has done what us journalists covering disinformation have been trying to do for the past 7 years: Bring an entire coordinated network to its knees," wrote Philippine Daily Inquirer journalist Krixia Subingsubing on X.
These trolls posting videos against Maggie Wilson are also paid BBM trolls. This country is suffering because of these selfish 'influencers'. Let's hold them accountable! Pls report their accounts:

🔗 sendrijasjeff https://t.co/weR4a3JmWA
🔗 indayyashley: https://t.co/sgmWrWPn9L pic.twitter.com/A8zrJMM9km

— rob (@robismore) September 26, 2023
Iyong mga troll na naexpose happen to be the same "influencers" na nagkakalat ng BBM propaganda during the election season. Oh, the floodgates that Maggie Wilson opened. 👀👀👀

— 199poor. (@OdinsonLowkey) September 27, 2023
In an attempt to clear her name, Wilson showed everyone the dark underbelly of troll farms. She showed us how easy it is for "content creators" and "influencers" to smear someone's name and sell their souls for P8,000. She also showed us that if they could operate like this on a small scale and ruin her name, they could most certainly do it on a larger scale and, say, win an election.
For updates on Wilson's case, follow her on Instagram and check out her pinned Instagram stories.
Check us out on Facebook, Instagram, X, TikTok, and YouTube, to be the first to know about the latest news and coolest trends!