A viral tweet lamenting the "non-existent" culture in Metro Manila recently ruffled the feathers of Pinoys. The tweet compared Manila's culture to other capital cities in neighboring countries and concluded that our beloved, bustling city falls flat. But did the OP have a point? If you look past the EDSA traffic, public transportation problems, and the fact that Manila is ranked as one of the worst cities in the world, what kind of culture does Manila have?
Is Metro Manila a sad city?

"Ang lungkot pala talaga ng Manila, no? For some, they're just here for livelihood. Kaya when they have the opportunity to escape from it, they grab it kahit temporary lang. Either umuuwi sa hometown or nagbabakasyon somewhere," said the netizen's first tweet on the thread.
There's some truth in the sentiment. When Manilans think they need a "break," they'd be lying if they didn't say their first thought is to get out of the city and go somewhere quiet. Perhaps the post was made while reflecting on the annual mass exodus from Metro Manila to neighboring provinces for the Holy Week vacation. Or maybe it's simply an observation after years of staying in the congested capital city.
And then the netizen went on to say that not only is Manila a sad city, but it is also one that's void of culture.
Is culture non-existent in Manila?

According to the netizen, culture in Manila is "almost non-existent" compared to the capital cities of neighboring countries. "The likes of Bangkok, Phnom Penh, Taipei, Tokyo, buhay na buhay ang kultura nila sa capital cities pa lang," said the tweet.
"From a tourist/traveler POV, we visit capital cities ng ibang bansa to experience their culture vs Manila na nagiging transit lang papunta sa famous travel destinations," the netizen added.
It's an innocent comment but it managed to ruffle a few feathers.
Pinoys can't take the comment lying down

Although the OP did say that they could've worded their sentiments better, that didn't stop netizens from rebutting their point. As of writing, the tweet has garnered 368 likes with 2.1k comments. Pinoys online argued that Manila is unquestionably a city full of culture.
"Manila is a melting pot of cultures within and outside Manila. To comment that culture is non-existent is baseless," replied one netizen. "Balik tayo sa social studies class or immerse more in it. Maraming tours dyan Google mo lang."
Culture? One could argue that we've got too much of it in the Metro. There's the historic Walled City of Intramuros which served as the center of Spanish occupation some 400 years ago. There's Binondo, hailed to be the oldest Chinatown in the world. We even have three National Museums in Manila and a number of historic churches and temples. As another netizen pointed out, a whole weekend isn't enough to visit all the culture Manila has to offer.

"Manila is full of culture and history yet some ignore its existence. Hindi kasi natin na aapreciate ang ganda natin palagi na kang tayo nakatingin sa dayuhan. Ah kultura rin nga pala natin yun colonial mentality," said another netizen.
For a person to say that Manila is void of culture, netizens are convinced that person hasn't been anywhere around the city. Even a visit to Rizal Park is part of exploring the capital city's rich culture.
"Define culture muna. Kasi maliban sa Lenten, Christmas festivities ay may mga social activities sa barangay level," replied another netizen. "Also, kapag sinabing culture, kasama din Rizal Park, National Museum, Chinatown at mga Confucian temples, mga simbahan at mosque, mga theme parks."
Manila might not be as modern as Tokyo, as vibrant and majestic as Bangkok, or have as many world-class establishments as Singapore but we've got our own culture to boast of.
Kultura in Manila?
Netizens couldn't help but suggest that the original poster dust off their walking shoes and attempt to experience what Manila has to offer. Because it's quite a lot. "What a horribly [out-of-touch] thing to say. Quiapo pa lang, melting pot of cultures na. Binondo. Escolta. Malate. Hell, even Tondo," commented another netizen.
Another even made fun of the original tweet, saying we've got plenty of Kultura (the shop) in Manila, mostly found in malls.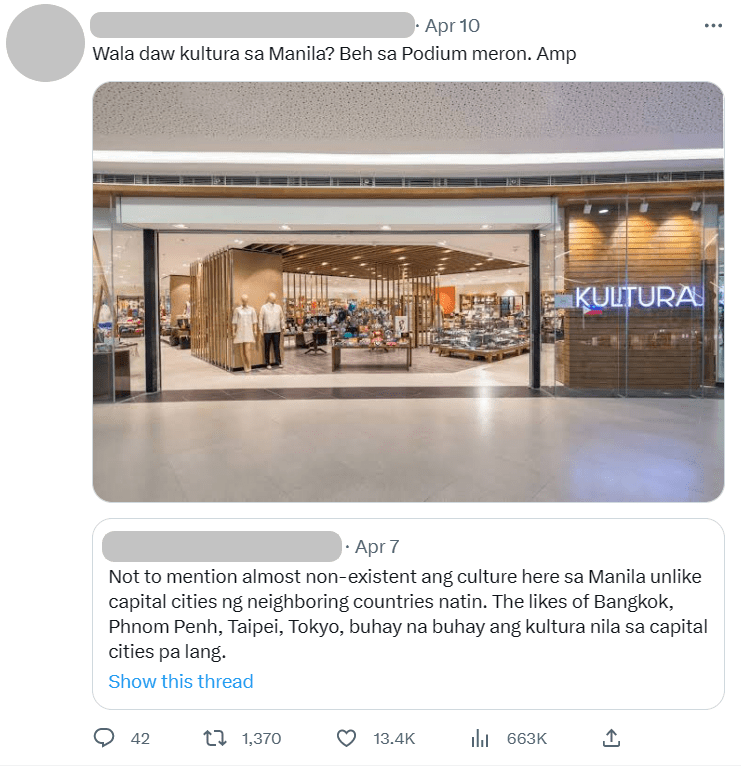 Meanwhile, others had to agree that culture in Manila is practically non-existent
Everyone is going after the 'culture in Manila is non-existent' tweet. Understandably may rub people to wrong way, but fr: Enjoying culture in Manila is inaccessible. Heritage preservation is terrible. Green spaces are edged out. You must sit in traffic to catch a play in CCP.

— Regine Cabato (@RegineCabato) April 10, 2023
We can list as many cultural spots in the city as we want to defend Manila but, as we said earlier, there's truth in the viral tweet's sentiments. One netizen agreed that culture in Manila is almost "non-existent" because it isn't being showcased properly. "Even Manila's poor planning & lack of linkages HINDERS YOU to experience its many areas seamlessly," said one comment.
Another said that if they have foreign friends visiting the country, they usually don't recommend going around Manila since it's a city that's unwalkable, has no clear commute routes, and has terrible traffic. There's culture but it's practically inaccessible.
How to experience Manila culture
That being said, it's still worth exploring Manila. If you still doubt it, there are a number of groups you can join to walk and eat your way around the city:
It's about time we (yes, even those living in Metro Manila themselves) pay attention to local culture so other Pinoys, and the younger generation, won't have to say it's non-existent.
Check us out on Facebook, Instagram, Twitter, TikTok, and YouTube, to be the first to know about the latest news and coolest trends!