Go Fun Size! 8 Selfish Uses for Ant-Man's Powers
Jul 16, 2015 &nbsp • &nbsp Karl R. De Mesa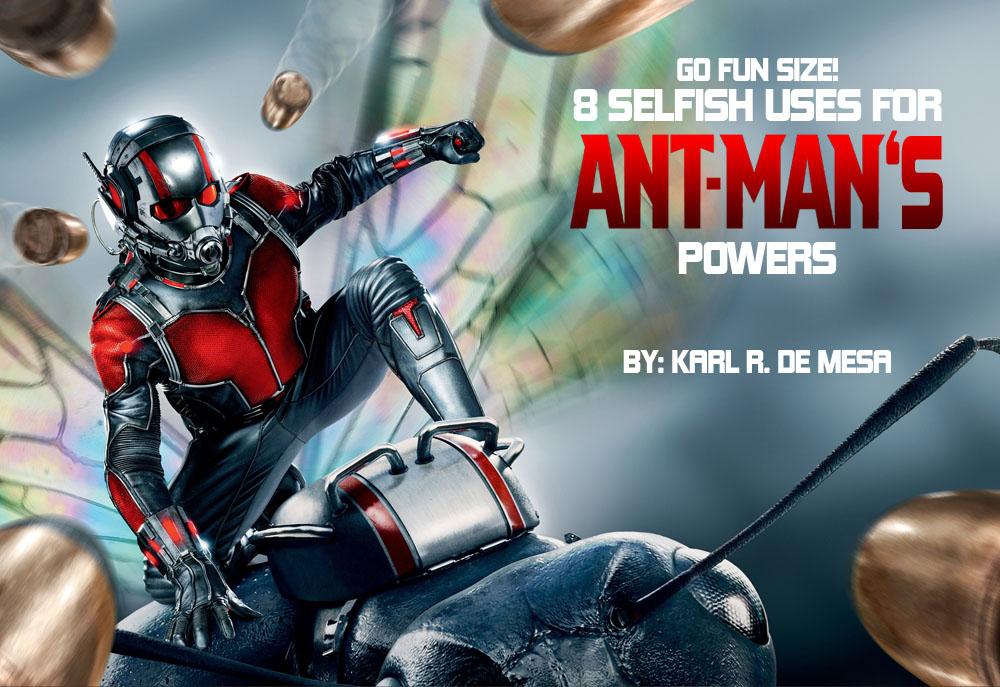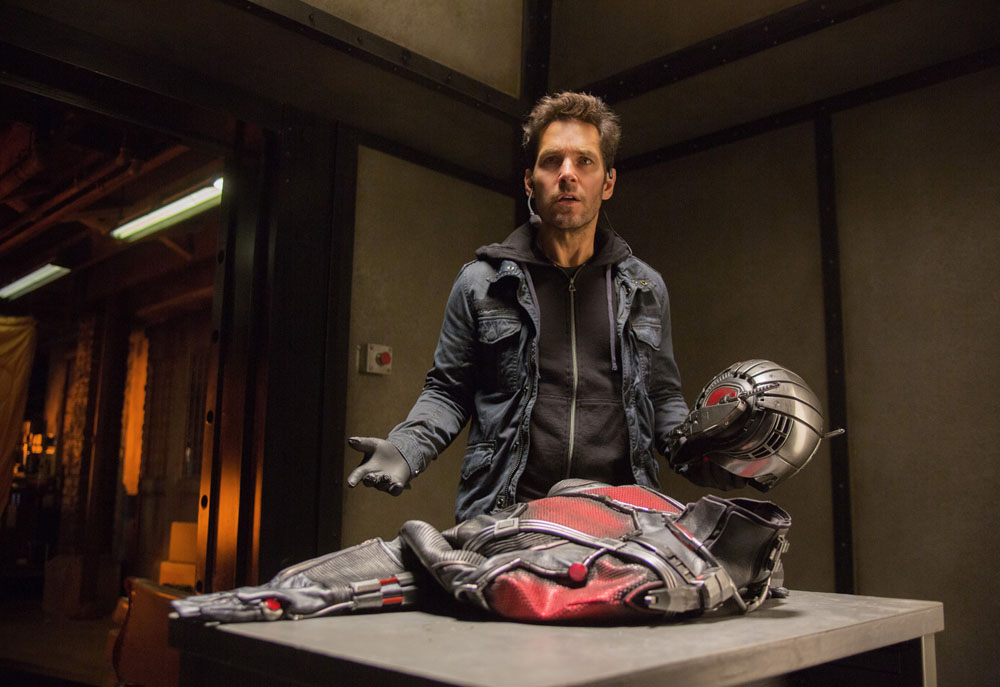 In the original Marvel comics (where Ant-Man was part of the initial Avengers) Hank Pym became Ant-Man after discovering a chemical substance—The Pym Particle—which allowed him to alter his size and possess superhuman strength. With the development of another of Pym's technologies, Ant-Man also eventually possessed the ability to control armies of ants. Later, Pym appeared alongside The Avengers in the team's debut in "Avengers #1" in 1963.
This movie brings us master thief Scott Lang (Paul Rudd) as the present-day Ant-Man; just released from prison after serving hard time for his larcenous ways, now looking to go straight but still unable to hide his criminal record (a failed stint as a Baskin-Robbins sweets-monger notwithstanding). He also wants to make up for lost time with his daughter Cassie (Abby Ryder Fortson), but his ex-wife (Judy Greer) and her douche of a boyfriend (Bobby Cannavale) are getting in the way. With no money, no career prospects, and a shithole for living quarters, Lang's future in the legit world is looking pretty dim.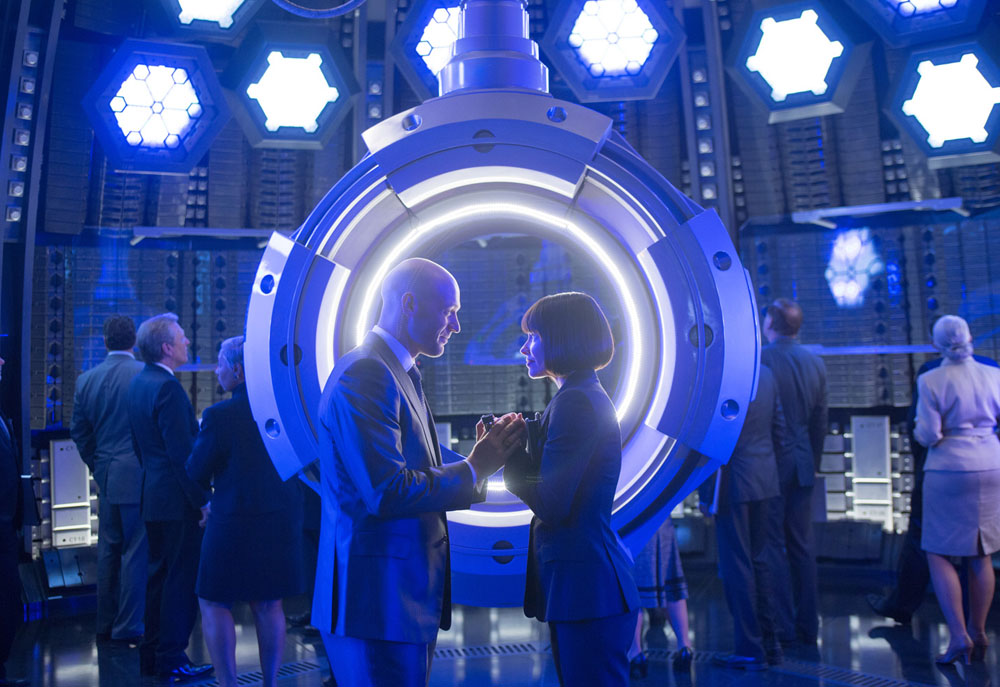 Set several months after the events of "Avengers: Age of Ultron," Dr Pym sets up Scott Lang and chooses him to wear the Ant-Man suit through a mix of coercion and enticement (power suits are the new tech lust), recruiting him into his mission along with the help of Pym's daughter Hope Van Dyne (Evangeline Lilly).
After being trained by Hope in empty-hand combat and armed by Dr. Hank Pym (Michael Douglas) with the astonishing ability to shrink in scale but increase in strength, Lang must embrace his inner hero and help Pym protect the secret behind his spectacular Ant-Man suit from a new generation of towering threats.
Enter Dr. Darren Cross (Corey Stoll on loan from TV's The Strain in full on bald villain Luthor-ness), Dr. Pym's estranged protégé, who now controls Pym Technologies (soon to become Cross Technologies) who's invented the Yellowjacket Suit, with almost exclusive military applications through the use of the Pym Particle. Essentially, Pym, Lang, and Van Dyne must prevail against seemingly insurmountable obstacles, plan and pull off a heist that will save the world from the ravages of the Yellowjacket Suit – without the help of the Avengers.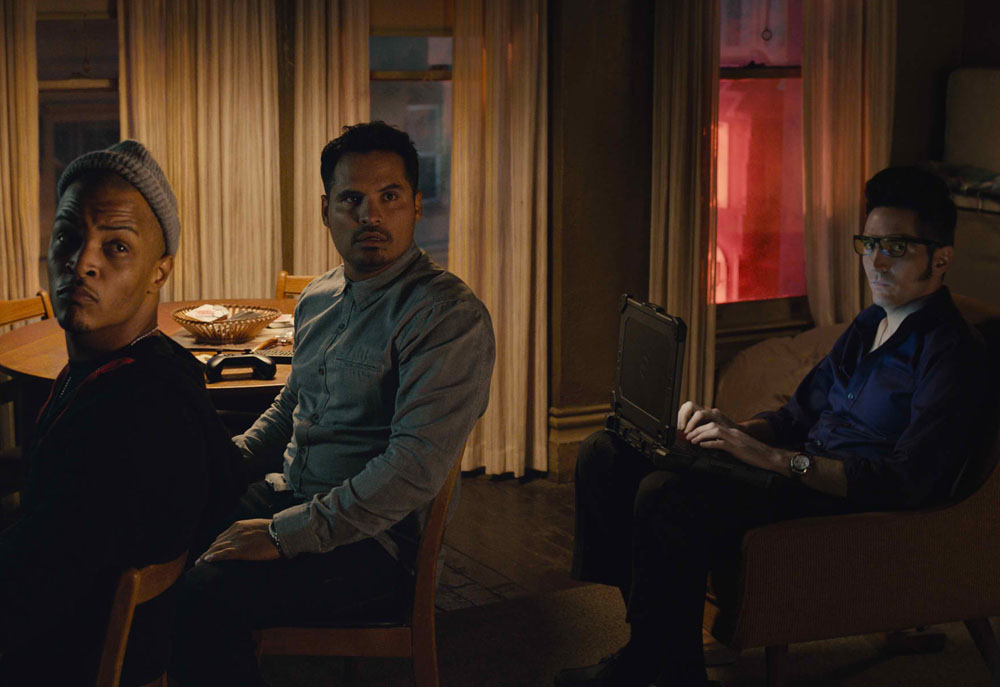 It's not that the chemistry between Michael Douglas and Paul Rudd isn't there – Douglas could have great rapport with a butter knife given his thespian skills if he wanted to – it's just that Rudd's physical wit works better with other comedians he can bounce off his jokes with. Especially since Lilly and Rudd have the chemistry of well, a crushed ant.
Which is why the comedy here is, really, brought with true guffaw force by Michael Pena, rapper T.I., and David Dasmalchian who play Luis, Kurt, and Dave respectively: Lang's crew of burglars who often bumble their way through a plan before they can get their act together and execute it, in direct contrast to their shoddy planning phase, with finesse and uncharacteristic resolve.
The sense of the slapstick is mitigated by grand Marvel action, a strong character-driven story (that features an Avengers cameo for fan service) that manages to be cliché at the right places, and a tongue-in-cheek aesthetic that pokes at the viewer right on schedule.
Between Pena's portrayal of Luis as a nervous chatterer and T.I.'s trying hard gangsta Kurt, and Dasmalchian's Russian nerd trying even harder to look hardcore with his gruff reticence, the inclusion of these three in the Ant-Man's missions become scene stealers in a big way. With Rudd, Douglas, and Lilly serving as reference for the straights, the three misfits provide much needed anchor in a comic book world that often takes its heroism and sense of serious, self-importance like Donald Trump does his comb-over.
For director Peyton Reed, the 2015 film incarnation of "Ant-Man" is one that will surprise audiences. "Ant-Man' is an incredibly powerful character. He can shrink down to a very tiny size and actually command these armies of different types of ants which on the face of it may seem like a silly power, but the great thing about the comics and the great thing about this story is you get to see what kinds of things a bunch of ants can get done and in what interesting ways they can help Scott." If ever the Pym Suit became readily available, here's eight truly selfish, non-heroic uses we thought of for when you can go fun size and control ant armies.
8. MORNING COFFEE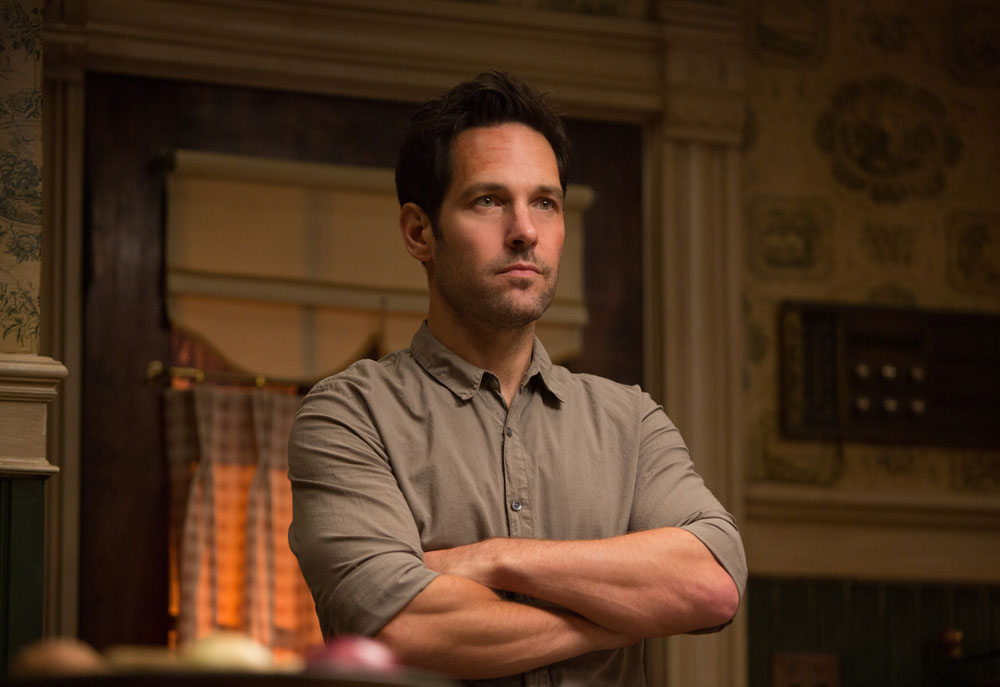 That time in the morning when your brain still isn't connected to your consciousness. Program your ant friends to make your morning cuppa Joe to your exact qualifications. If they screw up, simply dunk them in the hot brew for a good source of protein.
7. NEXT GEN CONSOLE THEFT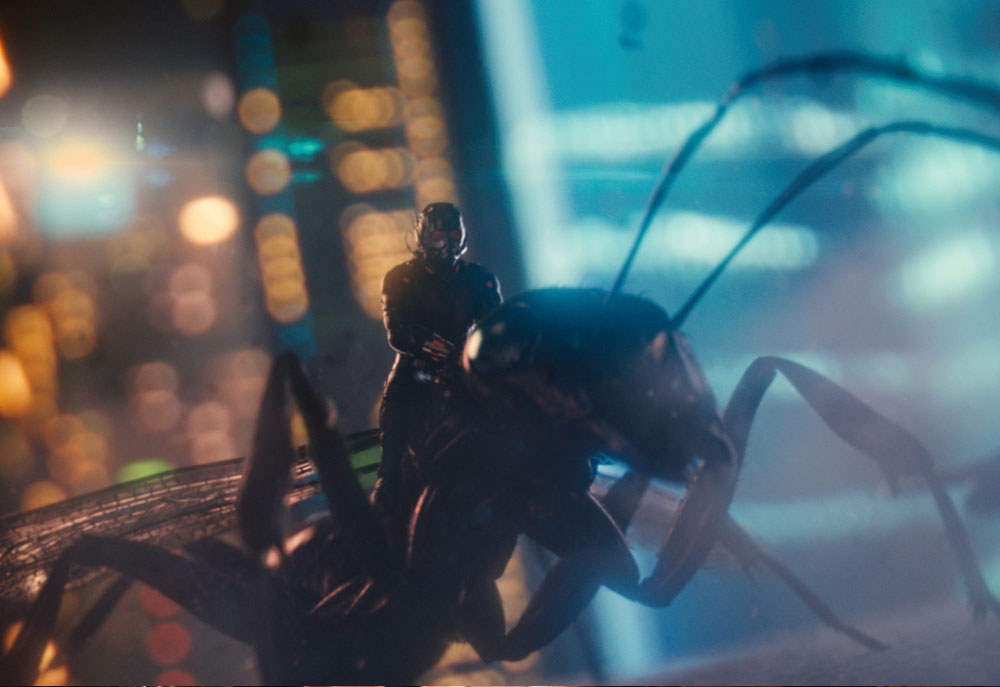 Woohoo, Christmas can come early! If you didn't know yet, ants have the ability to carry objects that are many times their size—up to 5,000 times their own weight, actually, according to one recent study in the "Journal of Biomechanics." That's the human equivalent of carrying 60 elephants. So, if you don't have money for a PS4 or Xbox One? Have that army of crazy ants bring over your neighbor's, and don't forget that copy of Arkham Knight.
6. CONNECTABLE PENILE ANT-WHIPS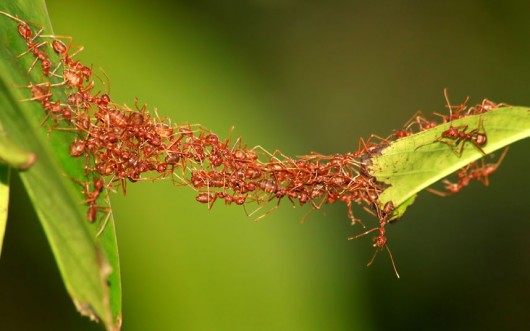 No need to hurt your hand with the fire ants' ability to form complex standing structures for transport over gaps. This'll take bitch slaps and a show of disrespect to a whole other level with the ants in your pants. Whapash! Whip it good.
5. FREE TRAIN RIDES FOREVER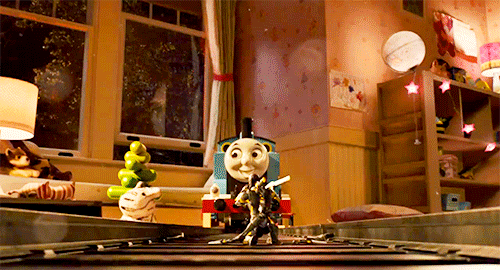 No space on the MRT as usual? No problem. Simply shrink down and find a nice, cozy corner to not get trampled on.
4. HOME SECURITY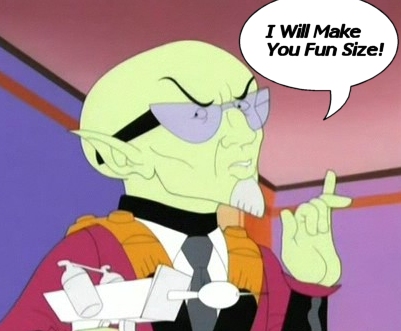 While it's a good idea to leave some crazy killer ants that hurt like heck around the house when you're not around, wouldn't it be better to train a shrink ray at your doors and windows, have a cage drop down on the hapless burglars, and then have your way with them when you get home? Oh, look: disposable, fun size toys!
3. SURVEILLANCE AND YOUR CHEATING GIRLFRIEND
Plant one of your ant friends with a mini-cam inside her bag for a day and catch the cheater in action with the most unobtrusive spy bug ever. With the footage in your hands, the whole Intarwebz is waiting.
2. FUN SIZE BED KINK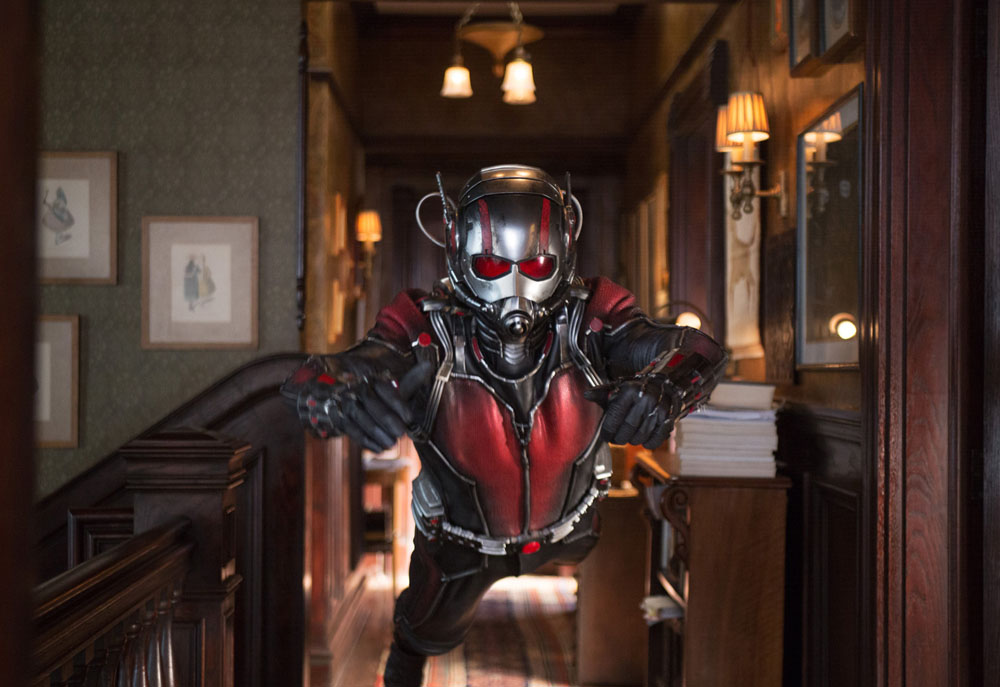 Here comes, Scottie! John Mayer sure hit it on the head when he sang "Your Body is Wonderland." The adventures of the Incredible Shrinking Man do seem pretty incredible now, hey? Tip, you can shrink and go normal size in coitus, you know what we mean?
1. PORN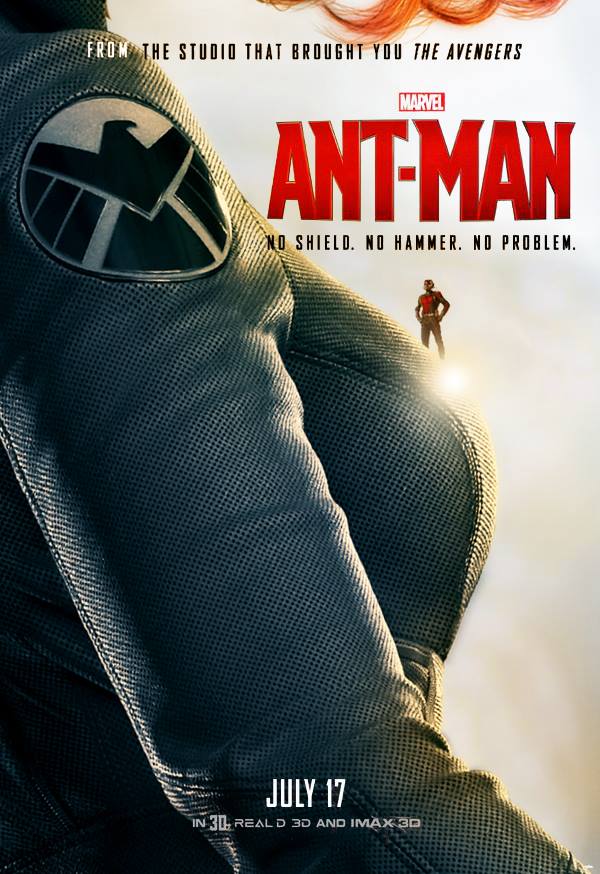 Oh, the possibilities. After the use of the headcam, the drone, and the Go-Pro, there's always incentive for the porn industry to lead the way to kinkier pleasures of the non–tactile kind. Looks like Black Widow was one of Ant-Man's first victims. Upskirts and downblouses will never be the same.
What would you use Ant-Man's powers for? Share them with us in the comments! Catch ANT-MAN, currently screening in Metro Manila theaters in 2D, 3D, and IMAX 3D. All photos courtesy of Marvel Studios.