Mother's Day has come and gone, but that doesn't mean the appreciation for all the amazing things our moms do should end. In fact, there are countless ways to show mom you care throughout the year. Whether it's her birthday, a random Wednesday, or just because, surprising mom with a thoughtful gesture is always appreciated. From homemade gifts to quality time together, these meaningful and practical ways to show your love and appreciation will have your mom feeling cherished and loved. Here are a few ideas:
8. Clean the house

I know what you're thinking — "Cleaning? That's not very exciting!" But hear us out. Picture this: your mom wakes up to a spotless house. No dishes piled up in the sink and no laundry overflowing from the hamper. Just a clean, calm living space. She doesn't have to lift a finger or worry about any of it. Don't you think she'd appreciate that? Sure, it's not the most glamorous gift, but it will definitely make a big impact on your mom's day.
7. Cook her favorite meal
Cooking your mom's favorite meal is a tried and true way to show your love and appreciation. Think about it: food is one of the most essential things in life. It's something we all need and enjoy. And when someone takes the time and effort to make us a special meal (whether it's sinigang or a fancy steak dinner), it's a gesture that goes straight to our hearts – not to mention our stomachs. Plus, if you plan accordingly, you can turn this gesture into a #MomDate and eat some of your homecooked meal, too!
6. Surprise her with a family outing

Our moms are often the ones planning our family outings, so why not turn the tables and plan an outing just for her? Whether it's a walk in the park, a museum visit, or a day trip adventure, taking your mom out for an experience she'll love is a gift that she'll never forget. Plus, it also provides you a chance to spend quality time together, which, let's be real, is truly the best gift of all.
5. Write her a heartfelt letter

Words have power. And when you take the time to sit down and put your thoughts and feelings into words for your mom, it's a gift that she'll cherish forever. You don't have to be a poet or a wordsmith to write a great letter — just be honest, vulnerable, and loving. Tell your mom what she means to you, the impact she's had on your life, and how much you appreciate everything she does (and has done) for you. There's nothing more special than feeling seen and loved by your child, and a heartfelt letter is one of the best ways to make your mom feel just that.
4. Create a handmade gift
There's just something extra special about receiving a handmade gift. It shows that someone put time and effort into creating something with their own two hands, which makes it all the more meaningful. And hey, you don't have to be a master crafter to make a great handmade gift. Just think about what your mom would love and appreciate — maybe a piece of jewelry, a crocheted coaster, or a photo album filled with memories. Whatever you choose to make, your mom will surely appreciate the fact that you put your heart and energy into creating a unique gift that is made especially for her.
3. Treat her to a spa day
Moms work hard, okay? They deserve a break. And what better way to relax and unwind than with a little pampering? A spa day gives your mom a chance to let go of stress, ease her muscles, and just chill out for a little while. It can be a solo trip to a day spa or a budget-friendly DIY spa day at home — either way, it's an opportunity for your mom to get some well-deserved self-care.
2. Set up a photoshoot

Moms love capturing memories and looking back on special moments. So why not take it up a notch and schedule a family photo shoot for your mom? Not only will you get some great updated pics of your fam, but it's also a chance to spend quality time together and have some fun. What's more, you can use the photos to create a special photo album or wall display, which is a gift that your mom can enjoy for years to come.
1. Get her all set for the future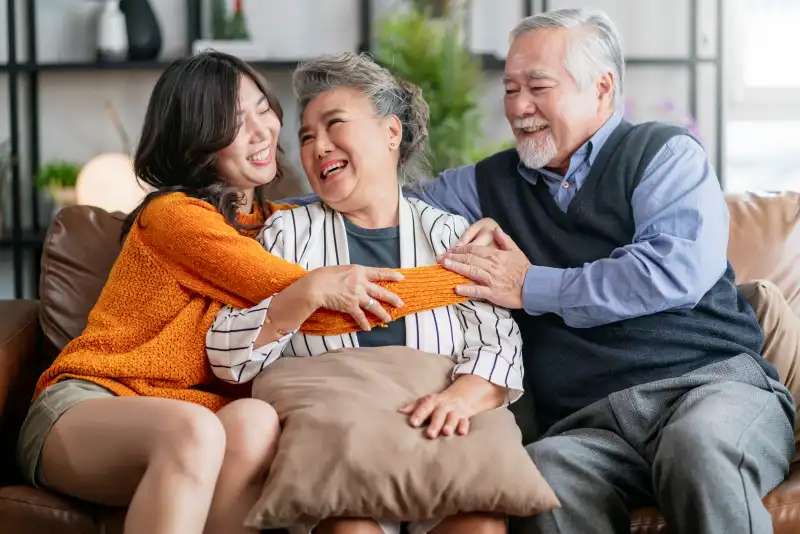 Our moms always have our backs. They take care of us and make sure we're set up for success. So why not return the favor and give your mom the gift of financial and health security? Mutual funds like the Sun Life Prosperity Funds offer a smart way to invest in your mom's financial future. Meanwhile, health insurance plans like Sun Life's Sun Maiden and Sun Senior Care can help your mom be prepared for unexpected serious illnesses.
Mutual funds require minimal effort on your mom's part as she can just sit back and watch her investments potentially grow. She can also enjoy the peace of mind that comes with being protected by a health insurance plan. So go ahead and give your mom the gift of a brighter future – she deserves it!
Visit www.sunlife.co/wheeloflife for more information on how Sun Life can help you secure a healthier and brighter life or talk to a Sun Life advisor via www.sunlife.com/TalkToAnAdvisor. You can learn more about Sun Life's Wheel of Life campaign here. #SunLifeWheelofLife #SunLifePartnerforLife