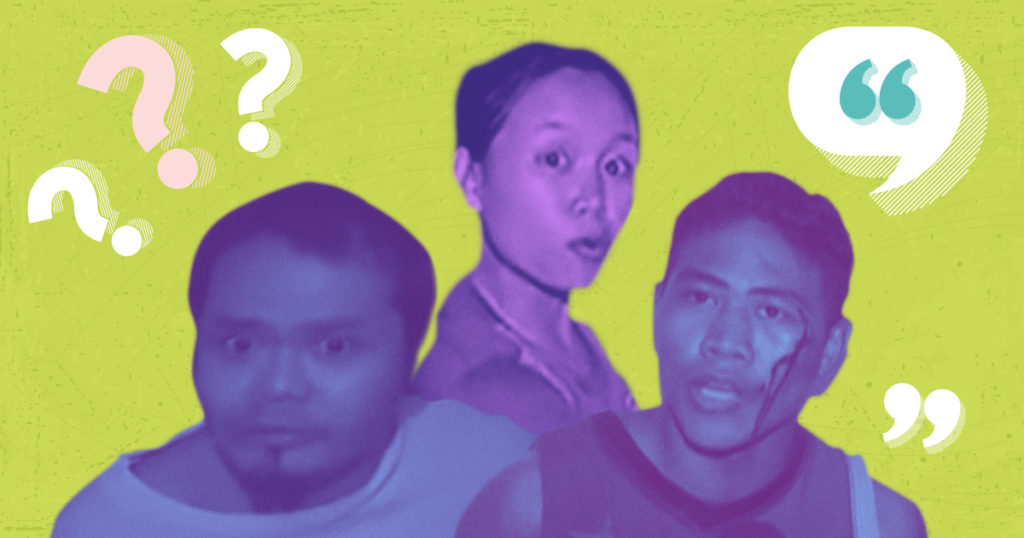 For the longest time, it's been a simple routine for Filipinos to stay informed via the news, often being treated to serious, hard-hitting commentary about the most important goings-on of the day.
And then, there are these segments featuring the most unintentionally hilarious criminals you will ever meet, making you second-guess all that seriousness in one fell swoop. This 8List is dedicated to those guys who are so bad at being bad, providing the internet with a steady stream of memes all year round.
"Obyus ba?"
The Crime: Trespassing. It barely even counts as a crime, actually.
The Context: An unidentified lady enters a private vehicle with her kid, and refuses to get down, even if this was clearly not her ride. She sleeps inside the van, then gets startled when someone asks her another time to get down. This annoys her, resulting in this dialogue…
Her: Ba't nang-iistorbo ng tulog?

Driver: Natutulog ka ba?

Her: (pauses for a beat, then replies in all seriousness) Obyus ba?!?
She then ends up being turned over to the women's desk for help, because while we might find her antics hilarious on first pass, there's a sadder story going on underneath it all. Sorry, did we promise this was going to be all hilarity? Apparently not.
"Ba't ako matatakot?"
The Crime: Illegal possession and discharge of a firearm, public drunkenness.
The Context: All hopped up on liquid courage, a man named Jun Calumpiano threatens people with a gun and even shoots it. After being arrested but while still clearly intoxicated, he proceeds to challenge then-president-elect Duterte to a gunfight.
Jun: Duterte, draw tayo. <expletives> Mag-draw tayo. Bigyan mo ako ng baril, sige. Walang problema. Ba't ako matatakot?!?
Famous last words from Mr. Calumpiano. Dude really should be careful what he wishes for.
"Sinusutsot ang bulalo, pare. Ang cup noodles, pare, noodles! Noodles, pare!"
The Crime: Hooliganism is probably the best way to describe it.
The Context: While out and hoping to have a craving for bulalo satisfied, an inebriated man named Raymond Diong gets very upset when he orders bulalo, and is handed bulalo-flavored cup noodles instead. This results in a fistfight between him and one of the personnel at the bakery he threw a fit in.
Raymond: Ang gusto ko lang malaman, ang order ko ay bulalo, bakit ako bibigyang cup noodles?!? Bakit ko babayaran yun?!?

Random Dude: <Indistinct>

Raymond: Pare, ang bulalo, mga butu-buto. May laman. Sinusutsot! <makes sucking sound effects> Sinusutsot ang bulalo, pare! Ang cup noodles, pare, noodles! Noodles, pare!!!"
Again, this all happened in a bakery.
"I am not stealing the tricycle. I have permission from the owners before I take it."
The Crime: As you can tell based on the title, stealing a tricycle.
The Context: After being arrested for supposedly stealing a tricycle, this strangely calm and collected man begins to explain his actions in the most epic way possible.
Man: I am not stealing the tricycle. I have permission from the owners before I take it. How can we accuse one people without further investigation, on side by side. Because in the triangle, there are three sides, right? And on the fourth side, there are four sides. How many degrees are there on the three sides?

Reporter: How many?

Man: Thirty-six degrees… of course, I started it, then I'm vroooooooooom, roaming.

Reporter: Away?

Man: Yes, I'm roaming!
Police suggested that he may be on drugs, but others also suggest that he may be speaking tongues. Or not. Probably not.
"Wala na, finish na."
The Crime: Rape.
The Context: Bethoven Delmar was arrested under suspicion of raping a woman. Not exactly a model citizen, this guy. Upon being interviewed over how he could do such a thing, he admits that he was on drugs and drunk before carrying out his crime, then this happened…
Bethoven: Pag lasing ako, talagang tamang manyak ako, talagang hobby ko, mang-rape talaga. Mang-re-rape… swerte pa ako, kasi, hindi pa yun, hindi pa si Duterte yung nakaupo. Kung si Duterte, wala na, finish na.
While it's never a good idea to laugh at the rape survivor, it's often more acceptable to laugh at the dumbass rapist who's too stupid to keep it in his pants. Wala na, finish na siya.
"Advance ako mag-isip."
The Crime: Marijuana trafficking.
The Context: Arrested in a sting operation, a 26-year old call cenner agent named Albert Mangapit was asked if he was making enough money in the BPO industry. Responding in the affirmative, he explained that he was just selling drugs on the side to augment his savings…
Albert: There's a lot of things you can do about money, or from that. Kush, 1.5M per Kilo. Maybe I can change the Philippines. I can run for the Philippines. Advance ako mag-isip. Look at Antipolo. How much is the land, land area of Antipolo? Unused. Good for farming of marijuana.
Predictably enough, Albert then listed off the benefits of marijuana while the police just humored him before throwing him in jail.
"Malakas po yung guardian angel ko sa likod"/ "Ginaya ko lang si Battousai."
The Crime: Frustrated homicide, technically.
The Context: This two-fer came about thanks to what should have been a murder scene instead of a hilarious misadventure. After feuding over money, a CCTV catches how Bald Bro is viciously attacked by Toothless Dude with an axe. Thankfully, Bald Bro makes it out not just alive, but apparently unscathed. After the Barangay officials made sure the two erstwhile feuding buddies are friends again, they now had to ask the hard questions…
BB:  Kita niyo sa CCTV, talagang tinaga yun, eh.

Reporter: Oo nga, eh!

BB: Malakas po yung guardian angel ko sa likod.

Reporter: (To Toothless Dude) Nakita ko, ginanon mo, eh. Sa'n tumama yun?

TD: Hindi, baligtad yun. Baligtad. Baligtad.

Reporter: Ah, binaligtad!

TD: Baligtad.

Reporter: Ah, so nanakot ka lang talag…

TD: Ginaya ko lang si Battousai, binaligtad ko lang yung talim.
Who knew Samurai X could save a life?!?
"Kuya, wala kang kwentang kuya"
The Crime: Cellphone snatching.
The Context: Alyas King allegedly snatched a phone from someone waiting for a jeepney along Old Balara in Quezon City. A second victim also came forward, mentioning a distinct tattoo as an identifying mark for the snatcher. Alyas King's brother personally escorts him to the police station, where he confesses to his crimes, but then breaks down and decides to blame his brother for his troubles instead…
AK: Kuya, wala kang kwentang kuya. Iniwan mo lang ako dito. Wala kang kwentang kuya. <expletive> mo!
The hardest thing about saying nasty things about your brother's mom is realizing that you're saying nasty things about your own mom, too.
What are your favorite quotes? Tell us below!