Um, Why Is Miss Colombia 2015 *STILL* Talking About Pia Wurtzbach?
Oct 6, 2020 &nbsp • &nbsp Cristina Morales
In today's edition of Why Is This Still a Thing, Miss Colombia 2015 Ariadna Gutierrez was quoted saying a few (allegedly) shady things about The Pia Wurtzbach (a.k.a. Miss Universe 2015 a.k.a. Kween), and it's rubbed more than a few netizens the wrong way. Here's what went down.
ICYMI…
In a recent interview, Ariadna was asked whether she saw Pia as her competition during the pageant. This was her response (translated from Spanish by Pageanthology 101, emphasis ours):
"No! Not at all. Actually, I just saw (noticed) her twice during the competition, once at the dining area and during rehearsals. But a person like a… a ghost! You see her and never again, like the exit signs! Nobody saw her.
"I used to go with the Latinas but we sat with the Asians and I did not notice her. She was very solitary, too. I did not notice her and when I did, I did not think of her as my competition. That is the truth."
Yeah, not a good look.
A brief history of their (alleged) feud
Let's rewind to December 2015: The Miss Universe pageant, Coronation Night. Pia Wurtzbach and Ariadna Gutierrez take the stage, hold hands, and Steve Harvey announces the winner: Miss Colombia! A minute later, he comes back on stage and tells the audience that he made a mistake and read the wrong name — it was actually Miss Philippines who won.
Things got awkward.
Things got confusing.
The pageant world was shookt, and even non-pageant watchers tuned in to watch the sh*t show, cause it was entertainment gold.
Since that pivotal night, pageant fans have been pitting the two against each other. Though Pia and Ariadna have been nothing but gracious about it in public (save for this recent gaffe), fans have been pitting the two against each other since 2015. Clearly, people still haven't gotten over it.
Miss Bulgaria comes to Pia's defense
Miss Bulgaria 2015 Radost "Joy" Todorova (who became a meme shortly after the Coronation Night for frantically gesturing at Pia to take the stage) reacted to the circulating quote, and she didn't hold back: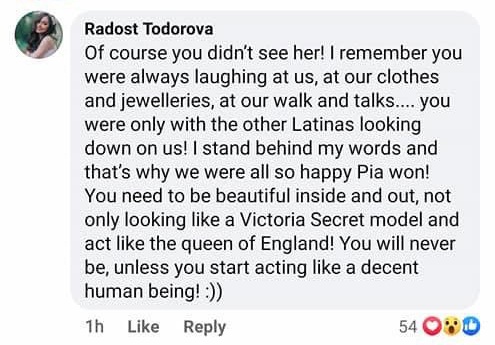 Basically:

Yes, she's that same Miss Bulgaria. We love a consistently supportive queen.
More from Miss Bulgaria (a.k.a. The BFF You Wish You Had)
Radost then added that she didn't want to offend anyone, but went on to say that Pia was the whole package, and deserved her win.
View this post on Instagram
On her IG stories, Radost also said (among many other things) that she can't believe that this drama is still a thing in 2015. "Some people just don't know when to stop," she said. She added that instead of bullying, writing negative comments, or throwing shade, people should focus on being positive and uplifting the people they support instead.
Wise words, eh?
What does Pia have to say?
View this post on Instagram
Pia hasn't addressed this issue yet, and honestly, we don't expect her to. But she does have a beauty pageant podcast Queentuhan, so if she's going to say anything, she might say it there. Follow for the (possible, but unlikely) tea.
Netizens react
Though Pia has kept mum, her supporters certainly haven't. As expected, Filipino pageant followers were not pleased.
I don't know what Miss Colombia needs to get over. Her defeat or herself? pic.twitter.com/GECUfq3a7i

— Jonathan Kevin Lim (@the_jackal20) October 6, 2020
It's been 5 years already and Pia's name is still on Ariadna's mouth. She needs to hang it up cuz it's just sad at this point like is she gonna bring up the crowning incident every 3 months for the rest of her life? 😭 pic.twitter.com/rbME5VVIYw

— Miss Burikats (@GavinTanduay) October 6, 2020
But was it an accurate translation to begin with?
Could the internet just be blowing this all out of proportion and getting offended over nothing? Some people think so.
One Instagram user commented under Radost's post:
"Watched the interview, she was asked if she saw Pia as a competition and as a potential winner, she said during that time she never saw her, that to HER she was LIKE a ghost because she never saw Pia winning before that night. Not that Pia WAS ghost, she used the 'ghost' word as a reference as to not seeing her as a competition before that night. And there was a mistake in the translation, Ariadna NEVER said Pia was incompetent."
But it's important to note that the tensions between Colombian and Filipino pageant enthusiasts is still a very real thing (just look at the toxic comments section), so Ariadna could've worded her answer better to avoid being misinterpreted.
Just a reminder: It's been FIVE years
2020 na, mga besh. This happened five years ago (but it feels like it's been a decade, because pandemic). Though this brouhaha has been entertaining, we should all just move past this already.
As Radost said in her IG stories:
"In life, sometimes you lose. It's normal. It's always somebody who's better than you… You just need to accept that to live a happy life and move on."
What do you think of Miss Colombia 2015's comments?