Today is the 11th of May and while it may just be a regular day for some, for fans of James Reid, it's a chance to wish their favorite artist a Happy Birthday.
James turned 27 today, and, along with a slew of tweets and greetings hashtagged #James27REIDyYears made by his loyal fanbase, he received a special greeting that took everyone by surprise. It was from Nadine Lustre, his former on-screen partner and ex-lover, and while that latter title still stings the hearts of JaDine fans everywhere, this birthday greeting has given everyone hope.
The greeting was simple, but it meant a lot
James and Nadine announced their break-up earlier this year, an incidental catalyst to a string of bad luck for everyone — Kobe Bryant and Gianna's passing, threats of another World War, Taal Volcano erupting, and the worst of all, the coronavirus pandemic. Obviously, we don't believe that all this is happening because a couple decided to split up, we're not juvenile. We're just saying, the bad news started with this breakup, and you can't deny that.
View this post on Instagram
The sleuths among fans might be tempted to over-analyze the photo. Does it being in black and white symbolize Nadine "mourning" over a lost relationship? Why is the caption an emoji of a seedling? Does that mean love and friendship once again sprouting between the two?
The first two questions are answerable by saying that it's the current aesthetic of Nadine's IG feed – cold, gray, monochrome. As for the emoji, who knows? Maybe it's because they're on a mountain and she didn't know what to caption the post but didn't want to leave it blank. Whatever the case, the simple greeting means a lot for fans everywhere – it means the two are definitely in good terms.
Even their friends think so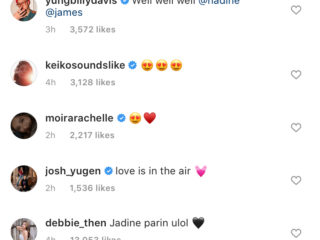 While Nadine's IG posts might be free from comments from mere mortals like us since she had it customized for her friends, she still couldn't escape everyone's love for JaDine. Peep Debbie Then's comment — she could lead the JaDine revolution. She said it all!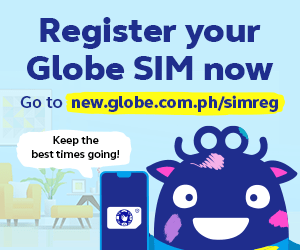 Normally, the couple would celebrate with a simple dinner
View this post on Instagram
While we aren't privy to Nadine's thoughts, we do know that James is a special person in her life. A constant or The One That Got Away, if you will. The two of them have been through a lot in a demanding industry and you will always have a special place in your heart for someone who has been with you for a long time and has seen you grow. Their JaDine fans fell in love with their relationship too and who wouldn't? They were low-key but real.
If they are back together, Nadine would've probably organized a surprise quarantine birthday party for James. Or maybe they would be quarantined together in their lovely home in Quezon City. But the sad reality is that neither James nor Nadine is living in that house anymore. In fact, they already sold it.
Since the breakup, people have seen them together a handful of times
For people who have broken up, they sure do hang out quite often. After confirming the split, Nadine and James were seen eating with friends in Baguio, hanging out in Brazil, and even going out to party somewhere in Makati. Most recently, they've been spotted in early March eating at a Korean BBQ restaurant.
wow si nadine at james reid andito sa up town!

— ㄚㄩ爪丨 (@yumcake08) January 4, 2020
The Instagram photos that were never deleted
We're thankful that theirs seem to be an amicable split with the respect for each other remaining. Since they're obviously still in contact with each other, the fandom is assured that James and Nadine really meant something to each other. Their photos are still up on Instagram, remnants of a past relationship. Nadine has greeted him and even tagged him which, from a typical millennial's point of view, isn't typical behavior for ex-couples who hate each other's guts.
View this post on Instagram
View this post on Instagram
We've got the rest of 2020 to wait for them to get back together
We aren't going to dictate how two celebrities should live their lives and we aren't going to act as if we know what goes on behind closed doors but we can wish for them to be back together. Dare we say, it was a happier world back then. But if not, then we can celebrate their friendship and appreciate two exes greeting each other on their birthdays.
View this post on Instagram
And in case you're wondering, Nadine's birthday is on October 31. Keep your eyes peeled from a birthday greeting from James.
JaDines on Twitter freaked out
The way 2020 put us all in trauma all because of JaDine break up.

Hindi namin kayo pini-pressure JaDine. Just traumatic kung paano umikot yung mundo since you broke up.

And coincidentally, "🌱" means new beginning.

2020 restart na ba ituuu? BITCH, I'm REIDy. pic.twitter.com/HEiVStnYmI

— deranged (@crayeziest) May 11, 2020
I got so excited, I made a tiktok about Nadine's IG post 😂🙈✌🏻 AHHHHH JADINE ❤️❤️❤️❤️

Happy James Reid Day#James27REIDyYears pic.twitter.com/MpxvgWL9rl

— trisha ✻ (@trishxjadine) May 11, 2020
OMG I'M CRYING!!!! MY JADINE HEART 😭💜

I wasn't expecting for anything today bUT NADINE LUSTRE FREAKING POSTED A PHOTO OF HER AND JAMES REID ON HIS BIRTHDAY!!!! Indeed a happy birthday to james and jadine land omg i'm so happy!!! 😭🥺#James27REIDyYears pic.twitter.com/aBa2bWqOGk

— rela (@msnadinealexis) May 11, 2020
But if you miss the good 'ol JaDine days, you can watch On the Wings of Love online or listen to Palm Dreams
It's no secret that the connection between the two deepened when they starred in ABS-CBN's hit soap On the Wings of Love. You can watch it online and roll around on your bed in kilig, reminiscing the good old days. You can also stream James Reid's 2017 album Palm Dreams where some of the tracks chronicle his life with and emotions for Nadine.
What do you think of Nadine's birthday greeting?