Restaurant's Statement After Viral Bad Review Gets Mixed Reactions Online
Dec 28, 2021 &nbsp • &nbsp Kyzia Maramara
Ninyo Fusion Cuisine in Quezon City is undoubtedly one of the most romantic restaurants in the metro. It's got the perfect relaxing ambiance where couples and friends can peacefully wine and dine. Their Asian and European cuisine in multi-course menus is lauded by many. But how about their service? Recently, a negative review from a frustrated customer went viral on TikTok. The restaurant, in turn, offered their side of the story. But nothing is black and white in a scenario like this so who does the Internet think is at fault and who's to blame?
Upset customer details her bad experience on TikTok
A disappointed customer took to TikTok to share why she would "never spend money on Ninyo Fusion Cuisine." Visibly upset, she recounted how she made a reservation weeks prior for an 11-course tasting menu, which the restaurant confirmed. It was supposed to be a romantic date night to celebrate her boyfriend's birthday. They drove from Laguna to Quezon City despite the dreaded holiday rush, only to be informed that the set meal they reserved wasn't available. The server even told them that a menu like that requires a reservation fee, something the customer did ask in advance but was told they didn't need to pay. What they ordered would have to be prepared at least a day in advance, so there was no way it could be whipped up in a few hours.
As of writing, the TikTok video has reached 1.2 million views with 53.6k likes.
The restaurant issued their statement
After the video went viral, Ninyo Fusion Cuisine released a lengthy statement explaining their side of the story. It admitted that they did fail to note the set menu for the reservation but that they offered the pair menus to choose from. However, when the first course was about to be served, the male customer informed the staff that they will just cancel the order and "proceeded to follow his girlfriend who had already gone ahead." To rectify their mistake, Ninyo messaged the couple to give them a free dinner from the original menu they wanted which they can claim anytime.
But the statement didn't stop there. They acknowledged that this experience is an opportunity for growth, a reminder that they could improve their reservations system and staff training. The statement also asked past and future customers to "give small businesses like ours a chance to fix a problem before publicly announcing it." It said that complaints like those could actually tear a small business down "along with the people who depend on it for survival."
"It has been a tough year for everyone including our industry. Let us help each other become better and spread kindness so that we may all rise together."
People commend the restaurant for the statement

Netizens applaud Ninyo Fusion Cuisine in the comments section. "Wow, you guys handled this extremely well. Props to you," wrote one Facebook user.
"What is one out of thousands of extremely happy and satisfied customers. Mistakes happen, and what matters is you tried to compensate it," said another.
Previous customers also shared their great experience with the restaurant saying that the service had always been exceptional. The set-up was romantic, the servers were "proactive," and the food was excellent.
"The apology was sincerely extended. I hope the guest would forget the sad episode and look forward to a better meeting next time. Merry Christmas everyone," read yet another, complimenting Ninyo for owning up to their mistakes.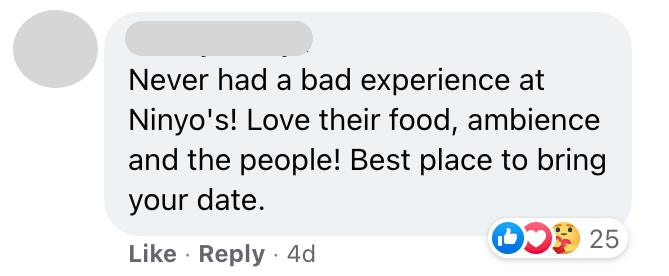 And some think it's the customer's fault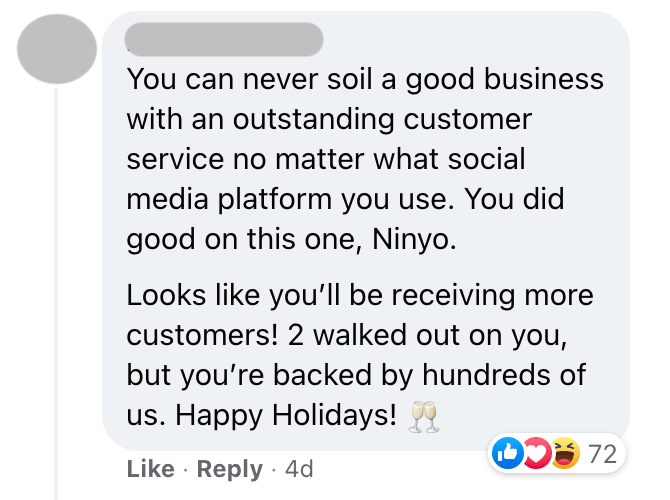 Everyone has their opinion on the matter. Some think the customers were overreacting by immediately hopping on social media to rant. "You can never soil a good business with outstanding customer service no matter what social media platform you use. You did good on this one, Ninyo," wrote one Facebook user.
"Not your fault in my opinion, but good job on this letter and for reaching out to them," read another.
Another netizen left a comment: "Seriously people are so entitled of their money. You really have to make a big deal out of food? Di niyo iniisip how the business will impact the workers."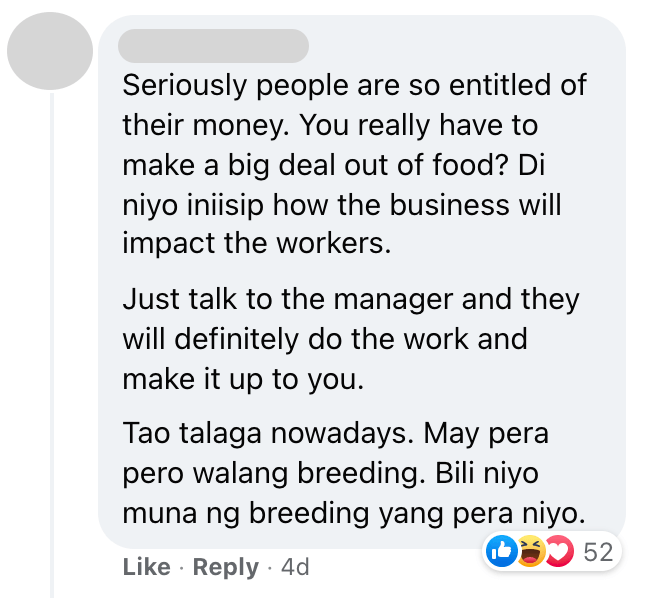 The customer clarifies some parts of the statement
After the statement went viral on Facebook, the customer once again took to TikTok to clarify some things. She said that she wasn't bashing the restaurant, she was just sharing her opinion, something she has also done for other restaurants in the past.
She further mentioned that bashers on social media are invalidating her experience and are calling her entitled. But it wasn't about the money, she says, it was about disrespecting their time and effort.
In the video, she also clarified that she didn't "walk ahead" while her boyfriend was talking to the server. She actually waited for him. The customer even confidently said that the management can review the CCTV footage to show that she didn't rudely walk out.
"For the businesses in general, you should really stop using the pandemic card or the small business card for your irresponsibility and poor customer service," she said, referring to Ninyo's statement. "You should also stop gaslighting your customers. Kung nagkamali kayo, yun na yon. Just apologize. Wag na kayo maghanap ng sympathy from other people. 'Yun na nga eh, pandemic na nga but we, the customers, chose to spend our hard-earned money na mahirap kitain ngayong pandemic, sa restaurant niyo."
"I never told anyone to bash Ninyo and, again, this is public feedback from the service or the experience I had with them," she ended.
But many also think it's the restaurant's fault

While there are others siding with Ninyo Fusion Cuisine, some people also completely side with the customer on this one. Many are calling the restaurant out for their "non-apology" which, one netizen noted, should've stopped at the fourth paragraph since, after that, it sounded like they were gaslighting their customers. Netizens argue that it was completely Ninyo's fault since it was a planned date with a confirmed reservation for a special night.
"I don't [feel] the sincerity of the resto. I mean they're trying to protect the integrity of the [management] instead of giving a warm apology. If that happens to me? I'll do the same. Sorry, but this is clear evidence of incompetence and negligence of duty," read one comment on Facebook.
"The letter didn't seem like an apology at all," said another Facebook user.
"I think this is a wake-up call for the restaurant. You can't blame someone for being upset and disappointed for something they have prepared for and be ruined by a mistake the establishment has been doing for what.. years now? Yes maybe her bad experience won't outweigh the good of most but putting yourself in her shoes? Might wanna rethink," wrote yet another.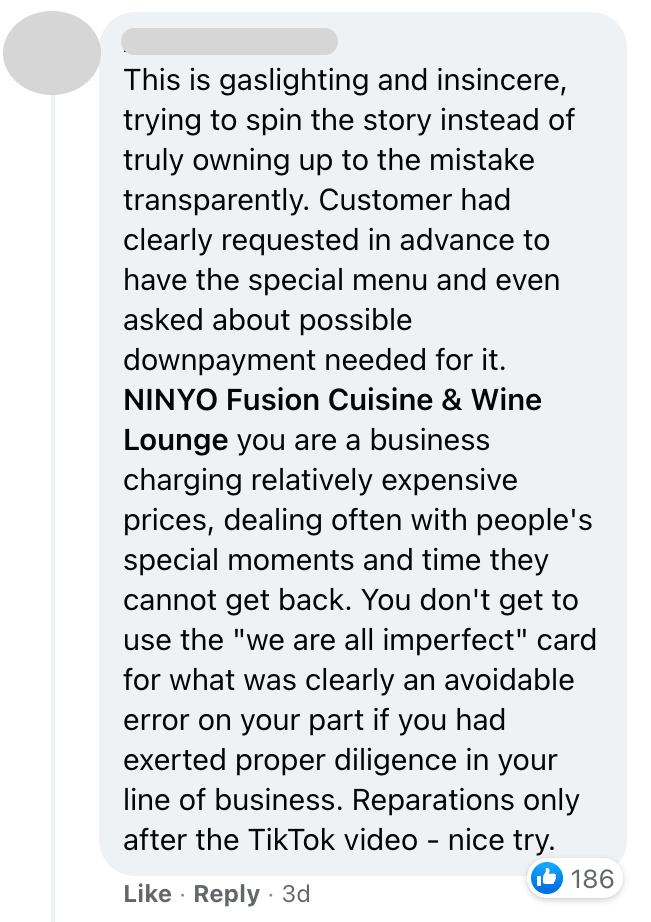 Previous customers share their bad experience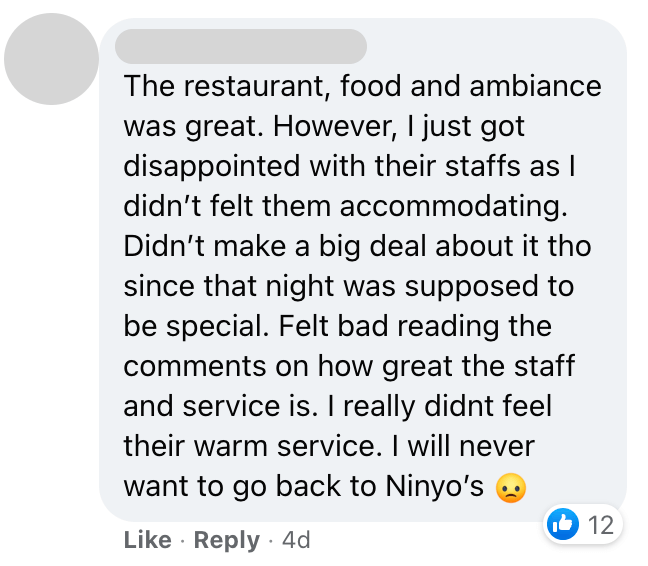 The comments section of the restaurant's statement was also littered with bad reviews from past Ninyo customers. One recalled how they held their wedding at the restaurant but was frustrated that some of the preparations included in the agreement weren't made.
Another mentioned a similar story on messed-up reservations that happened to them back in 2015. But back then, Ninyo didn't respond to their complaints and allegedly hid the negative review they left on the restaurant's Facebook page. "I am thankful to the person who posted on TikTok because I am certain that without that, you would do to her the same thing you did to me years ago," wrote the frustrated customer.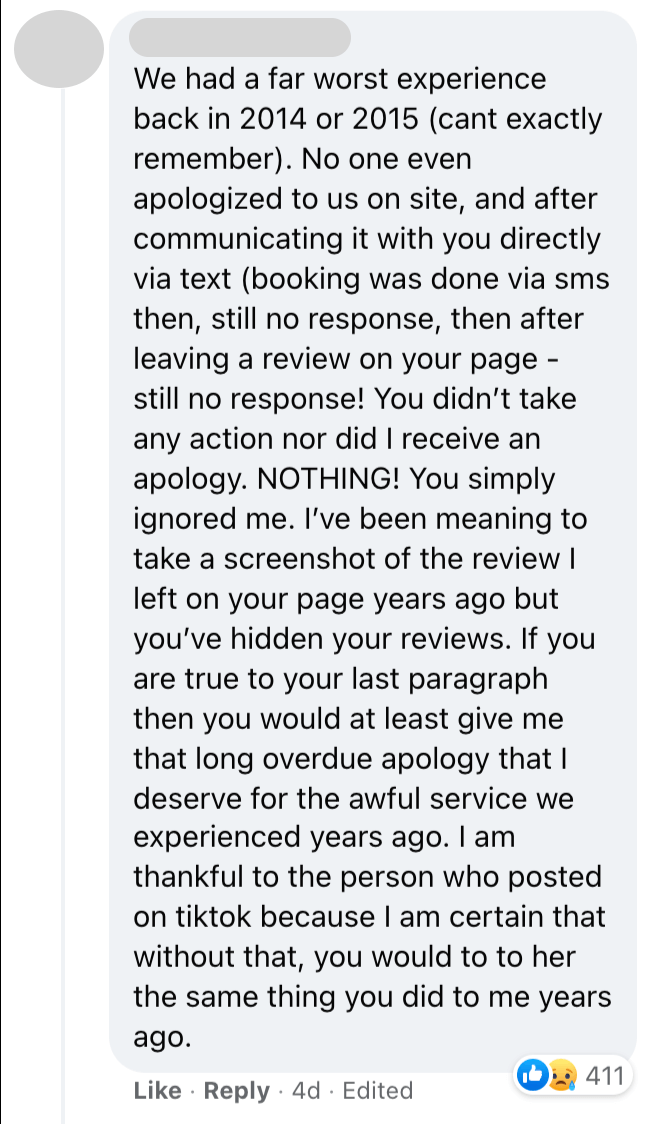 More than owning up to mistakes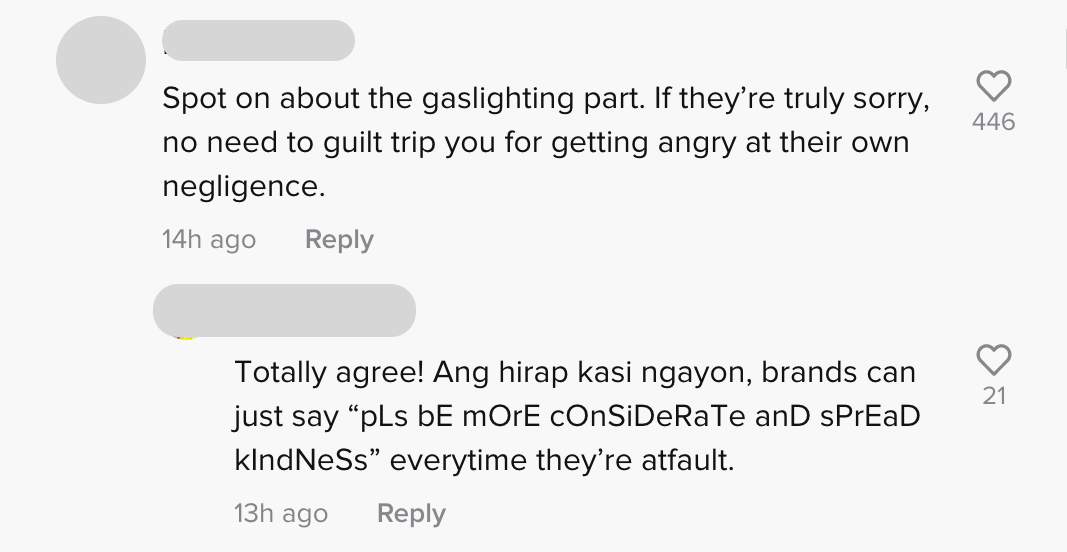 While it is true that the food industry and small businesses are one of the hardest hit in the middle of the pandemic, it's also not a valid excuse for poor service. As the female customer said, people choose to patronize a restaurant and spend their hard-earned money to support the business. The least a business could do in return is offer proper service that respects everyone's time and effort. This should also be an example for others that it's not enough to issue a damage control statement disguised as a "humble apology." Apologies should always be about admitting mistakes and providing solutions, not making the customer look bad for giving their honest feedback.
Check us out on Facebook, Instagram, Twitter, and YouTube, and be the first to know about the latest news and coolest trends!