Politics and the Internet have never been a good combination as OPM band Nobita now knows. They are currently in the middle of a controversy about removing a band member, allegedly for having a different political stance. After netizens got a whiff of the issue, Nobita immediately came under fire online.
Who is Nobita?
If you're scratching your head wondering who or what Nobita is, they're an indie OPM band from Valenzuela City. Their hit song "Ikaw Lang" currently sits at the 7th spot on Spotify's Top Songs in the Philippines and has amassed an overall 94.6M streams. You might have heard it on the radio or from TikTok edits.
So what is going on?
The issue blew up when the Facebook page "Mga taong may underrated music taste personality disorder" posted what seems to be screenshots of Nobita band members' group chat.

"Ayos naman pala 'tong Nobita eh nalaman lang na 'Leni supporter' 'yung isang bandmate nila inalis na sa banda tapos binackstab pa," the Facebook page wrote in its caption. The member in question is Nobita's now ex-drummer, Lester Monegas.
Hours later, the page took the post down saying someone asked them to delete it.
This caused netizens to speculate about what actually happened within the band. Many immediately criticized Nobita for letting different political beliefs affect the group. It also did not help that the Facebook page that spread the screenshots continued to make posts against Nobita.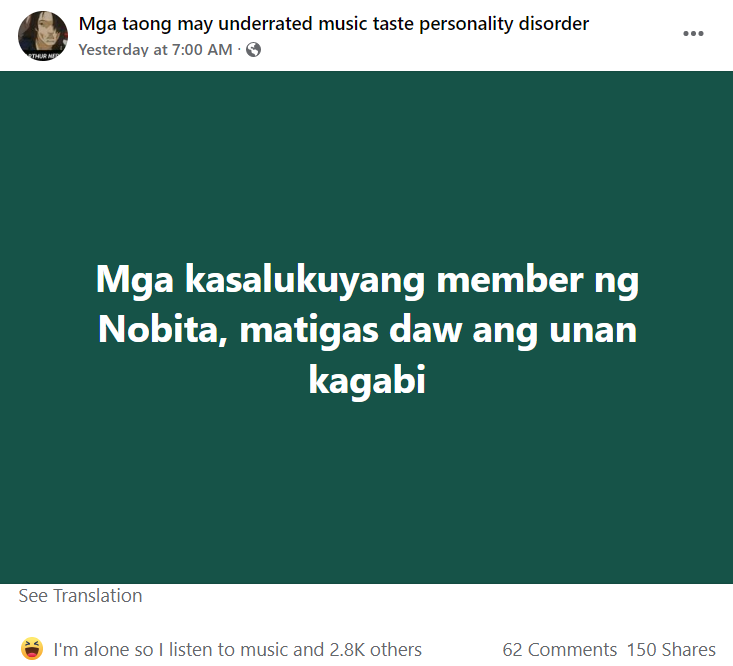 What was in the screenshots, exactly?
In the screenshots, the band members can be seen talking and joking around about Philippine politics, criticizing Leni supporters, and expressing their support for BBM. Several times in the conversation, they singled out their bandmate Lester Monegas for being a Leni supporter.
However, in a statement, Lester clarified that he wasn't kicked out of the band for being a Kakampink.
Lester Monegas reveals why he left the band
While speculations about what happened spread online, Monegas broke his silence. The band's ex-drummer admitted that he took screenshots of the band's group chat because he felt "discriminated against and disappointed over foul words" hurled at him. However, he was unsure how it was leaked to the public since the only person he confided to about it was his girlfriend.
"We have a rule that everything being talked about in the group chat should remain unsaid. But as a human being, I am vulnerable [to] foul words, and I felt like I was discriminated and so I broke down and talked to [my girlfriend]. I was wrong, I shouldn't have told her in the first place about my personal problems with the band," he said.
Monegas said the Facebook page "Mga taong may underrated music taste personality disorder" posted screenshots of the conversation without consent from anyone in the band.
Clarification: He wasn't kicked out because of his political views
The ex-drummer confirmed that among his Nobita bandmates he is the lone supporter of Atty. Leni Robredo, but this wasn't why he was removed from the group.
"I am now officially not part of the band, not because I was a kakampink— but because I failed to keep my silence about the conversations in our group chat. We have our differences, and I should've stayed silent about their political stance, knowing that politics is a major issue in the Philippines and cancel culture exists," said Monegas.
Monegas expressed his willingness to talk with the band about handling the issue.
Nobita also released their statement
Half an hour after Monegas' post, Nobita themselves finally released a statement in an attempt to further clear the air.
"We categorically deny all these circulating statements made against the band, that we are engaged in cyberbullying, that certain members have been unceremoniously removed and that we are refusing anyone what is rightfully theirs as provided by law," said the band.
"The accusations raised are nothing but lies, and were done out of malicious intent," they added.
Nobita also addressed the issue that Monegas was removed from the group because he had a different political stance. This was not true, they said, clarifying that even when these malicious allegations began, the band still continued to work together making music and performing.
"We categorically state that the band is non-partisan and totally respects each other's individual socio-political beliefs. Disrespecting one's choice is directly opposed to what the band believes and stands for. Respect for each other is at the core of who we are," they said.
Nobita also warned those continuing to spread false information that they "will not hesitate to take legal action."
"We want to inform the public that we are currently seeking legal advice from pertinent government agencies, including the National Bureau of Investigation's cybercrime division," continued the statement.
"These tweets and screenshots have inflicted emotional and mental distress to the [individual] band members and caused irreparable damage to the band as a whole," it added.
Netizens react to the issue
As with every issue happening online, netizens are quick to react with their own opinions. "Nobita" even climbed Twitter trends with at least 11k tweets from Pinoys expressing disbelief.

"Why do they even act like they are the greatest band of all time when they only have one hit song?" questioned one netizen.
Another even tweeted that they are now "regretting [their] Nobita phase."
Other netizens are accusing the band of being apologists and, because of this, are now removing Nobita songs from their playlists.
Some were utterly confused why "Nobita" was trending since many weren't aware the band existed. They initially thought it was Nobita Nobi, the fictional character in the Doraemon anime.

According to this interview, the band isn't named after the character. They got their name from the Japanese word "nobita" which means "to grow up" and "to be strong and clear." But folks still think they're associated with the anime anyway.
Facebook page Cinema Bravo even threw a bit of shade with their post:
While some recommended other OPM bands to listen to.


What do you think about this issue with OPM band Nobita?
Check us out on Facebook, Instagram, Twitter, TikTok, and YouTube, to be the first to know about the latest news and coolest trends!