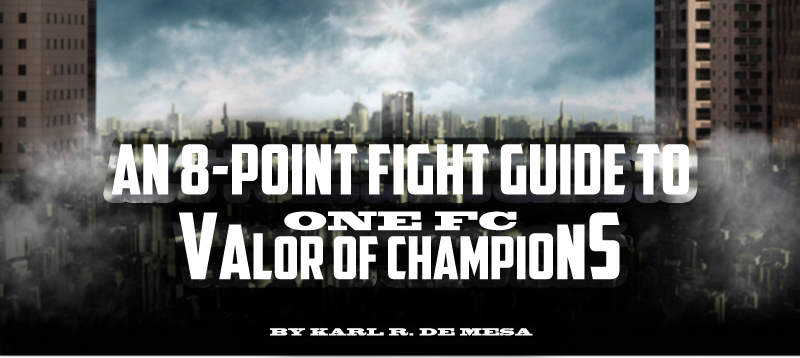 Whoever thought of acquiring Luis "Sapo" Santos from the Xtreme Fighting Championships (XFC) and putting him in One FC should be awarded laurels and sung praises by the MMA valkyries. Which, in this case, is most likely matchmaker and trainer of MMA assassins Matt Hume. Thank you, sir.
I say this because at the upcoming One FC: Valor of Champions, set for this Friday (April 24) at the MOA Arena, Sapo will be trying to wrest the welterweight title from the brash and outspoken American wrestler Ben Askren. You can scroll down straight to the top item on this list to see why, but suffice to say that, if styles make fights, Sapo's record of demolishing his enemies with his striking swords against Askren's ragdoll method of the grind will be pure spectacle.
Before announcer Lene Hardt starts screaming out names and riling up the crowd, here's a short guide to the fights, styles, and signature techniques of the eight bouts set for Asia's biggest MMA promotion.


This should be a straight up striking versus grappling contest, even if the record of both fighters is thin to get them to a pro level of this calibre. Look Wang Ya Wei, a Chinese (Shanghai) wrestler originally from Hubei province, has a record of one victory and one loss in his pro career; Sunoto, a kickboxing champion from Indonesia, fares a smidge better at 2-0.
Still, Wang Ya-Wei is considered one of the top wrestlers in Shanghai, he then moved to Thailand where he trained in Muay Thai for an extended period of time. He did perform well in the ONE: DYNASTY OF CHAMPIONS Beijing Featherweight Tournament, advancing to the final with a TKO victory over Li Gen, but let's hope he does well against a true striking veteran in Sunoto or this could be over with a head kick very quickly.
Edward Kelly is the younger brother of ONE Championship standout Eric Kelly and you can bet your ass he has the same template of striking style; strong but a little bit too florid and artistic at times. He's up against another Pinoy in Jimmy Yabo—undefeated and boasting the best knockout percentage in the division: he finished all four of his opponents by knockout. Should be a slugfest if both of them show up to bang, otherwise whoever's got the better BJJ should lock in a choke when the other guy gasses out.

With a 6-1 record, the flamboyant Eugene Toquero with his gaudy hair is also an accomplished kickboxer from Submission Sport Phils who brings both toughness and pain to the table. It was a good night for him in the One FC cage when he defeated rising prospect Gianni Subba, but the Indonesian, Brianata Rosadhi, is a different animal. Rosadhi has his Wushu and Brazilian Jiu-Jitsu down pat (the ground game often, if not always, a weak part of the Pinoy MMA game). Rosadhi is legit: he's won multiple regional titles in Wushu. Hopefully, Toquero can resist showboating ways and reserve his charisma for the victory dance.

The guy to watch out here is Amir Khan and his standout grappling game. Still, the aggressive Thai, Shannon Wiratchai, possesses a pressure-cooker brawling style that is the lynchpin of his MMA game. It makes him entertaining and a fan favorite, especially since he's trained in an exotic martial art: the Chinese style of Baguazhang. Meantime, Amir Khan's skills are nothing to scoff at. Khan's got an undefeated amateur record, a Brazilian Jiu-Jitsu blue belt under Relson Gracie, and has more than seven years of combat sports experience.
Paul Cheng is a true beast of a fighter. If you saw him in his bout against Mahmoud Hassan at ONE FC War of Dragons in Taipei, Cheng suffocated Hassan with heavy-handed strikes in the full mount after getting beaten down early on, and before the beginning of the third round, Hassan failed to answer the call to action and tapped out with a verbal submission. While Igor Subora will now be remembered as the guy that Brandon Vera walked through in his ONE FC debut last December 2014, the guy is still a legit threat in the heavyweight division (I mean he didn't get to be URCC champ for nothing)—but if Cheng's smart, he'd have studied how Vera utilized the clinch against Subora, resisting the urge to brawl, and weakened his chin with knees before slipping a counter that eventually dropped the Ukrainian.
There's not much on "Mak" Bunrad except that he trains out of Phuket Top Team, which is an excellent camp, and has a record of 4-1 (which isn't shoddy at all on a pro level). Esutaquio, fresh from a defeat at the hands of current flyweight champ Adriano Moraes in the tournament, should have been working on his ground game if he wants to get back to contender status. If these two striking stars can keep it on the feet, then something exciting and explosive should be the tale of the bout with a quick turnaround for the KO.
Ah, Mark Striegl. Long time Fil-Am MMA superstar with the looks and charisma to carry the local flag—even if the local vernacular still gives him trouble. His pro record speaks for itself though: he's found success in every promotion he has competed in, and he's got a legit grappling pedigree that's been utilized with aplomb, submission wins for 11 of his fights and straight wins in the featherweight division.
Then there's Casey Suire, undefeated and American but trains in Indonesia. The guy's also got BJJ and grappling smarts and has finished all of his opponents mostly through submission, which should make for a great chess match against Striegl. Things like this have a high chance of being a boring grind if neither guy can outsmart the other on the ground, but whoever's worked on his striking game more should come home with the W.

One FC's VP Rich Franklin calls the Brazilian Luis Santos "A man without a soul" for the way he destroys opponents like a predator tearing through a gazelle. What do you know about destruction? Santos knows all about it: 70 MMA fights and 34 of them by either TKO or KO. That's old school destruction with nothing but tremendous displays of power honed by years of technique. You can see it in his old XFC matches. You can see it in Sapo's stunning annihilation of Bakhtiyar Abbasov, with a body kick that shattered one of Abbasov's ribs and forced him to tap out or risk being unable to breathe.
Still, Ben Askren, Funky Ben, brash, outspoken man, and Twitter beef-maker, with his NCAA Division I All-American collegiate wrestling legend status and his former Bellator champ pedigree is a grappling juggernaut. At 14 wins with no losses, Askren is widely considered to be the absolute best in his division and one of the best fighters in the world pound for pound. That record is spotless and there's impeccable technique behind that, especially in his ground and pound, the top game that just won't quit and a relentless kind of ragdoll offense where he just glues himself to his opponent's chest.
If Askren can pit his elite grappling against Santos and impose it on him then Askren can do what he always does: grind his opponent's will to a nub. But that's where the crux is. See, Santos has a BJJ black belt and a judo belt as well, he just prefers to KO people with a devastating display of strikes that have now become his signature. If Sapo can't get enough distance and gets cut off from the cage then he might just choose to rely on his BJJ and find out exactly how strong he is against somebody like Askren, who throws around people as a matter of combat aperitif.
This one won't be pretty or artful, it might likely be very bloody, but it sure will be the kind of world-class battle that pits all the aspects of MMA against each other from technique down to strength and on to heart. It's the kind of anticipation that precedes gladiatorial astonishment. For those about to fight, we salute you.