Our Favorite Reveals from Marvel at SDCC 2019
Jul 23, 2019 &nbsp • &nbsp Meryl Medel
This last weekend was an overload of excitement in the entertainment world. The San Diego Comic Con is a big weekend for the entertainment industry, and everyone has been dropping all these reveals and trailers, and Marvel Studios is no exception. President Kevin Feige took the stage in Hall H last Saturday night to reveal the lineup of Phase 4 of the Marvel Cinematic Universe (MCU), and the internet has been in a frenzy since. Including us. So here are some of our favorite things from the Marvel panel.
The first MCU Phase with TV series

Well, it's not really the very first. There have been many television series from Marvel Studios: Agents of Shield, Jessica Jones, Daredevil, Runaways, among many others. And while all these series are set in the MCU, this is the first phase where there is no distinct division between the films and the television series, with the series now officially incorporated into the MCU Phases.
Fans can expect Sam Wilson (Anthony Mackie) and Bucky Barnes (Sebastian Stan) post-"Steve Rogers is now an old man" in The Falcon and Winter Soldier. Tom Hiddleston's Loki makes a comeback as the "I just got Hulk-smashed" villain we all loved to hate and just loved. Paul Bettany is a bit confused about how his character Vision is going to appear in Phase 4, but it's confirmed that he will join Elizabeth Olsen's Scarlet Witch in WandaVision. And in the eponymous series, marksman Clint Barton a.k.a. Hawkeye (Jeremy Renner) will be passing the baton (or the bow?) to fan favorite Kate Bishop, Barton's mentee who will eventually take up the mantle of Hawkeye in the comics.
All of these series will be available in Disney+ in the next couple of years.
The first animated series in the official MCU Phases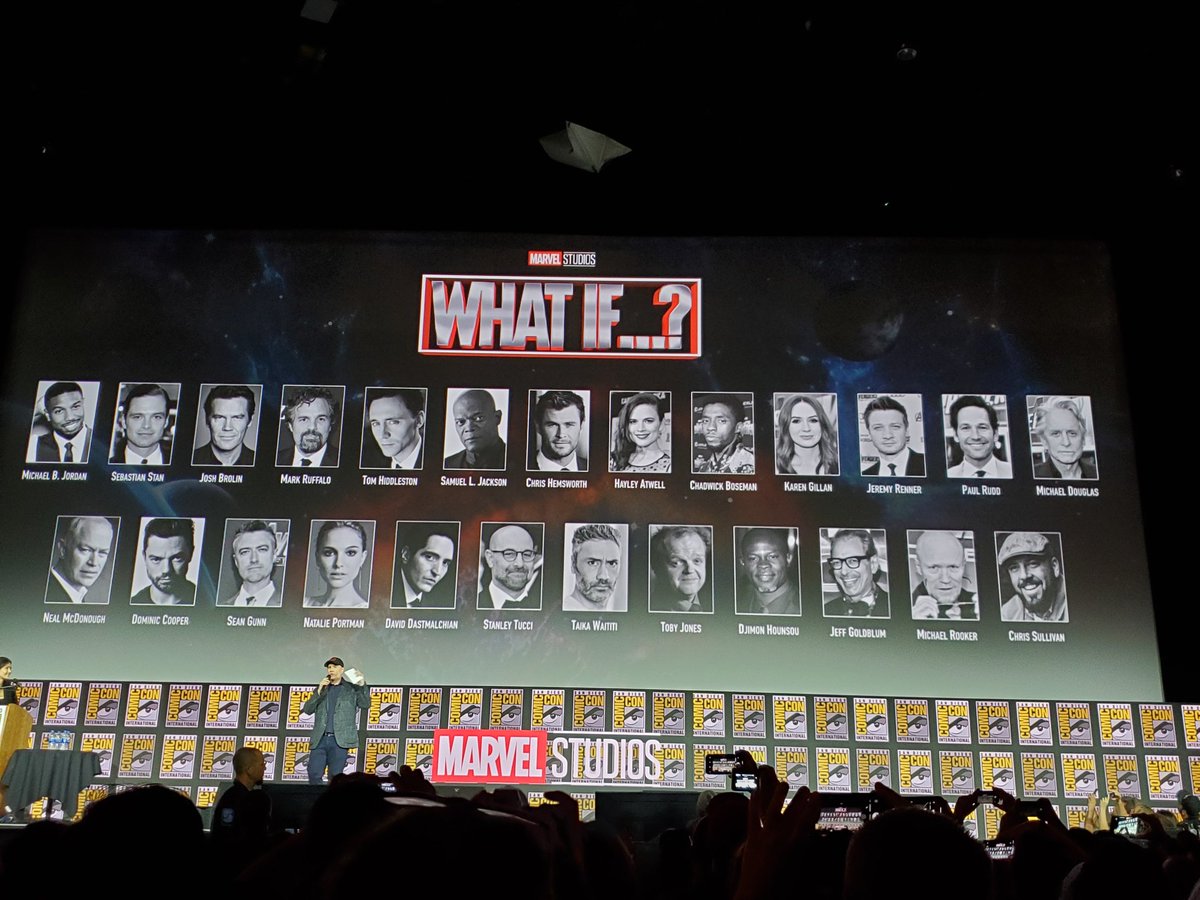 Marvel is no stranger to animated works, with the latest Spider-Man: Into the Spider-Verse receiving universal acclaim. But now, Marvel is introducing The Watcher as the lead for What If…?, which will explore the alternate realities that could have been. Actors from all across the MCU will lend their voices to the animated series.
Sadly, we didn't see the names of Robert Downey, Jr. and Chris Evans in the lineup shown at SDCC. But who knows? Anyway, we've still got many of our favorites in the voice actor lineup!
The Eternals got all the big stars

Unless you're an avid fan of the comics, you're probably not familiar with this group of heroes. Often compared to characters from Greek mythology, The Eternals is a group of near-immortal powerful beings created by the Celestials (an example of which is Star-Lord's dad Ego) to defend the Earth. And not that the MCU needed to be more star-studded, but The Eternals certainly is with the cast including Richard Madden, Kumail Nanjiani, Lauren Ridloff, Brian Tyree Henry, Salma Hayek, Lia McHugh, Don Lee, and Angelina Jolie (!!!).
Shang-Chi is up against the actual Mandarin

Yes, we're talking about the Mandarin that the MCU faked out in Iron Man 3. But now, we're getting the real thing! Shang-Chi and the Legend of the Ten Rings will follow the story of the titular character dubbed as the "master of kung fu," who in the comics works all his life to take down his father's criminal empire.
Shang-Chi will be played by Canadian comedian Simu Liu, who actually got casted just last July 16 after a screen test two days prior. (Fun fact: He also tweeted Marvel to ask for the role at the end of last year. And obviously, he got it.)
Doctor Strange brings horror to the MCU

Not really what you expect, right? We all thought Doctor Strange would be sorcery and magic and all that, but apparently, he's bringing the goosebumps, too. Well, there's no word yet on what kind of 'scary' the film will be exactly, but Doctor Strange: The Multiverse of Madness will definitely be a first in the MCU. And they're saying Elizabeth Olsen's Scarlet Witch will be playing a big role? We're absolutely in. We're just waiting for the mishaps that would undoubtedly happen when the magic of Doctor Strange and Scarlet Witch collide.
FEMALE THOR. Nuff said.

I mean, Natalie Portman returns to the MCU in Thor: Love and Thunder. That's already great, isn't it? But they gave us more when director Taika Waititi reveals Portman will be playing the female Thor! Chris Hemsworth better watch out.
Also, Tessa Thompson just said Valkyrie's first act as king is looking for a queen. And Feige confirmed this after the panel in an interview with io9. Love wins!
We'll finally know what happened in Budapest

After years and years of frustration over Clint and Nat just casually referencing Budapest like the audience isn't dying to know what happened there, we're finally getting the tea! Fans at the con were treated to a short footage from the upcoming Black Widow film, where Scarlett Johansson's Natasha Romanoff engages in full-on hand-to-hand combat with Florence Pugh's Yelena Belova, a sister figure to Nat. Then the clip cuts to Nat in a car crash with the David Harbour's Red Guardian walking toward her. Filming is still ongoing, so there's not much footage, but we already can't wait for Black Widow's comeback.
Oh, we're still not over the untimely demise of our favorite heroine, but we're really excited for Natasha finally getting that well-deserved definitely-long-time-coming solo movie.
Mahershala Ali leads Blade reboot

But of course, Marvel just had to drop another bomb. By the end of the panel, when everyone thought it was over, Feige just had to announce one last thing—there's going to be a reboot of the classic Blade, and Mahershala Ali will play the titular role. In Phase 5.
And that's it. Marvel left us hanging there after that bomb drop. We still have so many questions about Black Panther, Spiderman, Captain Marvel, Guardians of the Galaxy, and all the other characters left hanging from Endgame. Well, maybe we'll hear more about everything in Disney's upcoming D-23 Expo next month? Fingers crossed.
All photos courtesy of Disney Philippines (unless otherwise stated)
Which part of MCU's Phase 4 are you anticipating the most? Tell us below!