Malta's Environmental Health Department just issued a warning for the public to stop consuming specific variants of Lucky Me! Instant noodles Pancit Canton after it was found to contain "high levels of Ethylene oxide," a pesticide. And they weren't the only country to do so — Ireland, France, and Taiwan have also raised the alarm. The noodle variants included the following flavors: Original, Chili, Beef, Kalamansi, and Chilimansi. Naturally, this news caused a panic online especially since Pancit Canton is a staple in many Filipino households. But before you tearfully throw your stock of Pancit Canton in the trash, there are a few things you need to know.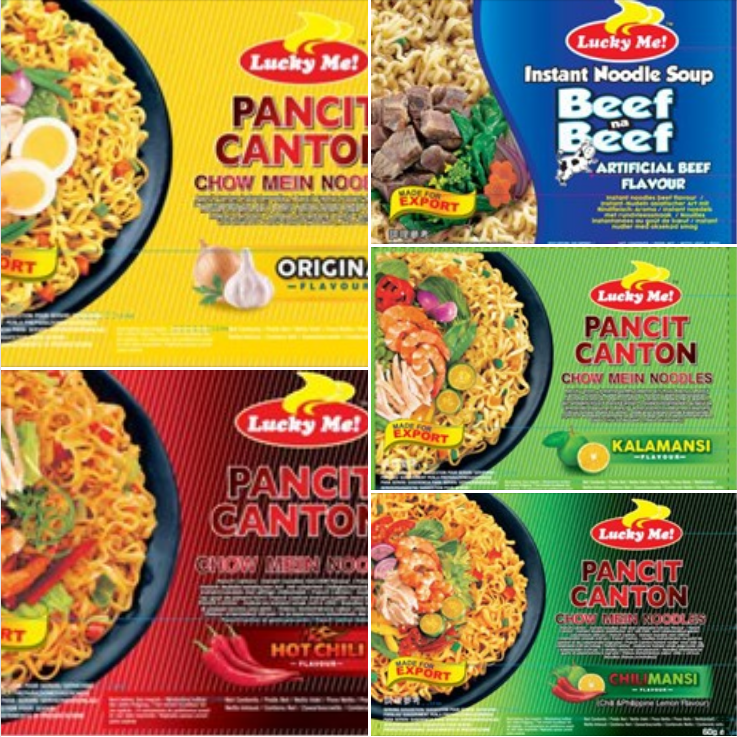 Lucky Me! assures its consumers that ethylene oxide is not added to Pancit Canton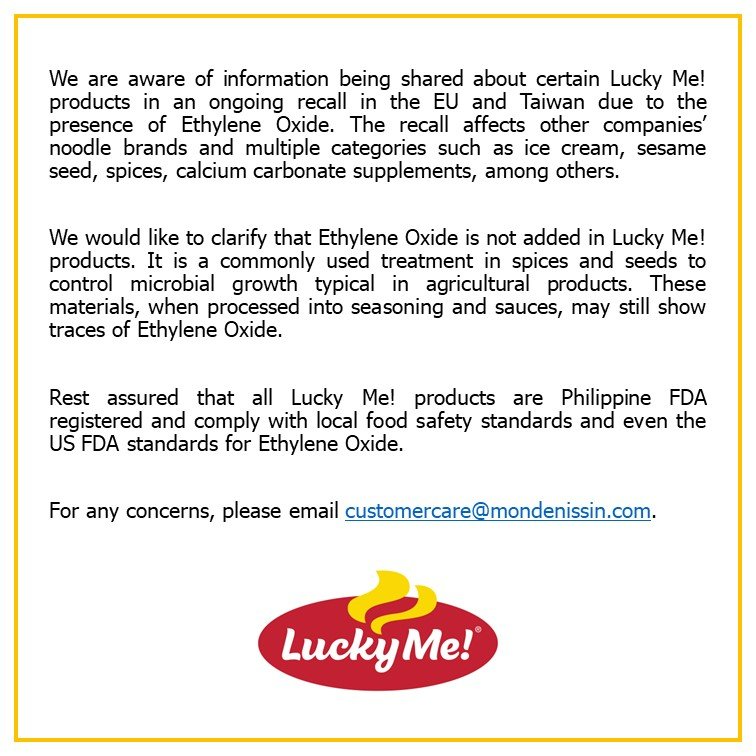 Following the news, Lucky Me! swiftly released its own statement. "We are aware of the information being shared about certain Lucky Me! products in an ongoing recall in the EU and Taiwan due to the presence of Ethylene Oxide," said the statement. "The recall affects other companies' noodle brands and multiple categories such as ice cream, sesame seed, spices, calcium carbonate supplements, among others."
The brand assured its consumers that ethylene oxide is not added to their products. If there are traces of the chemical, it might be from treating the spices and seeds.
"We would like to clarify that Ethylene Oxide is not added in Lucky Me! products. It is a commonly used treatment in spices and seeds to control microbial growth typical in agricultural products. These materials, when processed into seasoning and sauces, may still show traces of Ethylene oxide," said the brand.
"Rest assured that all Lucky Me! products are Philippine FDA registered and comply with local food safety standards and even the US FDA standards for Ethylene Oxide," concluded the statement.
Health Undersecretary Maria Rosario Vergeire also said that the Food and Drug Administration (FDA) is investigating the report.
Only a certain batch of Pancit Canton has been confirmed to be affected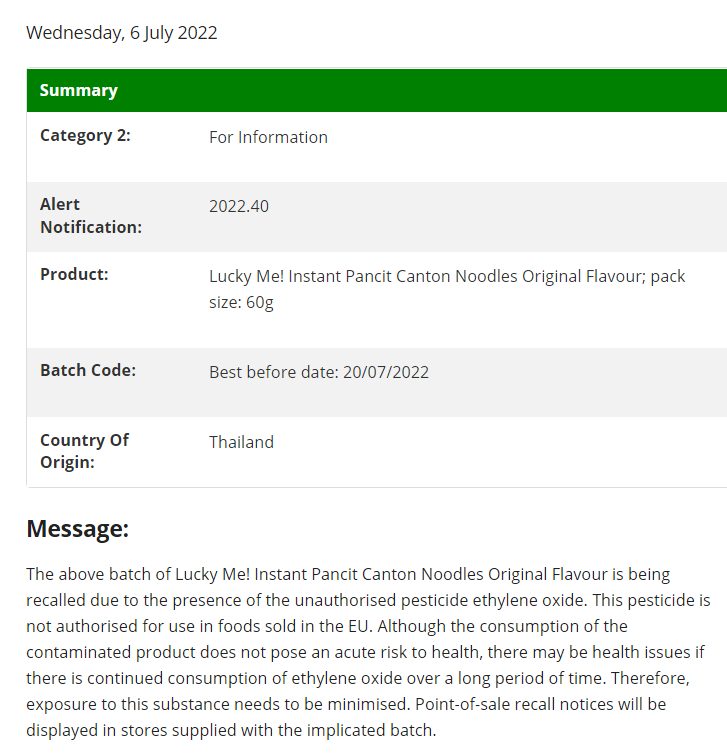 According to the Food Safety Authority of Ireland (FSAI), the Pancit Canton batch they're trying to recall was manufactured in Thailand, not the Philippines. It has a best before date of July 20, 2022.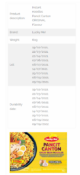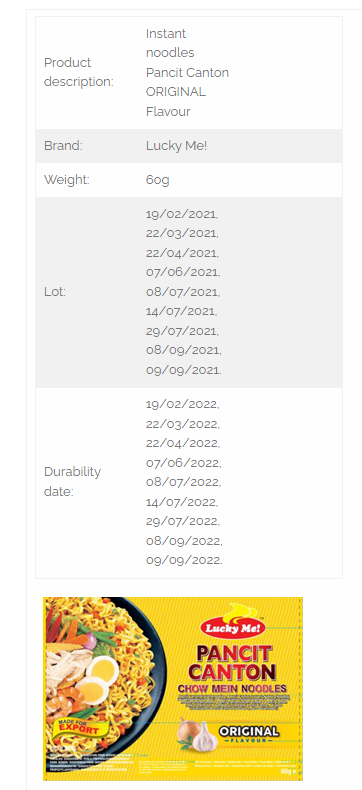 As for Malta, they've specified which specific lot they're recalling. The use-by date of the products is until September 2022. Netizens have speculated that it is likely a "problem of quality control" for factories abroad.
How harmful is ethylene oxide?
FDA PROBES HIGH LEVELS OF ETHYLENE OXIDE ON LUCKY ME INSTANT NOODLES

Health Undersecretary Maria Rosario Vergeire says the Food and Drug Administration (FDA) is now investigating the reported high levels of ethylene oxide (pesticide) on 'Lucky Me' instant noodles. pic.twitter.com/LHOoixnldD

— Daily Tribune (@tribunephl) July 7, 2022
Ethylene oxide is a manufactured chemical used for a number of things: manufacturing of industrial products, a sterilizing agent, a fumigant pesticide, and more. Used as a pesticide, ethylene oxide treats food by combatting bacteria and even decreasing the risk of salmonella. Once a specific food is processed with the chemical, it could still contain faint traces of it which humans could ingest. But is it harmful?
"Exposure to ethylene oxide may cause headache, nausea, vomiting, diarrhea, breathing difficulty, drowsiness, weakness, exhaustion, eye and skin burns, frostbite, and reproductive effects," said the Center for Disease Control.
The Safe Food Advocacy Europe found that consuming amounts of ethylene oxide is "considered to be increasing miscarriage risks, genetic anomalies and cancer occurrence in humans, all the while impacting the animal reproductive cycle."
However, accidentally or even occasionally consuming food contaminated with ethylene oxide "does not pose a health risk," according to the FSAI. In other words, you'd have to consume large amounts over a long period of time to be affected.
But the EU has banned the use of ethylene oxide all the same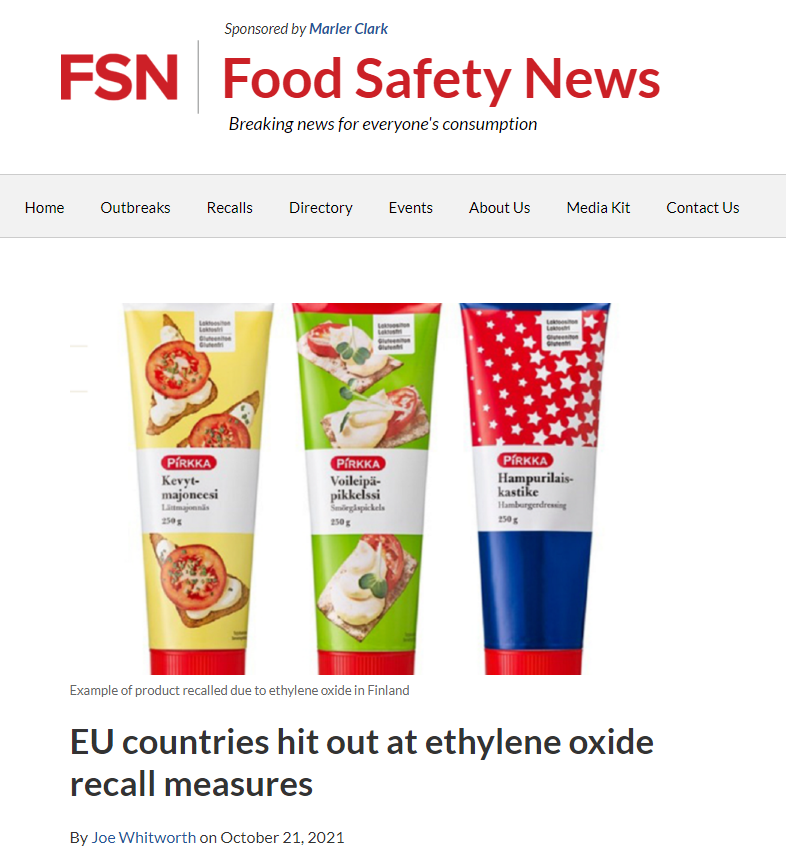 All the same, the European Union doesn't want to risk it. EU countries have banned it as a pesticide since 1991 and as a part of food production since 2011. Over the past couple of years, the European Rapid Alert System for Food and Feed (RASFF) has recalled multiple products containing ethylene oxide. Most recently, they flagged sesame seeds from India as contaminated with the pesticide which led to recalling pastries, bread mix, spices, etc. containing the ingredient.
This is the same reason why they've sounded the alarms over the Pinoy-favorite Pancit Canton.
Netizens try to work around it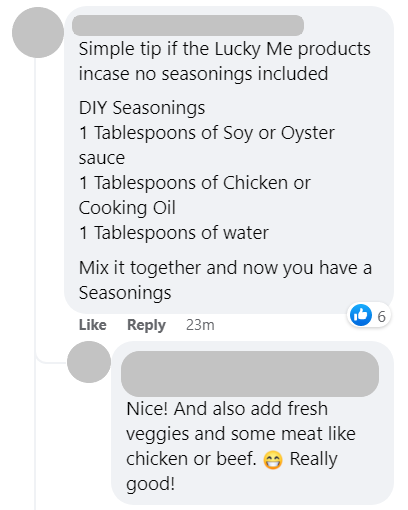 A netizen gives a helpful tip for everyone.
Being everyone's go-to fuss-free meal, Pinoys naturally couldn't accept the possibility of Pancit Canton being banned. Some concluded that if the seasonings and spices are the problems, they could just ditch the ones in the pack, make their own, and still enjoy the product.
Others, in true Pinoy fashion, decided to respond to the news in memes and hilarious comments.


Key takeaway: Sweet and Spicy supremacy. 


Even Pancit Canton wasn't safe from the new meme format.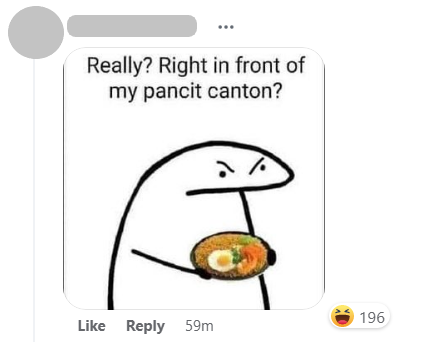 Only appropriate memes are allowed. 
This article was republished with permission from BiteSized.ph.