Social media star and content creator Pipay has been trending since yesterday on Pinoy internet. This began after Pipay was said to be "cancelled" by some netizens, prompting her to speak up about it.
Pipay spotted at campaign rally
Last February 15, the content creator appeared at the campaign rally of presidential aspirant and vice president Leni Robredo. Pipay went up to the stage during the event, where she made some quips that raised some eyebrows among netizens.
Hindi ko kinakaya ang crowd!!!! pic.twitter.com/fUEBsdgqv4

— Pipay (@pipaykipayy) February 15, 2022

"Wassup Philippines, wassup world — wala nang magsasabi nun ngayon," she says to loud cheers in a 25-second clip she shared on Twitter.
To explain her presence on stage, she continues, "Ang usapan kasi dapat host ako. Ang ending naging guest ako. Ang mahalaga nandito ako. Yung iba nga hindi uma-attend."
No names dropped


Despite not mentioning any names, many netizens believe that the content creator made those quips pertaining to a candidate and an endorser of another party.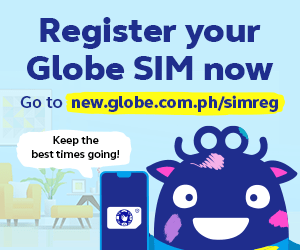 Some are mad


The short clip sparked anger among some netizens, leading to a call to 'cancel' Pipay. One netizen asked her why she is looking for respect from the public when she "mock[ed] a veteran that has earned more money than [she] can ever earn in [her] life."
Pipay speaks up
Shortly after her notifications were flooded with posts "canceling" her, Pipay shared a Tiktok video on her social media platforms, where she called out the netizens canceling her — still without naming any names.
Cancelledt era ko daw. Okay po pic.twitter.com/z77Wvbxkws

— Pipay (@pipaykipayy) February 16, 2022
"Kina-cancel po ako ngayon. Let's talk about this."
She proceeded to list down their arguments and present counter questions to each one. An example is her opening line: "Ganyan po ba ang mental gymnastics niyo: say no to cancel culture pag kayo yung dehado, pero let's badly shame Pipay and cancel her over this clip?"
Her supporters also quoted the brief yet impactful question: "Di ba sabi niyo po respect other people's opinion, pero bakit parang hindi ako nakakaranas ng respeto?"
What is their worst enemy? FACTS?

— Pipay (@pipaykipayy) February 17, 2022

When asked who she will vote, Pipay said: "Iboboto ko yung nagtatrabaho at transparent na nagtatrabaho ng 18 hours a day." She then provided examples of people who may experience 18-hour workdays, including parents, healthcare workers, teachers, and OFWs.


8 Jobs That End Up Requiring 18-Hour Workdays

8 Jobs That End Up Requiring 18-Hour Workdays
Kel Fabie | Feb 14, 2022
Some are supportive

Pipay does look unbothered in her video.

Protect!
Others still don't like what she said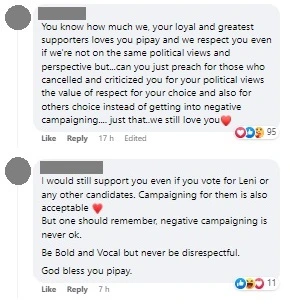 On Facebook, one netizen commented on her video that she would support Pipay despite their difference in candidates, adding that campaigning for other candidates is acceptable, but not when it's done in a negative way. "Be Bold and Vocal but never be disrespectful."

But others go as far as insulting Pipay's looks.
Remember: This is "the next six years of our lives."
Pipay said she isn't angry at the people throwing insults and hurtful words at her. She told viewers that it's fine if they want to get mad at her, but she implored them: "Please know that we are talking about the next six years of our lives. … This country is not a circus, so don't vote for a clown."

No matter what your opinion is on her chosen candidate, you can't deny that Pipay has a point. Whoever wins the elections in May will be the person leading us to better, greener pastures — or maybe dragging us down further.
So educate yourself on all candidates running for a position. Study their platforms and examine carefully whatever they're promising you. Do your research and make sure you're looking at credible sources. Only then should you make your decision on who to vote.
What do you think of Pipay's statement? Sound off below.