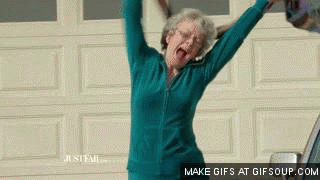 Anti-Lolo and Lola Songs that Will Give You Power to Make it Through the Night (80s Edition)

While most of us may not have been alive during the era, the 80s were a great time. Big hair and loud fashion ruled pop culture, and the decade was home to a lot of great dance songs that artists now are doing their best to emulate.
While we may not belong to that generation, most of us feel like it at heart. With #yolo culture and the exhaustion it entails, we'd rather fast forward to Tito and Tita-dom and enjoy watching the young'uns from the comforts of our couch.
That said, nights out are inevitable, if only for the sake of our own sanity. If you don't fall under that category and are legit Titos and Titas who are spending the wee hours of the morning awake with your little one, take your cue from the 80s with these songs that will help you power on through.
8. Get Down On It – Kool and the Gang
Power lyrics: Cos I heard all the people sayin' / Come on and / Get down on it / If you really want it
7. Don't Stop Me Now – Queen
Power lyrics: I'm burning through the sky, yeah / Two hundred degrees / That's why they call me Mister Fahrenheit / I'm trav'ling at the speed of light
6. Edge of Seventeen – Stevie Nicks
Power lyrics: Just like the white winged dove / Sings a song / Sounds like she's singin' / Woo, baby, woo
5. Push It To The Limit – Paul Engemann
Power lyrics: Going for the back of beyond / Nothing gonna stop you / There's nothing that strong / So close now / You're nearly at the brink / So push it!