As the first high-profile musical biopic after last year's Bohemian Rhapsody, it isn't hard to see parallels between Rocketman's take on Elton John, and the former's depiction of Queen frontman Freddie Mercury. Directed by Dexter Fletcher –who actually completed Bohemian Rhapsody after original helmer Bryan Singer (X-Men, The Usual Suspects) was fired– Rocketman tracks Elton John's early days in suburban England to his meteoric flight to the top of the international charts and eventual treatment for substance abuse.
SETTING THE STAGE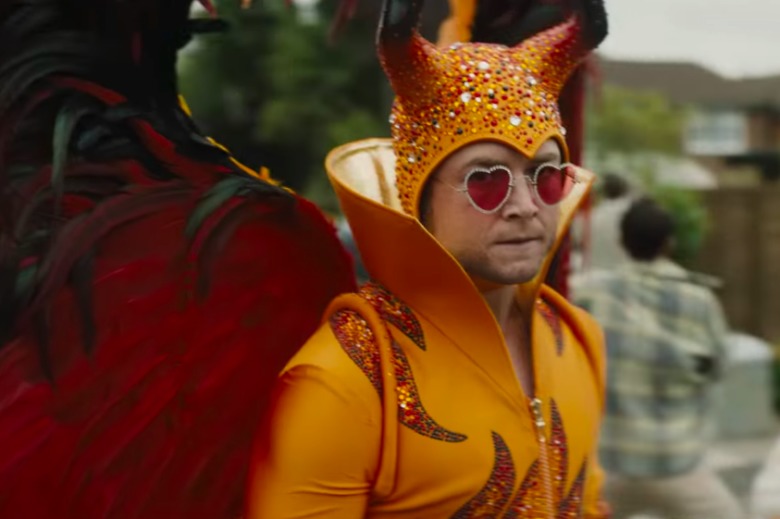 Elton John bursts onto the scene, decked out with wings and horns, a neon orange demon stalking the halls of what we soon learn to be a medical institution. He's there to seek treatment for the addictions that have taken over his life since becoming the biggest selling artist in the world. Sex, drugs, and alcohol may be part and parcel of the rock star life, but it's a far cry from the upbringing he received under his mother Sheila (Bryce Dallas Howard, Jurassic World) and grandmother Ivy (Gemma Jones, Harry Potter, Bridget Jones Diary). Then known as Reggie Dwight, the boy who would be Elton grew up in the absence of his father (Steven Mackintosh, Underworld Evolution), with his mother's disdain for her son barely offset by Ivy, who supports the young piano prodigy's entry into the Royal Academy of Music.
TAKING FLIGHT

The musical foundation serves Reggie well years later, as he joins a band before deciding to strike out on his own under the nom de guerre of Elton John. Partnered with lyricist Bernie Taupin (Billy Elliot's Jamie Bell, all grown-up), Elton goes on to conquer the musical world on both sides of the Atlantic while hooking up with boyfriend-turned-manager (Richard Madden, Game of Thrones, Bodyguard). With the pressures of fame closing in, and relationship difficulties from those in his inner circle, Elton numbs himself to the world with the aforementioned substances.
MAN ON TOP

With Rocketman, Director Dexter Fletcher flexes all the muscles that he had to keep in check on Bohemian Rhapsody (2018). For the most part, this means delving into the less savory aspects of his subject's life that (having Queen's surviving members onboard as producers) he just wasn't able to do the last time around. Granted, Rocketman's narrative has the usual amount of dramatic license, time compression, and composite characters that one expects from a major biopic, but when it really counts, Fletcher presents Elton John's proclivities and addictions in all their unflattering detail.
A STAR IS BORN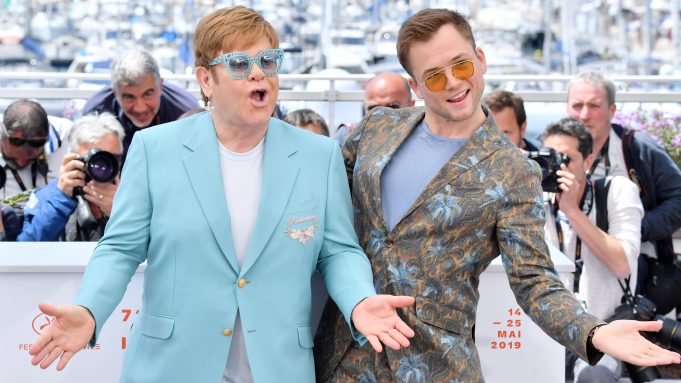 As Elton, Taron Egerton (Kingsman, Robin Hood) may not have been an obvious choice, but he takes on the vocals (and receding hairline) of the famed singer with aplomb. Sure, his voice is of an entirely different timbre, he's of a different body type, and they look nothing alike, but Egerton manages to personify John's specific energy so well, it's hard to imagine anyone else in the part. With Egerton actually performing his own singing in this film, he immediately (and impressively) sets himself apart from Rami Malek's award-winning turn as Freddie Mercury, fueling speculation that trophies could be in the young actor's future.
CONFLICT WITHIN AND WITHOUT
When his character's not playing to packed houses or sold-out arenas, Egerton does an equally credible job playing the damaged man Elton was before he sobered up and made peace with the demons he'd been wrestling with his entire life. It is no coincidence that the neon devil costume is gradually shed as he delves deeper into his past; an absentee father and emotionally-abusive mother would have been bad enough on their own, but between the temptations of stardom and the hangers-on that come with said success, well, let's just say it's amazing the real-life Elton lived long enough to see a biopic of his life made at all.
THE EVIL EX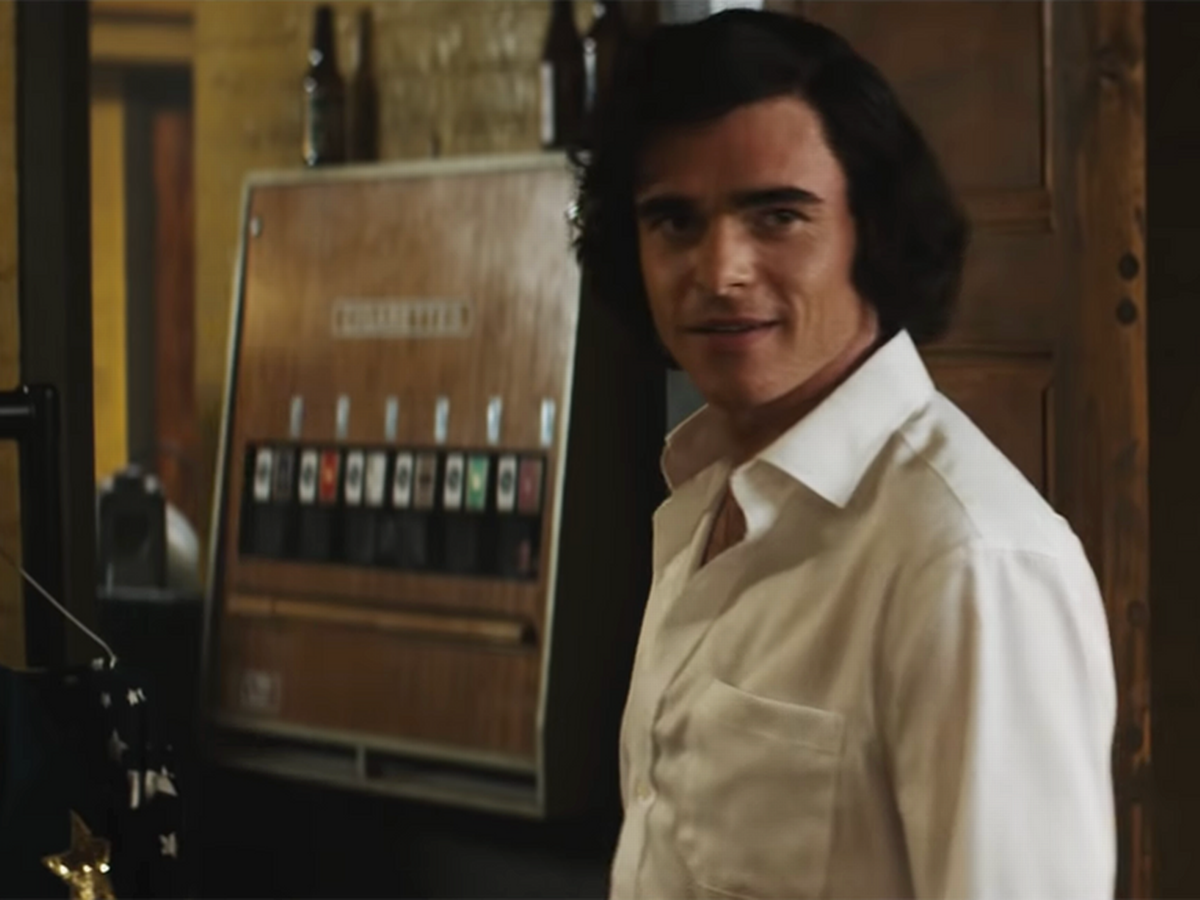 Richard Madden as John Reid (the role played by fellow GoT alum Aidan Gillen in Bohemian Rhapsody) is the devil on Elton's shoulder, seducing him on first meeting, before ingratiating himself to the point of running the young performer's business affairs (for a hefty commission, naturally). Madden himself shows himself to have a decent set of pipes, chiming in on "Honky Cat" as Reid introduces Elton to the excesses of fame, encouraging him to spend his newfound millions. By the time Elton realizes that Reid is just using him, it's too late – Reid has a 20% cut of everything Elton earns.
MUSICAL STYLINGS
The very best musicals are those whose songs inform the story, rather than just serving to break up dialogue or add life to montages. While there's plenty of the latter in Rocketman to reflect the passage of time, the film excels in its repurposing of hits from John's catalogue to tell a coherent narrative; whether it's "I Want Love" serving as the film's theme writ large, or "Tiny Dancer" crooned during a crucial moment in Elton and Bernie's friendship, the songs aren't just nostalgic signposts – they drive the story forward. Coupled with some dazzling imagery, including an orgy, a brilliantly-staged hospital sequence, and a very literal interpretation of the film's title track at LA's Dodger Stadium, Fletcher displays a firm grasp of subject and medium, with one never eclipsing the other.
THE BOTTOM LINE
This is exuberant, masterful filmmaking, taking the best of the traditional Hollywood musical and fusing it with the jukebox format to create something entirely enthralling, even if one isn't familiar with Elton John or his career. Taron Egerton is electrifying in the lead role, and is supported by an excellent cast that helps shine light on one of entertainment's most beloved, flamboyant performers.
Highly recommended.
Have you seen the movie? Tell us what you think of it below!