Motherhood is never easy, but the ongoing pandemic has made being a mom even more challenging. Some mothers now find themselves overseeing their children's education for the first time after schools have closed. Others — from medical professionals to policewomen to government workers — are stepping up to the challenge to serve the needs of their countrymen. This video highlights the strong women who continue to care for their loved ones and communities in these trying times. Here are just 8 things we loved about it.
It's a homage to mom frontliners

Filipino moms have long been known for their selflessness and sacrifice, but this is especially true in our current situation, when many moms are serving in the frontlines of the fight against the pandemic. Lactum 3+'s Mother's Day campaign "Salamat sa Alaga" pays tribute to these very women who make their care felt not just by their families at home, but by every Filipino.
Watch it here:
It lets us relive our most cherished memories with our moms
Directed by acclaimed filmmaker Pepe Diokno, "Salamat sa Alaga" is a heartwarming video told from the perspective of a child. "Ano ang mukha ng alaga?" it asks, as a child's poignant narration expresses gratitude to Filipino mothers for their love and sacrifice.
Featuring footage of real moms, the tribute takes viewers through the tender moments they share with their kids. As we see them adjusting face masks on their child's face, reminding them to drink their milk, kissing them goodbye as they leave to go to work, we are reminded of how mothers continue to make us feel safe and loved even when times get hard.
It highlights the sacrifice of moms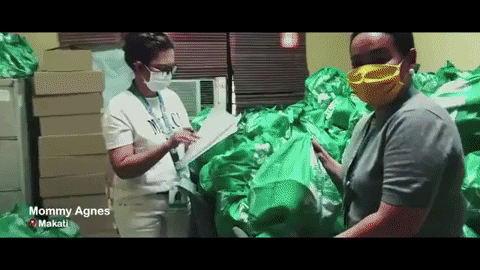 One of the harsh realities of the current health crisis is that many parents — specifically those in the frontlines — have to physically distance themselves from their kids. This video shines a light on this by featuring mom frontliners, such as Kristine Frances Bustamante, a nurse in Camarines Sur.
"My usual work finishes before lunchtime so I can eat together with my kids. But since lockdown, I had to stay in my work area to avoid risk of exposure to my kids," says Bustamante. "When I get home, no hugs or no kisses for a while."
Another featured mom, bank teller Aures Queen Trecho, finds herself in a similar situation. "Currently, my daughter is being taken care of by my cousin because I am a single mom," she says. "I am aware that during this time of crisis, I still need to work and at the same time, take necessary precautions to not get sick so I can continue my duties."
It shows us how powerful the spirit of bayanihan is
For many moms, their children are their world. But amidst this pandemic, some mothers have to make the difficult decision to sacrifice their time with their families so that they can serve others. Even though the separation hurts, these strong women continue to give selflessly so that they can help the Philippines heal. These mom frontliners are essential in more ways than one, and we can all learn a thing or two from them.
It reminds us of our safe place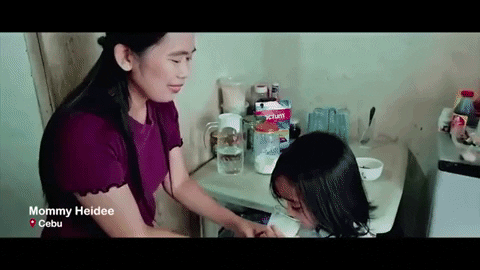 Running to mom is our primal response to tough, scary situations. And we never quite outgrow this. Feeling under the weather? Had a bad day at work? Just one call to mom can make everything better.
It reminds us to thank our moms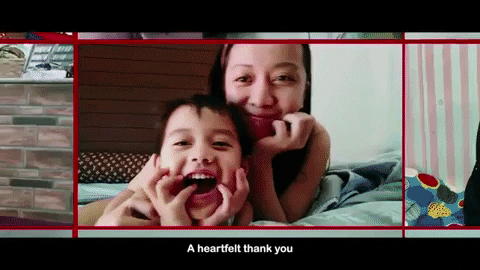 Though simple in its messaging, the video takes us on an emotional rollercoaster as it reminds us of the comfort of a mother's love.
We rely on our moms to be at their best at all times — even in times of crisis. But are we aware of how much we ask of them? Are we taking our moms for granted? When was the last time we thanked our moms?
Makes you think, huh?
It gives us an opportunity to give back
"We recognize the fight that these mom frontliners are bravely going through for their children, their family and the nation," says Lea Sarmiento, Senior Product Manager for Lactum. "We are fighting alongside them as we continuously provide readily-available access to highest quality hygiene, wellness, and nourishment in cities and provinces so families will be safe and assured in these tough times."
For every Lactum 3+6+ purchased online, P50 will be donated to support families affected by the pandemic. (Per DOH-FDA-CFRR Permit No. 0584 s. 2020)
It shows us just how important mothers are
Extraordinary times call for extraordinary women. This video reminds us that even though some moms aren't able to stay home during this crisis, parenting never stops. And though Mother's Day is the perfect time to celebrate them, we should continue to show gratitude to mothers everywhere throughout the year.
So here's to the mothers out there — those in the frontlines and those sheltering in place at home. Salamat sa inyong alaga.
What did you think about the "Salamat sa Alaga" tribute video?