The Van Gogh Alive exhibit is coming to Manila, and everyone's uber excited (well, almost everyone). Created by Grande Exhibitions, Van Gogh Alive is the world's most-visited multi-sensory exhibit, where attendees can see the world-renowned works of Vincent Van Gogh take life. While the artist's works are spread all over the world from Netherlands to the USA to Japan, most of his works are kept safe at the Van Gogh Museum in the Netherlands. With this exhibit, people all over the world will be able to appreciate Van Gogh's works even if they can't visit the museum housing the actual pieces themselves. Van Gogh Alive will definitely expand the meaning of art as they deviate from the norm and merge classical with contemporary in a way that will surely delight people of all ages.
Doors open to the public on October 26, 2019! You can enjoy this sensory experience for only Php 750 for adults and Php 450 for students. For more information on how to purchase tickets, you can visit the exhibit's official website.
There will be a lot of things happening in the exhibit, but to make the most out of your trip to BGC, here are some works you should look out for in Van Gogh Alive.
Wheat Field with Crows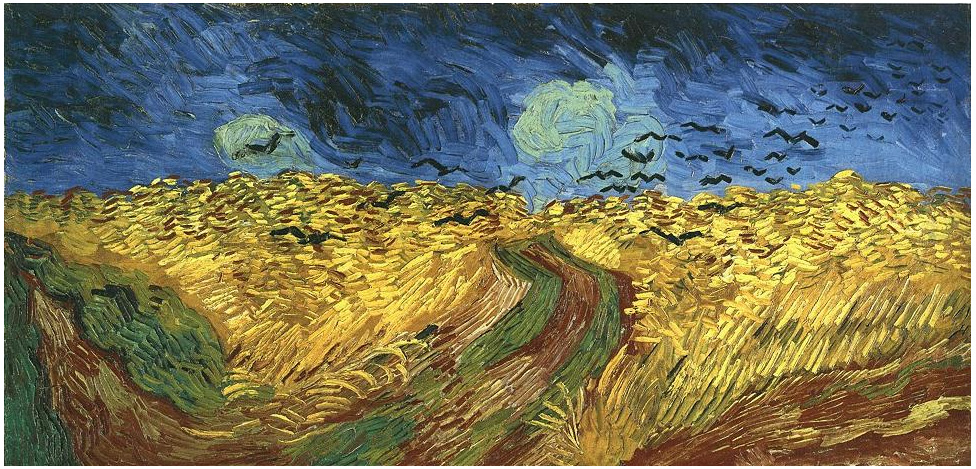 When it was created: July 1890
Where it is now: Van Gogh Museum, Amsterdam, Netherlands
One of Van Gogh's most famous paintings, Wheatfield with Crows is widely believed to be his last work of art before his death. The dark and ominous sky filled with crows are all interpreted to be a clue about Van Gogh nearing his death. But despite all the speculation, many still argue that he had created more pieces after this.
Wheat Field with Cypresses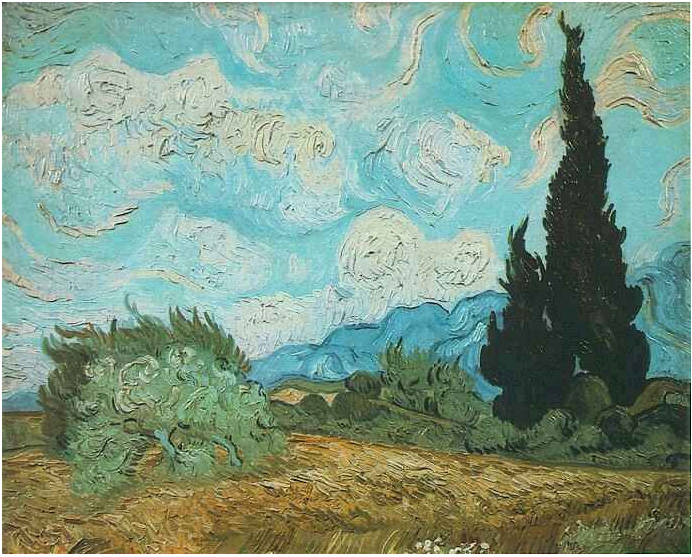 When it was created: July 1889
Where it is now: Metropolitan Museum of Art, New York City, USA
A contrast to Wheatfield with Crows, Wheatfield with Cypresses is brighter and more colorful. It is part of his wheat field series, and this one displayed at the Met is the one which Van Gogh considered his "best" summer landscapes. Despite the colorful imagery, this work was created during a time when Van Gogh was voluntarily admitted as a patient in the Saint-Paul-de-Mausole mental asylum at Saint-Rémy near Arles, France.
Self-Portrait as a Painter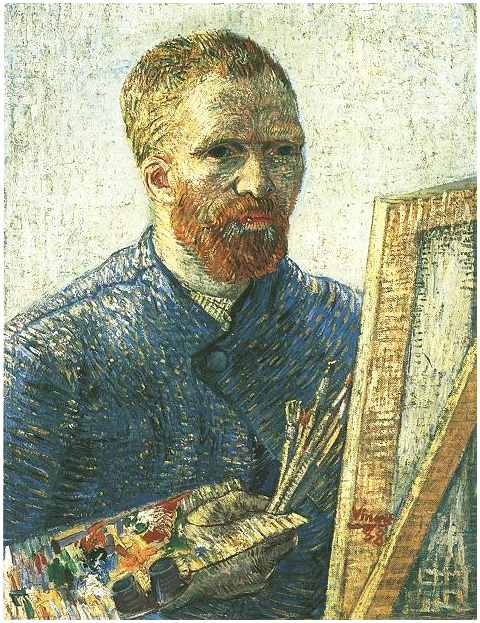 When it was created: December 1887 to February 1888
Where it is now: Van Gogh Museum, Amsterdam, Netherlands
Van Gogh was fond of creating self-portraits, and there are many versions of himself reflected in his portraits. In this particular one, he presented himself as a painter with a palette and paintbrushes sitting in front of an easel. The complementary colors put side by side creates a stark image that intensifies all the colors. This is his last work before he left Paris.
The Yellow House (The Street)
When it was created: September 1888
Where it is now: Van Gogh Museum, Amsterdam, Netherlands
Van Gogh painted the surrounding environment he lived in when he stayed in a house on Place Lamartine in Arles (southern France). He rented four rooms there, marked by the green windows, and he often wandered out on the streets, ate at the restaurant beside the house, visited the home of his friend, or had friends over. Despite the titular Yellow House being the main feature, Van Gogh actually called this work The Street, as it shows more of the surroundings he lived in rather than the house itself.
The Bedroom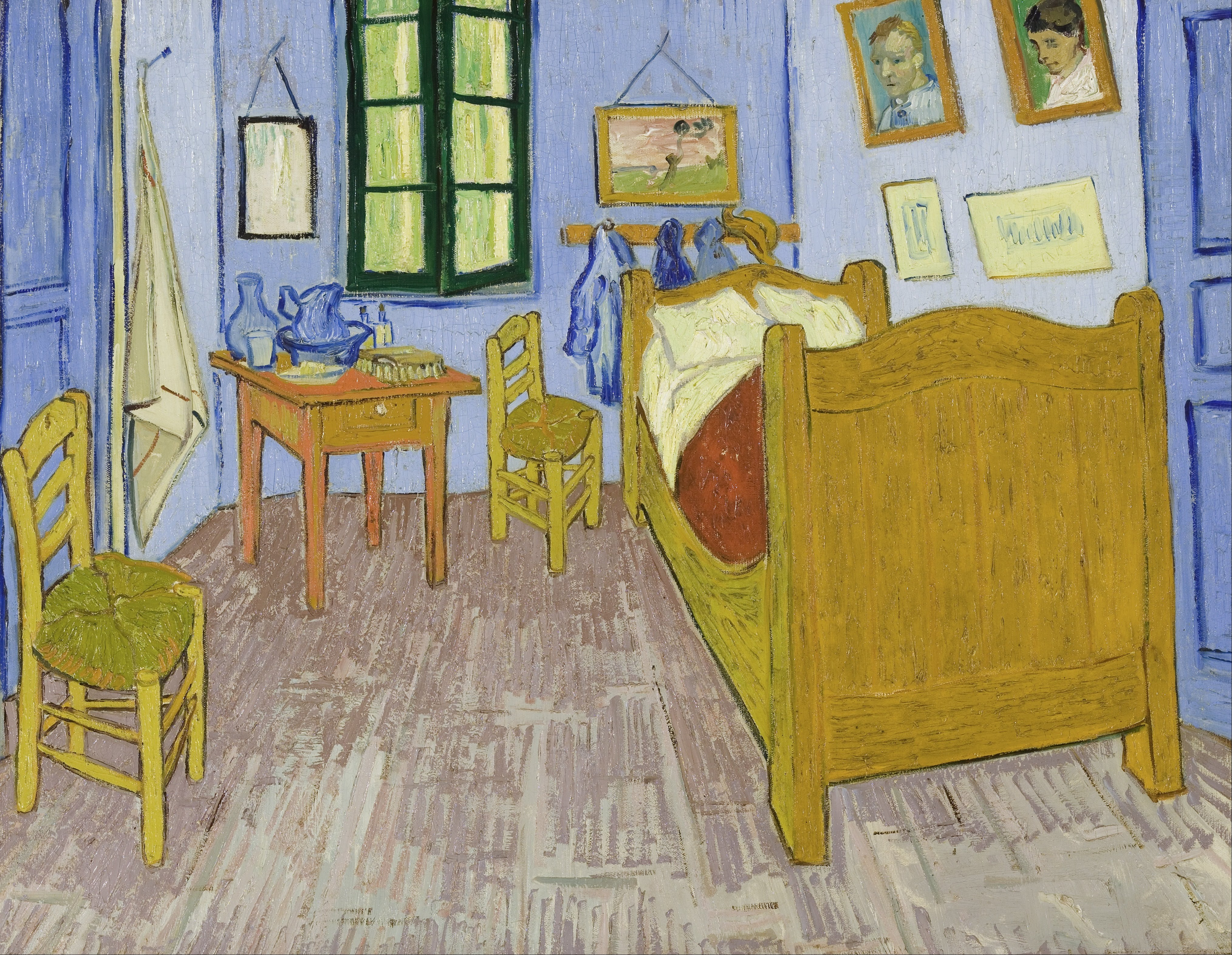 When it was created: October 1888
Where it is now: Van Gogh Museum, Amsterdam, Netherlands
Inside the Yellow House, Van Gogh stayed in a room he prepared himself. He put up simple furniture and hung his own work on the wall. The skewed perspective was a deliberate choice on Van Gogh's part, as he wanted the painting to resemble a Japanese print. And apparently, the odd angle of the rear wall is really skewed in real life and not at all a mistake.
Almond Blossoms
When it was created: 1890
Where it is now: Van Gogh Museum, Amsterdam, Netherlands
A recurring subject in Van Gogh's works is flowering trees put against the solid colors like the blue sky. This particular one is a gift to his brother and sister-in-law upon the birth of his nephew, Vincent Willem, named after him. Thus, this is one of the works closest to the hearts of the Van Gogh family, and the artist's nephew eventually went on to found the Van Gogh Museum, which houses most of his works.
The Bridge at Courbevoie
When it was created: May to July 1887
Where it is now: Van Gogh Museum, Amsterdam, Netherlands
The Bridge at Courbevoie is a part of a series of paintings of over thirty river scenes and landscapes along the Seine in Paris. Van Gogh created this with dashes of paint and a whole range of colors. The painting serves as his own free variation on Pointillism, which had him focusing more on the reflections of the water and less on the right perspectives or proportions.
Starry Night
When it was created:June 1889
Where it is now: The Museum of Modern Art, Manhattan, New York, USA
Starry Night is perhaps Van Gogh's finest and most famous work. It's even considered to be one of the most recognized paintings in the world. The artwork is Van Gogh's depiction of his view from the window of his asylum room at Saint-Rémy-de-Provence facing the east, just before the sun rose.
See all of these works come to life at the Van Gogh Alive exhibit this coming October 26, 2019 until December 8, 2019 at the 4th floor, One Bonifacio High Street, 5th Avenue, Bonifacio Global City.
Which piece are you excited to see the most? Share it with us below!