Utilizing state-of-the-art technology and authentically-styled, meticulously-realized environs, Disney Imagineers have created Star Wars: Galaxy's Edge, the latest addition to Disney's renowned world-class theme parks. At Galaxy's Edge, fans of George Lucas' beloved space saga will get to experience life in a galaxy far, far away, evade the Empire, and take the controls of the Millennium Falcon itself. The Disneyland (Anaheim, California) version of Galaxy's edge will be the first to open on May 31, with Disneyworld's (Orlando, Florida) version opening on August 29.
While you get your lightsabers ready and count down the days, here are 8 things to look forward to at Star Wars: Galaxy's Edge!
STORY-DRIVEN EXPERIENCES
Galaxy's Edge takes place at the mysterious Black Spire Outpost on the planet Batuu, where heroic Resistance forces have established a base to continue their fight against the evil First Order. On arrival, visitors will be asked to declare if they associate with a) the First Order, b) the Resistance, or c) the morally ambiguous scoundrels who make up the margins in the galactic struggle between good and evil. As part of a new immersive initiative, the allegiance you declare will affect how in-park characters react and interact with you, creating a more story-driven experience than the usual meet and greets found at traditional theme parks.
BUILDING YOUR OWN DROIDS AND LIGHTSABERS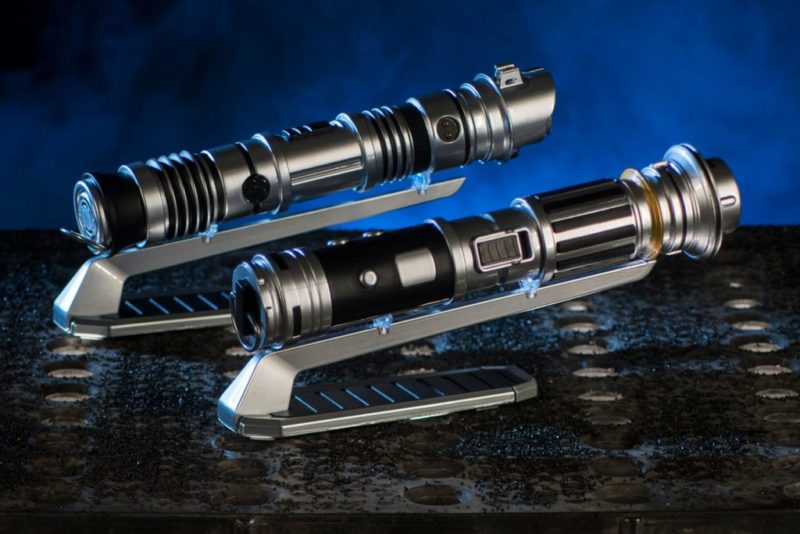 While guests will have access to a number of shops featuring Star Wars merch, the goodies available at Galaxy's Edge will be specifically designed to look like in-universe props, apparel, and technology, as opposed to theme park souvenirs. Merch of different price ranges will be available, from action figures and t-shirts, to life-sized, screen-accurate replicas of R2-D2. For those with a little extra time and money, there will be a shop where, you can customize and build your own working heavy-duty lightsaber, and another, where you can construct a personalized droid that will interact with different parts of the park.
AN OFFICIAL IN-UNIVERSE APP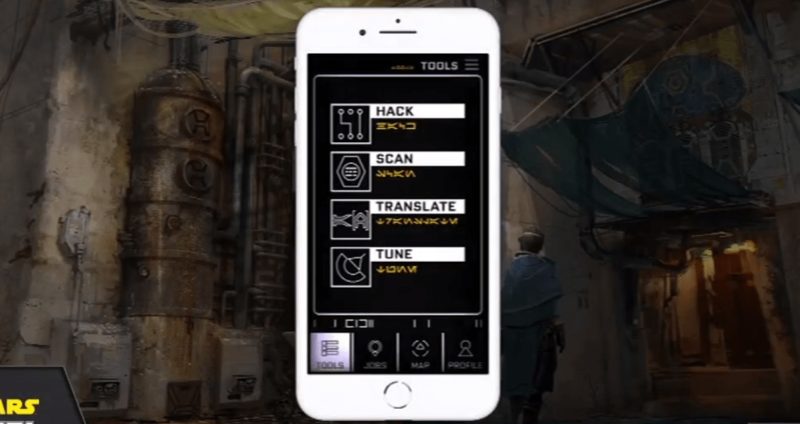 All throughout Galaxy's Edge will be alien scripts of all sorts, which you will be able to decipher with the help of the Data Pad mobile app, which adds another layer to your time in the park. In addition to translating alien scripts, the app can be used to identify and trigger Easter eggs, similar to the interactive wands at Universal Studios' Wizarding World of Harry Potter. With Data Pad, you can communicate with droids scattered throughout the park, activate hidden features, and trigger scripted events, ensuring you get the most out of your visit.
INTERSTELLAR DELICACIES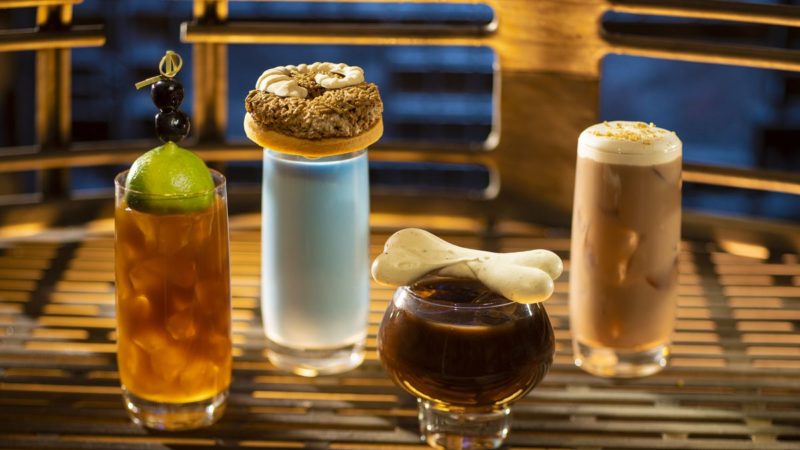 What would Star Wars be without a cantina? At Galaxy's Edge, the Black Spire Outpost will be home to one such hive of scum and villainy, offering visitors a wide array of food and drink options. Most notably, Oga's Cantina will be the first outlet in the park where alcoholic beverages will be openly served, including cocktails such as the Jedi Mind Trick cocktail, Imperial Red Wine, and the Bad Motivator IPA. Such beverages will only be allowed to be consumed on the premises, in addition to a number of non-alcoholic options, such as Blue Milk with Bantha Cookies.
On the food front, restaurants such as Docking Bay 7 Food and Cargo will, according to the official Star Wars website, feature "Endorian Tip-Yip" (rectangle shaped fried chicken), "Kaadu Ribs" (smoked country sticky pork ribs with blueberry corn muffin and cabbage slaw), and "Felucian Garden Spread" (a plant-based kefta "meatball" served with herb hummus and tomato-cucumber relish and pita bread). No matter what you choose, at least you know you won't be going hungry on your Star Wars adventure!
EXPLORING THE BACKSTORY WITH MARVEL COMICS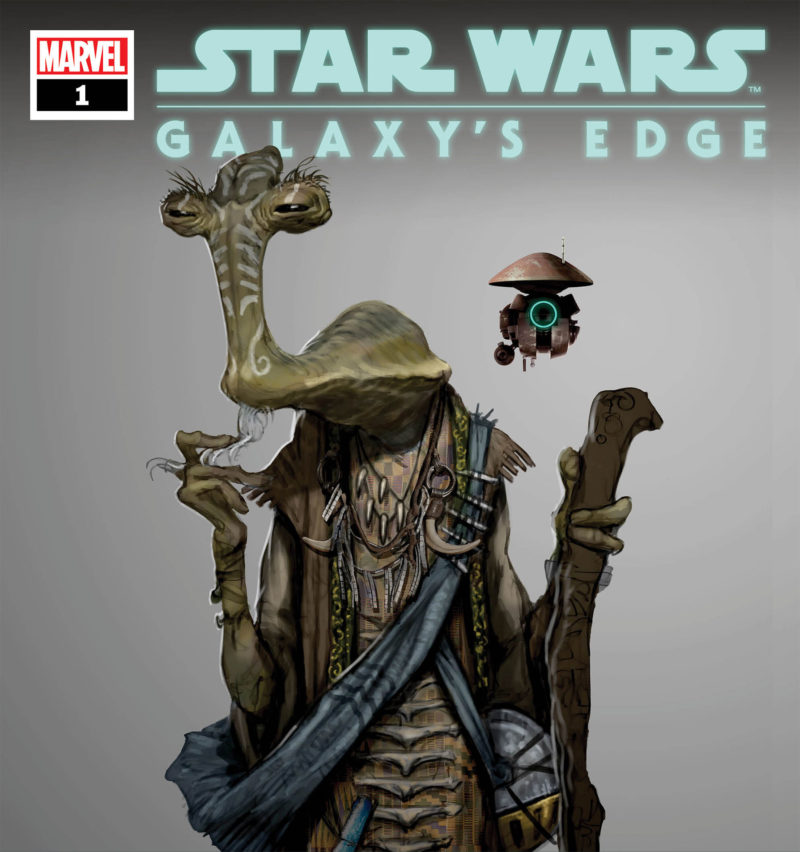 Want to know how the Falcon came to be at the Black Spire outpost? All the answers you need are here – In a clear show of corporate synergy, Marvel Comics has begun publication of a five-issue miniseries detailing the backstory of the characters and situations to be found at Galaxy's Edge. The first two issues feature plenty of fan service, with references to Han Solo, Jabba the Hutt, and Greedo, tying Galaxy's Edge into Star Wars lore past and present.
A NEW JOHN WILLIAMS SCORE
Not every theme park can lay claim to having an original score from an Academy Award-winning composer, but with Star Wars: Galaxy's Edge, that's exactly what you'll get: Since 1977, the musical talents of composer John Williams (Jurassic Park, Jaws, Harry Potter, Indiana Jones, Superman) have helped define the Star Wars universe to a generations of moviegoers and, Galaxy's Edge will continue the tradition. Williams has composed a new, exclusive score for the attraction, and, as performed by the London Symphony Orchestra, will be heard throughout the park, as well as contextual moments during the rides. In addition to a preview that was released earlier this month, the entire score can be now be streamed or purchased via Google Play, iTunes, and Amazon Music. With the 87-year old Williams having stated that his score for the upcoming Episode IX: The Rise of Skywalker will be his last for the series, Galaxy's Edge will stand as the place to go for your aural Star Wars kick.
MILLENNIUM FALCON: SMUGGLER'S RUN
From spy shots to publicity materials, one of the most-talked about parts of Galaxy's Edge has been the life-size Millennium Falcon that takes pride of place in the Black Spire compound. Finally, 42 years since it first blasted out of the Mos Eisley Spaceport and into moviegoers' hearts, fans will have the chance to pilot the fastest hunk of junk in the galaxy in Millennium Falcon: Smuggler's Run. With queuing areas that run throughout the infamous starship, visitors will be guided into groups of six into recreations of the Falcon's instantly-recognizable cockpit, where they will assume the roles of two pilots, two gunners, and two flight engineers. With different tasks for each guest, and each of the cockpit's 200 switches, buttons, and controls performing a function, your team's actions in Smuggler's Run will directly impact how your story continues, a sure-fire way to keep Star Wars fans coming back over and over again.
STAR WARS: RISE OF THE RESISTANCE
Described as five rides in one, Rise of the Resistance is reportedly the longest dark ride in Disney park history, as well as its most elaborate. Boasting trackless vehicles a la Pooh's Hunny Hunt from Tokyo Disneyland, Rise of the Resistance reportedly clocks in at an extraordinary 28 minutes, combining video, holograms, full-scale sets, and over 300 animatronic elements to tell an original story set in the current Star Wars timeline. The films' members Daisy Ridley (Rey), Oscar Isaac (Poe), John Boyega (Finn), and Adam Driver (Kylo Ren) are included in the story portion of the ride, which sees guests joining with the Resistance before their ship is captured by the dreaded First Order. Whether they're avoiding blaster fire or sprinting through the halls of a Star Destroyer, Rise of the Resistance promises to be the ultimate Star Wars experience.
Which of these are you dying to see? Tell us below!