Meet the DJ, Your Newest Music Best Friend and Spotify's AI
Aug 8, 2023 &nbsp • &nbsp Meryl Medel
Spotify puts personalization at the heart of everything they do. And in their latest endeavor to take personalization to the next level, the streaming platform is introducing the Spotify AI DJ.
Spotify AI DJ
According to Spotify, DJ is a personalized AI guide that knows you and your music taste so well that it can choose what to play for you.

Combining Spotify's personalization technology, generative AI, and dynamic, expressive voice, DJ rotates through the latest music and your old favorites, keeping you in touch with the trends while also bringing you some nostalgia.
Basically a radio DJ
One that is personalized just for you. And one that you can just tap if you want to skip some songs. Voiced by Spotify's own Head of Cultural Partnerships Xavier "X" Jernigan, DJ gives you a running English-language commentary on what's playing next. The DJ even has fading transition effects in between songs for that near-authentic ~radio DJ~ feel.
If you're not feeling the vibe, just hit the DJ button at the bottom right of your screen, so that the Spotify AI DJ can give you a different genre, artist, or mood. The more you listen and skip, the more the DJ recognizes what you like and don't like, which means its song, genre, and artist recommendations get better as time goes by.
How our first test of the Spotify AI DJ went
It's like having all the songs you like in one giant playlist — even the ones you don't remember from years ago — and having them on shuffle.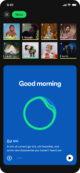 Except there are also some wild cards in there either to give you new recommendations, which are a hit or miss, or just to mess with you — we're not yet sure. But Spotify says if you teach the DJ enough, it'll get your music tastes just right.
There are also various playlists categorized according to artist, genre, mood, or listening history. In my first test of the Spotify AI DJ, I got hit with some recent listens, editor's picks, viral hits, quintessential pop, and more.
And you can also get hit for random vibes. "It's time for a vibe," the DJ tells me at one point, "and that vibe is 'upset'." Uhm, thanks, I think? I can only laugh when he said that, but the songs that played did have ~upset~ vibes (e.g. Niki's "Milk Teeth" and Taeyeon's "Set Myself on Fire"), so we say it's pretty accurate.
At the first few listens, it could be surprising to suddenly hear someone talking in the middle of your music session. One thing I do wish they offered from the get-go is a female DJ voice model, so we have a softer, less deep voice option.
But overall, here's our verdict based on our first test: the Spotify AI DJ is a good feature and you should give it a try. You'll get to listen to fresh tracks and keep up with today's trends, while also getting hit with nostalgia with old songs you haven't listened to in a while.
When will it be available in the Philippines?
Starting today, August 8, Spotify will begin rolling out DJ, in Beta, to Premium users in the Philippines.
To maximize the Spotify AI DJ experience, simply head to your Music Feed on Home in the Spotify mobile app, then click on DJ, and let Spotify AI DJ do its magic!
Follow us on Facebook, Twitter, Instagram, Tiktok, and Youtube for the l8est entertaining, useful, and informative lists!