If you're anything like me (a normal human being), then you're very grateful for the invention of Google Maps. It has anything you need for directions! Not only that, it can transport you to virtually anywhere in the world with its satellite images, Google Earth, and Street View. But here's the catch, with images from the different features of Google Maps, a lot of things can be found captured and frozen in time. There are actual houses, actual people, cars, and even unexplainable creepy things. Here are 8 of the strangest things found on Google Maps.
1. Murder out in the open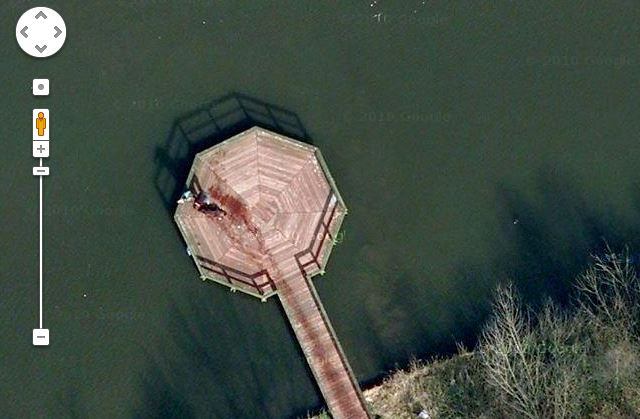 This discovery shocked the whole internet a few years back. The coordinates 52.376552,5.198303 produced what seems like a satellite image of a body being dragged out to the edge of a dock to be disposed of, complete with a trail of dark red blood. After much investigation from the Sherlocks of the internet turned out it was just a couple with their dog that apparently went for a swim and got the boards of the dock wet. The "trail of dark blood" was just water. You can rest easy now.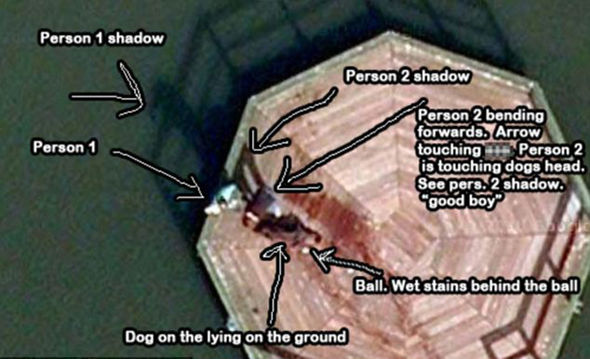 2. Pigeon Men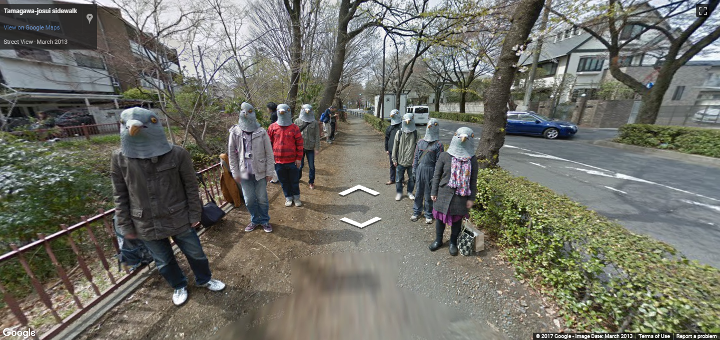 Creepy looking Pigeon Men found in a street in Japan will make you go "What the heck?" If the way they're all looking at you isn't creepy enough, maybe the way they're still looking at you even if you walk past them is. What's their deal?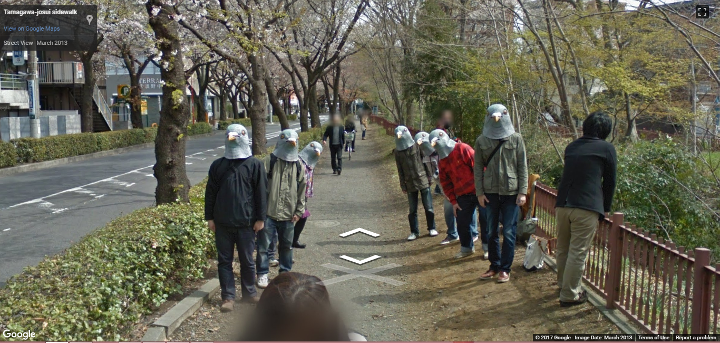 3. Tiki Demon at Nancy France
A creepy humanoid person with large white eyes and scraggly hair was found standing at a terrace in a house in France. First glance at the image will give you goosebumps. The photo and the location spread online and shortly thereafter, the whole house was blurred by Google. We don't know why though. Maybe the doll wanted privacy or the owner of the house didn't want people randomly coming to his house and asking about a 'Tiki Demon.'
4. The phantom Sandy Island
Sandy Island is an island that appeared to be as large as Manhattan but apparently nonexistent when Australian scientists went on a voyage to explore it and in doing so "undiscovered" it. New Zealand librarian Shaun Higgins, however, did his own research and found out that the island first appeared in maps in a chart by R.C. Carrington. In Carrington's defense, he said that the islands on his chart "have been collated from the voyages of various navigators extending over a long series of years. The relative position of many dangers may therefore not be exactly given." But cartographers after him did not heed his disclaimer thus the island has been included in maps even after a hundred years of its discovery.