8 Rules For Suntukan
Sa Ace Hardware

by Kel Fabie
Set on April 15, the event known as "Suntukan sa Ace Hardware,"  as of this writing, has a total of 50,000 people who claim to be going to the said event. To this day, we have no idea what's going on, how this whole thing came to be and if anything would ever happen, but I'm sure come April 15, a follow-up is bound to happen.
That being said, if you're one of the suntukan-hooked 50,000, remember a few commandments that will make your experience a great one.
8. Thou shalt pin this all on Baron Geisler.
Whatever the story behind this event, we all know that Baron Geisler figures into it somehow.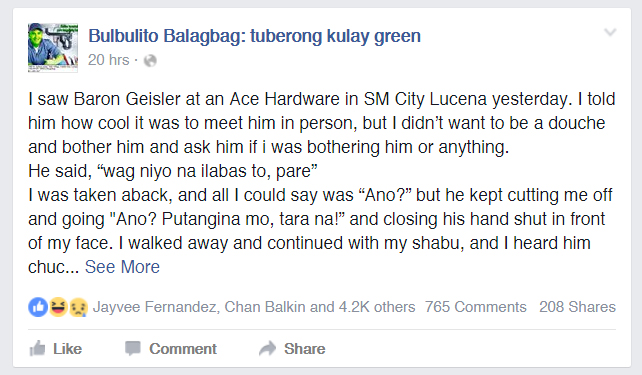 via facebook.com/events
Baron is the key to all of this.
Was the creator of this event hoping to start a fight with Baron? Was he just so pissed at Baron that he wanted to start a fight with anyone? We may never know, unless we get Baron Geisler to not just attend this (he already confirmed), but to survive it. Sounds like a plan.
7. Thou shalt make this a political event.
It doesn't matter who started this event, and whether or not Baron Geisler is indeed the motivating factor: the fact remains that people will politicize anything right now.
Which of the candidates is likely backing this battle royale? Take a wild guess.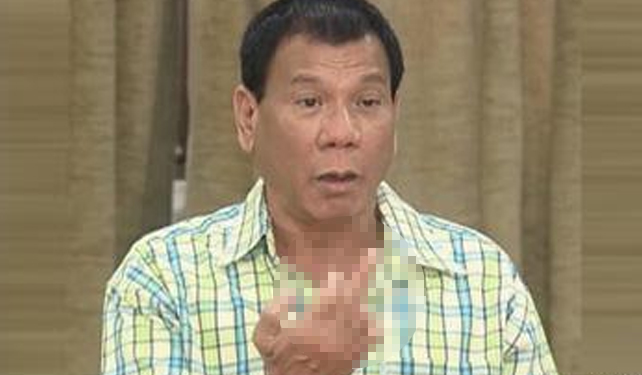 news.abs-cbn.com
Go on. I double dare you.
6. Thou shalt use a battlecry during combat.
You can't take part in a fight without a battlecry. Choose the best one for you.

Via  facebook.com/events
What? No "para sa bayan?!?"  Oh, wait. There is!
5. Thou shalt escalate this quickly.
While some people are expecting a one-on-one fight, it appears that "Suntukan sa Ace Hardware" is actually meant to be a rumble of sorts. If that's the case, you need to know the right person to punch first.
Hint: not the manager.
4. Thou shalt question the unquestioned.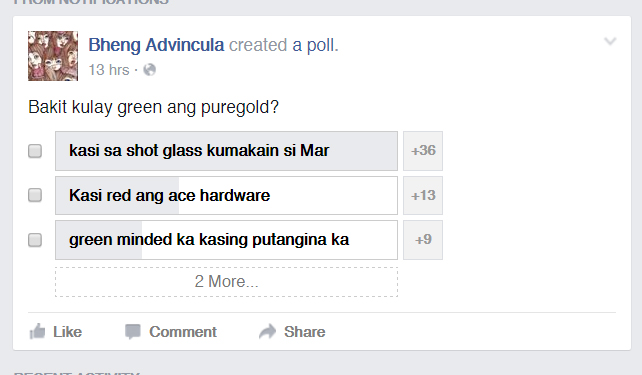 Via facebook.com/events
Like so.
No explanations needed.
3. Thou shalt make it as star-studded as possible.

With Edu Manzano emceeing the event and a poster of the event already done, this slugfest has now turned into an A-list happening. If you want to go, expect to see stars in more ways than one!
2.Thou shalt invite your mom.
Via facebook.com/events
Yes. Your mom.
Who are we to argue about this, right? Just invite your mom, so everyone says.
1. Thou shalt not talk about "Suntukan sa Ace Hardware"
The first rule of "Suntukan sa Ace Hardware" is you do not talk ab… too late!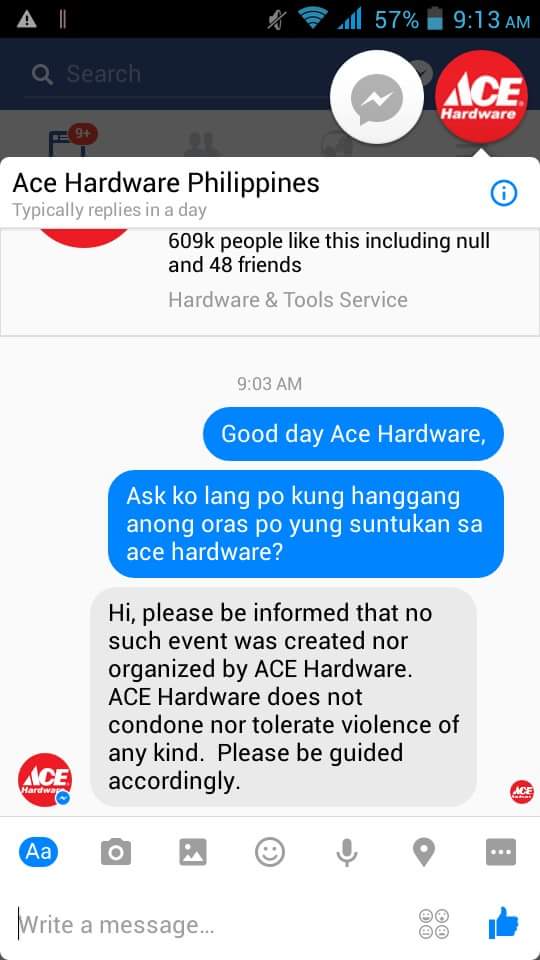 Via facebook.com/events
Shun the non-believer! Shuuuuuunnnnn!!!
Any other rules you want to add? Sound off in the Comments Section!