These Snackakabaliw Chip-and-Dip Pairs Will Make Break Times Better Than Ever
Jul 5, 2021 &nbsp • &nbsp 8List Editor
Looking for a snack that's quick and easy to make yet still yummy and tasty? Sure, you can order via delivery, but why spend a lot for merienda? If you're on a tight budget (or even if you aren't!), you don't have to look further than your pantry. As long as you have some Super Crunch chips, you can make some tasty snack combinations with these 8 dips that can easily be made with ingredients found in anyone's kitchen, even yours. After all, a great pack of chips is best enjoyed with an equally mouthwatering, flavorful dip.
Spicy vinegar

An easy and simple dip that only calls for some sugarcane vinegar and sliced chili pepper, spicy vinegar is a classic mix that could never fail you — especially when you've got a pack of Super Crunch Special Chip-charon and an ice-cold bottle of beer to go with it! If you want more flavor in your spicy vinegar, you can also add some garlic, ginger, salt, and other spices for an extra kick.
Mayo-ketchup

Often used as a dressing for sandwiches, the mayo-ketchup sauce is also a great dipping sauce for your favorite chips. And it's really, reallyyy easy to make. You just need to mix some ketchup and some mayonnaise and you're done! Another great thing about this sauce is that you can add more than the basics. Anything from lemon juice to hot sauce to garlic would give your mayo-ketchup a new, unique flavor. Pair it with Super Crunch Nacho Cheese flavor.
Creamy Spinach Dip

If you have extra spinach in your kitchen, you can turn it into a delicious and healthy dip. You just need to chop up the spinach, grab a block of cream cheese, some mayo, and a sprinkle of pepper, then mix and heat everything up together in a saucepan. Serve it with Super Crunch Sweet Corn and store the remaining dip in a jar for your next merienda.
Cheesy mayo

To make cheesy mayo, all you have to do is mix cream cheese with mayonnaise (add some herbs and black pepper if you wanna be extra). You know that uber delicious side dish in Korean restaurants made of cheese and sweet corn? You could get that addicting taste at home with this dip and a pack of Super Crunch Sweet Corn, made even better with some extra crunch! And you could even toss some actual sweet corn kernels in the dip to bring out that delicious contrast between sweet and salty.
Sour cream

Sour cream is already good, sure, and it's convenient since there are ready-made packs you can buy at the store. But if you want to spice things up a little bit, add some garlic and a sprinkle of ground black pepper for a creamy dip with a kick. And if you want to make your own sour cream at home, you just need three ingredients: lemon juice or vinegar, cream, and whole milk. Pair it with Super Crunch Nacho Cheese flavor.
Salsa


When you say chips and dip, the first image that pops into your mind are probably corn chips and salsa dip — and for good reason. This combo is a quintessential pair that goes so well you would never get tired of it. All you need are tomatoes, onions, garlic, some lime (or calamansi) juice, and salt! And when you're pairing your salsa dip with nacho cheese-flavored chips, it's just *chef's kiss*. Pair it with Super Crunch Nacho Cheese flavor.
7-Layer Bean Dip
Make your merienda a little healthier with this 7-Layer Bean Dip made with greens and spices you can easily find in your kitchen. You can still indulge in your favorite chips because it goes well with the Super Crunch Sweet Corn flavor or the Super Crunch Nacho Cheese flavor.
BLT (Bacon Longganisa Tomato) & Eggs Dip

You can never go wrong with Pinoy flavors. This BLT (Bacon Longganisa Tomato) & Eggs Dip takes the flavors of Pinoy breakfast favorites and gives them a new form that you can eat anytime of the day, even during merienda with your favorite chips. Pair it with Super Crunch Sweet Corn flavor.
These crunchy chips are made more fun with these delicious dips. But we're sure you'd agree that they're pretty snackakabaliw on their own. So make sure to stock up on your favorite Super Crunch chips and order through Lazada now.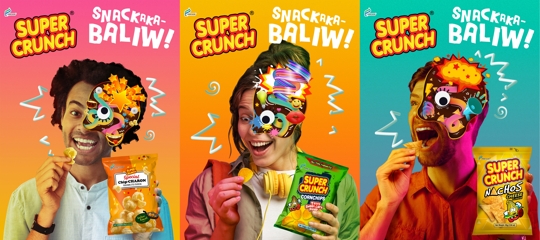 Share your Super Crunch chip-and-dip pairs on Facebook or Instagram with the hashtag #Snackakabaliw and tag Super Crunch!