Three decades after the infamous live-action Super Mario movie (starring Bob Hoskins and John Leguizamo) soured Nintendo on film adaptations of any kind, Illumination Studios (Despicable Me, Sing) is ready to defy history with an all-new animated take, The Super Mario Bros. Movie.
It defeats the video game movie curse

From the moment that 1993's Super Mario Bros. crashed and burned at cinemas, movies based on video games have had a tough time in Hollywood. With studios seemingly incapable of grasping just what made the original material memorable in the first place, the resulting output has ranged from guilty pleasures to just plain godawful, with precious little in between. 
While the genre has yielded genuine hits like the original Mortal Kombat (1995) and Tomb Raider (2001), one was more likely to get a Resident Evil (any version, ugh), Doom (2005), or Uncharted (2022) than anything resembling their source games, much less competent cinema. So while hopes were high when The Super Mario Bros. Movie was announced, it was approached with a sort of cautious optimism. After all, even people who've never picked up a controller in their lives can recognize Super Mario and his iconic theme tune. Could any film really live up to decades of fandom? 
It builds on recent successes

An objectively good video game adaptation wouldn't come along until Detective Pikachu in 2019, though much of that film's success stemmed from its lead character being voiced by Ryan Reynolds (Deadpool, Free Guy), coupled with copious amounts of fan service. Even smash hit Sonic the Hedgehog — which came out the following year — played things safe, pairing its hero with James Marsden (X-Men) and setting the bulk of its runtime firmly in our (non-video game) world.
The Super Mario Bros. Movie makes no such concessions. Despite the A-list cast, their presence complements, rather than supersedes, the material. These are the characters that fans have known and loved for nearly four decades, as directors Aaron Horvath and Michael Jelenic (the duo behind Teen Titans Go!) have clearly taken every effort to present them and their world(s) as faithfully as possible.
It's a Nintendo fan's dream
Every environment, obstacle, and creature is rendered as if they stepped out of a game and got a glow-up. From the stitching of Luigi's hat to the chrome on Mario's go-kart, the work by Illumination is exemplary, not necessarily presenting things the way they look in the games, but as idealized, immediately-recognizable versions that take full advantage of the big screen format. Mario fans will have precious little to complain about, as the dazzling visuals are further enhanced by a barrage of familiar sound effects and orchestral takes on classic themes.
The story

The notorious King Bowser (Jack Black, School of Rock) has taken possession of the Super Star, which he will use to conquer the Mushroom Kingdom unless its ruler, Princess Peach (Anya Taylor-Joy, Chef, Queen's Gambit) agrees to marry him. At the same time, a pair of Brooklyn-based siblings, Mario (Chris Pratt, Jurassic World, Guardians of the Galaxy) and Luigi (Charlie Day, TV's It's Always Sunny) have started their own plumbing business. When a local flooding leads them underground, an enchanted pipe transports them to an adventure they never could have imagined. 
8 Things We Absolutely Love About Nintendo's Game & Watch: Super Mario Bros.
8 Things We Absolutely Love About Nintendo's Game & Watch: Super Mario Bros.
Andy Flores | Nov 27, 2020
The journey

What could have been a straightforward quest is given added dimension, as the film's structure incorporates the game's core premise of one trying, failing, and trying again until they get it right. It is in the scenes of Mario picking himself up off the ground and dusting himself off for another round that Pratt's casting makes sense – say what one will about the actor or the characters he plays, he does come across as someone who doesn't know when to quit.
Italian accents and Easter eggs

For all the online ballyhoo about the Mario Bros. being stripped of their stereotypical Italian accents, the script employs a clever workaround that sidesteps ethnic stereotyping while paying tribute to the characters' classic 1989 cartoon, as well as voice actor Charles Martinet (who's voiced the characters in various capacities since 1991, and is featured here in two roles!). As a result, Pratt and Day play Mario and Luigi with their regular voices — albeit with a tinge of Brooklyn — for good measure.
The characters

Pratt adds wide-eyed wonderment to his well-worn everyman persona as Mario, while Day brings his trademark manic energy to Luigi, which is entirely appropriate for where the latter finds himself for the bulk of the story. In an amusing twist on this franchise's usual narrative, it's Princess Peach who joins Mario on a quest to save Luigi, rather than the other way around. Whether this is a dig at Luigi's (largely) redundant role in early games, or a conscious decision to not have the film's main female character exist merely as a prize to be claimed, it's a welcome change.
Taylor-Joy brings an effervescent quality to her Princess, radiating warmth in her dealings with Mario and her citizens while retaining an edge that she's more than willing to use to defend her people. It's not hard to see why Bower's infatuated, but this Peach isn't the sort to stay locked up in anyone's castle. On the flip side of that equation is Black, who pretty much plays himself, but with Bowser's nearly always being presented as an overly-generic bad guy, one would be lying if they said they weren't entertained.
The bottom line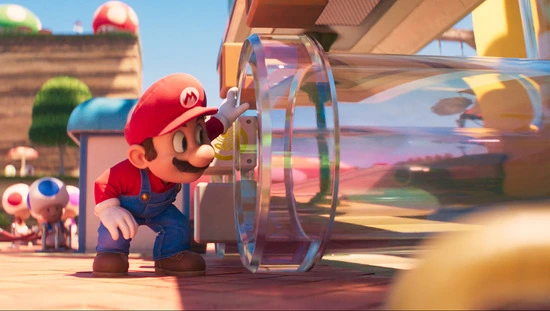 As a lifelong Super Mario fan, I can honestly say that this is the movie I waited 30 years to see. It isn't just the perfect gift for anyone who's ever played a Nintendo game, it's proof of the value that comes with honoring the source material that justified making an adaptation in the first place. With the film having become the highest-grossing video game adaptation of all time (grossing $872 million [and counting] at the global box office in just over three weeks) the future looks bright for video games making the leap to the silver screen. 
Now bring on Legend of Zelda!