There's a scene in the first episode of Mindhunter season 2 where by-the-book Special Agent Bill Tench (Holt McCallany) is hosting a backyard barbecue where his wife urges him to be social.
One of his neighbors, a man, asks him what he does at the FBI, and Tench answers straight up that he's part of a team trying to build a database for serial killers, so they can understand their actions and mindset better, and hopefully anticipate future murders.
"Like who?" the guy asks. And Tench tries to be social by citing Richard Speck, the mass murderer who had tortured, raped, and killed 8 student nurses at a hospital.
Ah, now the neighbor is intrigued, this button down G-man with a stick up his ass has sat across death itself and returned to tell the tale at his party. "Why'd he do it? What did he say?" asks the neighbor.
"Trust me, you don't want to know," Bill replies, trying to downplay it all and possibly segue to something less gruesome.
But the neighbor is seriously intrigued now and another man has been drawn to this talk of blood and decapitation like a ghoul to fresh meat. "Sure we do!" the new guy chimes in, presaging and foreshadowing what would eventually become a marked popular culture obsession with mass murderers.
With direction mostly helmed by David Fincher and based on the similarly titled book by actual FBI profiling pioneer John E. Douglas, season 2 of the acclaimed and mind-blowing series takes us back to the efforts of the FBI's BSU (Behavioral Science Unit) to form a predictive psychological matrix of repeat criminals led by the core trio of Special Agents Holden Ford (Jonathan Groff), Bill Tench, and psychologist Dr. Wendy Carr (Anna Torv).
Known as the most chilling and horrific show where almost nothing happens except deeply intense and harrowing interviews with incarcerated serial killers, the story arc takes the team to a more front and center role as new FBI director Ted Gunn (Michael Cerveris) gives them more resources, recruits, and more power within the federal bureaucracy, eventually tasking them to investigate and possibly head off more killings involved in the Atlanta Child Murders of the late 1970s.
As they try to make their mostly theoretical profiling techniques work in the real world and under time pressure, Ford, Tench, and Dr. Carr realize the mental and social toll that their interactions with these criminals are taking on their lives and relationships—especially on Ford, since we saw him end the first season enamored and deeply aghast that he had miscalculated going solo with the hulking 6' 9" Ed Kemper. A classic case of how the evil in the abyss also gazes back.
With superb writing, a stellar cast, and direction that neither glorifies or judges the acts and lifestyle of serial killers, this series continues to bring the harrowing goods as fine as any kind of cerebral horror you might care to name—including the high benchmark set by the Dexter and Hannibal series.
The adventures of SAs Tench and Ford and Dr Carr aren't just fascinating, they're also frustratingly short even with the 9 episodes on this second season. I look forward to seeing these guys mine the insight from the heads of more killers, something that will one day become our modern day science of criminal profiling.
Meantime, here's a brief dossier on the real-life big hitters of the serial killer world that figure in season 2. Beware when you hunt the minds of evil, they can easily turn the tables and make you the prey.
DENNIS RADER, AKA B.T.K.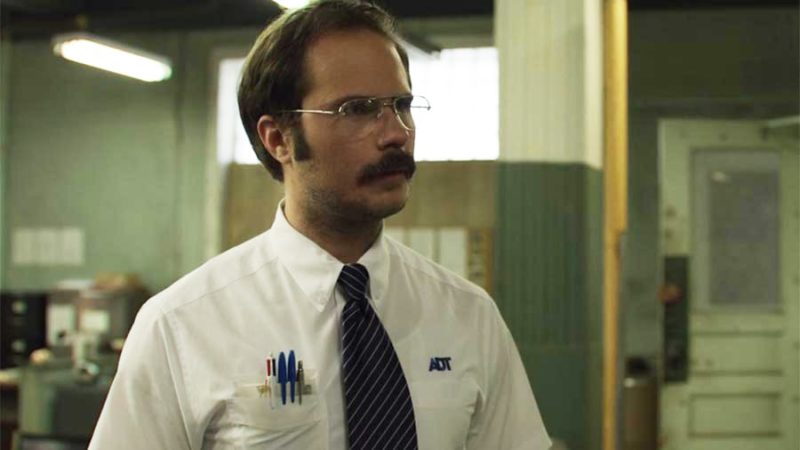 BTK stands for Bind, Torture, Kill. And this was the sobriquet that Dennis Rader chose for himself when he murdered 10 people between 1974 and 1991, sending poems and letters to the media that touted his accomplishments. BTK's victims included entire families. True to his moniker they were found bound, with signs of violation, having died under extreme pain. He was only caught in 2005. In the series we see him going about his merry way, reading at libraries, photocopying poems, walking through neighborhoods.
ED KEMPER, THE CO-ED KILLER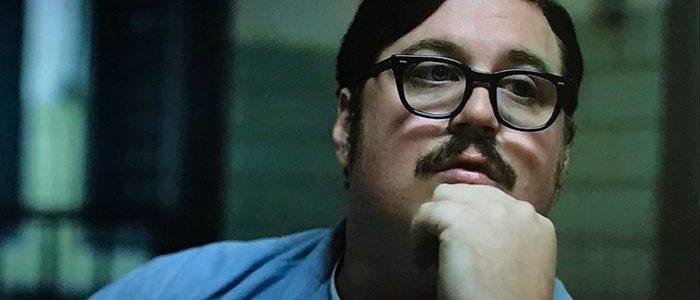 A recurring interviewee for the BSU gang, Kemper makes another appearance in season 2 when both Special Agents Ford and Tench visit him for a few minutes before they are taken to see Charles Manson, who's imprisoned in the same facility. An intimidating 6' 9" giant with baseball mitts for hands, the so-called Co-Ed Killer was a murderer and a necrophile who killed 6 female university students between May 1972 and April 1973. Kemper took the girls' bodies home, decapitated them, had sex with both the bodies and the heads, and then disposed of the corpses. He claimed his mother had abused him as a kid and so eventually he also killed her using a claw hammer.
WILLIAM "Junior" PIERCE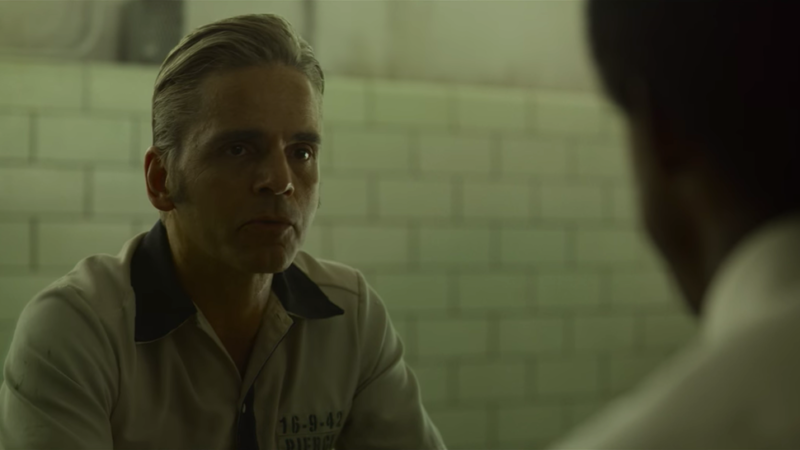 Special Agents Ford and Jim Barney gently mock this redneck's counting and language skills when they visit him for an interview—especially since he erroneously claims he could speak 7 languages—but the real Pierce was a vicious motherfucker who murdered 9 people in Georgia, North Carolina and South Carolina. This was after he was mistakenly released on parole after just 7 months of a 10 to 20 year sentence. He may not be the smartest tool in the shed and could be bribed to speak up with pastries and sweets (as Special Agent Barney found out), but he sure could rack up the mass murdering numbers.
ELMER WAYNE HENLEY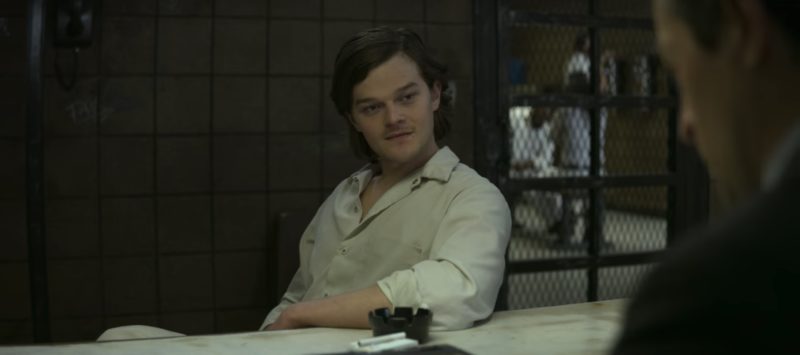 Played by Robert Aramayo, the young Ned Stark in the flash backs of Game of Thrones, Henley insists over and over to Dr Carr that he's not a homosexual but rather simply a victim of Dean Corll, the infamous Candyman Killer of the early 1970s. In truth, Henley was an important facilitator in Corll's Texas murder spree, offering teenagers free cannabis after the then 17-year-old Henley and fellow teen accomplice David Brooks lured them in. Henley used to be one of those who had been lured and almost killed, but he ingeniously talked himself of his bonds and joined Corll instead.  Of the 28 murders he participated in, Henley was only found guilty of being an accomplice to 6 and it was he who eventually shot Corll in the head, claiming that he was sick of the Candyman Killer buggering and slaughtering his friends.
DAVID BERKOWITZ, THE SON OF SAM

This was a breakthrough interview for the BSU as the infamous New York serial killer confesses that he made up what he said was motivating him to kill: a demon manifesting through the dog of his neighbor Sam (that's why he's the Son of Sam, get it?) . His true exploits are mainly centered around beautiful young brunette women sitting in their cars, six of which he killed, all the while leaving notes behind in the cars and bodies, taunting and making fun of the NYPD's efforts to catch him. Berkowitz was about to kill his seventh victim when he was finally caught by police in 1977.
TEX WATSON, OF THE MANSON FAMILY

Watson was the guy who stabbed pregnant actress Sharon Tate to death in 1969, the right-hand man of Charles Manson in the infamous Manson Family who would eventually help kill seven people. Incongruously enough Watson was an A student at North Texas State University where he was also a football, basketball, and track star athlete. The women of the Manson Family claimed he was the default "pseudo-leader" when Charlie wasn't around though Watson later claimed in his confessions and memoirs that it was all Manson's mental bullying and cultish power of charm that led him down the dark path. Watson wrote: "After about two weeks of taking these drugs and becoming just void of conscience, Manson said, 'Hey, I want you to go out and kill these people. To go up to this place and kill everyone who is there.' He gave us the orders, the directions." In season 2, SA Ford gleans the same insight from his interviews with Watson, giving him more understanding into the mind of Charles himself.
CHARLES MANSON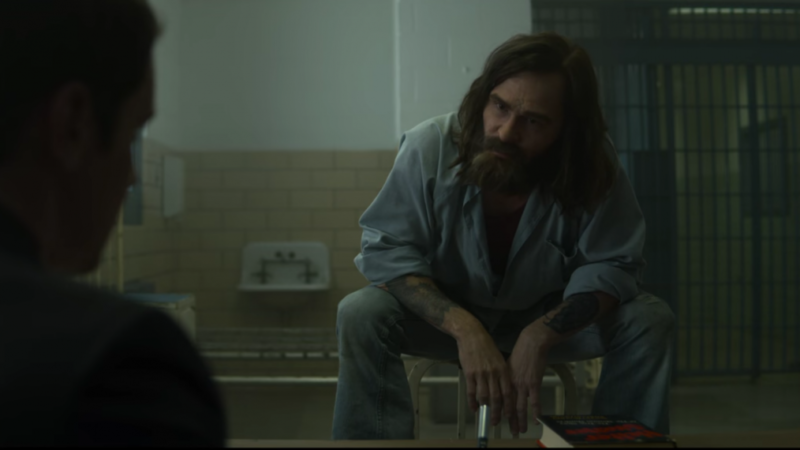 Beautifully played by Damon Herriman, Manson in season 2 is manic, charming, cunningly smart, and speaks like a Sphinx drunk on blues, beatnik, and hippie poetry. Neither Ford nor Tench can get much out of him as the BSU's interview falls almost to pieces. Still, it bears remembering that Charlie was the guy who almost singlehandedly ended the world's tolerance and fascination for hippie culture and all things Flower Power.  The serial murders of 9 people within two months in 1969, tends to do that. His followers (the California Manson Family), mostly beautiful young women, numbered almost a hundred strong and they mostly followed his commands without question, and though it was the women and Tex Watson who killed, Charlie himself could only be directly tied to  the deaths of two men and he was eventually found guilty of "conspiracy to commit murder" for the seven other dead people. A passably capable musician, Manson was even able to put out an album of music while he was in prison (of tracks he had recorded before his Family went on a killing spree). It was titled Lie: The Love & Terror Cult.
ATKID, THE UNKNOWN ATLANTA CHILD MURDERER

The latter half of season 2 tackles the BSU's efforts to be of real use in the field as a rash of child murders grip the African American community of Atlanta City in Georgia in the late 1970s. SAs Ford and Tench and Barney team up with local law enforcement to try and create a profile of the killer that would help him predict his next victim. The tension and frustration rise proportionally as poor, black children and young adults go missing with quite alarming regularity, to be found dead weeks later. Since Georgia is smack dab in the South, decades-long racial tensions increase the volatile socio-political powder keg, many blaming the Ku Klux Klan. In reality, more than 25 children eventually go missing from the streets of Atlanta in the case the FBI named the AtKid Murders. The late 70s US exhortation of caution to parents on the news "Do you know where your children are?" was a direct result of this killing spree that remains unsolved to this day—except for the arrest of talent scout the 22-year-old Wayne Williams and eventually charged with the killing of two men (among those who died) but not any of the kids who went missing. In the history of the BSU, the AtKid Murders were said to be a breakthrough in that is enabled them to be first on scene at serial murders from there on.
"Mindhunter" season 2 is now streaming on Netflix.
All photos courtesy of Netflix
What are your thoughts on this series? Tell us below!