The APPakasulit Experience: What We Love About the Jollibee App
Aug 30, 2023 &nbsp • &nbsp 8List Editor
It's no secret that Jollibee is a Pinoy favorite. But even if there's a Jollibee branch in nearly every corner of the country, sometimes, you just want to stay at home and have your favorite Chickenjoy delivered. Or you might be at the office with a schedule full of meetings, so a delivery of Yumburger would be perfect to tide you over. Jollibee knows that, which is why they turned online ordering and delivery into the most APPakasulit experience with the Jollibee App. Here are the 8 things we absolutely love about the Jollibee App and the reasons we keep coming back for more:
It's got the best prices online

The Jollibee App offers the best prices you can find online. A solo Yum Burger is priced at PHP 40 in the app, while a solo Jolly Spaghetti is PHP 60 — the same as their dine-in prices! APPakasulit!
Free delivery every day

Who doesn't love free stuff? With the Jollibee app, you can save on extra charges and get free delivery when you place an order! Just make sure you reach a minimum single-receipt purchase of PHP 500 to avail of this promo until September 30.
Welcome gift

Whether you're a regular or a new user, you can be sure to expect a freebie every day at the Jollibee app. When you sign up this August, you can choose between FREE 1-pc Burger Steak or a FREE Cheesy Jolly Hotdog for your welcome gift. And when you sign up on September, you can choose between a FREE Yumburger or a FREE 2-pc Burger Steak Solo.
App-exclusive freebies
Meanwhile, for the whole of August, regular users can enjoy FREE 1-pc Chickenjoy when they reach a minimum order of PHP 700. For September, regular users can receive FREE Yumburger with Jolly Spaghetti and Drink for a minimum order of PHP 700. These exclusive deals usually change every month, so you can expect something new whenever you check the app!
Promo stacking

On top of exclusive deals, you can also enjoy stacking your promos to save more. Enjoy a FREE Delivery offer (worth PHP 49) and a FREE 1-pc Chickenjoy when they reach a minimum amount of PHP 700 in one order. You can save up to PHP 131. APPAkasulit talaga!
No limit to redeeming the APPakasulit promos
You also don't need to worry about running out of vouchers. Because as long as you're on the Jollibee app, the sky's the limit, and you can redeem as many APPakasulit promos as you want everyday.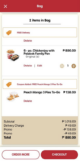 Get your Jollibee favorites delivered anytime, anywhere!


With hundreds of branches across the country, Jollibee can cater to your cravings anytime and anywhere. When you place your order for delivery through the app, you can even choose your preferred delivery store to satisfy your Jollibee cravings.
APPAkasulit favorites in one app!


Need we say more? Of course, what we love the most about the Jollibee App is that you can tuck into a bucket of Chickenjoy and your other Jollibee favorites with just a few taps. Now, you can enjoy any of your Jollibee favorites anytime, anywhere, at the most APPakasulit prices.
So don't miss out. Use the Jollibee App for #APPakasulit deals for you and your loved ones. Download the Jollibee App now through: bit.ly/JollibeeAPPakasulit.