While Stranger Things does a good job of strip mining the pop culture of the 1980s and use it as tools to frame their stories, its ascension into peak marketing tie-in was inevitable. The American summer of 2019 isn't just the summer of Stranger Things 3, it's a summer awash in Stranger Things brand promotions, marketing campaigns, pop-ups, merchandise and more.
And for as long as the sci-fi throwback series continues to be a hit, you can bet that brands will have to work their butts off to integrate their presence into the show. Gone are the halcyon days of psychic girls feasting on Eggos and cool teens spouting KFC's motto for free. Many companies must now bend over backwards to be a part of the web series' phenomenon.
For some, it's as simple as being part of the edible milieu of the 1980s or invoking the dark dimension known as the Upside Down. The rest tap into the show's aesthetic for some weird ass product ideas. Forever 21, Havaianas, Baskin & Robbins, Levi's are just some of the companies in on the licensing action. Here're 8 of some of the stranger Stranger Things brand and merch crossovers.
Dustin Chia Pet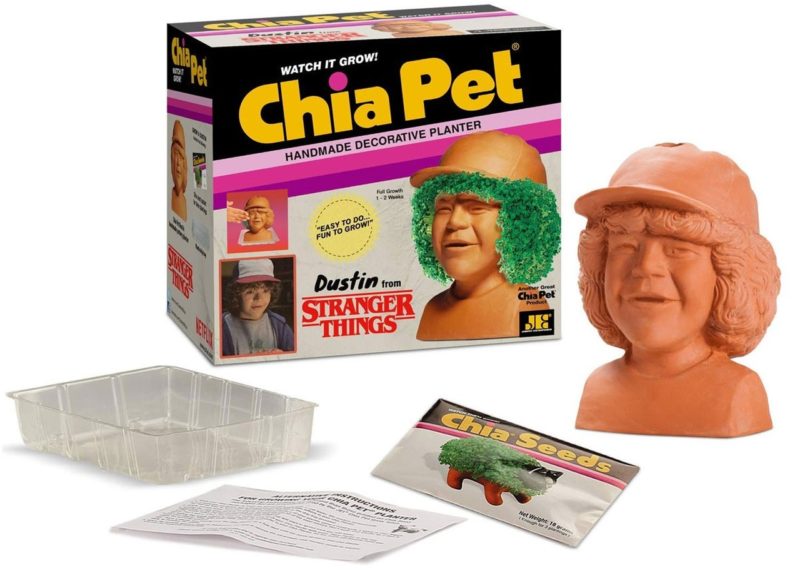 Image source: Toy Wiz
Invented in 1977, the Chia Pet didn't fully catch on until 1982. These terracotta figurines are styled in the likeness of animals or famous people with the sprouts growing to resemble animal fur or hair. This one, modeled after everyone's favorite chocolate pudding loving member of the adventuring party will grow his locks in about two weeks. Personally I want to see what Chia Pet can do with Steve's hair.
Eleven Candle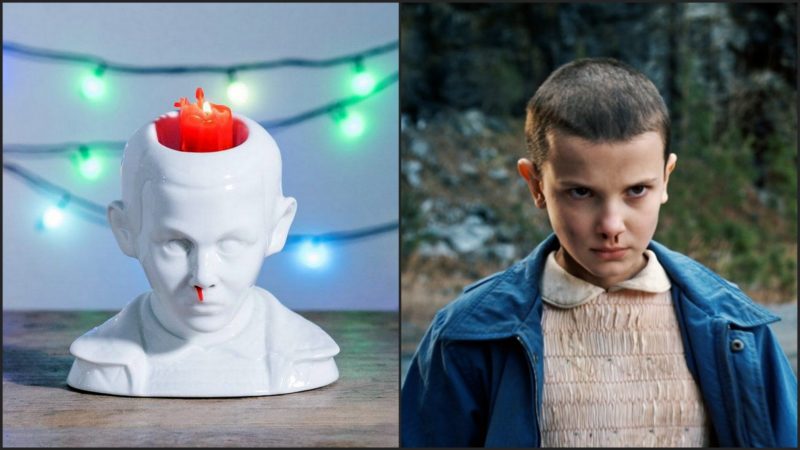 Image source: Author-made
I mean okay, a nose bleeding Eleven is one of the signature visuals of the series but I don't know if it takes a super fan or a super freak to be into one of these babies. The Eleven Bleeding Nose Candle by novelty gift retailer Firebox is a "beautifully hefty ceramic ornament." Stick a red candle in it and the melting wax will simulate epistaxis.
H&M's Pool Garb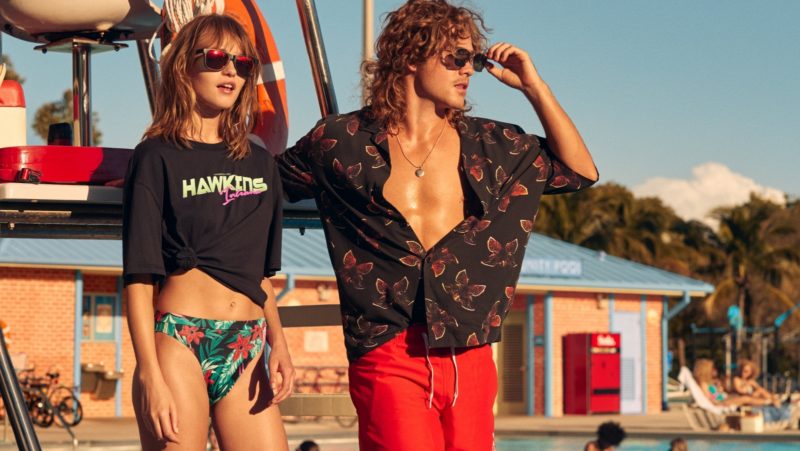 Image source: H&M
"An exclusive poolside collection" is what H&M turned out for this season of Stranger Things. It consists of Demogorgon themed sundresses and bikinis and Hawkins Community Pool lifeguard swimwear. They even roped in Dacre Montgomery, who plays Billy Mayfield, Hawkins' resident mega-douche and cougar chaser to star in the collection alongside model Maddy Elmer.
Reebok x Stranger Things x Ghostbusters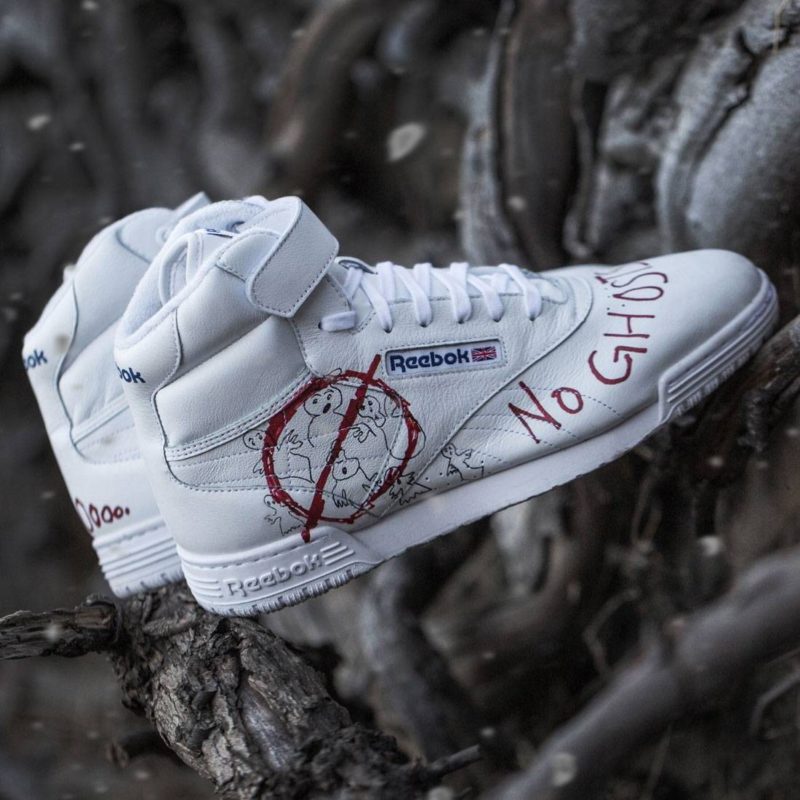 Image source: BAIT
Ghostbusters mania hit the geeks and nerds of Hawkins pretty hard back in the second season, which is why Reebok and BAIT joined forces with Netflix to reflect that. This variation of the Reebok Ex-O-Fit Clean Hi was a limited edition sneaker that incorporates Dustin's drawings across its surface. That's right, rare sneakers featuring a kid's ballpoint pen doodles.
Fortnite Stranger Things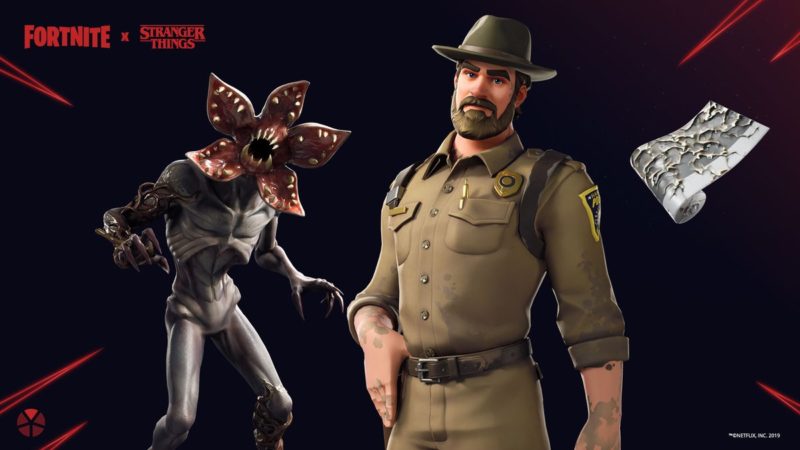 Image source: Clubic
Fortnite isn't really a game anymore – not in the traditional sense of levels and loot, story and secrets, progression and power. Rather it's a pop culture advertising delivery mechanism and developer Epic Games knows it. Between Avengers: Infinity War, John Wick, DJ Marshmello, Weezer and Nike are just some of the tie-ins that have graced the online multiplayer sensation.
For Fortnite, pieces of Starcourt Mall have begun to enter its world, alongside some portals to the Upside Down. And of course, new skins and cosmetics modeled after the show – specifically a Chief Hopper outfit, a Demogorgon skin and a mind flayer Ivy Wrap weapon skin – are available for purchase.
Coca Cola's New Coke
https://www.youtube.com/watch?v=yrTVc6bfzVg
Things get stranger with the comeback of a failure in New Coke. With the new season set in the year of 1985, Netflix worked with the Coca-Cola company to find a place for the infamous beverage in the storyline. Yes it's product placement. Which isn't really all that unusual when it comes to cross promotional tie-ins… if all Stranger Things was highlighting was the Coke brand itself.
Instead, in exchange for New Coke's feature presence in the season, the Coca-Cola company has literally brought it back. New Coke was a reformulation of Coke intended to compete with consumer surveys that gave Pepsi an edge, but it backfired tremendously. For three months in 1985, customers rejected New Coke and demanded the return of the old classic. That's one way to renew brand loyalty.
Burger King's Upside Down Whopper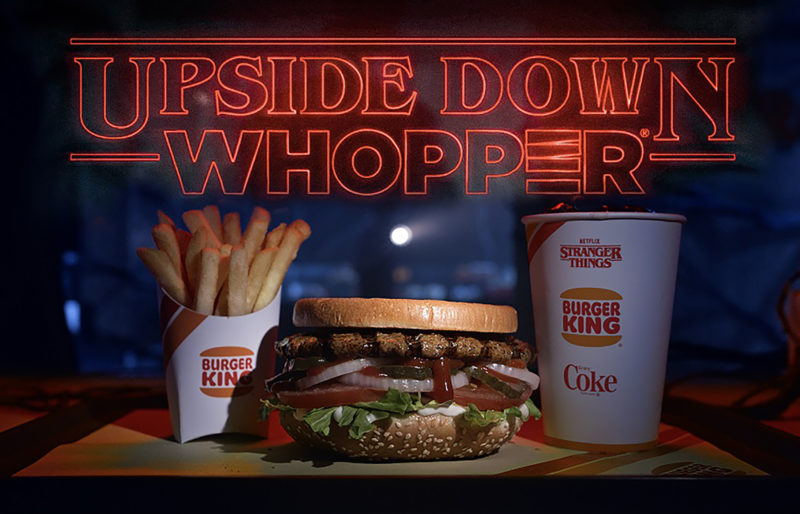 Image source: Vox
Served at a select eleven locations, this Stranger Things inspired promo features the King's trademark burger on a vertically challenged orientation. What are you even doing, Burger King? This is not a brand tie-in, this is a service crew error with a neon logo branding. Might as well seal the deal with an upside down order of soda and an upside down order of fries. Clean up at table five.
Microsoft Windows 1.11
After a series of cryptic social media posts that resurrected their old logo and time traveled backwards through different versions of Windows, software giant Microsoft unveiled "Windows 1.11," a free app on the Windows Store that launches a Stranger Things-inspired version of the now famous operating system shell that features games and puzzles that tie-in with the new season's lore.
It's kind of cool, to be honest, but also ultra-weird in that neither Microsoft nor Windows are ever mentioned in the new season nor is anyone ever seen using a desktop PC running any of the company's products. On the brighter side, Microsoft is launching a Camp Know Where program at all of its real world retail stores offering STEM workshops for kids 13 and up. It's a nice idea, if a bit strange.
What are the strangest merch you've seen? Share them with us below!