Lately folks around Asia are going gaga over salted egg everything! From savory dishes to decadent desserts, people are  realizing what we Pinoys already know: That rich-flavored red-orange yolk goes well with everything!
Here we take a look back at how it all started, and the endless culinary possibilities with these delicious everyman's delicacy:
China introduced salted egg yolks to the world
Salted egg yolks are essential to Chinese cuisine. Most Chinese delicacies feature salted egg yolks: from steamed pork buns with salted egg yolk to a dish featuring three steamed egg yolks.
Salted egg yolks are said to be Asia's truffles
The Chinese have long been using salted egg yolk to enhance the flavors of their dishes, much like the way Europeans would use truffles in the same way.
Salted egg yolk's popularity spread
In 2009, Hong Kong introduced a steamed bun filled with a custard made of butter, condensed milk and salted egg yolk. It became so popular that a new-found love for the salted egg, its yolk in particular, was reborn.
The yolk is the key flavoring
Salted egg's quality depends entirely on the richness of the yolk. It has to be that deep orange color and the texture has to just right: not too grainy, and not too runny.
It was in Singapore that the craze grew
A stall in Singapore serves salted egg flavored ice cream since the early 2000, and a burger joint in the country would serve Asian burgers with salted egg sauce from its yolk.
Salted egg yolks helped provide Asia with our own food craze
Folks in the culinary world are touting salted egg yolk as the next hottest thing in food to have come out of Asia since sriracha. In fact, people are comparing it to the rise in popularity of salted caramel and cronuts.
Now it's everywhere
Arguably, the recent boom in popularity of salted egg flavored chips has elevated the rich flavor of the salted yolk to be ever-present in all kinds of dishes. It is the flavorful yolk that is turned into a sauce and as flavor-enhancement in most delicacies. Restaurants now serve, salted egg flavored shrimps, salted egg desserts and other imaginative dishes one can concoct up with these red-orange yolks.
And now KFC has salted egg yolk fried chicken!
History has been made! My First Egg-xecutive Order finally puts the "chicken or egg?" mystery to rest. Try my new KFC Salted Egg Yolk Chicken coated with a crave-worthy salted egg yolk sauce!

Posted by KFC on Thursday, June 1, 2017
As KFC's First Filipino Colonel's First Egg-xecutive Order, for a limited time, KFC is offering its Hot and Crispy Chicken coated with salted Egg Yolk Sauce with Garlic Rice on their stores! You can have it as a Hero meal: 1 piece Salted Egg Yolk chicken perfectly paired with mushroom soup and garlic rice with drink for only Php 115! Or enjoy it ala carte with flavored rice for Php 99.*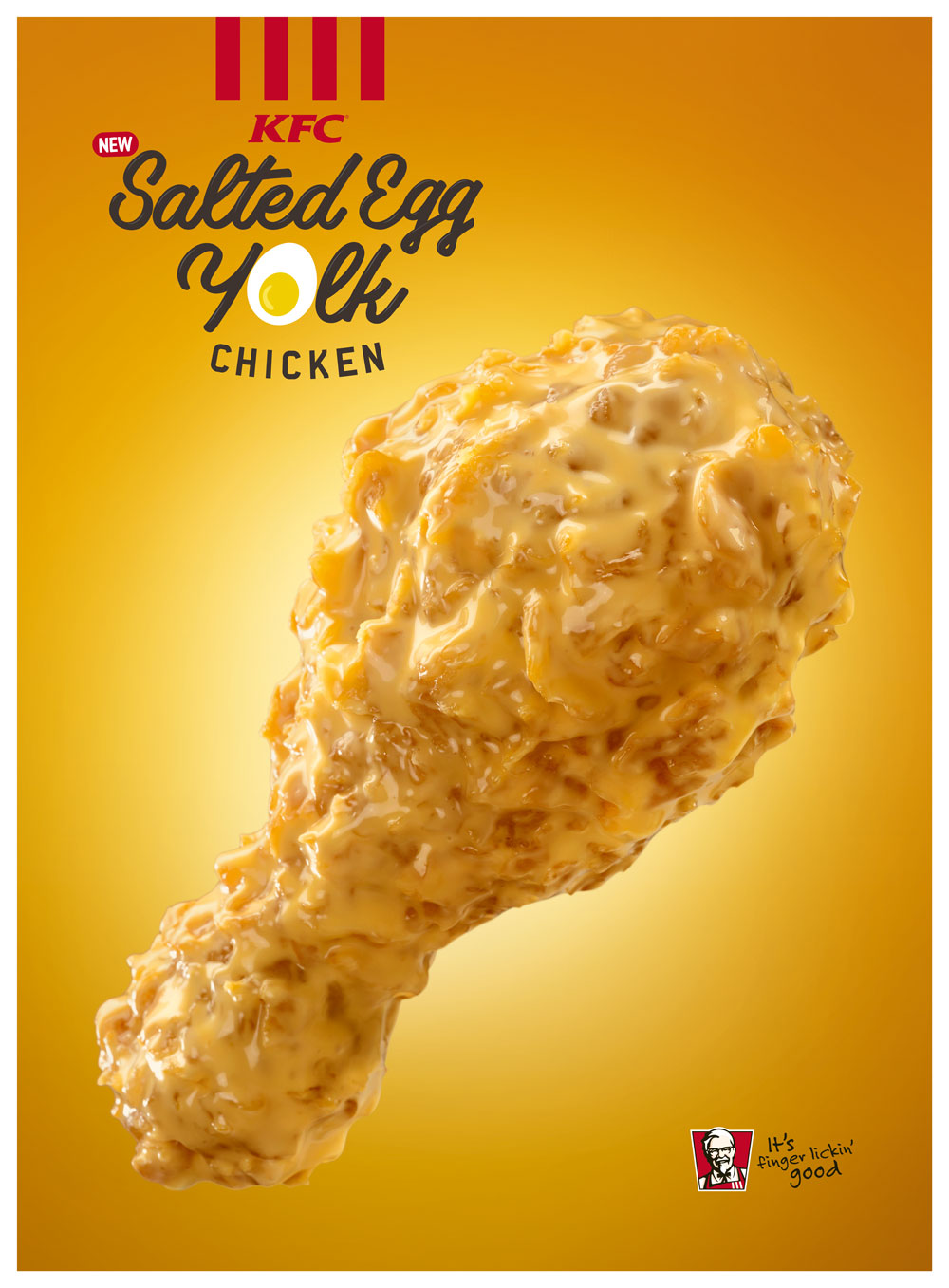 Try it for yourselves and go to the nearest KFC store now!
*Price varies per store