It's Miss Universe season once again and Pinoy pageant fans are on high alert. All eyes are on our bet, Beatrice Luigi Gomez, as she prepares to take home that coveted crown come coronation night on December 13. Pageant-passionate Filipinos have different ways of showing their support. Some shower our candidate with love and positivity, others pack on the constructive criticism which unfortunately sometimes comes across as harsh. One such passionate fan is Titas of Pageantry. But what happened for netizens to shun the duo behind it and call to mass report them?
Who is behind Titas of Pageantry?

Titas of Pageantry is a social media account dedicated to posting updates, reviews, and personal opinions about our beauty queens, whichever pageant they happen to join. It's run by two individuals, Vennette Lailani Seprado, a.k.a. Tita Lavinia, and Rianna Rigor, a.k.a. Tita Belay. Over the years, Titas of Pageantry has developed a cult following especially among the pageant-passionate Filipinos. The duo is known for not mincing words when it comes to their opinions on how our beauty queens should dress and act, an honesty that has attracted a lot of Pinoys in the past. But now that we're at the cusp of one of the biggest international beauty pageants, scarred by the previous year, it seems like fans are more put off about their negative opinions than impressed.
Beatrice Luigi Gomez was criticized for her hand-me-down "UK Fashyown"
To be fair, Titas of Pageantry themselves
have always sent a disclaimer
that they could get harsh — follow them at your own risk. Since they're not affiliated with any organization — they're just your regular bloggers and online personalities — they have the freedom to throw the shadiest of shades or rain praises on our beauty queens. With Miss Universe 2021 kicking off in Israel, they had strong opinions about Bea and her fashion that was a hit and a miss for their standards.
In one instance, Tita Lavinia questioned why Bea was wearing simple "gym clothes" beside a dolled-up Miss Thailand. In another, they questioned why she had to wear two different animal print outfits on the same day. "She started out strong. Seriously strong with her styling," said the post. "Anyare? Don't get me wrong, both these looks are super cool. I just don't get the thought process of having our rep wear the same sort of print in one day."
Later, they found out that one of the dresses was previously worn by Miss Earth 2017 Karen Ibasco. The "recycled" hand-me-down was revealed to be part of Bea's sustainable fashion for the competition to support Miss Universe 2021's "green agenda." The beauty queen wore two more outfits also worn by Karen — a monochromatic blue ensemble and a white ruffled blouse, high waist plaid shorts, and thigh-high boots combo. Bea even put on a Ram Silva golden terno initially worn by Rabiya Mateo.
The "UK Fashyown" didn't sit well with Titas of Pageantry. While they did clarify that nothing was wrong with "recycling" an outfit, they insisted it would've been better if fans were "given a heads up" so they could be more supportive.
Call to mass report Titas of Pageantry
It's time we negate the hate and protect our candidates. Let's unite and show TitasofPageantry that there's no room for bullying and hate in the pageant community.

Join us in our Twitter Party, copy the tagline and hashtag below:

StopTheHate Lavinia#MassReportTitasOfPageantry pic.twitter.com/hRGAAa4w3b

— Sizzums of Pageantry (@TheSizzumsPH) December 9, 2021
The comments heightened the tension online among other pageant fans. Many thought it was crossing the line especially when the account had nothing but praises for contestants from other countries. Sizzums of Pageantry, another social media account dedicated to pageantry updates, trended the hashtag #MassReportTitasofPageantry on Thursday night. It was a move to send a message that "there's no room for bullying and hate in the pageant community."
Pinoys responded with comments of their own. "Pageant fans, let's focus on BEAnihan and not kanegahan," said one tweet.
"I hope [Bea] will enter top 16 para mapahiya ang titas of pageantry.. napakatoxic…," said another.
Pageant vlogger Adam Genato gets involved
View this post on Instagram
Even before the whole fiasco with Titas of Pageantry, pageant vlogger Adam Genato, a.k.a. HeyAdamG, has always called on Filipinos to support our candidates instead of bringing them down. Adam posted the friendly reminder on his Instagram account saying that now more than ever, Filipinos should rally behind Bea and "focus our attention where it matters the most." He mentioned that we wouldn't want a repeat of what happened with Rabiya last year where the negative comments clearly affected her performance.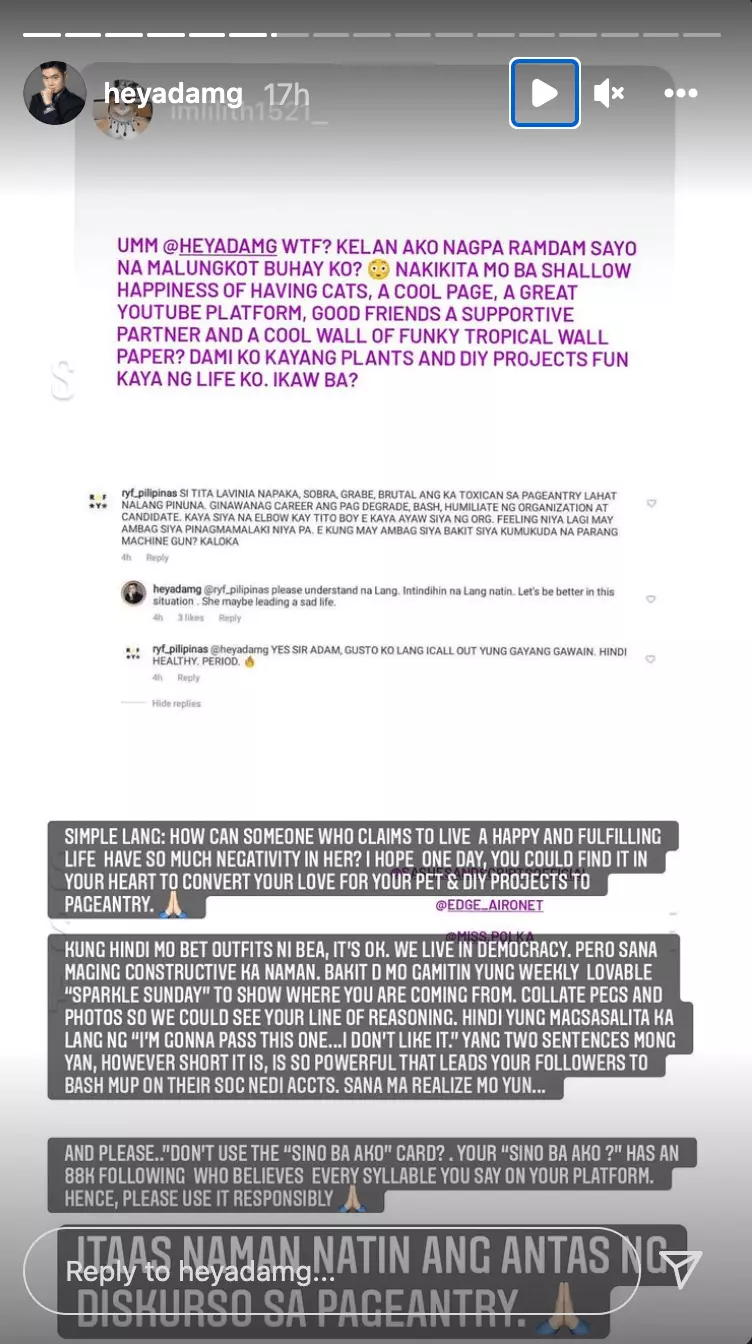 Adam also gave his two cents on the issue surrounding Titas of Pageantry, even exchanging salty Instagram stories with Tita Lavinia herself. Under someone's comment about how the critic was "brutal" and "toxic," Adam said that it must be because Tita Lavinia is "leading a sad life." This prompted Tita Lavinia herself to respond via Instagram stories and call Adam out.
Adam ended the exchange by saying someone leading a happy life wouldn't "have so much negativity in her." He reminded Tita Lavinia that she has 88k followers on her platform who follows every word she says. It's her responsibility to inspire positivity.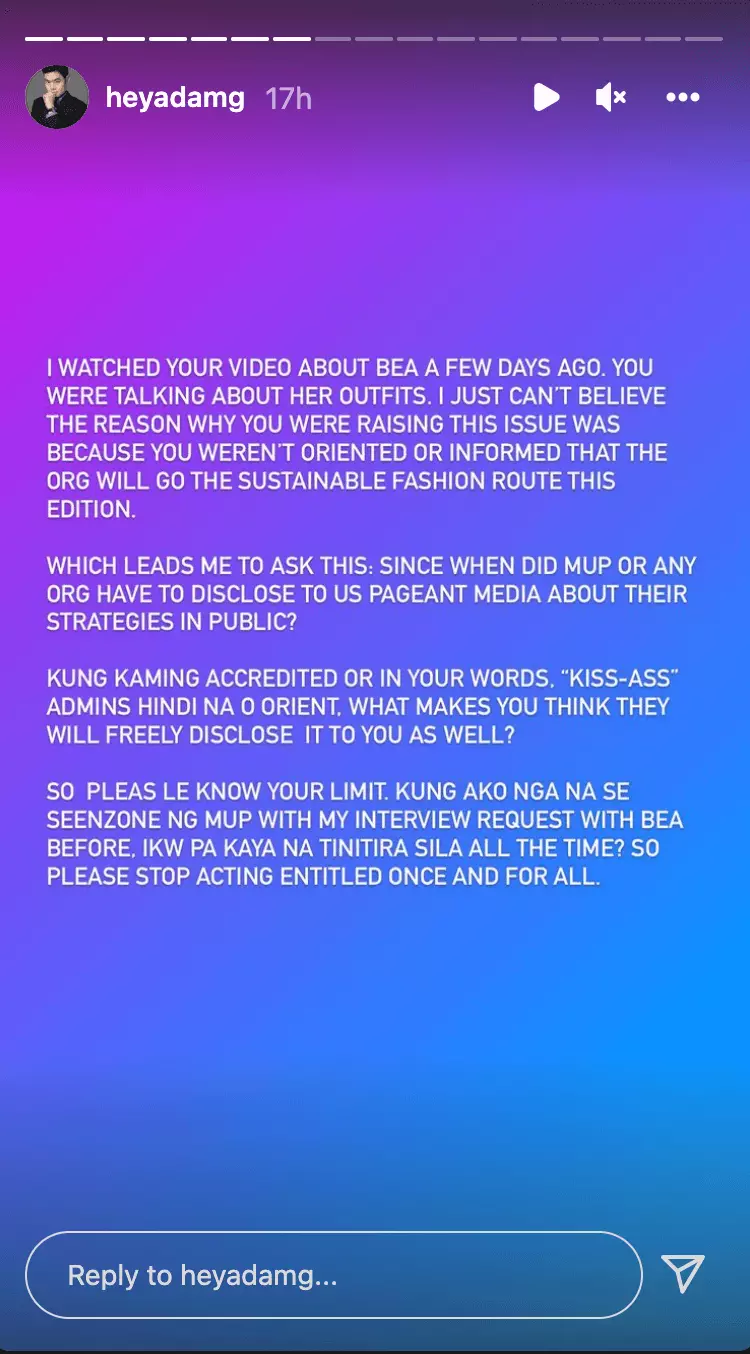 The vlogger also pointed out that Bea's hand-me-down fashion wasn't a move that her team is required to announce to everyone, most especially to Tita Lavinia. "Since when did MUP or any org have to disclose to us pageant media about their strategies in public?" he posted on Instagram stories. "Kung kaming accredited or in your words "kiss-ass" admins hindi na-orient, what makes you think they will freely dislose it to you as well? …please stop acting entitled once and for all."
Netizens want Titas of Pageantry out

For some netizens, it was about time someone called out Titas of Pageantry and put them in their place. According to them, the "nitpicking of candidates" promotes "bullying" that doesn't do anyone any good.

While some defended the duo

On the other side of the issue are Filipinos who believe nothing is wrong with the whole thing. Many defended Titas of Pageantry saying that while they do criticize Bea, they also don't hold back in praising her either.
"Been following Titas Of Pageantry since Catriona's era and she was just giving her honest opinions about Bea's outfit and styling. The problem here is just they can't accept constructive criticism," said one netizen.

Titas of Pageantry had issues in the past too
The is not the first time Titas of Pageantry drew flak from pageant fans. In early 2020, beauty queen Ahtisa Manalo backed out of the Miss Universe Philippines 2020 one day after filing her application. Many were quick to speculate that it was a PR stunt. After Titas of Pageantry posted a blind item about the beauty queen allegedly playing with fans' feelings, Ahtisa had no choice but to comment.
"I think this is too much, Tita Lavinia. What did I do wrong?" she wrote. "Don't you think it's too much for you to accuse me of playing with other people's emotions? Please remember that I am still a person – I get hurt, I have problems of my own, I have a hundred other things happening in my life away from what you see."
Unity for Bea Gomez
View this post on Instagram
Constructive criticism is always a good thing. We need all the help we can get to win a pageant like Miss Universe. Bea's team might be too close to the contest to see exactly where they need improving. But Filipino pageant vloggers and critics have to draw a line between helpful criticism and borderline bashing. At the end of the day, it's just a pageant set up for everyone's entertainment. There's no need to criticize anyone as if your life depended on it. Save your energy for more important matters e.g. elections.
The Miss Universe 2021 will be held at Eilat, Israel on December 13, 8 AM PHT. Mexico's Andrea Meza will be handing her crown to her successor. Filipinos can watch it live on ABS-CBN starting at 7:30 AM on A2Z channel 11.
Check us out on Facebook, Instagram, Twitter, and YouTube, and be the first to know about the latest news and coolest trends!